Many top fly fishing lodges are realising that for the less frequent travellers or for some of the more unique tackle specifications that having fishing tackle at the lodge and either including it in the price of the holiday or available to rent for a small fee is of great help to those visiting them.
With these lodges doing such a good job of providing this very convenient service, I thought it was only right to give some of them a mention.
TROPHY TIGERFISH SAFARI, Tanzania
With our partners, African Waters, formally known as Tourettes Fishing, we're able to offer some of the best Tigerfish fly fishing found on the planet, where the freshwater angler has the opportunity of landing trophy Tigers to over 20lb. The team at African Waters are a group of African travel fishing experts and professional guides, specialising in developing and managing boutique fishing camps in Africa's most pristine wilderness areas.
Realising that not every angler has the specific tackle to go head-to-head with these African powerhouses, the camps offer tackle hire. Full Tigerfish fly fishing outfits can be hired, giving you all the exact equipment you need for a full weeks fishing.
You can learn more about Tanzania here.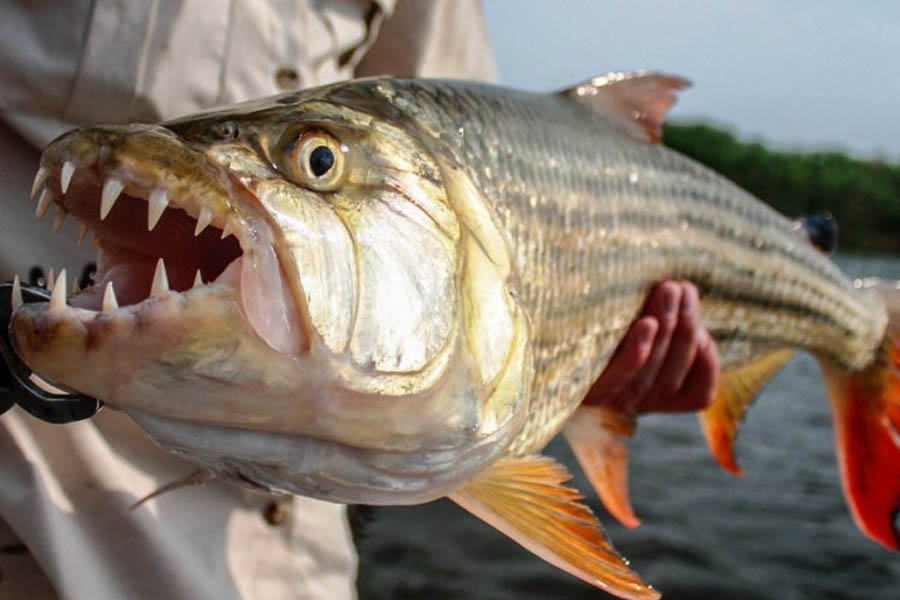 Worlds End Lodge, Argentina
Sea Trout Fly Fishing in Argentina at Worlds End Lodge on the Irigoyen River is a unique fishery and the only operation on the river. You will have the opportunity to move up and down as you need in search of finding the best chances to hook a Sea Trout. Just 4 lucky customers each week fish the Irigoyen River and its main tributary the Malaguena River.
This river is perfect for single-handed rods and light switch rods and if you do not have all the right tackle do not worry we have you covered with free loan equipment if booked and requested in advance.
You can learn more about our Worlds End Lodge Lodge by visiting our tour page.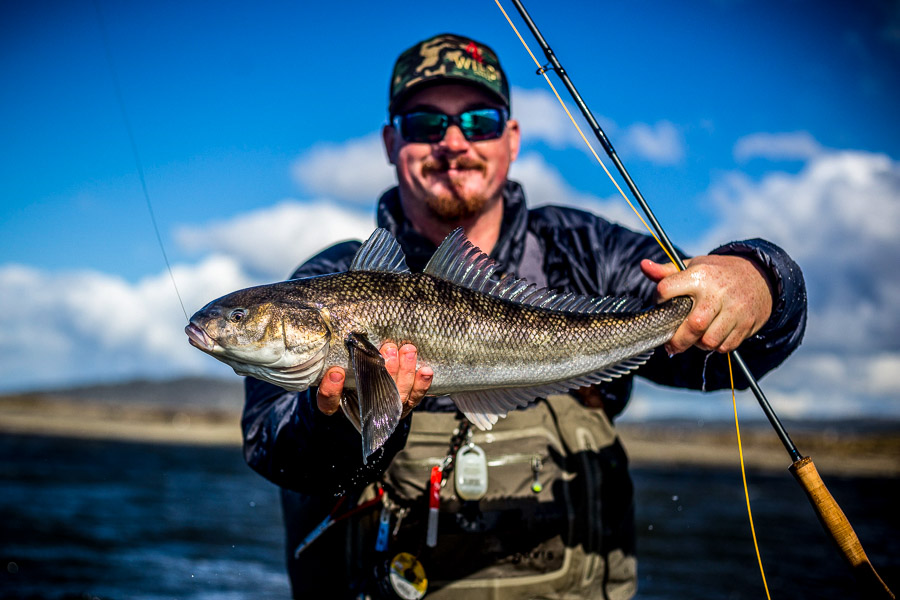 Fisherman Lodge, Mexico
This is a top grand slam spot in Mexico's Ascension Bay and they provide the rods and reels needed for fishing here. The guiding staff are some of the best in the Caribbean and know that having a good selection of made up rods and reels with different lines on can really make the difference for hunting grand slams.
When fishing the flats it is good to have a selection of different rod weights for the different species, this is so that good presentation is provided with the lighter rods and the power needed for the bigger fish can be found in the heavier setups. For this sort of trip being provided a 7# 8# and 10# should be perfect for most situations. One extra benefit about this destination is it is ALL 1 on 1 guiding.
You can learn more about Fisherman Lodge here.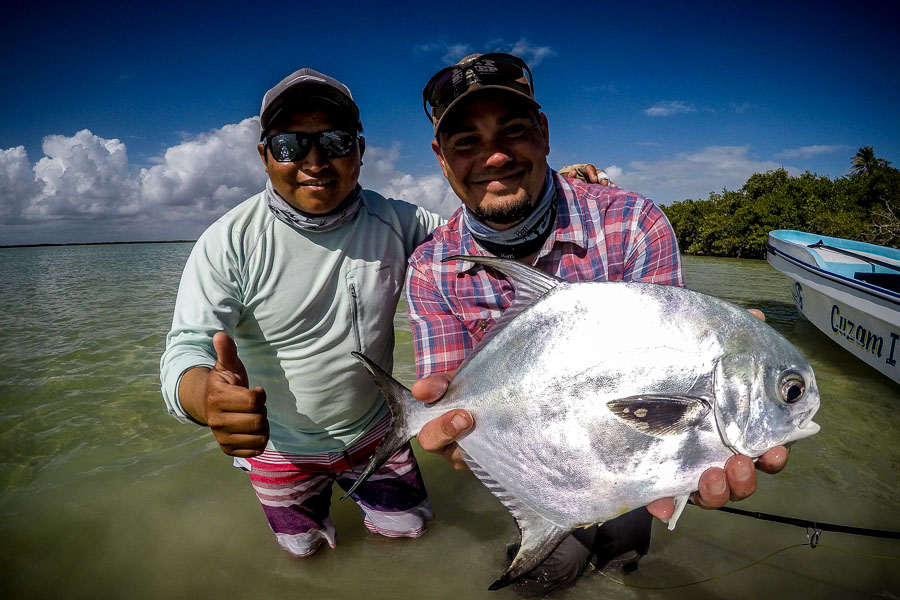 Kalum River Lodge, Canada
Steelhead fly fishing at Kalum River Lodge is something every fisherman should experience. Designed for complete beginners and experienced fly fishermen alike, this hosted Kalum River Lodge trip with our Sportquest Holidays host is perfect for either single anglers or small groups of friends. Enjoy the benefit of having a fully qualified host with you at all times as well as enjoying privacy and comfort with private single rooms. On top of this, if you are a single angler there are no additional single angler supplements. Fishing at Kalum River Lodge can be with single-handed rods, switch rods and also full spey rods with sinking lines. The range of equipment required depends on when you are visiting and what you wish to fish for. So why bother bringing your own rods and reel when we have all the rods and reels you will require free of charge to use. You can learn more about the Kalum River Lodge here.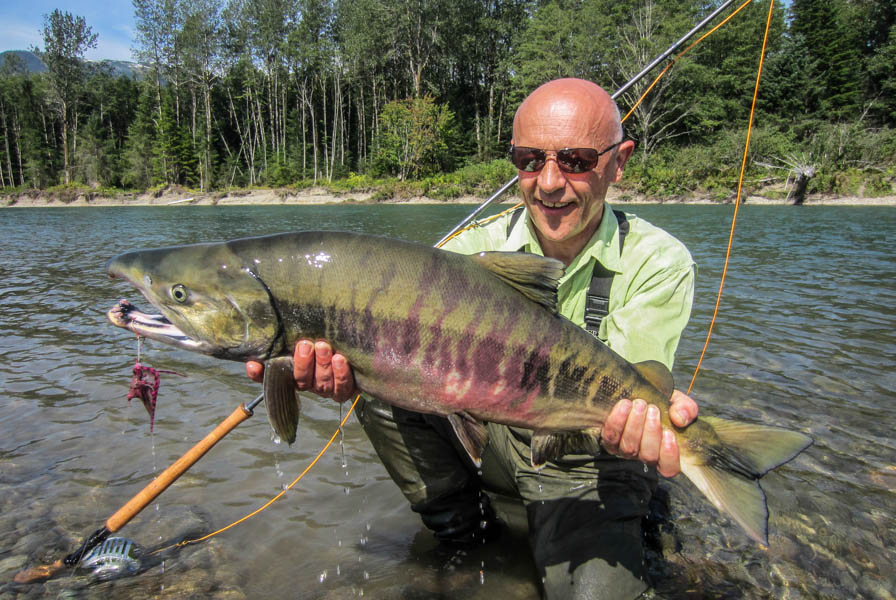 El Pescador Lodge, Belize
When fishing the vast flats around El Pescador you will have the option of targeting different species on the different flats. There is an abundance of Bonefish, you will be spoilt for choice with some of the most superb Bonefish flats some of which are only two minutes from the hotel. These fish average 5-7lb and a 9ft 7# rod will be the perfect tool to cast a mix of classic flats fly patterns to tailing groups of fish. When scanning the Bonefish flats with your guide it is always worth having an 8# rod set up as you are likely to spot some of the massive shoals of Permit that live on these flats, with fish averaging 8 – 10lb these encounters always get the heart racing.
El Pescador is also an attractive prospect for Tarpon fishing because each year it has resident fish to over 100lb. When hunting Tarpon with your guide you will be able to cruise over 250 square miles of fishery in search of some very big fish. 10 & 12# rods with strong saltwater reels will give you the ability to go toe to toe with these silver torpedoes but remember to pick flies with super-strong hooks. The peak times for the Tarpon is July, August and September and some say that moon phases play a huge role in the Tarpons behaviour more so than other species. Again new to saltwater fishing and do not wish to purchase all new equipment, come try and rent everything you could possibly need from the lodge. Then once hooked on saltwater fly fishing you can start to invest in the new tackle, we like to think of it as a try before you buy.
You can learn more about our El Pescador Lodge here.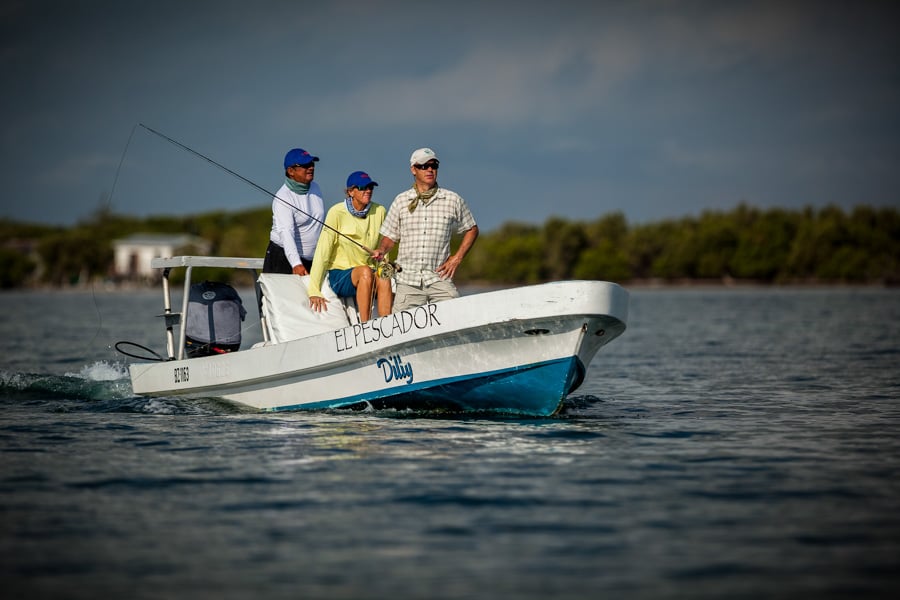 Bairs Lodge, Bahamas
This great lodge in the Bahamas is another flats fishing spot that provides great rod and reel combos to its guests. Primarily a Bonefish and Permit venue, the option of being provided with exactly the right rod and reel to target the two species is available. The rods and reels provided will generally be 7# 8# and 9# rods combined with lightweight reels. For this kind of fishing, the reels need to be able to carry at least 300m of backing as both Bonefish and Permit are not shy with regards to running once hooked.
Another benefit of a lodge supplying you with rods and reels is that it will be water type-specific kit. For Bairs Lodge, the rods and reels will be saltwater rods and reels and most importantly, the lines on the reel will be perfect for the style of fishing you are doing.
You can learn more about our Bairs Lodge in Brazil here.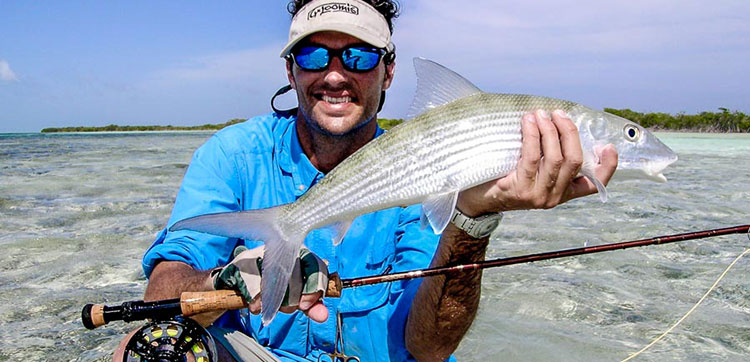 This is just a small selection of destinations that we can offer fishing tackle for. Feel free to ask us about fishing tackle at any of our destinations and we can advise what options are available.
Contact Us
If you would like to discuss any of the trips included in this blog, you can contact our fly fishing team on 01603 407596 or by emailing info@sportquestholidays.com and our experienced team will be happy to help answer any queries you have.