Bonefish Fever is Priceless
Bonefish are pound-for-pound one of the strongest, fastest-running saltwater fish that you will ever encounter with a fly rod anywhere. But did you know their scientific name is Albulidae, which means "white fox", a great name for a species of fish that can move around on the flats and due to its colouration and reflectiveness of its scales extremely difficult to spot to the untrained eyes.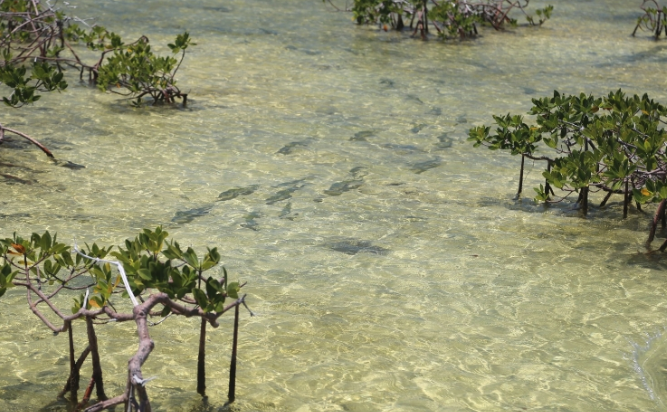 Spotting a shoal of Bonefish moving through the mangroves.
Bonefish are noted for moving from deeper water onto shallow tidal flats to feed on a incoming tide, where you can find and cast to tailing fish, which is one of the most challenging (and rewarding) saltwater experiences available to man. They typically retreat back to deeper water as the tide ebbs.
The Bonefish prefers shallow flats, tidal estuaries, protected bays, turtle grass flats, and other brackish areas at depths of 2 to 6 feet. It is found worldwide in subtropical warm seas. In the Eastern Pacific, its range includes waters off California to Peru; the Western Atlantic range stretches from North Carolina to Florida, the Bahamas, the Antilles, and the rest of the Caribbean almost to Brazil. Bonefish can reach over ten pounds, but a more representative size would be about a third of that as an average sized fish. A big bonefish, a fish of a lifetime, would be any fish in excess of ten pounds. These larger, adult fish break away from schools, often traveling in singles and doubles.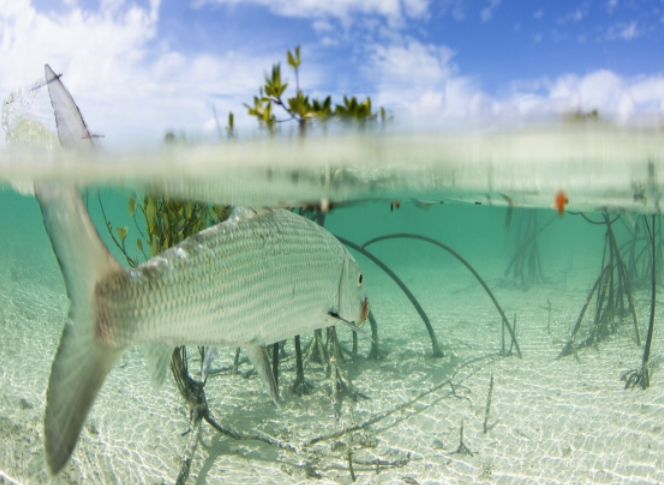 Bonefish in its natural environment.
A pelagic fish, bonefish feed on benthic creatures such as worms, crustaceans, and mollusks—rooting them out from the sandy bottom. Granular teeth, forming specialized dental plates, cover the bonefish's tongue and upper jaw. Similar grinders are also present in the throat, helping bones to grind then swallow prey. Small to medium-size bones often feed in schools. Sharks and barracuda frequently prey on bonefish, which may explain why the fish have evolved such an ultra-fast body for quick escapes. Bones can reach speeds up to 30+ miles per hour, so imagine being connected to one of these fish on the fly.
Fly Fishing for Bonefish can be as technical as you want it to be. There are tides to take into consideration. Wind direction and speed. New tackle requirements and knots to master. Deciphering the nuances and habits of large fish, plus the infamous strip-set that continues to confound trout fly fishermen the world over. Thankfully, on all of our holidays you're in good hands. Our veteran guides have the skills to find fish, but they also possess the patience needed to walk you through the process from perfecting casts to proper fish handling skills and everything in between. This is the BIGGEST difference in many saltwater fly fishing holidays which results in you having either a fantastic holiday or just a frustrating one. Unless you are a very season saltwater flats angler and by this I mean you have at least done 20 plus trips fishing for Bonefish, you are going to need to rely on professional guides. I have never understood why people are preferred to travel half way around the world and try to fish DIY to save on guides costs, to me it makes no sense. I personally value every minute I spend on the water and wish to maximize the time. I know there are costs involved, but 1 day guided in the right place at the right time and with your guides eyes spotting fish you will catch more than 1 week doing a DIY trip.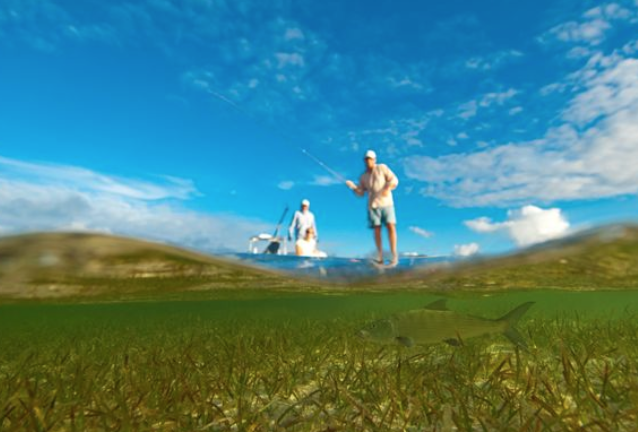 A guides eyes will always spot more fish than you. After all they are doing it everyday.
Below are some of our top tips for fishing for Bonefish; I hope they help some of you land a fish of a lifetime.
1) Adjust your fly to changing water depths: Productive bonefish flies essentially come in three styles: unweighted; lightly-weighted (beadchain eyes); and heavily-weighted (with lead eyes to get deep, fast). Several factors tell us when to switch flies. First and foremost being water depth, Bonefish for the most part are bottom feeders. They are engineered to vacuum an assortment of crustaceans scurrying across the flat or buried within sand and turtle grass habitats via a top down approach. Accordingly, proper fly delivery means connecting with your quarry in this zone. Bonefish do not expect a shrimp or crab to attack them from above. And when you land your cast too close to the fish it will bolt. Instead, focus efforts on leading incoming bonefish by anywhere from 1 to 6 feet, closer for tailing fish, longer for cruisers. Also, give your fly ample time to sink to where a feeding bonefish expects to find its quarry.
A good rule of thumb is your fly should touch bottom in no more 3 seconds. If you find your fly is not getting to the bottom fast enough, choose a pattern with more weight. For example, switch from a fly with beadchain eyes to one with lead eyes.
2) Intercepting fish is all about timing: Once your fly is in the zone, it's time to get it moving. The typical bonefish strip, with shrimp imitations such as Crazy Charlies, Gotchas, and spawning shrimp patterns, involves a smooth pull of your fly line followed by a quick stop, then strip-stop, strip-stop. Depending on how the fish reacts to your fly your guide will instruct you to "strip faster"; "strip longer"; "shorter"; or "stop the fly" until the fish inhales it, at which point you will make one final strip strike to firmly set the fly in the fish's mouth.
3) Bringing your bonefish to hand: Once a bonefish is hooked, keeping a cool head through the next five seconds of chaos will help determine your odds of landing it. Focus on clearing the line from the boat deck or around your feet and through your rod guides in a clean and efficient manner. If your line gets snagged on your fighting butt, reel, or stepped on its likely game over with that particular fish. To ensure a seamless hook-set to line spinning off your reel transfer, spread your rod and stripping hands apart. Via your stripping hand lightly pinch the line, allowing it to run smoothly, as opposed to jumping, through your stripping guide. Once all the line is cleared off and safely on your reel, keep your rod tip up and let the fish run. Average size bonefish will typically take one or two long runs into your backing. Use side pressure, right and left with the rod, to turn the fish and tire it quickly. When releasing bonefish, it's essential to keep the fish in the water. If you must take a photo, make it quick. Catch-and-release mortality increases exponentially the longer a bonefish is exposed to the air and handled.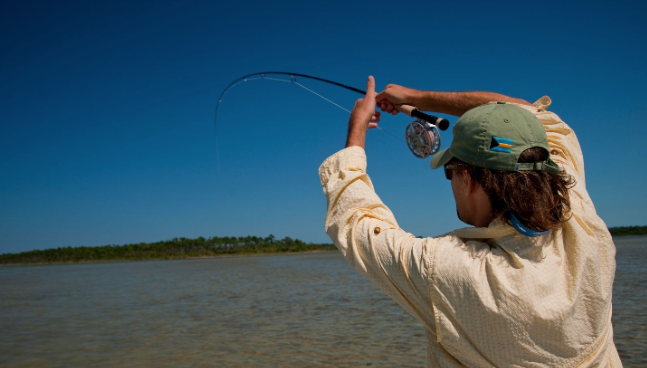 Let the fish run, thats the fun part.
4) When it comes to fly color, theories abound: But in general pay attention to your underwater surroundings. Small prey species tend to match the color of their natural environment in order to camouflage themselves from larger predators. Your flies, too, should follow suit. In the Marls you typically fish tan and buff colored flies to match the sand flats. Spawning shrimp patterns such as the Puglisi and Peterson's have been top patterns in recent years. Crab patterns are also good bets for both bonefish and permit that frequent the flats. When tied in smaller sizes (#2, #4, and #6), they're more enjoyable to cast and perform well on medium to deeper flats. A couple of my favorite patterns include the Bauer Crab, Merkin, and Kung Fu Crab. If your next shot is going to be a crapshoot between bonefish, permit, or mutton snapper, tie on a crab and effectively cover your bases.
Bottom line, come prepared with an assortment of flies in varying weights and colors when fly fishing for bonefish. After all can a fly angler EVER have enough flies 🙂
Fishing Tackle
Fly Fishing for Bonefish: 
Depending on where you will be travelling and the average size of the fish you would use 9-foot, 6 to 9 weight fly rods with a medium to fast-action with enough backbone to launch flies across and often into prevailing ocean winds. An 8-weight is the universal choice for flats-style bonefish fishing. Lighter or heavier rods can be substituted depending on conditions. For example, light (or no) winds often punctuate the need for delicate presentations and lighter rigs. Heavy winds, on the other hand, require higher line speeds and heavier rods to punch flies through. I would recommend saltwater-specific rods from reputable manufactures. Your reel is also important. Choose one with an adjustable cork or composite disc-drag, and a capacity of at least 150 yards of 20- to 30-pound backing. For lines weight-forward floating lines (RIO and Airflo) with fluorocarbon leaders (10- to 16-pound test) is all you will need. Last but by no means least is proper sunglasses that have been built and designed for saltwater flat s fishing. Do not spend hundreds of pounds on the top of the range rods and reels only to take second best for your eyes. Remember the excitement about Bonefish fishing is its all about "Sight Fishing" and there's not going to be much fun if you cannot spot the fish, pointed out by your guide.

Where to travel:
That is the million dollar question, however we have made it very easy for you. All our Bonefish destinations are all tried and tested and we ONLY offer the best lodges with the top guides. To see ALL our Bonefish destinations Click Here