Tips On Cod Fishing In Sørøya
The quality of Cod fishing in the UK is not the same as it used to be. The older generation has told tales of many double figure fish being caught in a single sitting but this is extremely rare now. This has led to more anglers traveling to colder climates, such as Sørøya, to catch that elusive brute of a Cod.
Because of this, we have asked our Sportquest Holidays expert Paul Stevens to give some top tips to target them colossal Cod.
What time of year would you suggest to our customers to book up if they want to target massive cod?
It all depends on what you would like to achieve from Cod fishing. The real big beasts get caught in March and April. These Cod are called Skrei Cod and are a migratory Cod coming in from the Barents Sea to feed up and spawn. Once this happens and they have laid millions of baby Cod, they then drift back out to mega depths of water not to be seen until the following year.
The Skrei Cod that inhabit Sørøya can grow to over 100lb and this is your best chance of catching that dream Cod. However, you have to be aware that the weather can be cold at this time of year and if you choose to travel at this time be prepared for some cold weather.
What destinations would you recommend to our customers for the best chance of catching the cod of their dreams?
One of the best destinations I have been to target these huge Skrei Cod is Sørøya. This island is one of the most northerly parts of Norway you can get to. This destination offers excellent Cod fishing and will soon produce a new world record.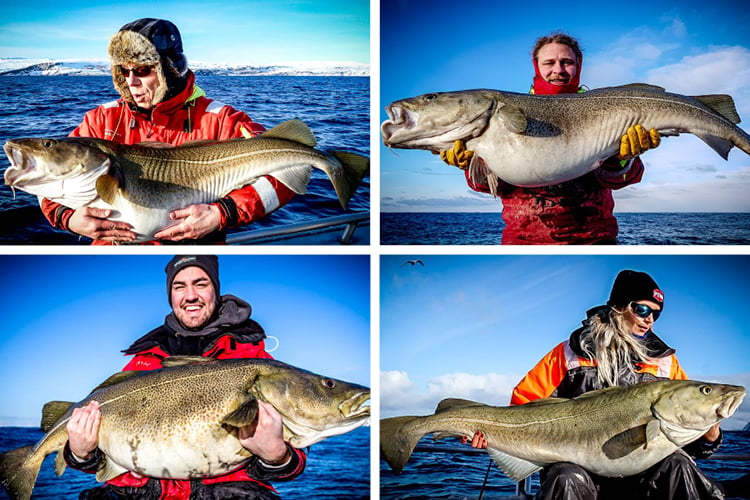 What main tackle (rods/reels) would you suggest our customers use when fishing for these jumbo cod?
Starting with the rod, I like to use the shortest rod as possible. My personal fishing rod is 5.5ft and weighs hardly anything (you have to remember you will holding this all day). A 20-30LB class rod is perfect for these Cod.
My reel of choice is a Daiwa Saltist. These are fairly expensive but well worth the money as the clutch is as smooth and they are built to last.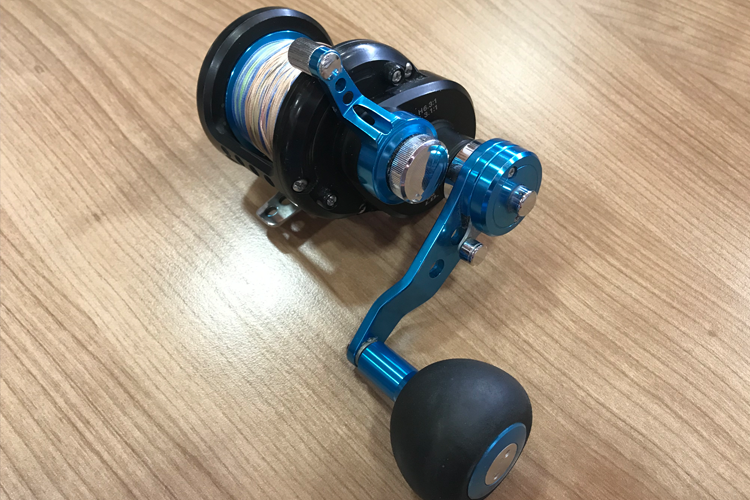 What mainline would you say is best for cod fishing?
When targeting the huge Skrei Cod of Sørøya the most important piece of equipment is depth marked braid. Many companies produce this line but I like the power pro depth hunter in 60lb.
More information on Norway Sea Fishing:
Is the fishing for Soroya's Skrei Cod different from fishing for normal Cod?
It certainly is. I will try and explain a little about how to fish for the Skrei Cod of Sørøya – Once you have found your big shoals of Cod, you need to slow your boat down and keep your eyes fixed on the fish finder. What you are looking for are the tops of the shoals, this will be where most of the bigger Cod can be found. Once you know the depth of the top of the shoal, you need to lower your shad down, counting the color-changing braid as it goes. Once you have got to your depth the rest is up to the Cod.
What shads would you recommend to catch the cod?
When the Skrei Cod are feeding I like to offer them the biggest shad possible, Westin (a Scandinavian fishing company) produce a shad called "Big Bob" and offer two different sizes. I prefer the biggest of the two which is 40cm weighing 720g. When the Cod go off the feed a little then I will drop the size of my shad down to try and temp a bite.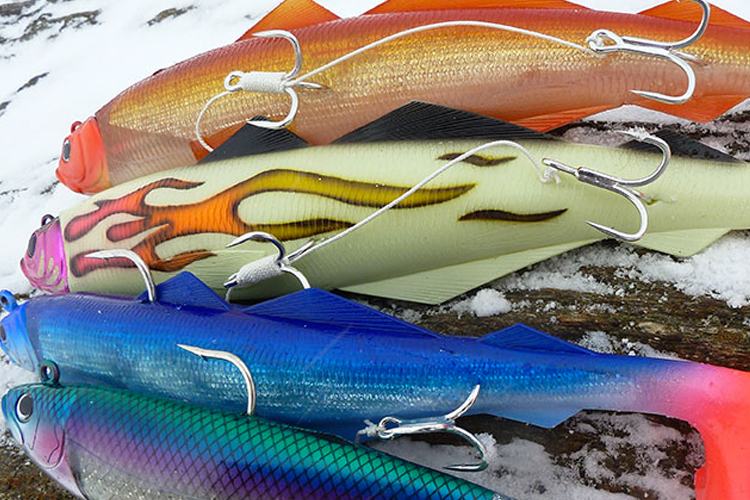 What is the best way to make the shad work how it should and get the Cod interested?
When the Cod are feeding simply lower the shad down to the top of the shoal and with quick sharp movements of the rod tip, work your lure. Don't move the shad too much as you will attract the smaller Cod. Little sharp quick movements are what the bigger Cod like.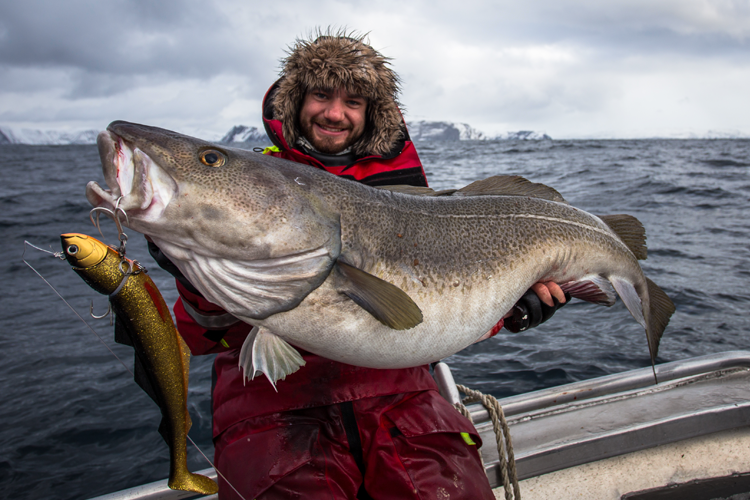 How do you practice catch and release with the cod, how do you handle them in the boat?
If you plan on putting your prize Sørøya Cod back then there are a few things you should practice. The first (once hooked) is to reel the Cod up until you can see it appear beneath the boat. You should start to see the Cod around 7–8m below the boat, as soon as you see this, stop reeling. The Cod will sit there and expel all the air from its swim bladder and once all the bubbles stop hitting the surface and the Cod starts to fight again then it is time to reel your prize fish up for weighing and photos. Please try to chin the fish out of the water rather than gaffing it, have everything ready to weigh and photo as quickly as possible so you can return your Cod.
How will I know if the cod are feeding?
When you are driving the boat around searching for Sørøya's Cod, you will notice that sometimes the fish are hard on the bottom and other times they are really spread out in the water columns. When they are spread out and not tight to the bottom it is dinner time.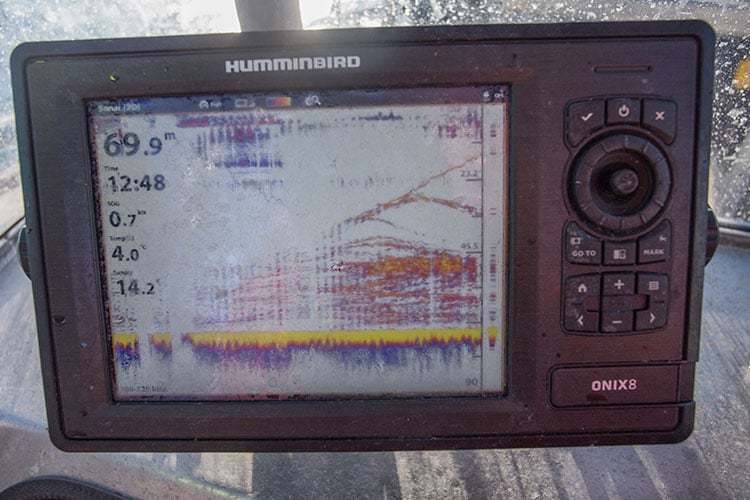 Can I catch any other species whilst cod fishing in Sørøya?
It is possible to target other normal Norway species but when you have the chance of a world record Cod, why would you want to fish for anything else? There are better times of the year to target the other species.
If you have any other questions about Skei Cod fishing in Sørøya, leave them in the comment section below and we will answer them for you. Make sure you also request a free brochure too. If you are looking for more information and advice on Sea Fishing in Norway, head over to our complete Norway Fishing Guide here.