Preparing For Skrei Season
When we enter a new year here at Sportquest we start to get very excited as we know the season is coming when anglers will be heading to Norway in numbers to target one species in particular and that fish is the monstrous Skrei Cod. Now, these big chunky brutes are like no other cod that you will find around the UK coastline. These jumbo beasts move down from the Barents Sea off the Russian coastline around February time where they then make their way onto the Norwegian coast in numbers ready to mate and spawn. You do not get long to target these fantastic fish though as they only hang around until towards the end of April before they head back into the much deeper waters off Russia. So if you are planning to target these fantastically giant piggies then there are a few things you should know before you travel and get stuck into the vast shoals that you could well be finding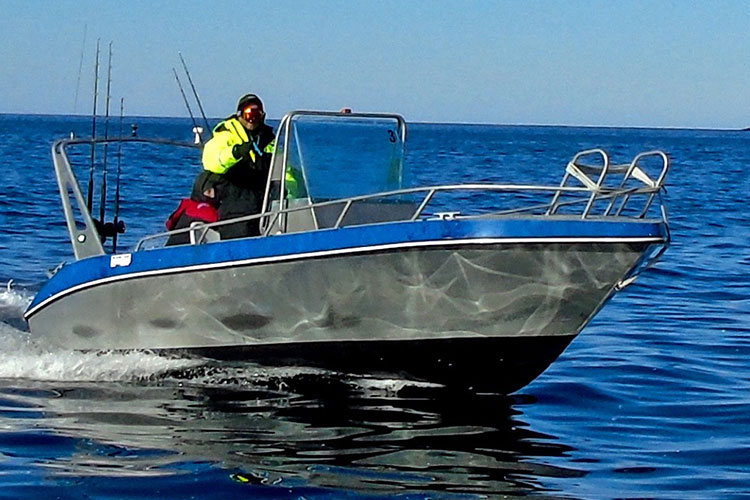 First thing that we should be talking about is clothing, if you are dressed wrongly when out on the water then your session will be over before it has even started, there is nothing worse than being cold and wet when out on the water and trying to catch a big fish, you will just want to be back at the cabins warming up and you will not enjoy yourself. Layering up is the key here start with thermal base layers and move onto t-shirts and hoodies. merino wool base layers are always good as these have renowned insulation properties. On top of these, I would always suggest a high-quality flotation suit that will keep the wind and damp out but will also act as a safety device if anything was to happen. On your feet layer up with socks, I always wear a thin pair followed by a thicker pair and then a thermal pair on top, nobody wants cold feet as this will yet a get put a dampener on your day. For your feet you will need a good set of waterproof sturdy footwear and ensure they do not have studs on the bottom as the boats are all aluminium and studs are a definite no-no on aluminium boats.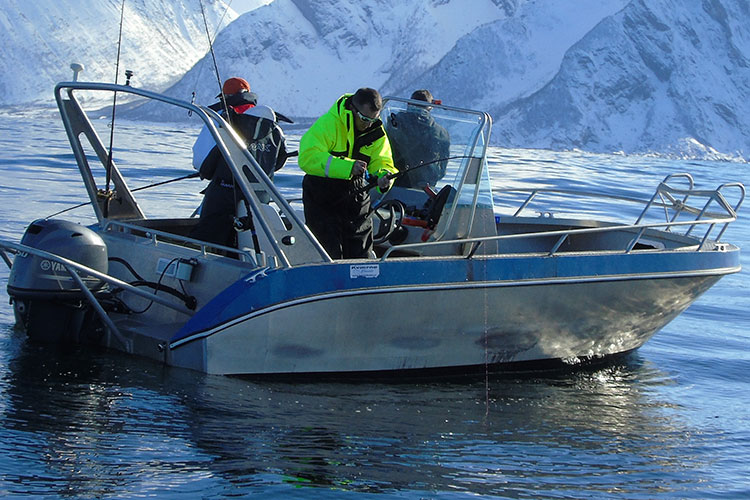 Next, we need to chat all things tackle, when fishing for the Skrei nearly all your fishing will be done using Shads or pirks, Skrei will hit baits on hooks but the most efficient way to target them is with a big lump of rubber or metal moved in front of their faces. Rods need to around 20-30lb class, lighter can be used and these prove to be great fun but to get the most out of your fishing the slightly heavier gear is needed. Go too heavy though and you will lose the responsiveness through the rod and the fishing will not be as fun and you may start to find you get hook pulls. For your reels a good multiplier or fixed spool ids needed with at least 15kg of drag, I would suggest loading these reels with a braid of between 60-80lb, ensuring this is the depth marked variety of braid. This depth marked variety is very important as this is imperative to finding the correct depth of the shoal, the top of the shoal is where you will the bigger ladies sitting and this is where you should be fishing if you want to catch a complete lump of a fish. Heavy rig bits are needed too with heavy swivels and split rings being the order of the day here anything from 250lb breaking strain plus are needed to ensure that during the fast and furious action you could be seeing you will not have any tackle failure. When it comes to shads there is one that we would suggest every angler takes with him to Norway and that is the Westin big bob shad in 730g, these jumbo shads are bigger than most of the fish you would catch on the UK shores but these big lumps of pretty, coloured rubber will pick out the much bigger specimens and are a must-have in every tackle box that heads out in Skrei season. Along with these, I would also suggest the Savagegear cut-bait shads along with Spro Halibandits as well as a couple of pirks for that time during the tide when the fishing may quieten down for a short while. These shads will keep you into the fish throughout the tides and will certainly get you warm on a cold day as you work them through the layers and winch in the many Cod you will be hooking.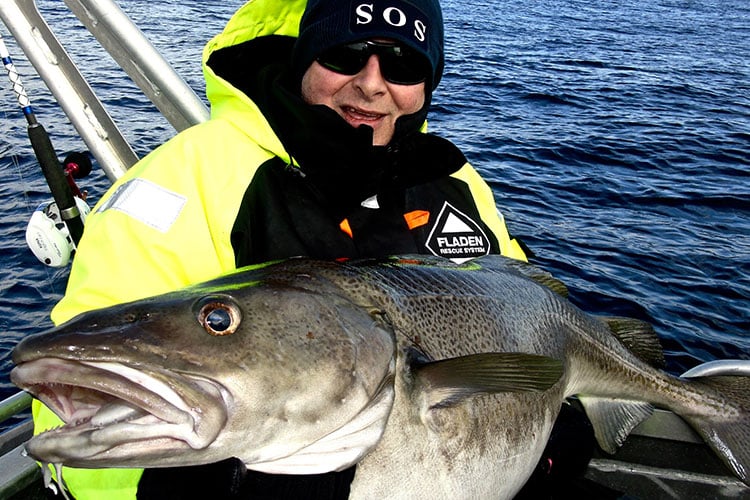 The boats you will be using in Norway are always up to the job and will be fitted with GPS and also sonar for finding those fish, you will be drifting over the shoals of Cod that lie beneath and it is essential you are drifting at a slow pace so as to get the best fishing you can. Do not sit on the tide and let both it and the wind take you as you may end up flying over the shoal with your shads far too high in the water, drifting in no man's land if you will. The best way to control this to put the boat with the rear of the boat into the tide and control it in reverse, you may need to be on the ball correcting it as you go by using the throttle and rudder but you will find this way will keep the lines straight down in the water and will keep your fishing as effective as it can be. The last thing you want is lines flying at a high angle and your braid becoming a tangled mess.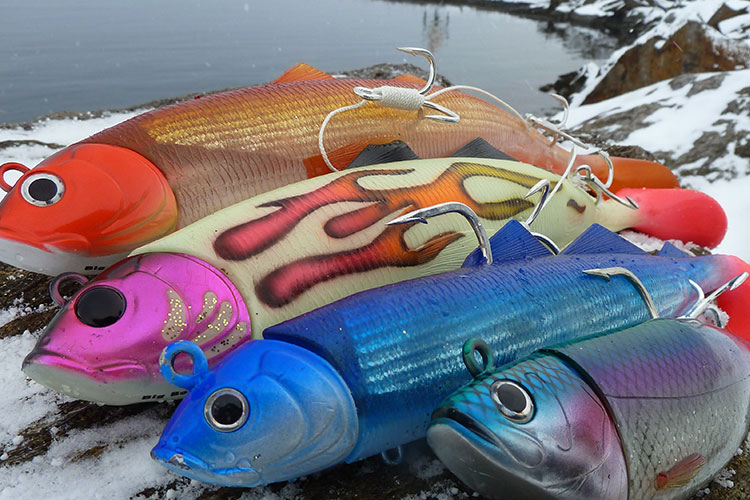 If you are practising catch and release then what you must do is as soon as you see the fish rising through the water you must let the fish rest, by doing this you will allow the bladder of the fish to equalise and you will know once this has happened as the fish will expel a shed load of bubbles and will start to kick again meaning that you are then ready to bring your fish aboard. If however, you are taking fish for the table then may I recommend the fish of between 10-20lb in weight, you will find the flesh on these fish to be of much higher quality over that of a 40-50lber. You will have fish boxes onboard your boat so once you have enough for the table you can return back to shore and fillet these fish in one of the many well-equipped filleting rooms you will find at our camps. Once you have your fillets find a space in the freezer room and lay the bags of your fillets down ready to freeze, a good idea may be to take a marker pen with you to mark your bags of fish so you can tell yours in amongst the many others that are there.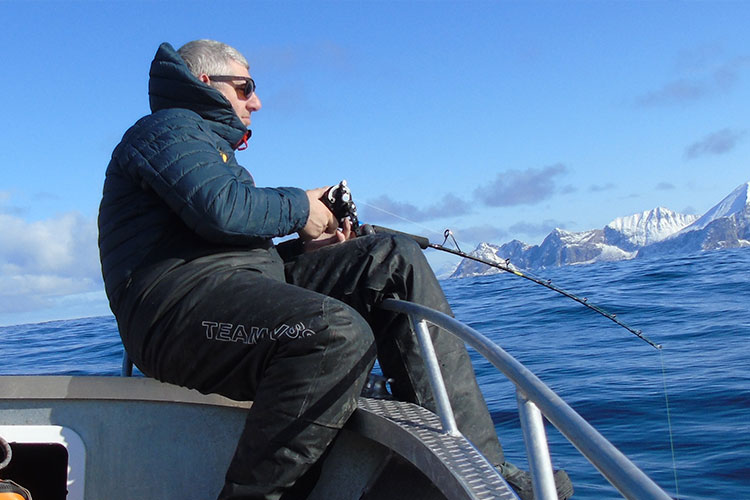 Hopefully, this blog has been of some help to you if you are heading out during the next Skrei season or if this is just something that you are contemplating doing in the future, one thing is for certain, if you love to fish the open seas then this is most definitely one type of holiday you have to experience at least once in your lifetime.
Tight lines,
Matt