It's been an amazing week on the Gaula and here at Winsnes Fly Fishing Lodge! We have caught 54 salmon this week topped by this beauty measuring 109cm (est.13.4 kilo or approx 30 pounds) by Norway's own Anna Geelmyeden, ably guided by Gaula hard born veteran and Anna's Husband, Petter (pictured with one of several fish he caught this week).
This year has been amazing on Gaula. Over 400 more fish were caught in June this year compared to 2019. In July to date, the river has already produced 672 fish compared to 1497 for the whole of July last year!
In such a bumper year, our thoughts turn to our guests who have had to sit this one out, especially the gang who come every year in week 27. Andrew Gunn and the Polyfellas – we miss you and send our love!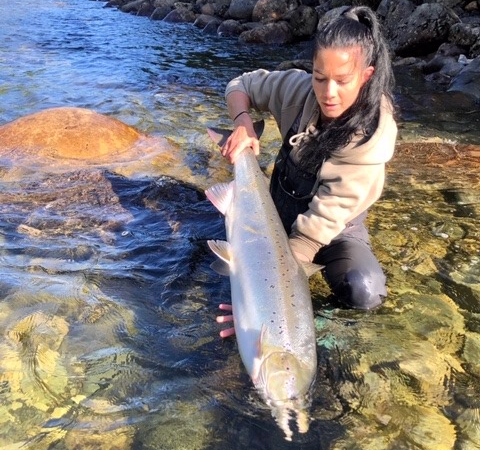 Perfect conditions prevailed last week enabling us to fish a variety of lines and flies. The fish were very aggressive and willing takers even during the day time thanks to overcast skies, drizzly rain and freezing conditions: horrible to be out in but perfect midsummer Gaula weather! Almost all the fish were sparkling bars of silver and out of 54 Salmon!
Contact Us
The Guala river is a paradise for fly anglers! If the sound of this trip interests you, take a look at our tour page for even more info, Alternatively, you can request a free brochure or simply call us today on 01603 407596 with any questions you may have.
Tight Lines,
Peter