We have our ninth report in from Roy over at Costa Rica, the Sailfish have definitely returned! If you missed day 8, take a look here. I'll now hand it over to Admiral Marlow –
Its day 9 of our Big Adventure at Crocodile Bay in Costa Rica and its another beautiful day on the Osa peninsula. This morning at daybreak the Cockatoos were making a massive racket outside our little house.
Today we were again with Humberto on a Boston Whaler. This was our last day on a Whaler, for our last 4 days we are on a Strike Boat with Manuel. Crocodile Bay Resort is, without doubt, the best run facility for fishing and Eco tours that I have ever been on. This doesn't happen by accident and just one of the important people at Crocodile is Diego. Diego is the fishing director and every day he makes sure all of the guests are happy. Morning and night he and the team are communicating with guests to ensure everything runs smoothly.
A Pair of Colourful parrots giving a morning greeting
Diego will inform the Captains the plan that has been agreed, and the level of help that the Angler requires. This is very important because of the varying skill levels that guests have. In my case I want to do everything myself and if it goes wrong it is down to me. However, I would recommend that anyone who isn't that proficient at least understands the basics and if possible has a bit of coaching before arriving.
Humberto had spoken to the other Captains last night and at least we knew where the Sailfish had been caught the previous day. If you have watched David Attenborough in Blue Planet 11 he talks about life in our Oceans. He describes how the Pacific Ocean offshore is like a huge desert and is roamed by Pelagic and roamers, this means that these fish cover vast distances possibly every day. It follows that there are miles of Ocean with little fish live in it, that's why we go trolling, a method that enables anglers to cover vast distances in an effort to find these fish.
Well, today we covered several square miles looking for Sailfish with 4 sets of teasers 4 Ballyhoo outfits and two Marlin outfits and by lunchtime hadn't seen one. We did break off for about 30 minutes to check out some Yellowfin Tunas that were chasing some baitfish, however, we failed to get a bite.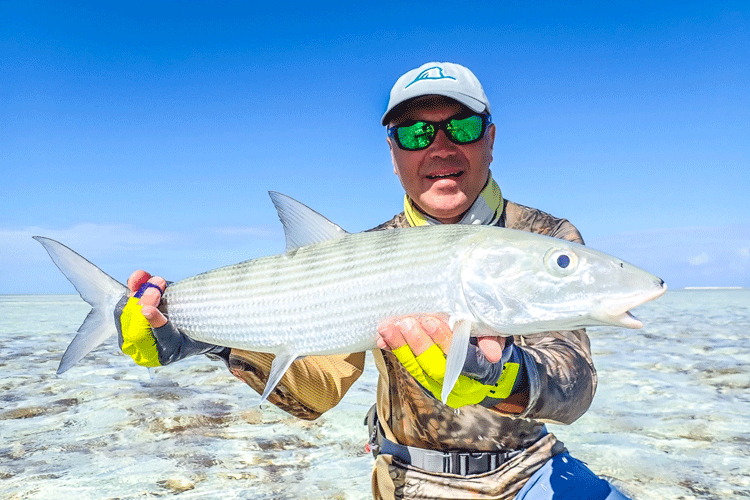 For most anglers it would soon turn out to be very boring, that's why trolling isn't my favourite way of fishing, however, if you are part of the team it means you are constantly busy. Changing teasers, checking baits, adjusting the spread etc keeps you on your toes. At midday I was thinking I wouldn't have anything to write about then suddenly all hell broke loose. I had just repositioned my bait right next to the near teaser, I think this is the best spot most days to get a strike. My outfit was a light spin rod and reel that I had caught the big Tuna on. I saw a flash under the teaser and leapt on the rod immediately feeding the Ballyhoo back towards the fish.
It grabbed the bait and with the bail open I gave it the mandatory count of 5 and wound down. Immediately it dropped the bait and I fed it back again, the same thing happened and I did it again. This time it had the bait and a massive Sailfish tail walked away. This is when panic sets in, because before you can chase the fish down all of the other outfits and teasers have to be bought in. Chris and Humberto move up a gear and like a well-oiled machine, the deck is clear. My fish is now 200 yards away but now we can back up and close it down.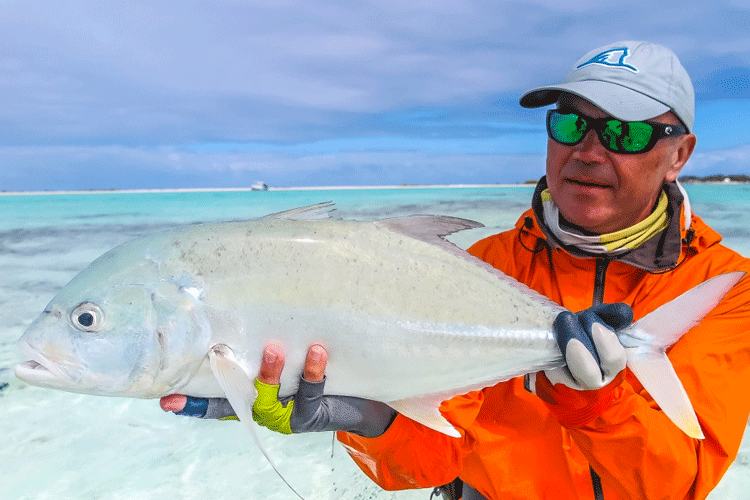 You've always got to be ready for a bite in Costa Rica!
I could see this was a big fish and I wanted some pictures so when I had the fish close to the boat I passed the rod to Chris and tried to take some photos. It is a team effort and for me the exciting part is the first few minutes of the fight, I have caught plenty of Sails so letting someone else have some fun is what I enjoy most of all. My Jedi training with Chris is paying off and he got the fish alongside the boat.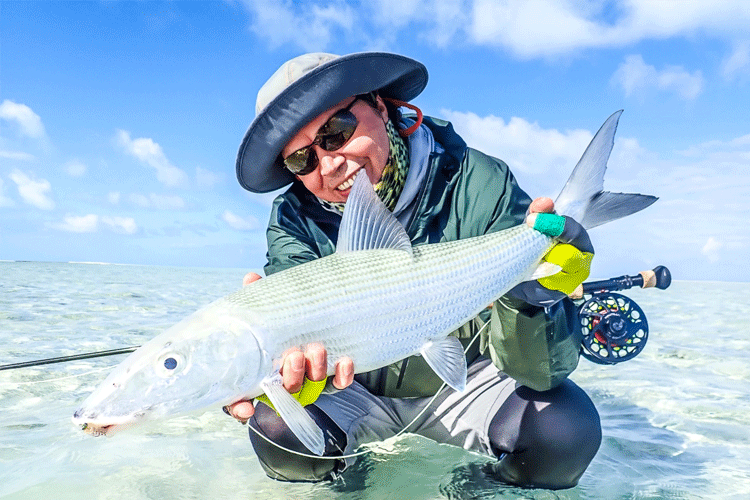 The photos of Sails rarely shows just how big the fish is. We estimated this one around 120lbs one of the biggest fish so far. As often happens the sun is in the wrong position but you can see from this photo that this is a substantial beast.
We safely released it and reset all of our rods. Some twenty minutes later I had another hit and it was the same panic all over again. The pictures look just the same so I won't bore you with them. Yesterday I mentioned my top-secret plan and it worked. Yesterday we were playing Dolly Parton songs, today we started with Kris Kristofferson, then Johny Cash neither worked for us. We put Dolly on full blast and "Jolene" and "Islands in the Stream" did the trick. It was a very tough day for all of the boats, but catching Sails on light tackle and doing everything yourself is what makes it all worthwhile. Sometimes its quality and how you catch them that beats numbers. This is Chris releasing our second fish, you can see in this photo how long these fish are!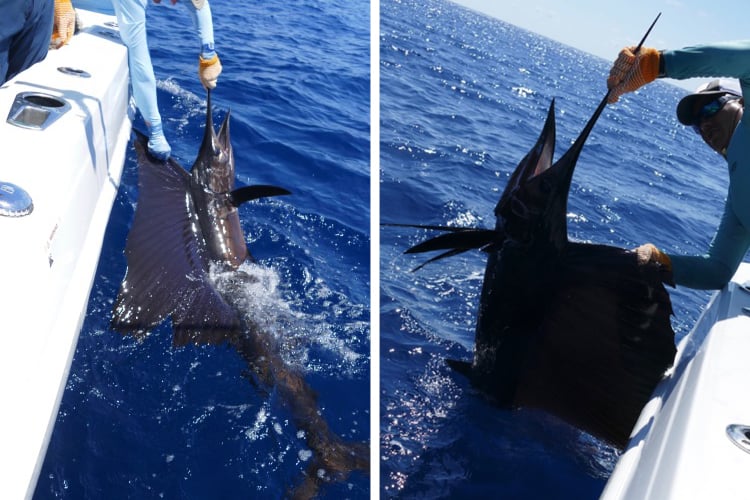 We finish up 5 for 2, a bit unlucky on number 3 when the line cut though on the Marlin rod. I have to include a photo of Humberto, several film companies want to use him in their films but remember I am his agent. Tomorrow is another day and the Shipmates are pacing themselves.
Signing off
Admiral Marlow
Contact Us
Crocodile Bay Resort really is a one-of-a-kind destination, catering to both anglers and holiday-makers. Like the sound of Roys trip? Learn more on the Crocodile Bay Resort page for even more info, Alternatively, you can request a free brochure or simply call us today on 01603 407596 with any questions you may have.