We've had a really good week up here in Havöysund, the week offered a lot of northerly winds that have stirred the pot and contributed to a slightly lower temperature in the water, as well as the fact that we passed the new moon and therefore had an incredibly strong current, this has resulted for a while absolutely fantastic fishing for both Halibut and Cod. The week began with a real bang start as many of the boat teams wanted to take the opportunity and come along to a really big fish spot, I steered the guide boat myself and the talk about the big Halibut was hot among the Englishmen in the guide boat.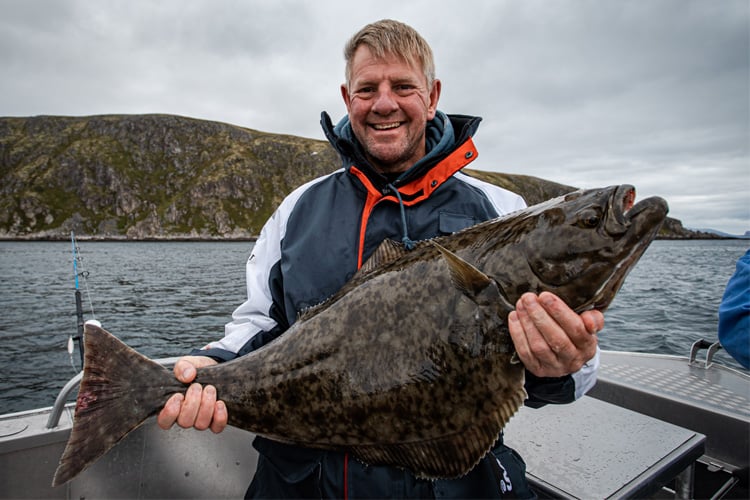 Paul, who previously fished in Norway on a number of occasions, had set his sights on trying to break his PB of 145cm during the week, I put up a couple of drifts around a deep hole that usually delivers and on the third drift of the week Paul's rod snapped and he set the circle hook in a steady fish! The fish offered up a lovely fight and after a while I was able to secure a new PB for Paul at a whopping 163cm. We couldn't have gotten off to a better start and Paul happy as only he could fish relaxed for the rest of the week, but his fishing would turn out to be far from over… Andreas had taken some boats with him to another hot spot a little further in the area and that it didn't take long before they pounded up a great Halibut in Andrea's boat of 150 cm, closely followed by the guys in boat 6 pushing with a strong Halibut at 155 cm!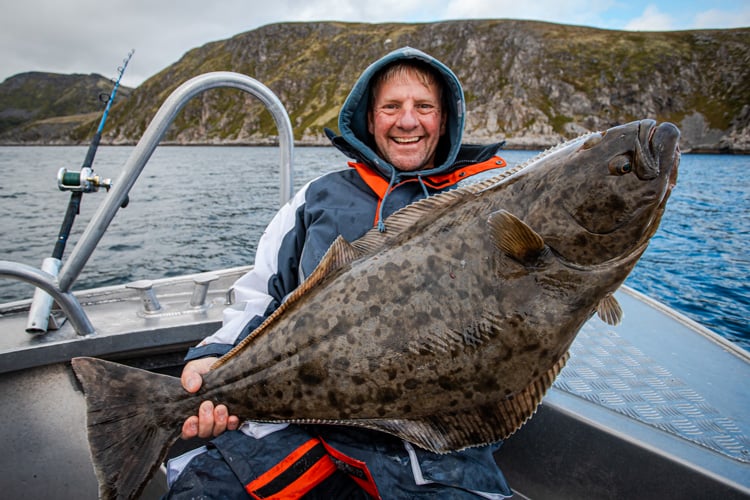 The following day we continued on the big fish gate with boat 11 and boat 8, we drove a more exposed area as the winds were non-existent. Before the current started to kick in not much happened but after a couple of corrections I ran off a nice steep down towards 50 meters and just as we got down to the flat bottom the world's slack bite smacked my jig and I hooked one not all too big fish, but on the light slow pitch rod the fish offered a good fight and I was able to hand over the rod to Chris who made his first trip here so he had a really fun fight on a nice 114 centimeter Halibut. I then continued to put a little energy into the channels between the reefs and when I then push the boat up a little bit on the slush in one of the channels, Paul was on again and it ripped away at his bait fish… He hooked the fish and we quickly understood that it was about a similar fish to the day before, the fish pulled away with a couple of really sick rushes but with his great equipment it was no problem to retrieve the fish and we were able to measure the fish to a really kingly 162 centimeters, so another great Halibut to Paul who was more than Happy.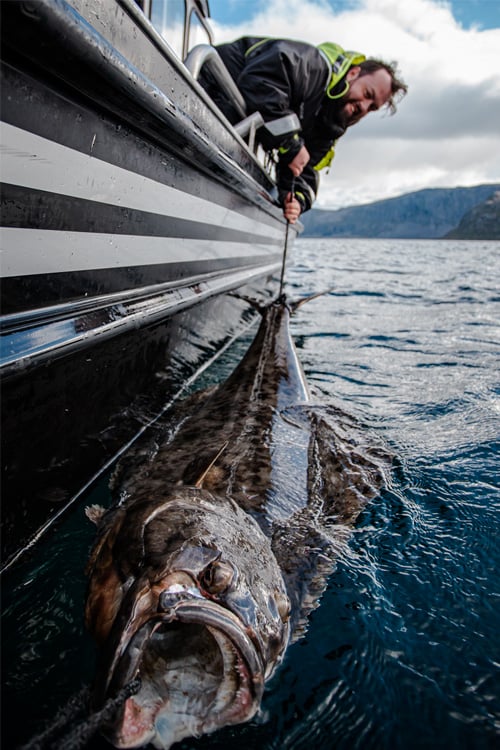 Boat 8 also found a hot spot where they managed to land 2 really nice Halibut of 120 and 124 centimeters on spin fishing! Boat 11 had rotted after a smaller fish of 85 centimeters and wanted to feel a little bend in the blades, so they looked out on the slopes and found a large collection of Cod and had a really great fishing with large amounts of Cod up to 9-10 kilos. Our guests from Lithuania were this day in a completely different area in search of Cod, and when they had drifted out over a slope down to 100 meters with their darts, one of the guys had a really good thump and they quickly realized that they had run into a fat Halibut, after the fish had emptied the reel of 250 meters of line, the long way up to the boat began, but they managed to land the Halibut and measure it to a whopping 185 centimeters!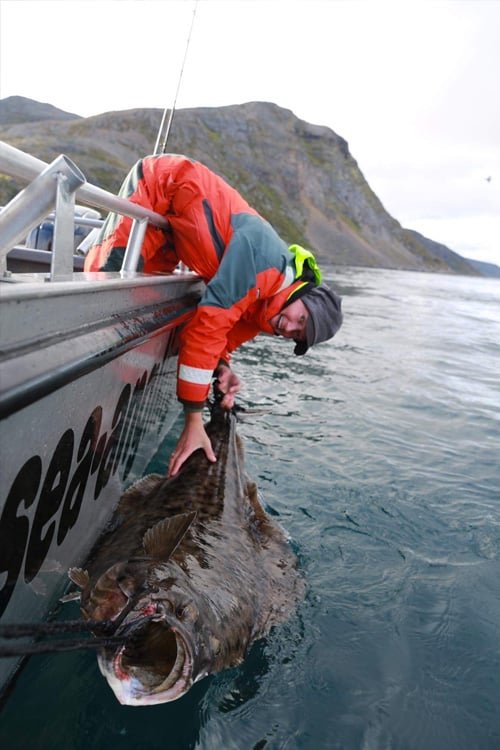 During Monday's fishing, we were visited by some northerly wind and the choice options were limited, Andreas who steered the guide boat brought a bunch of boats to a shallow area with good currents where they would fish for Halibut. The fishing was really bananas right from the start and it hit non-stop for the guys in the guide boat. Drift after drift, fish came in on the sonar and they smacked a bit over two digits in the boat and had a lot of contacts and lost fish. There were no monsters on the move there but really fun fishing that was appreciated by the guys in the guide boat, the fish bit on everything but the most effective that proved to be several times during the week were small baitfish, the Halibut really can't resist that so you want good action in the shallow water, so this is a hot tip.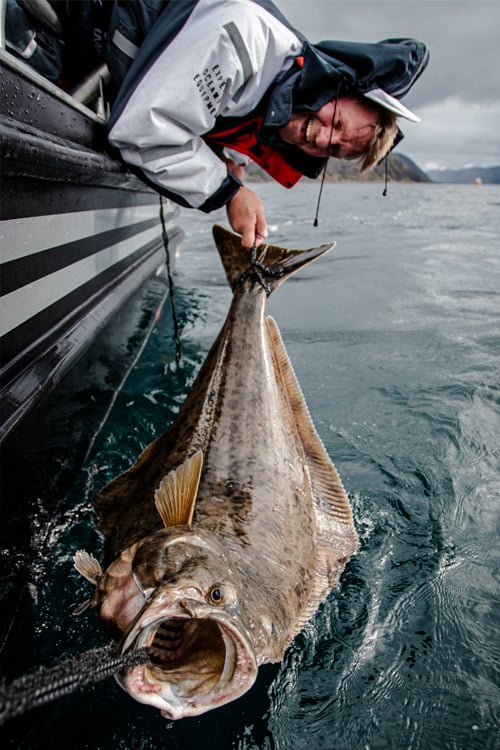 On the last day, the conditions were again really nice and a bunch of boats were really keen to get out for good Cod fishing. Andreas had the day before had a magical Cod fishing with the Lithuanians where they had landed large amounts of Cod up to 10 kilos and lost a whole bunch of really big ones, so we sent the boats out to the same area and the fishing was still really good! Really good amounts of Cod around 10 kilos were landed and the top fish were 15 kilos. The rest of us headed back to the area we fished for Halibut on the first day hoping to finish with more big Halibut. I started the fishing with the guide boat around the same hole that delivered under on the first day and as we drifted towards the mark from Paul's 163cm and a fish came in on the sonar which followed Nigel's bait, but when it calmly just follows and checks the bait, Paul's rod is torn away again and it is another Halibut that has come up and cut his bait, he pulls and puts hard pressure on the fish and yay, another great Halibut set on the hook which, after another fierce fight, could measure 150 centimeters! Boat 12 lay and kneaded off another edge and after pulling a couple of Halibut around the meter on small baits, it stepped on a fat fish even for those that measured 154 centimeters. As I personally like to fish with a little size on the bait fish, we pulled a bunch of Cod and fished with them instead of the somewhat small Coalfish we had.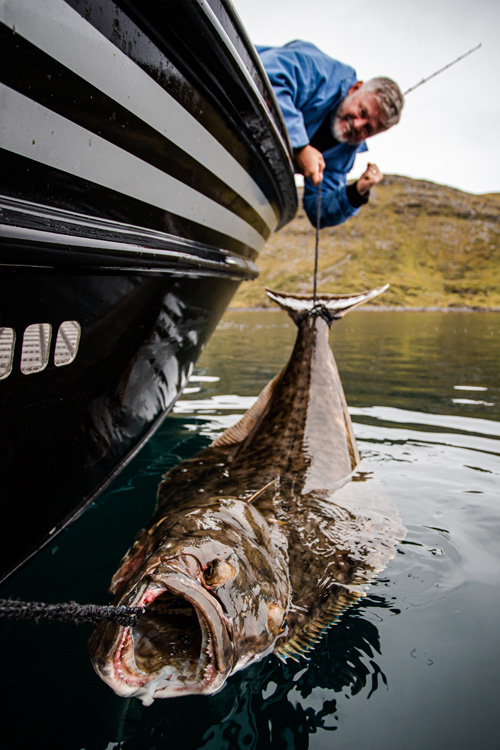 It didn't take long after I sat on a Cod for Ian before it cut a Halibut for him, this too was a really nice Halibut of 133 centimetres. Cod had to remain as bait and when the current had later turned and started to push properly, it felt really hot again. I cast a slightly longer drift but with no action so after a while I told the guys that we should move and go up to a spit where we had previously been after a really fat fish that never bit. Everyone started cranking up and after cranking for a while I glance over at Chris and see that his rod started to bend slightly, Chris was afraid he had caught something but I he quickly got there and the situation resolved itself so that the actual Halibut that had sucked Chris's Cod on the way up easily 20 meters above the bottom was now on the hook and was heading away from the boat in a sick rush in the 3 knot strong current. Chris tore and had an incredible fight, when the fish finally got up to the boat it still wasn't ready and took off again in a mad rush so Chris just had to start over pumping the fish up to the boat. The second landing attempt went better and I was able to secure a really nice fish for Chris that measured a full 159 centimeters, also this nice fish that all the other big specimens had to swim back nicely after some fat photos. When the day began to come to an end, there was action away in Andrea's boat as he stood and tried to sort out a big mess that had arisen in the strong current eddies. He sturgeon hung over the rail with four lines tangled together, one bait hung only a few meters below the surface with the other baits lashed further up, and out of nowhere a nice flounder comes up right next to the boat and hits the bait that was hanging a few meters down, Andreas had to release all the lines and the guys in the boat had to drill the fish with the other lines still tangled. Miraculously, they manage to land the fish and measure it to a fine 135 centimeters.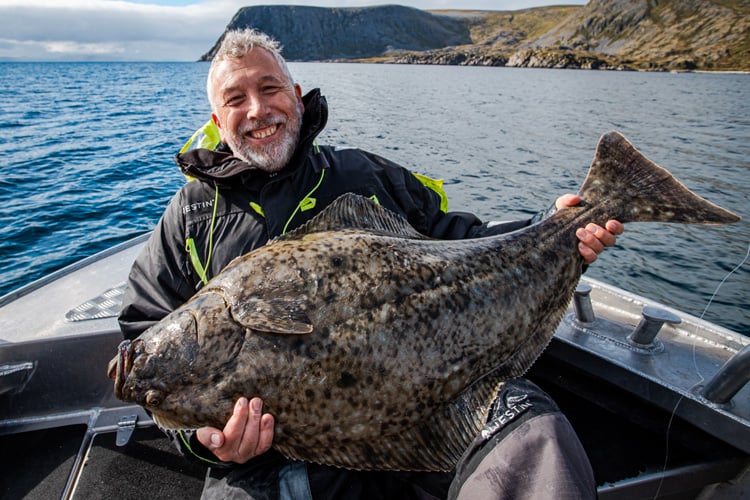 We thank everyone for a really nice week and now recharge the batteries for another great week!
Tight Lines// Douglas Dahlberg & Andreas Hugsén
CONTACT US
If you, like many others, have ever dreamt about fishing the prolific waters of Havoysund and would like to know more information on how you can join us, you can contact our sea fishing specialist, Paul Stevens, on 01603 407596 or email at paul@sportquestholidays.com.