A really great week has now come to an end and since the last news we have had very nice catches at the camp in the form of slightly different species. On Monday, however, we had a really stormy weather that had rolled in with strong winds from the west, this means that you only have a few hours on rising water to fish just outside Havöysund, while then under the falling water when the current collides with the wind it becomes unfishable. This day we were the only three boats that wanted to go out and give it a try, I steered the guide boat and the plan was to bank up a Halibut quickly and see it as a nice victory on such a mischievous day.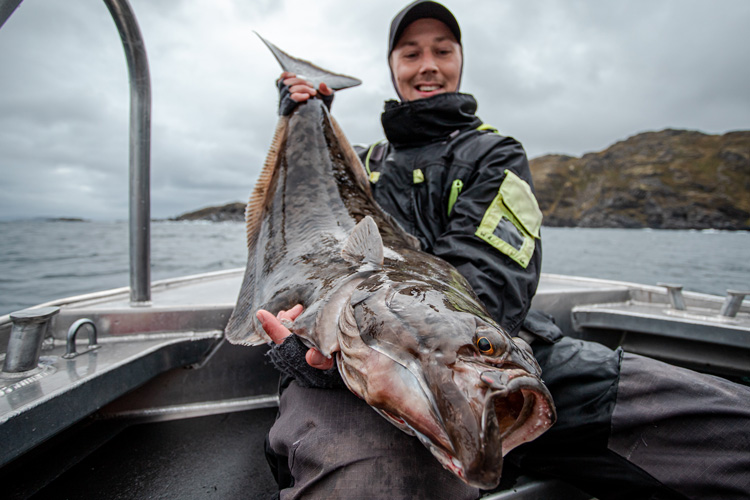 During the time we were looking for baitfish, the guys in boat 2 who followed out had a really good flow when it narrowed as only the one on the dart that weighed down their baitfish was heckling and it started screaming in the reel. They had a good fight on light equipment and up came a nice Halibut of 125cm, with neither line nor hook adapted for Halibut, it was a miracle that it lasted but it came up and their day was done. In the guide boat, I tested a bay where the wind didn't really pick up that much, but the rough sea still made it really tough, but on the first drift, Marin's bait sucked and he hooked a Halibut that we caught and measured a total of 97 fine centimeters. It wasn't long after that that we had to stop fishing for the day, but to put it bluntly, it's a big win to be able to get out quickly and actually manage to catch a fish, but you might actually have thought that we would have had to stay inside completely.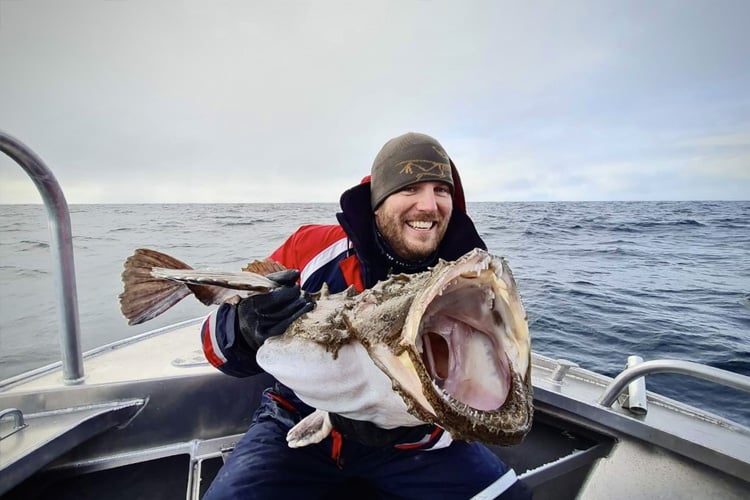 During Tuesday's fishing the weather had taken a turn for the better, I was once out with the boys in boat 9 and as Wednesday's weather also looked nice, it was a day meant for hunting the big flat dams. We headed to an area with great potential which is also well protected from the rolling sea that was left over from the day before, the fishing was disappointing for the first half of the day and it was grind, grind, grind. When the rising water had not delivered, it was extra exciting waiting for the fall, as rarely both tides do not deliver for a whole day. Well, we finally started with a bit of current in the opposite direction, so it didn't take long before it finally tore away in Mattia's bait and after the fish had slowly swam away with the bait for a while, it increased its speed and it was time to catch the fish, Mattias riveted the brake and speared loaded, but soon after the fish got off and it felt extra heavy after such a slow day. But it is fishing and we reloaded with a new drift and hope was up and we knew we had a number of hours ahead of us with good conditions.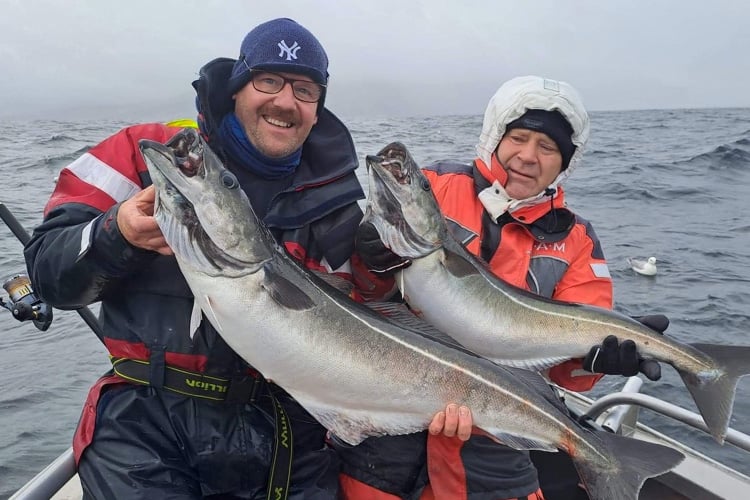 We went in a little shallower and as soon as we got onto a shelf, a fat echo stepped under the boat and there was no question that it would take, Peter's rod slowly began to bend and he riveted the fish that offered a good cross stop in spades. It was a long-awaited fight and painlessly we were able to land the nice fish that measured 144cm and a new well-deserved PB for Peter who was really happy about the fish. The guide boat was with other boats out on cod fishing this day and caught a few different species, one of which was an incredibly rare and extremely cool fish. They got a Ling one of 5-6 kilos, which is also not part of the norm here if you don't direct the fishing at them, but also a super super nice Monkfish of a whopping 10 kilos that got to gild the freezer with fantastic meat as it is a really top fish on the dining table. Otherwise, it was really stable fun Cod fishing between the boats with a lot of fish around 10 kilos and also on several occasions during the week on the Cod fishing, a whole lot of Cod that were sometimes up and close to 10 kilos.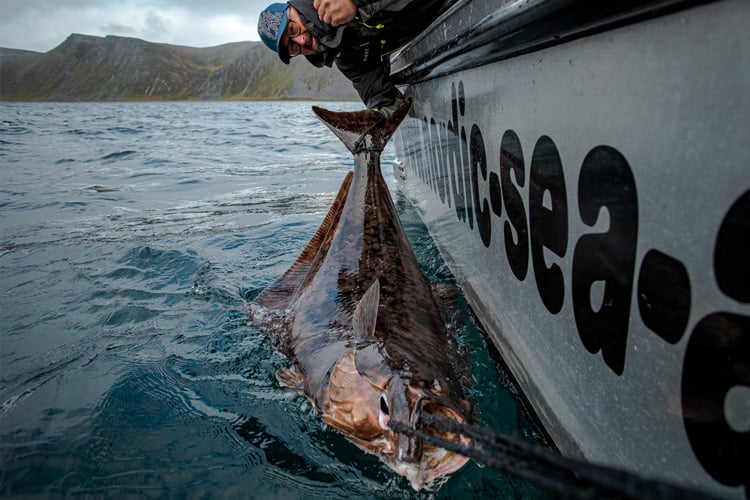 Our last day of fishing was a really fun ending and when the guys in the guide boat wanted to do some Halibut fishing, we were joined by a couple of other boats that were keen on the same plan. Boat 9 did well in another area where on the first drift they managed to thump in a nice double hook where Mange and Peter had to stand side by side and each pump up a nice fish of 124 and 90 centimetres, followed later by a bunch of landed and missed Halibut. For us, it was an instant draw when Leif hooked a nice fish on the first drift that offered an incredible fight in the shallow water and after measurement measured a nice 136cm, and as if that wasn't enough, he added a great follow-up to the second drift of 128 centimeters. Our fishing offered more than two-digit numbers of landed Halibut in the Guide boat and the majority were smaller fish between 80 and 100 centimeters and were extremely fun as they attacked bait fish and spin fishing. In boat 3 next to us, Jacob jigged home a small jig on his really light baitfish rod, and after seeing an echo come under the boat just as he was at the end of his cast, he feels a fish grab his jig and he sets the hook. The outcome was a mind-numbing fight on the light rod and he had to fight hard for the fine fish that measured 125 centimeters. Later after I had left that bay on the more persistent quantity hook, they connected with a better piece out at 45 meters, Linus was once again in the shock and managed to hook the fish.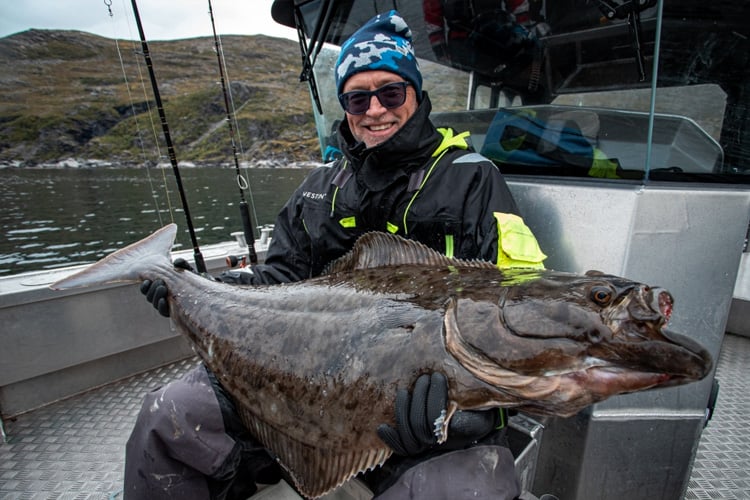 We would like to thank all the guests for a fantastic week with many good laughs and unforgettable memories, Andreas and I are now recharging and accelerating into the final sprint of the season.
Tight Lines// Douglas Dahlberg & Andreas Hugsén
CONTACT US
If you, like many others, have ever dreamt about fishing the prolific waters of Havoysund and would like to know more information on how you can join us, you can contact our sea fishing specialist, Paul Stevens, on 01603 407596 or email at paul@sportquestholidays.com.