Another great week hits the boards from Kau Tapen! If you missed last weeks report make sure to catch up here. I'll now hand it over to Paulo Hoffmann –
This last week went by way too quickly! A family-like atmosphere with lots of dear friends that we have the pleasure of welcoming back year after year. Bill, Janet, Jake, and Rodney have been coming here for over a decade and have long become part of our family, way beyond "just" sea trout fishing. Tom and Ed, who have fished with us here last year and who we much looked forward to spending time with again. Jim, who has delighted us the past years with his presence and we are fortunate to host him for two weeks in a row – great angler and great fun to have around. Our friend Paddy, who we had the pleasure to get to know two years ago and who is always in for a good laugh on and off the river.
Fred, who visited us in January and had some unfinished business to address with a few trout. Fred also brought along his friend Don who we warmly welcomed into our family. Paul joined us for the last stop of his summer tour through Argentina and Chile. Our new friends Paul and Don were new to spey casting, but just as expected, were able to pick it up quickly.
Nature and rolling hills 
While last week was dictated by inconsistent water levels and temperatures, this week was dominated by strong winds, blowing day and night. During our usual warm-up session on Saturday evening, Mother Nature gave us a little appetizer of what she had in store for us for the coming week, bringing down an apocalyptic storm front with gusts over 100 km/h. Every single day it would strongly blow – steady winds of 50-70 km/h with gusts up to over 90-100 km/h – hardly slowing down during most evenings.
Although the fish are mostly not directly affected by those winds, the water clarity is, and so is our casting. Simply standing up in the river was an act of work. During the morning sessions, the water was mostly clear enough to fish smaller flies, but towards the afternoon the wind would stir it up and left only enough visibility for bigger leeches and intruders. Although quite different from what most of our guests were used to from earlier seasons at this time of the year, our approaches worked and consistently delivered big fish. That showed already on the first day, when Jake kick-started his week with a magnificent 22 lbs fish during his morning session, not to forget Ed's great 16 lb fish to start his trip!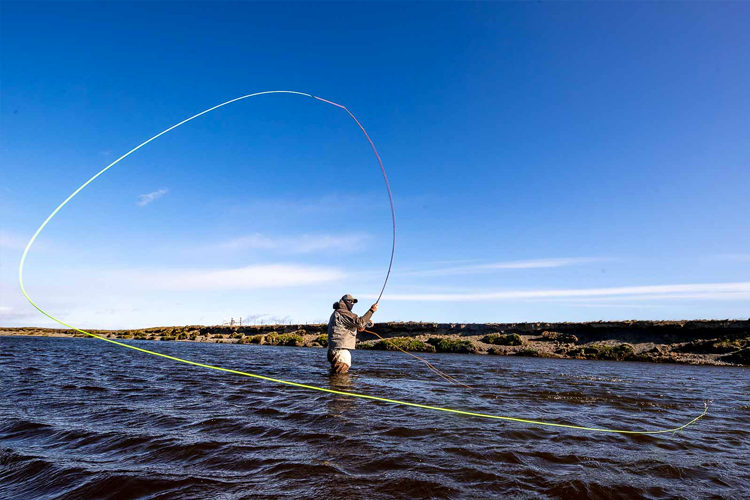 The nights remained cold and the fish were not very active on the surface. Even when the water was clear enough to fish smaller flies, they needed to be presented deep and rather slow. The fishing seemed off at times, with fewer fish showing themselves on the surface, but the numbers of fish landed across all rods and beats were great. Tom and Ed showed just that with two magnificent fish, 15 and 16 lb on the second morning, and so did Paul with a stunning 18 pounder that same session. Jim came back in the evening with his new PB, a fantastic 20.5 lb fish!
Tuesday was the first day that the wind slowed down a bit, especially towards the evening. While Tom managed a stunning 15 and 18 lbs during the morning, the fishing picked up during the evening. Jake and Rodney had a fantastic session with 11 fish hooked, Bill managed to land a great 15-pounder at dusk, and Paul and Paddy doubled-up on 17 and 19 lb fish! Every day produced multiple fish over 15 lbs and the amount of big fish hooked this week was astonishing.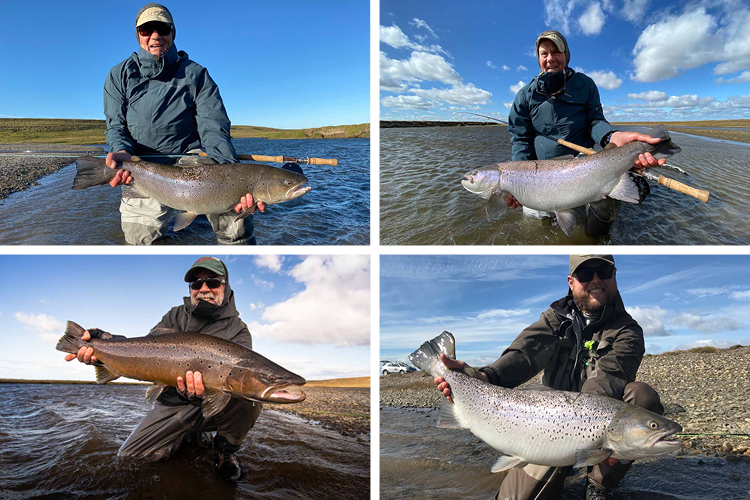 Some of the specimens landed this week!
While the Río Grande got a bit more attention this week, as it is much easier to be fished with high winds, our little gem – the Río Menéndez – did not disappoint either. On Wednesday morning, Rodney and Jake hooked 7 good fish in that little tributary, some of them on skated dries, and just as the sun was disappearing behind the Chilean Andes, Janet landed a beautiful 20 lb crocodile in one of its clear and deep pools.
The wind kept howling, seemingly never slowing and by Thursday, it had become our trusted companion. The conditions were pretty stable along the entire week and the river kept dropping at a very slow pace, staying just above the "zero mark". Every day, good sized fish were hooked and landed. On Thursday, Fred's hard work finally paid off and he managed to bring in two amazing 15 and 17 lb fish. Jake and Rodney kept producing numbers, landing 6 fish just during the evening, amongst them a great 17 pounder for Rodney. Bill's hard work and proper casting got rewarded with another beautiful 16 lb stunner.
But the week was not over yet and held a few more surprises up its sleeve. Although we were already more than happy with this week's results, considering both numbers and sizes of fish landed, Friday would just be the icing on the cake! Fred was able to land a beautiful 16 pounder, Jake came back with another 20 lb tank – his second of the week – that was only topped by the amazing 22 lb buck that Paul brought to the net – all during the morning session. Janet was able to end her trip with a healthy 15 pounder, and so was Ed on the very last cast of his stay. Jim wanted to get all the pressure off in his first week here with us and beat his PB once again, bringing a magnificent 21,5 lbs fish to the net, just before dusk. What a finish!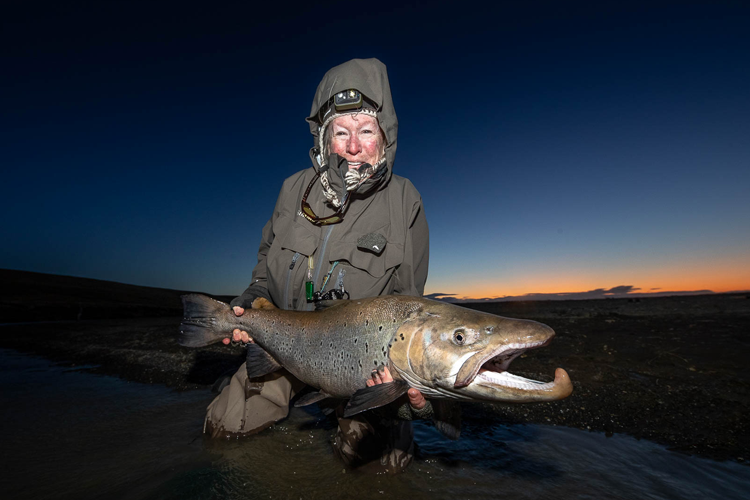 This week's methods of fishing were not what most of our repeating anglers were used to – casting heavy T-tips and rather big flies, especially during the afternoon session. The combination of cold water in the mornings and stirred up visibility in the afternoon didn't allow us to fish lighter set-ups successfully. It made the fishing seem slow at times, but at the end of the week immensely paid off. On the one hand, the catch numbers were outstanding, on the other hand, the amount of fish over 20 lbs and fish over 15 lbs landed was much higher than average and every angler hooked into these big trout throughout the week. It's easy to forget, but all of these fish can be the fish of a lifetime!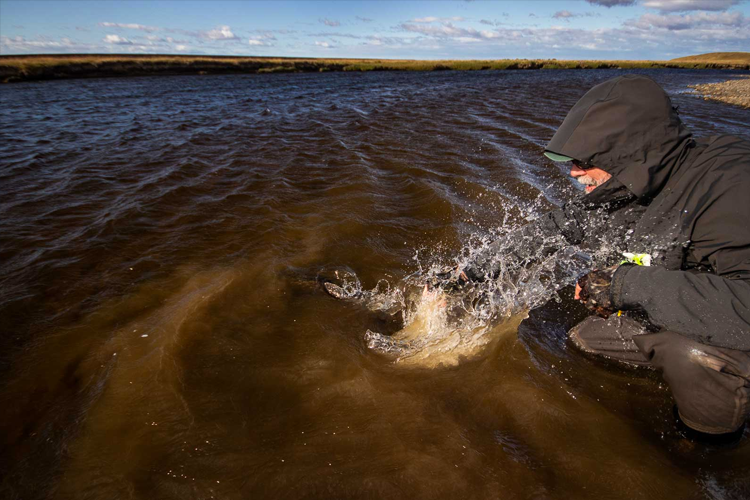 It's always lovely seeing them power home!
I am incredibly happy with the results of this week, and the work that every member of the group put in to achieve them. But what warms my heart most is not the fishing, but the great company that all of these guests are on and off the river. It's not the amount or size of fish, but the fond memories and friendships that are made along the way with all these great people, that make me want to come back year after year, and I am very thankful for that!
Till next time,
Paulo Hoffmann
What a great report from the banks of Kau Tapen from Guide Paulo, If you would like to enquire about this destination feel free to contact us on 01603 407596 or click the enquiry button on the tour page to fill out the form and we will contact you.
Tight lines,
Peter