Another great week hits the boards from Kau Tapen! If you missed last weeks report make sure to catch up here. I'll now hand it over to Paulo Hoffmann –
Oh my, what an eventful week down here in Tierra del Fuego! This week featured ups-and-downs, good fishing and some tough sessions, and lots of hard work. Overall the week was highly rewarding, with delicious food, amazing sunsets, and new friendships forged on the banks of the Rio Grande.
We welcomed a wonderful group of anglers this week: Andy and Sandy, who we already had the pleasure to host here last year and were much looking forward to having here for two weeks. Jeannie and Ray, a lovely couple enjoying their first-ever spey casting experience, but were keen to learn and appreciative of instruction from our guides. Steffan, who had fished this river many times over the last 15 years, brought René, Tim, and Colin for their very first visit. Our good friend Jim, who'd already been with us the last week. And last but not least James, who has fished all over the world, but came here for a completely new and different experience. All quite lovely people, and a great bunch of characters to spend time with on the water. After last week's great results, we were all looking forward to another cracking week – the river was in good shape and our anglers were keen to put in the work!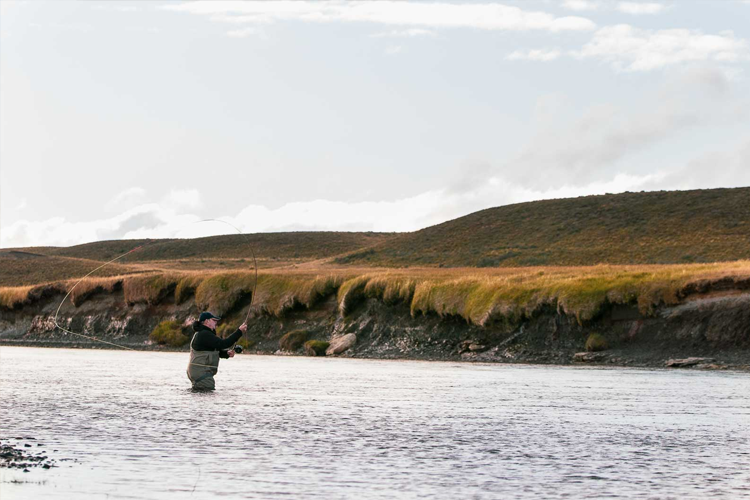 The famous and effective spey cast!
The week started off with good conditions. However, fresh snow in the mountains, followed by warm weather during the days caused daily, sometimes hourly fluctuations in water level. The water stayed clear for the most part, but those small pushes washed down some debris and did affect the activity of the fish. Once stable, the fish settled down and were eager to play. Unlike last week when the winds howled day and night, this week was much more mellow and blessed us with calm evenings nearly every day.
There was no clear pattern in the fishing. The combination of relatively high, but decently clear and warm (10-14 °C) water allowed us to fish with lots of different techniques. While in some pools, fish were caught on lighter tips and smaller rubber-leg nymphs, some others were producing takes on heavy T-tips and leeches. Ray, never having spey casted before, started off into his week with a bang.
His first-ever Sea Trout, a spanking 19.5 lb fish during the first evening session, which set the bar high for the week and took all the pressure off his shoulders right out of the gate. Collin and James also opened their week with decent fish each, landing two perfect 14-pounders – James' fish came just before dark on a glassy Menendez pool after the wind had vanished completely. A magical feeling, especially on a small river like the Menendez.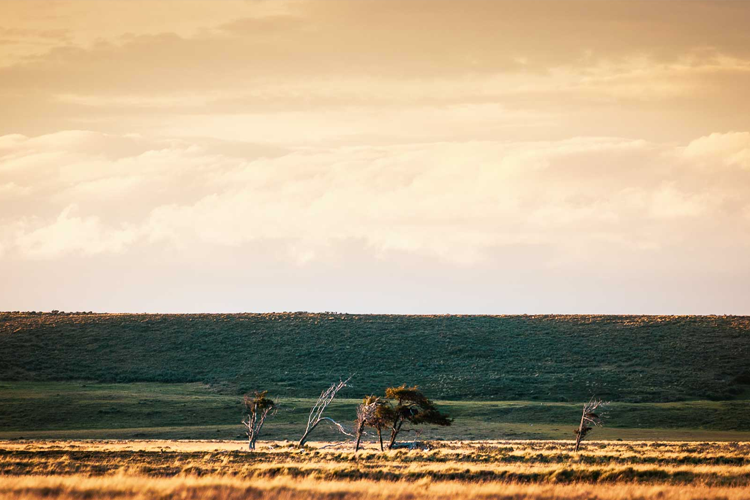 Monday's weather conditions were just perfect with a constant overcast sky, a mellow westerly wind and a stable barometer. During the first 1-2 hours of the day, a small push of water washed some debris downriver, slowing down morning's fishing. However, as soon as the river cleared, the fish started taking and every beat saw activity. Initially mostly smaller fish became active, and plenty of 6-12 lb fish made it to the net. The lower beats of our river section was fishing well. René had quite the eventful morning downriver with 7 fish brought to hand. Meanwhile, Jeannie was over the moon about her first ever fish on a fly rod, and so were we – a pristine 11 lb fresh, silverfish. Monday was a near-perfect fishing day as every one of our anglers were able to hook and land fish that day!
Blue skies, no breeze and high temperatures – a complete contrast to last week's apocalyptic stormy weather: Tuesday presented itself to be a tricky day indeed. The conditions demanded delicate casting, careful wading, and a touch of good luck. While the fishing was quite slow for most, Steffan had a cracking day with seven fish brought to the net, all on a fast sunray, covering lots of different water in order to find active fish. Tim was also able to land a solid 16 lb fish that easily made up for the tough fishing that the remainder of the day held. Luckily, the overcast skies returned on the next fishing day – and while it remained warm, calm and breezy, the cloudy skies dimmed the light and more stable water levels made for more consistent fishing on Wednesday. Tim and Colin were able to hook into 7 fish, amongst them another broad-shouldered 16 lb fish for Tim. Sandy, who had consistently been catching good numbers of fish, was also able to land a perfect 16 lb fish amongst some mid-sized ones.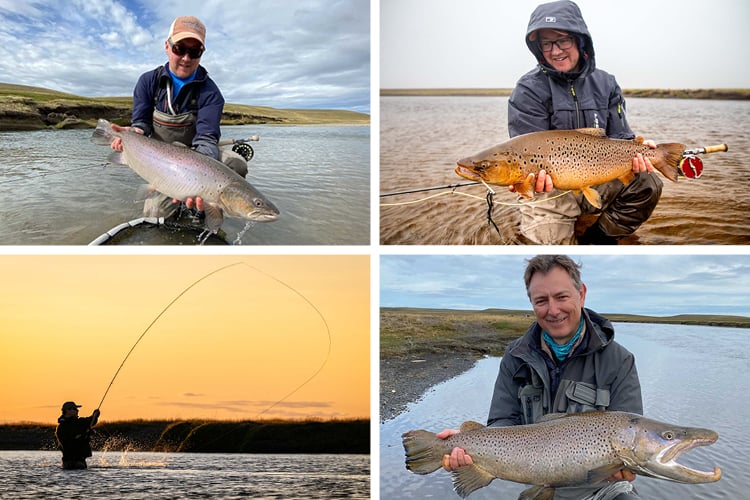 A few of this weeks trophy fish!
The anglers who had fished the Río Grande before, were eagerly hoping for improved fish activity at dusk. Some pools were literally "waking up" as the light faded, with fish jumping and rolling in the entire pool. Unfortunately, the last hours of light did not turn out to be the most active on most days. Instead, the breathtaking Tierra del Fuego sunsets kept our anglers in awe and made it worthwhile to stay out longer and bask in their beauty.
The fishing was definitely a bit patchy and random this week! Keeping the fly in the water and fishing was one thing, but one had to get a little lucky and cover the right fish at the right time. James, who had experienced a bit of a dry stretch, was finally rewarded with a good tug, followed by some serious head shakes and an exciting battle. As soon as the fish was safely netted, all his previous unanswered casts were forgotten in an instant. The fish tipped the scale at 21 lb and would claim the prize of being the biggest of the week: a true crocodile – a perfect kyped-up male fish as angry as they come. The bigger fish seemed on the take that day and during that same session, Jim and James were able to hook into another two big fish of similar size that showed themselves cartwheeling down the pool, both unfortunately spitting the hook eventually. Colin, who had lost several good fish over the past few days got a bit luckier, landing an amazing 18 lb Trout in the morning, followed by a chunky 16 lber in the evening. Andy's many casts in high anticipation of a big take were finally rewarded with a stunning 16 lb fish just as the sun was setting.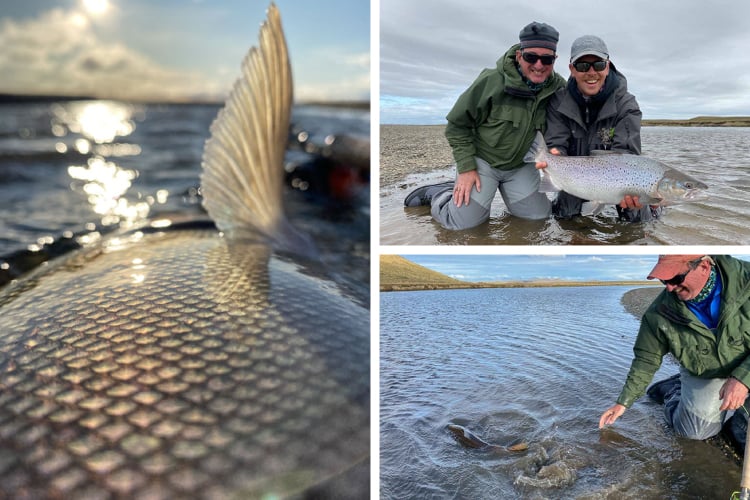 Although the fishing seemed tough, it was very rewarding. However, by the tail end of our week together, everyone had caught some good fish and the pressure was off. The fishing was more relaxed, and the last day was bonus-time. Nonetheless, the perfect conditions presented themselves one more time. Mild temperatures, very light wind, and a dim overcast sky blessed us, resulting in almost every angler managing to hook one last fish of the trip. Jim was able to end his two-week trip to us on a very good note – landing two fantastic 16 lbs fish, amongst several other double-figure fish caught by the team!
We were all a bit exhausted by the end of the week, which demanded a bit more work than others. Exhausted but very happy, was the theme for the week and all of our anglers worked very hard to achieve good results. The fishing was not easy at times, and lots of casts went unanswered, but that made the fishing so much more rewarding. It was a true team effort, and we all became a bit tighter as a group over these past few days. Every day has been a pleasure, no matter how the fishing went, the entire group was a delight to spend time with and I surely hope you see all of these faces again next season!
Paulo Hoffmann
Kau Tapen Fishing Guide
Contact us
What a great report from the banks of Kau Tapen from Guide Paulo, If you would like to enquire about this destination feel free to contact us on 01603 407596 or click the enquiry button on the tour page to fill out the form and we will contact you.
Tight lines,
Peter