The rain still helping to keep the water level and temperature stable.
Fishing conditions continue to be ideal for wading, and you can try almost all of the great variety of species that characterizes this river.
Rubber pacus were not as active this week. On the other hand we had Silver pacu action with imitations of fruits and nymphs
Peacock bass and Wolfish fishing continues excellent with streamers. Large sizes continue to appear that never cease to amaze us.
We had  some action with poppers, which added an excellent attraction to the fishing of these opponent!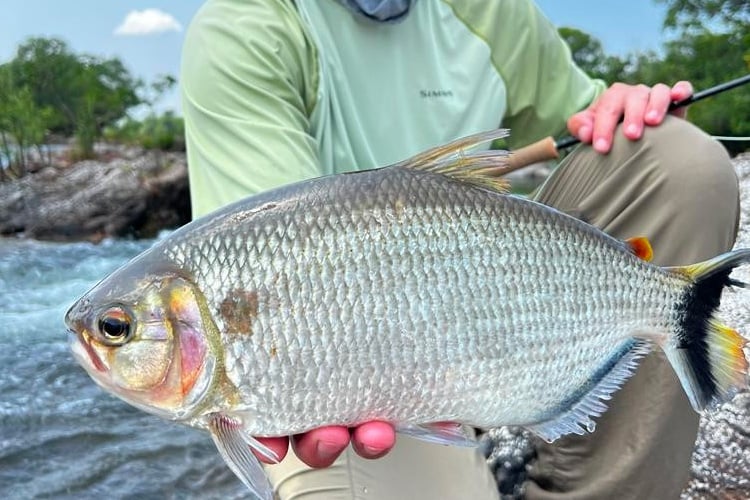 We had a great week of fishing, but Dan and Landon stood out with two 62cm Peacock Bass.
We had a pleasant visit of Sandra, our Sales and Marketing manager, and Pablo from Argentina! They did their first fly fishing lessons in front of the lodge and they had a week full of catches and great moments! Nothing better than Kendjam to get hooked on this fantastic sport.
Our old friend Jeff Kriznoski came to Kendjam with two requests: Wolffish and the chance to see a panther. Wolffish wasn't difficult but neither was Panther! We couldn't be happier for him and Dan who managed to see one crossing the waters of the Iriri River.
Jeff, Dan, Robert, Avery, Landon, Felton, Sandra and Pablo:
What a great time we had together. We hope to see you here again!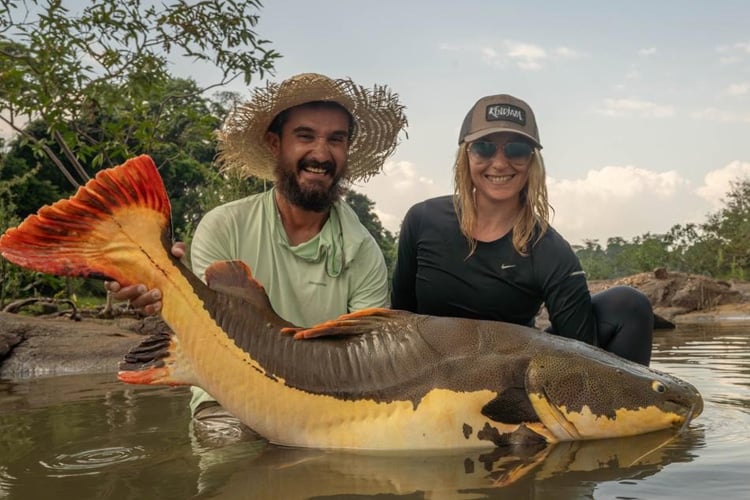 Water Conditions:
Water Color – Clear
Water Level – Low
Weather Conditions:
Temperature – Average 29 C
Sunny during the day with storms in the evening
One more week with a family atmosphere , old and new friends, pure nature, first class food and of course unbeatable fishing.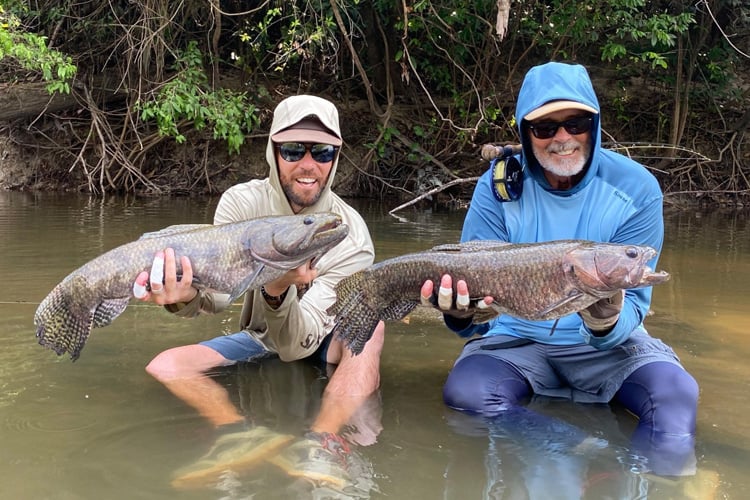 Fishing stats:
Group: 8 anglers
Total number of fish landed in the week – 360
Biggest fish landed in the week:
Wolf Fish: 82 cm
Peacock Bass: 63 cm
Mantrinxã: 43 cm
Pacu Borracha: 40 cm
Pacu Prata: 35 cm
Bicuda: 70 cm
CONTACT US
If you fancy doing battle with the hard-fighting species of the Amazon basin, then Kendjam Lodge is a destination for you. If you'd also like any further information, you can contact our fly fishing specialist Peter Collingsworth on 01603 407596 or email at peter@sportquestholidays.com.