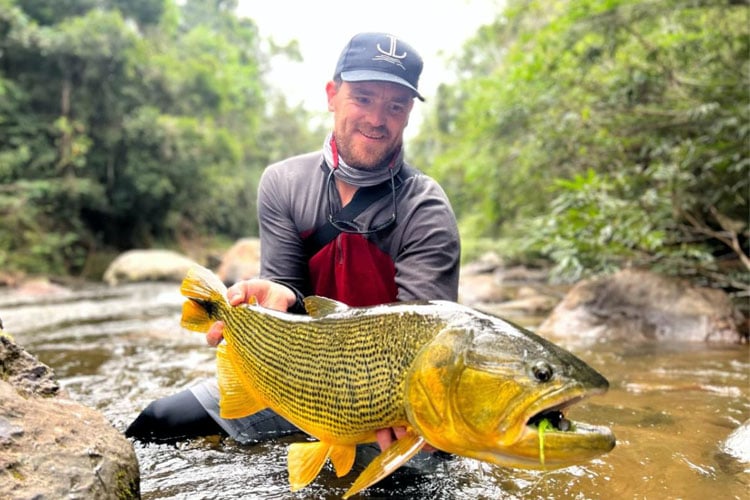 This week we had the chance to fish with one of the first guides who explored these waters. He and his two good friends from England spent most of the week hiking the Agua Negra, focusing on having fun catching Dorado and Pacú on dry flies. 
The weather was good the first two days, then we had a big rain at the middle of the week.
We had many chances at fish, finding success in some and losing fish other times as we tried to set the hook with the dry flies.
The biggest fish was a 24-lb. Dorado. In another highlight, Andy made nothing less than a Dry Fly Grand Slam, catching Pacú, Dorado, and Yatorana on dry flies.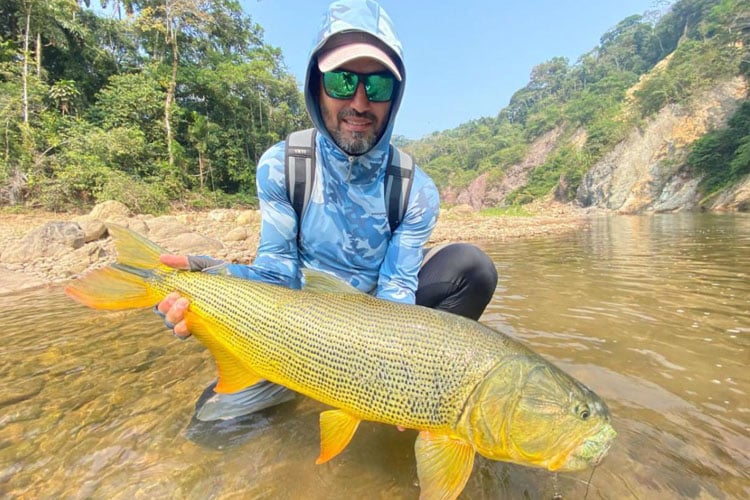 Sécure Lodge began weekly chapter 15 of the season with high temperatures and very low water, pushing us to make camps far upriver and enjoy once more the marvelous Maniquicito, which gave up a big golden bullion hooked ten inches deep in a tail out.
In the middle of the week, a consistent rain arrived and was present until the week's end, greeted five Argentinians and a guest from USA, who we hosted.
The change in the level of water brought more activity, giving solid chances for rising dorado, and we were able to get into all sizes of goldens taking different sorts of top water flies, such as poppers, mice, Titanics, and frogs. Fishing with this tactic, we found the biggest Golden Dorado of the week stranded near the beach, a 19-lb. fish which took a foam frog imitation.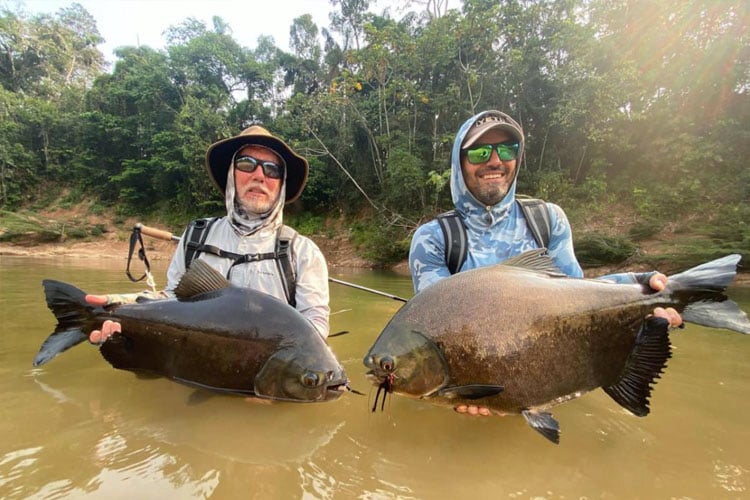 Our seventh week of the exploratory helifishing program was somewhat unusual. We hosted Raymon, a friend from Australia and Pam, Juliano, and Rodrigo, three friends from Brazil. The weather was atypical, although we had an excellent first two days. We all know what happens before a big rain: the fish go crazy to eat… which his exactly what happened. After that, we had three days of rain that meant, on one hand, we couldn't fly and fish, but on the other hand, gave us good river flows afterward. After the rain the sun came out and we had a very active last day of the week; thanks to the helicopter we were able to find clearer waters in the headwaters of the basin.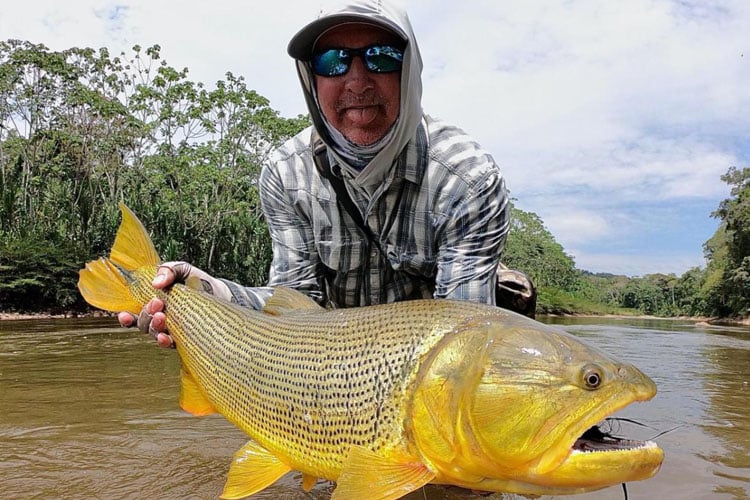 This week we said welcome to eight guests: Brian and Chris in their second trip with us, Jamie, Lu, Michael, and Sack from Chicago, and Blake and Marc from California.
The weather was nice the first part of week, with sunny days and warm temperatures. Wednesday and Thursday it rained, but Friday the good conditions returned. Water levels were low and extremely clear, and then we had little mud and more level flows. Over the course of the week, we landed good fish in the 12 to 17-lb. range, with two fish over 20 pounds. We also brought in one pacú and two yatorana.
Both the Upper and Lower Secure were very productive in quantity, and big topwater patterns and darks streamers were the key. The upper sections are very technical right now due to the extremely clear water conditions, making small EP-style flies and accurate shots the key to success. All the sections are showing a healthy population of baitfish and dorado, and we are looking forward for the next week.
CONTACT US
Do you think you could handle the Dorado that reside at Pluma, Secure, Agua Negra and our brand new Heli fishing tour? You can take a closer look at the tour page, where you'll find all the information you need to get you ready for the trip of a lifetime!
If you have any questions, call our offices on 01603 407596 or email us on info@sportquestholidays.com and one of our experts can assist you with any queries.