The week in the spring is a good time for chasing big Pacú. This past week we saw all kinds of weather; at the beginning of the week all the rivers were low, and then big rains at the middle made the higher. We spent most of the week hiking the Agua Negra and the Chimoro looking for big Dorado and Pacú.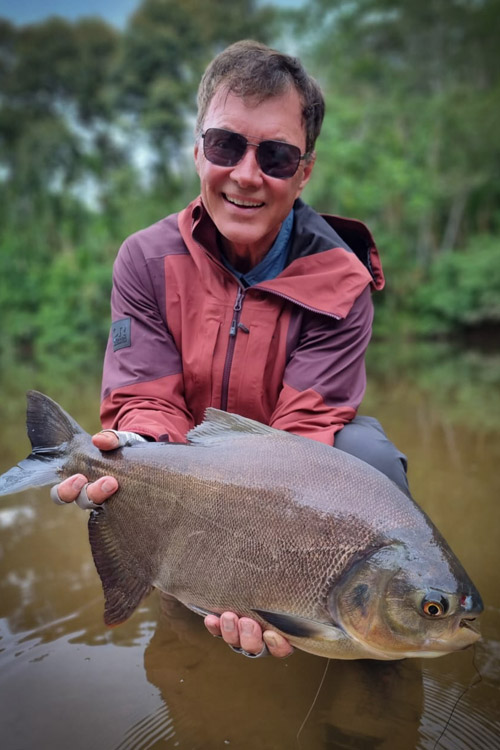 The fishing was very good in both rivers, where we had really good chances on streamers and a few mouse patterns. By the end of the week we landed more than 12 dorado over 15 Ibs., four big pacú ( one on a mouse), and some big yatorana. The biggest fish of the week was a 22-Ib. dorado on the Agua Negra.
This week we received eight guests: six from the U.S., one from the Czech Republic, and one from Wales. The river presented with a very low water level and high temperatures; in contrast, both creeks (Ashahana and Maniquicito) had cooler water and very good flow, which made for many highlights. We had big dorado taking flies, an awesome Grand Slam, some pacú, and a 15-lb. black platter which took a specific streamer designed just for it.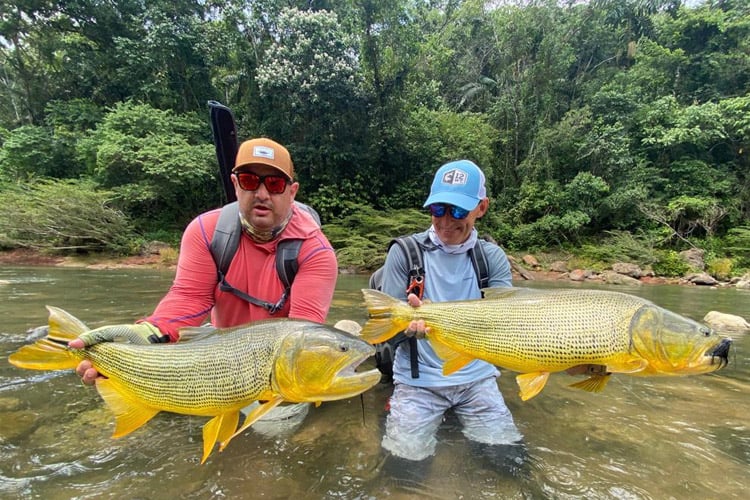 Despite the low water conditions, the high temperatures gave us a consistent activity upstream, both in the regular beats as well as far up. Fishing around the camp and walking farther up, we had great fun with dorado and pacú positioned in shallow rapids and tailouts. Everybody had chances with fat fish all throughout the week, landing some big dorado, (and losing many more), exploding leaders with massive pacú, and stranding a giant 28-lb. dorado on the beach, one of the biggest fish of the season.
In this week of the exploratory helifishing program, we hosted four friends: Alfred from the U.S., Stephan from Germany, Helmut from Austria, and Braidas from Norway—with all of whom we shared a special week. The weather was the protagonist, giving us an excellent first three days with ideal conditions, both for flying to the scheduled destinations as well as for fishing, with adequate temperature and pressure for the fish to be active.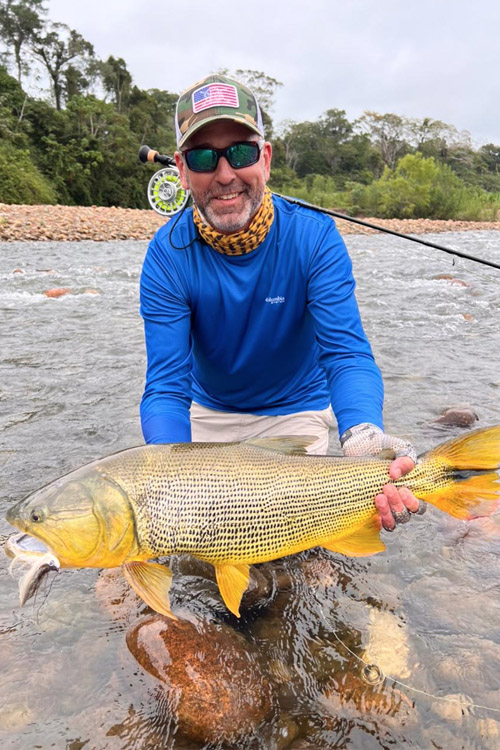 Then came weather instability and rain, and with it two days of decreased activity. We crowned an excellent fishing week with one last very good day, with good catches in both quantity and quality. We continue to be privileged witnesses of this incredible, pristine, and untouched portion of land, one of the few that remain on earth.
This week we hosted eight anglers: Christian and Tommy, Bradly and Ross, Bou and Trou, Rick and Derek. Weather conditions were 10/10 all through the week, and the water was gin clear. Five fish over 20 lbs. were landed during the week, plus many smaller fish. Besides dorado, we caught yatorana and pacú.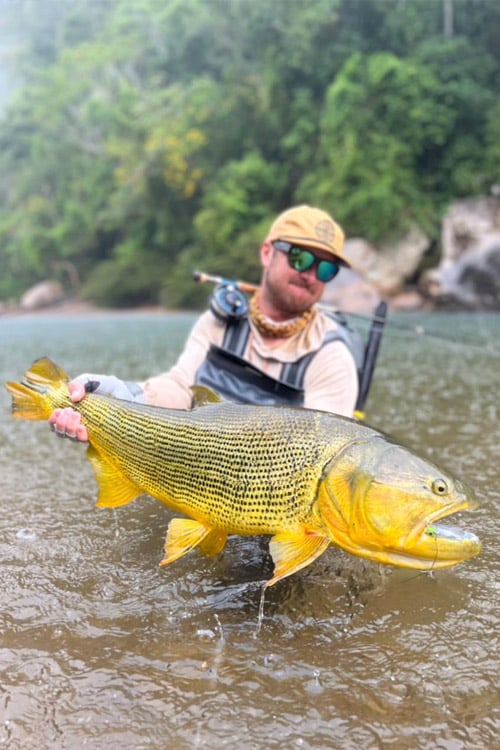 The upper sections are presenting good chances for quality fish; longer and lighter leaders were mandatory. The Lower Pluma and Lower Secure were more about quality, like usual. The main Pluma is showing a healthy population of 12 to 17-lb. dorado, which make for a lot of fun with smaller flies and terrestrials.
CONTACT US
Do you think you could handle the Dorado that reside at Pluma, Secure, Agua Negra and our brand new Heli fishing tour? You can take a closer look at the tour page, where you'll find all the information you need to get you ready for the trip of a lifetime!
If you have any questions, call our offices on 01603 407596 or email us on info@sportquestholidays.com and one of our experts can assist you with any queries.