Vesteralen really is a magical place, its just one week away from when we send out our first group of customers back onto the beloved waters of Norway. This week we join the Larsson family who was guided by Johan and Jørgen who have kindly written up a brilliant summary of their week on the water! :
We finally got our first guests at our destination, Vesterålen, more specifically the Larsson family who are also our only guests this week. The week offered mixed weather from mirror-bright sea to winds of 10-12 m / s.
Conny and Anna with their two children Ville and Vanja have focused on having fun at sea with good overall fishing in the boat. This was of no difficulty to find as the first day with nice weather we went out to one of our famous "Cod marks". We arrived at the mark and did not have to change drift all day, it was non-stop action, we fished at a depth of 20-30 meters where the whole family sometimes managed to land some great Cod at the same time! Best of all was Vanja (14 years old) who managed to catch the biggest Cod of the day at 13 kg and said that fishing is even more fun when you catch the biggest fish in the family!
When our arms hung down to our knees, we decided to go home and take care of all the fish. But we made one last stop to test the Pollock fishing not far from the camp. A couple of throws later, both Ville and Vanja had each caught their first Pollock and with big smiles and tired arms, we went back to our lovely camp here on Vesterålen.
The next day we were met by large shoals of mackerel where we managed to catch a lot. We had first planned to go back to "Torskflaket" but decided to try for some Redfish in the fjord before we went on with our journey. The first attempted resulted in Pollock, Cod and Whiting. Okay, not quite what we had in mind. We then went for a new drift and the same thing happens there. We make one last attempt at a completely new mark and before we know it, SMACK, both Villes and Vanja's rods bend over and up comes their first Redfish! We then stopped for lunch before we continued on towards the Cod mark.
Once there, we caught lots of Cod but it wasn't as productive as it was the day before. We tested different methods but it was really hard to trigger them to bite even if we saw them on the sonar. We waited outside the "Cod mark" and started a Halibut Drift to cover a larger area with a chance of both Coalfish and Cod. We drifted around 1 knot and all of a sudden Ville is standing with a rod bend and a screaming reel. Then it stops. And we immediately believe that the fish went down and settled to the bottom. He tries to get the fish to rise but eventually, the pressure becomes too great and I take over and tighten up everything I can to then slacken the line, when I tighten up the second time I then feel the fish give in. It felt very strange at first, but once a knew the fish was still on I gave the rod back to Ville.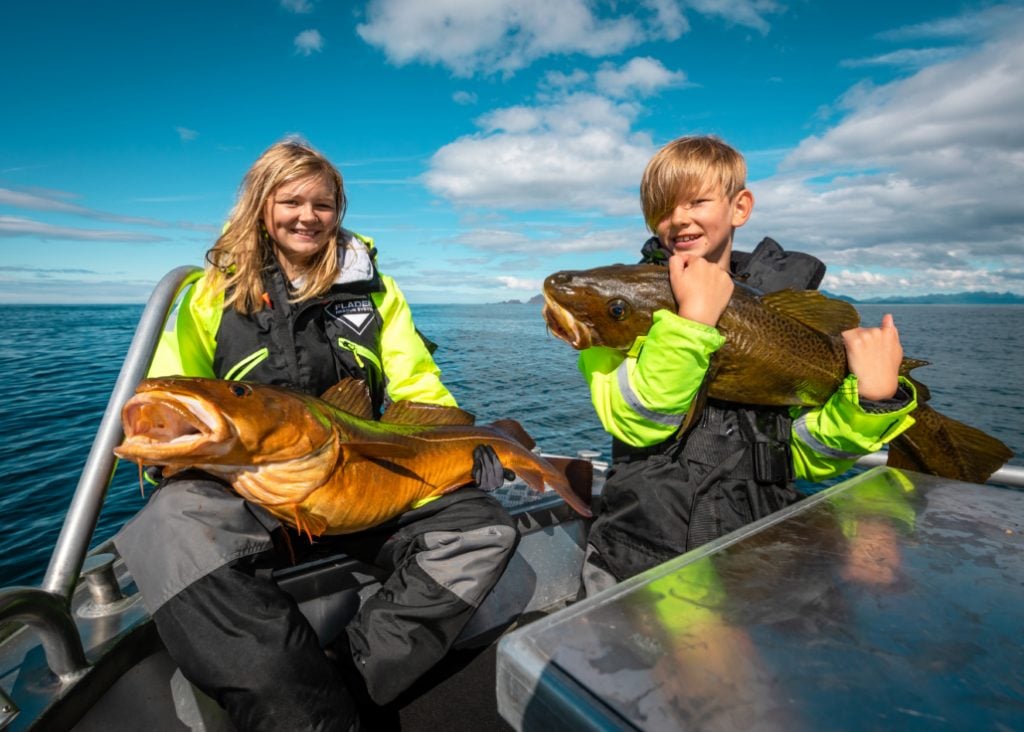 Now we knew where this behemoth lives, the question is, just who gets the chance to hook in this monster from the depths next time and how will it end?!
At the end of the same drift, Anna hooks into something that fights harder than the previous Cod she had caught, up comes her first Halibut! Regardless of size, it is always a special feeling to catch your first! Congratulations Anna and to the whole gang who broke new records and caught new species they have never seen before!
A warm welcome to Vesterålen, the place where fishing stories are created!
//Johan Mikkelsen & Jørgen Zwilgmeyer
Contact Us
Vesterålen really is a one-of-a-kind destination, catering to both anglers and holiday-makers. Visit the Vesterålen holiday page for even more info. Alternatively, you can request a free brochure or simply call us today with any questions you may have.
Contact us
Looking to experience this destination for yourself? Give us a call anytime on 01603 407596 and we can discuss any open weeks at the time of you contacting. You can also have a look at all of our Sea Fishing Holidays here to get a head start.
Tight Lines,
Paul