Hosted Christmas Island Part 2 and it's been a while since we all returned back from our hosted week back in November 2015, however my mind is still fond of many many memories.
The second day was in total contrast to the first in terms of the weather. On waking that morning the sky's as dawn broke were overcast and only the odd bit of blue sky breaking through here and there. I was again with Darren for the day and I suggested as the weather was gloomy, why didn't we start the day by fishing outside the island looking for the monster Milkfish.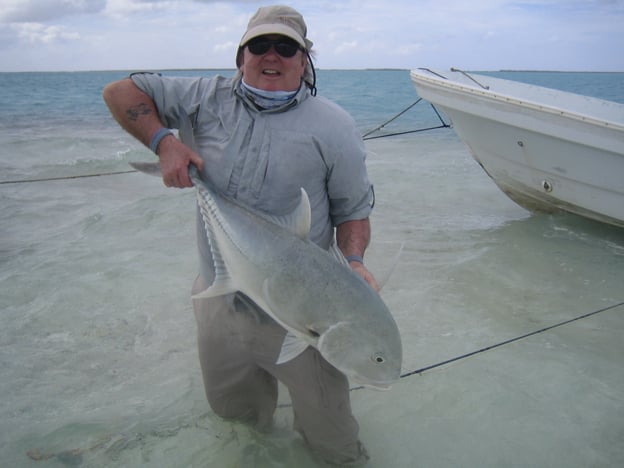 Dawn and to me it looked like the clouds would only get thicker and not burn off.
Now this fishing was new to both of us, having done as much research as possible before the trip. Having said this most of the reading we could find before hand was fishing for Milkfish on saltwater flats and not from a boat in the open ocean. Unfortunately the guides had limited experience with previous customers. However they were not full of confidence and said "you cast many times but with no takes". (They were not kidding)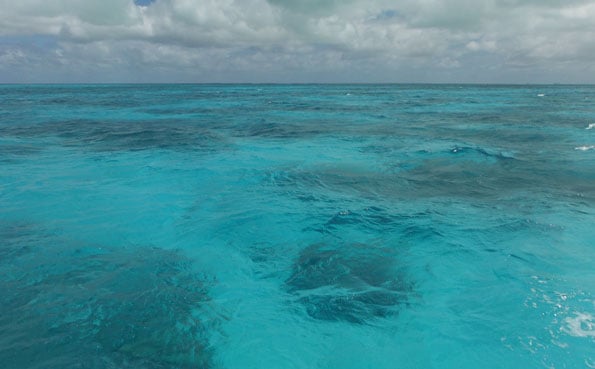 Christmas Island still looks stunning even on an overcast day can you see the milkfish splashing in the distance
Armed with a large selection of flies tied up by a good friend of mine Mr P, off we went looking for the large schools of Milkfish. Is was not long before we could see them flashing on the surface. The method looked quite simple, get up tide and parallel with the fish and then drift down with them presenting flies at cruising fish. (Sounded simple enough)
Both Darren and myself jumped up on the front and back of the boat for a better-elevated position to cast flies and also see the fish. Seeing this long lines of Milkfish of a size I have never seen before was amazing. We cast in and as the fly hit the water, the fish would charge the fly only to refuse it at the very last moment. Man was that infuriating or what? I changed flies many many times; I then started to even trim flies with a pair of scissors to change the sink rate. It was obvious that they were interested in the flies by the way they charged them, but something was wrong. We could soon see why fly-fishing for milkfish was so addictive; it was sight fishing at its best, but with a real real challenge.
As any thinking angler will recognize when you know something is not right you just have to keep changing the set up until you can make things work.
We had fished this group of fish for 3 or 4 drifts and by now they were getting even wearier, so we decided to look for some fresh fish.
Again it did not take long before we came to another huge shoal of fish that must have consisted of hundreds of monster Milkfish. On jumping up to the front of the boat and casting again only with the same results, it was just then and only then I noticed some Manta Rays swimming and feeding along with the Milkfish. Manta Rays do not feed on weed I think to myself, it was only then I realized that we had been so engrossed in getting these fish to take and playing around with the flies, some floating some gently sinking etc, it was not the presentation it was the fly its self. I stopped fishing and stared hard in to the water to try and see if I could see anything these fish were all eating / filtering. To my eyes the water looked crystal clear, it was obvious that they were filtering small plankton and how the hell could we imitate that? I kept watching and watching and then I noticed some fish taking what to me looked like very very small jelly fish that were also present in this long current line of goodies. This had me routing through all my fly boxes and believe you me I take hundreds of them. I found a really old fly that if I had to describe it, I would call it a hook with a piece of translucent fluff on it. Out came the scissor and given it a little hair cut, I tied on the fly while at the same time joking with the guides that this would be the fly and it would only take one cast. Well we had to joke to keep up the spirits for it felt by now between Darren and myself we had made 1,000 casts with not a single bite.
A small selection of the traditional Milkfish flies that had no success at all.
We motored back up the beginning of the current line; I jumped up striped out all the line, waited for us to drift on to the fish before casting. On seeing a group of 6 big fish approaching I cast, as normal the fish charged towards the fly as it slowly sank a few inches below the surface. The fish got closer and closer and even speeded up towards my fly. Only this time they did not turn they all went for the fly in a competitive manner. I gave a sharp strip strike in complete amazement, which only resulted in all hell breaking lose.
The fish took off at an alarming rate, as I said I had read up as much as possible about these fish and everyone had said how well they fight. This fish just charged off with a few huge jumps, all the fly line plus 150 yards of backing in what only seemed seconds. I turned to the guides joking and said told you it would only take one cast. I asked the guides to start up the boat as the fish was swimming away from the wind / current and us was pulling us in the opposite direction. Just as the motor started up and the boatman put the engine in gear the fish turned 90 degrees and started to swim towards me at the same rate of knots as it did originally away from me. I screamed at the boatman to stop as there was no way with a 1 to 1 fly reel I could keep up with the fishes speed towards us and then add a moving boat I stood no chance. Alas the line went slack, I reeled and reeled in the desperate hope the line would tighten again and we would still be on. However lady luck was not on our side and out came the fly. Arrr after all that work and time it was over so quickly. Now what made that fish loss even harder was the size of the fish. We agreed with our guide the length of these adult Milkfish the group consisted of fish between 15 and 25lb that's big Milkfish. However being one who likes to look on the brightside I still had the fly and it seemed to work very well. We still had plenty of time left so only one thing for it, try again.
This time it took us a while to find a decent size shoal of Milkfish, the fish were of a similar size range, however after drifting with them and casting at them even with the new special fly nothing seemed interested, they did not even swim up to the fly. Everything seemed to had just stopped feeding. It was soon apparent the tide had weekend and the current line they where feeding along had broken. We decided to change tactics and do a spot of trolling and await the return tide. Boy did that seem like a longtime as all I wanted to do was get back into these fish again.
A few hours latter while trolling we spotted some Milkfish splashing further out to sea on the surface. We turned and headed over only to be greeted with a nice line of feeding fish. This time they were smaller all in the 5 to 15lb range but who cares. The magical fly, or ugly duckling what ever you wished to call it only took a few casts. As a single fish swam up to my fly opened its mouth closed its lips and turned. Again a firm strike and we are on again. This time not being so big the fish made some impressive runs but nothing like the first fish. Its been a longtime since I have played a fish so carefully, I was desperate to land this fish as it would be my very first Milkfish on the fly. I must admit I was playing it lightly but have to give it to the fish even in a dead drift boat it gave us a run around for 20 mins in total. Mind you it was not helped that as we got it closer to the boat for the first time I realized how the hell are we going to land this fish as there were no nets on the boat. Normally fishing for Gt's etc we would tail all the fish, but how the hell do you tail a Milkfish.
Our guide was the hero of the day, saying make sure we tire the fish enough so he can lift it in his arms. I can tell you that had my heart in my mouth and there was no one more relieved when he lifted that fish in to the boat. My first ever fresh sliver Milkfish that went 8lb. Not a monster by any standard but to me a monument occasion and a fish I titled 1 in a 1,000 casts.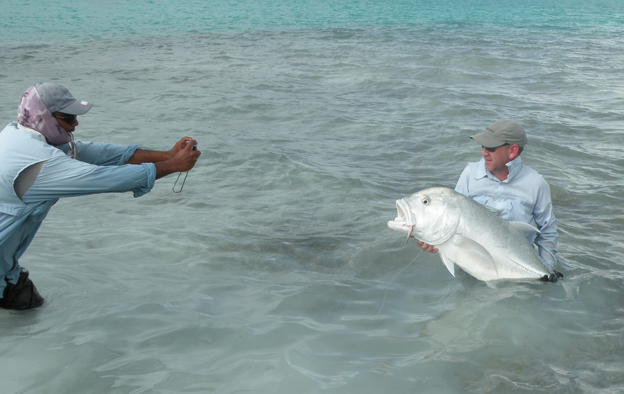 The moment my heart was well and truly in my mouth, no net 🙁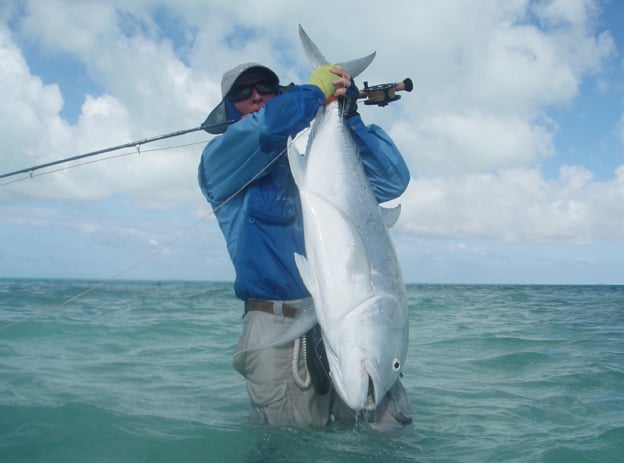 My prize and very first ever Milkfish on the fly, you can even see the winning fly still in the top lip.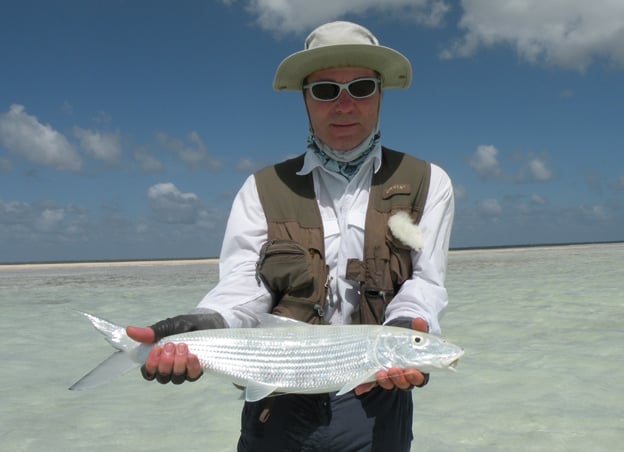 We had the winning method we even had the winning fly, which I duly cut off my line and gave to Darren under the strict instructions that if he lost the fly it was a very long swim back from Christmas Island. Unfortunately though by the time we had landed the fish, taken all the pictures we only got one more real shot at the Milkfish before the feeding just stopped again. However not to worry there was still 4 days left.
On returning back to the lodge and sitting down with the rest of the group it was apparent that the fishing gods had been kind to everyone even though we had an overcast day.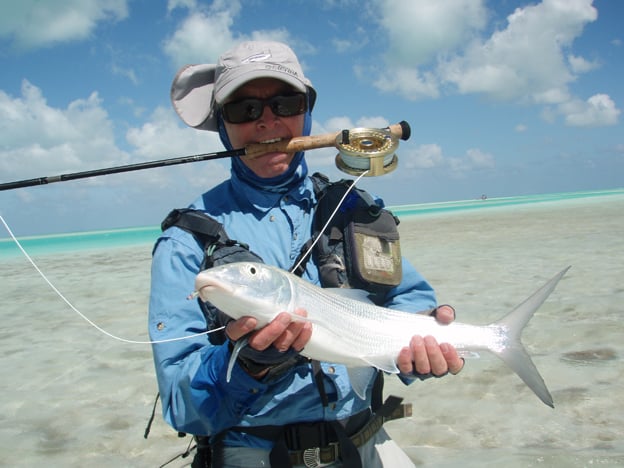 Johnny with one of his GT's on the fly even on a overcast day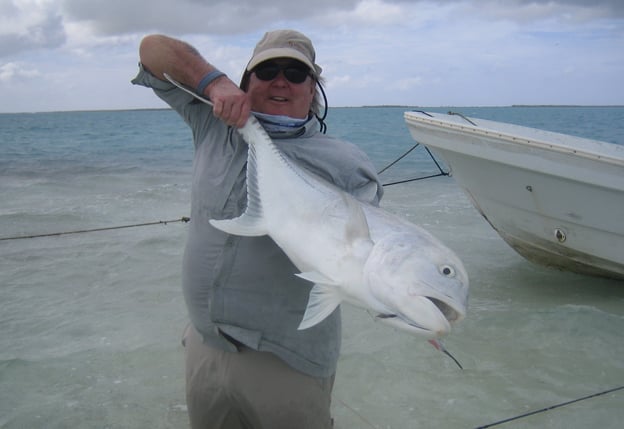 Angus making the poppers work on a dull day
The days total for all the customers was:
33 Bonefish
7 Bluefin Trevally
3 Golden Trevally
2 small GT's (FLY)
5 Medium GT (POPPER)
2 Triggerfish
3 Tuna
Plus Ian and Bob went on a species hunt, both on the fly and bait fishing off the reefs and had between them in addition to the above over 120 fish.
Full details of the rest of our trip plus tons of great pictures to come. If you would like details on this fully hosted trip, then simply call me on 01603 407596 or click HERE which will take you to the tour
Until then, tight lines
Peter Collingsworth