Travelling to Africa is an exciting prospect for anybody, let alone when you are thinking of going over there to catch the huge Sharks that patrol the coast from the shore. Here I will give you the rundown of things I would recommend for you to make your stay in the wonderful country of Namibia as relaxing and as straightforward as it can be. These are all tips that I have learned myself from travelling to Namibia and hosting the Shore Shark fishing trip we do every year. The customers that have all been away with us to Namibia all really enjoyed this trip and these tips are to ensure you do too.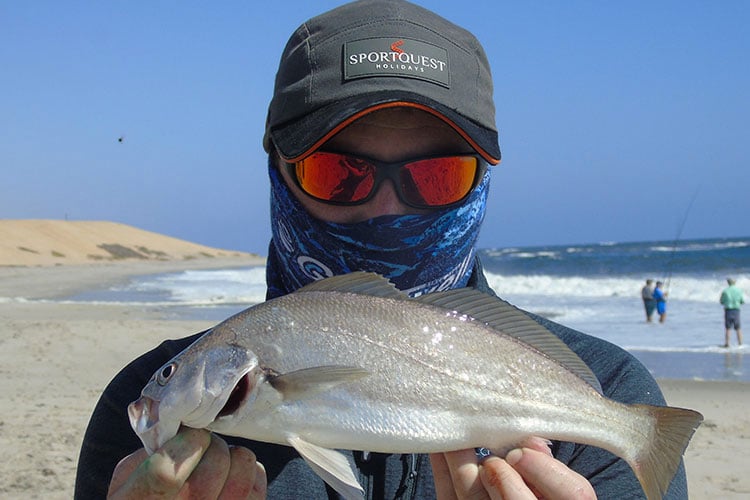 CLOTHING
First things first you need to get rid of any pre-conceptions about Namibia being this sunny destination where you will be in burning sunshine every day. This is not the case, you are fishing on the Skeleton coast which has the Namib desert behind it, this desert heats up every day drawing in the cool air from out at sea, meaning that you are normally facing an onshore breeze every morning at least. Add to this the heavy sea mist that rolls in every day, you will not be in the super sunny climate that you may think. I would strongly suggest wearing a lightweight pair of trousers and a T-shirt, on top of this a lightweight coat or hooded jumper.
Even though you will be cool the suns rays are still very strong and added to the breeze coming in off the sea you will get burnt very easily. As well as these items I would always suggest wearing a hat and if you have one, a buff to keep the wind and sun off of your face it will not take long to burn at all. Also when I am out there I wear socks on the beach at all times, as you are in and out of the sea quite a bit you will soon wash off any suncream you have applied and the socks will stop you getting burned. I personally still apply factor 50 to any areas of exposed skin at regular intervals to avoid being sunburnt, the last thing you want is to be in pain whilst fishing.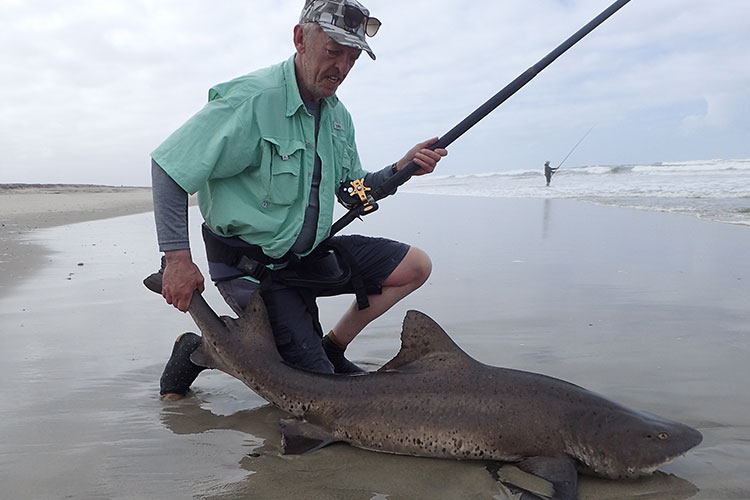 TACKLE
When fishing in Namibia all your tackle and bait is included and is of very good quality. If however, you wished to take your own then I would suggest taking out 2 types of tackle. 1 heavyweight set for the Bronzies which should consist of a stiff rod with plenty of power (Zziplex Dymic Evo and M4 EVO's, Century T1000 etc). Reel wise for the Big girls I would recommend using a reel with a good heavy drag on it, something like the Shimano Talica or a very good strong fixed spool would be perfect and this can be loaded with 60 lb braid which is perfect for the big sharks due to the low stretch properties.
For the smaller fish like Gully sharks and the species, you will catch whilst scratching I would always suggest taking out a much lighter rod, something in the 4-6oz bracket so you can get a bit of fun out of the fish that you will be catching. A good strong multiplier or fixed spool is also needed for this style of fishing as the Gully Sharks will still pull back fairly hard. Bait will always be provided by your guides so you do not have to worry about this.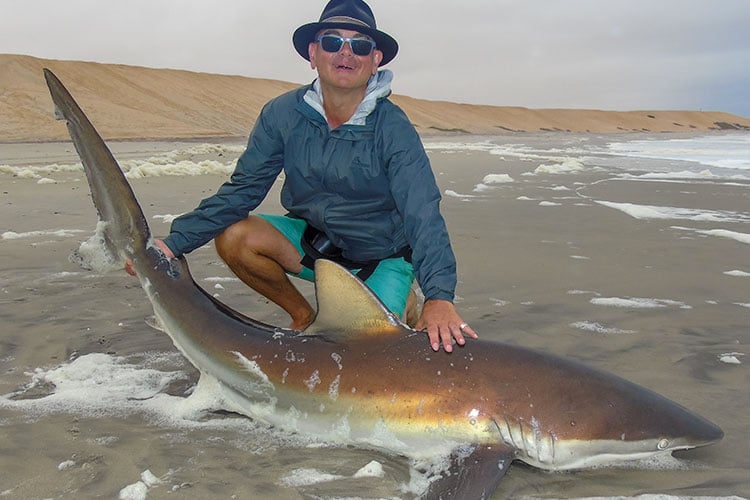 ACCOMMODATION
When staying in Namibia you will be staying at the Fishermans Guesthouse which is run by Louis, this accommodation is of very high quality and you will be staying here on a full board basis (excluding drinks). The Alcohol here is not very expensive at all with the local beer costing around 25 rand (£1.50). Your breakfast, lunch and dinner is all included within the cost and this is all high-quality home-cooked food and sometimes may even include a fantastic BBQ on the beach whilst fishing.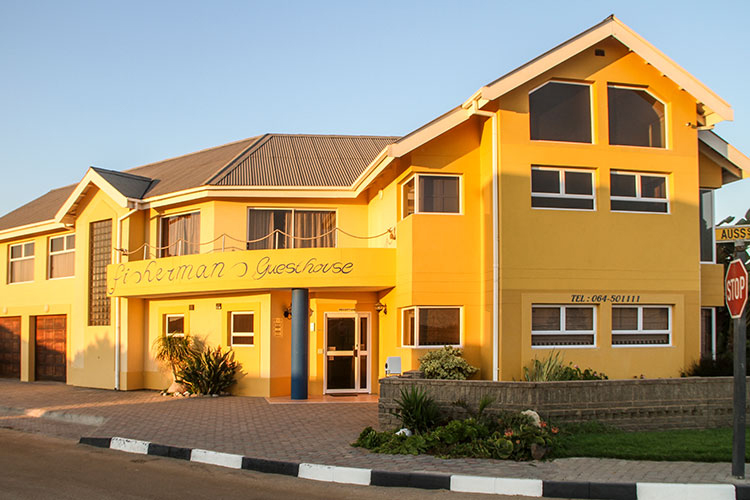 FISHING
In the evenings you will be spoken to by Louis who will let you know what time to be up in the morning ready for the day ahead. Every morning you will be driven to the beach in 4×4's to the chosen fishing spots which are nearly always on wide-open sandy beaches.  Your guide/host will bait up the rods for you and if you want then he will cast these rods for you or you can alternatively cast them in yourself.
Depending on conditions will depend on how many rods are in the water at any given time but rest assured there will be more than enough to out there to entice the Bronze whalers with a scent trail in the water. Once you hook into a fish it is all down to you, the fight may last over an hour so be prepared to dig in deep as these fish really do pull back. Once your fish is in the surf then they will be safely brought to the water's edge where you will be able to have your photograph taken with your catch before it is released.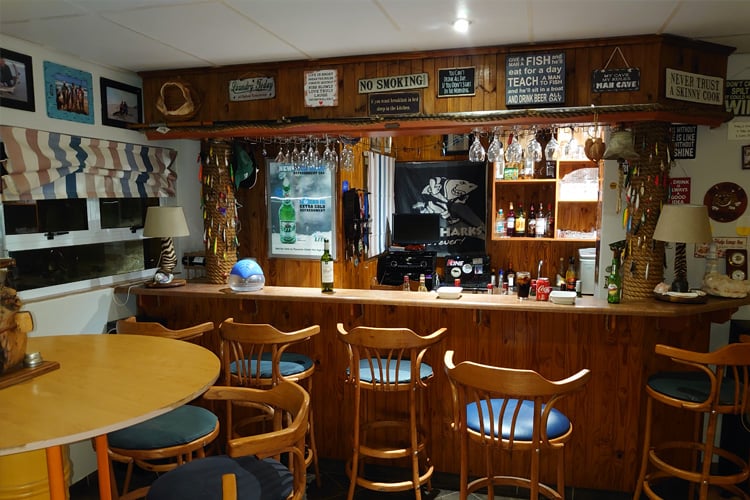 It is a good idea to bring some South African rand with you so you can buy drinks at the guesthouse.
MONEY
Namibia has its own currency but I would strongly advise taking South African Rand with you. This can be ordered from most Bureau de Changes before your holiday, you will need a small amount of cash on you to pay for drinks whilst at the lodge and also to pay at any of the local shops if you stop off and want to grab a bite to eat or grab other things you may be wanting.
Hopefully, these tips will help any of you who are heading out to Namibia in the future or even those of you who are just thinking about maybe booking your Namibia Shark fishing from the shore holiday with us.
Tight lines,
Paul
Contact us
Would you like to speak to one of our team regarding a potential trip to the shores of Namibia? You can call our shore fishing team at any time in the offices on 01603 407596 or by emailing them via info@sportquestholidays.com. If you would like to take a look at the full tour page, you can find it here.