Not everyone is lucky enough to take a dedicated fishing holiday in addition, or instead, of a family holiday. There is also a growing demand for more anglers wanting to travel with their loved ones. It is for this reason that we are adding more and more destinations that are suitable for the whole family.
One of our breathtaking destinations that is suitable for all of the family is the Alphonse Island in the Seychelles.
Alphonse Island
Alphonse Island needs to be experienced to be believed… imagine quiet picnics on secluded beaches, sunset cruises with loved ones, mesmerizing encounters with captivating marine life and blissful pampering treatments. The geographical isolation of Alphonse Island creates an atmosphere of undisturbed solitude where you can forget about the outside world and immerse yourself in all the natural wonders and unique experiences that this island has to offer. An action-packed holiday, romantic sojourn, or an idyllic beach break, Alphonse Island offers both exhilarating and relaxing experiences.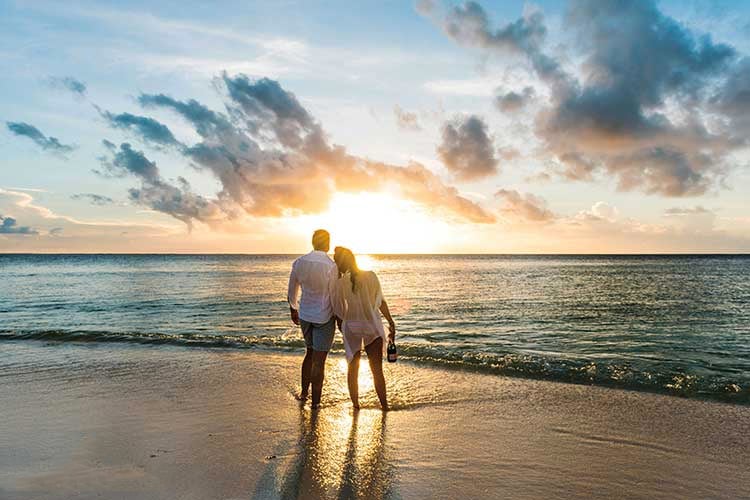 Alphonse Cycle Tour
A guided tour across Alphonse stopping at major landscapes and seascapes. During the tour you will be informed about the early settlers of Alphonse and the changes from indigenous forest to coconut plantation. Learn about birdlife, fish and plants as every corner of theisland is explored with our knowledgeable guides.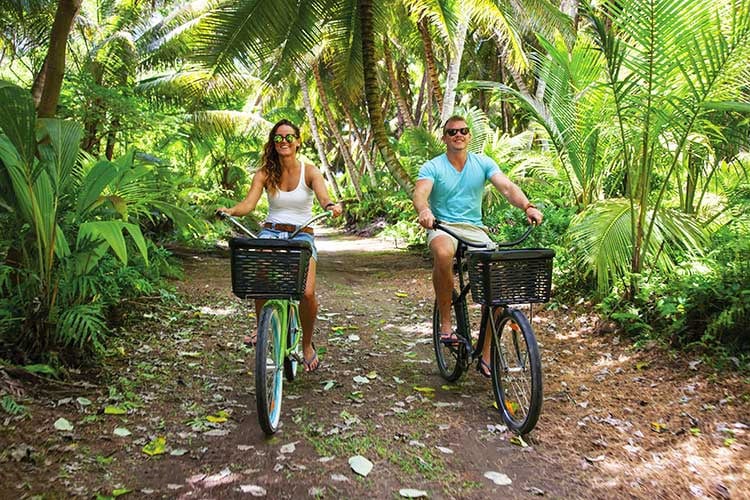 Bijoutier Island Visit
Stroll the deserted beaches and swim in crystal clear calm water on Bijoutier Island. A hotspot for turtle nesting. Guides explain the life cycle of the turtles – from hatching to laying their own eggs. You may get lucky and peer into the depths of the forest to see the nests of the Wedge-tailed Shearwater, perhaps a mother or chick too!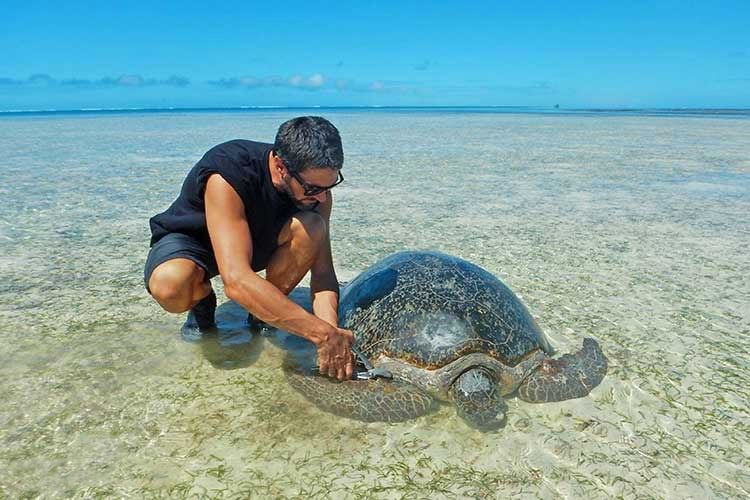 Dolphin Viewing
Alphonse Island is a year-round home to a few pods of spinner dolphins. Share the thrill of meeting one of these dolphins or spot manta rays, tuna and many other marine species.
ICS Walk
The ICS team offer activities upon the island such as Turtle Patrol, Beach Cleanups, Giant Tortoise viewing and feeding and bird-watching. This is something everyone on Alphonse holds very close to their hearts. Without their sound knowledge, the ecosystem on the atoll would not be how it is today.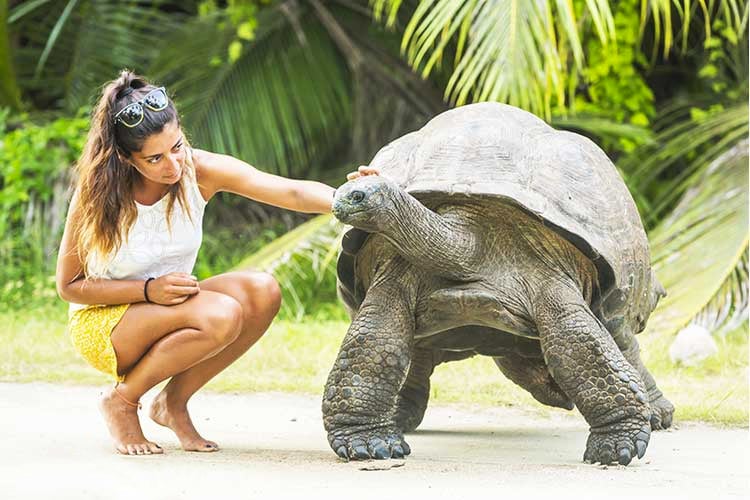 Spa Therapies
Relax in the quiet comfort of Azure Spa after a day's fishing, diving or beside the pool. Our qualified masseuses work magic on tired bodies in need of special attention or simply those just wanting to indulge. From head and shoulders to full body massages we are able to tailor treatments to the individual. Special packages such as the fishermen's massage concentrate on key sensitive points to ensure you leave feeling rejuvenated.
Sundowners on the Beach
A cocktail or an ice cold beer can be enjoyed while watching the picturesque sunset above the waters.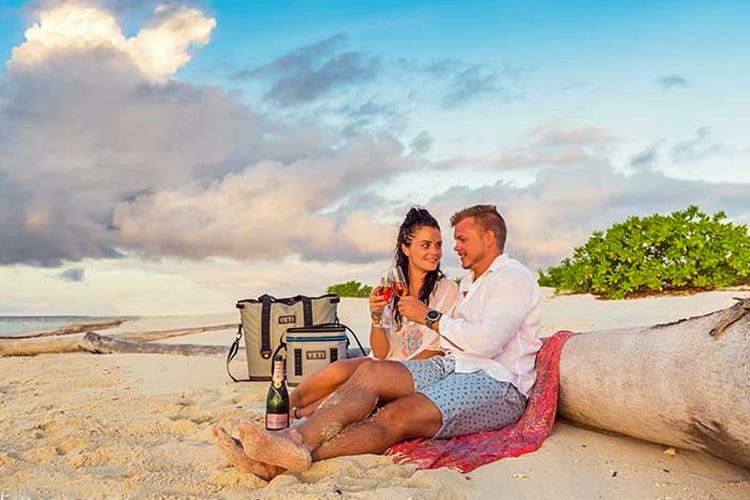 Sunset Lagoon Cruise
Set sail into the Alphonse Lagoon on one of our luxury boats to salute the setting sun with a cocktail or beer from the bar. Share stories from your week and bask in the stillness of the departing day.
Flats Lunch
A special treat offered by Alphonse Island is the amazing Flats Lunch. A dining atmosphere like no other. You get to revel in the sheer beauty of the flats whilst feasting on a delicious buffet accompanied by an ice cold beverage.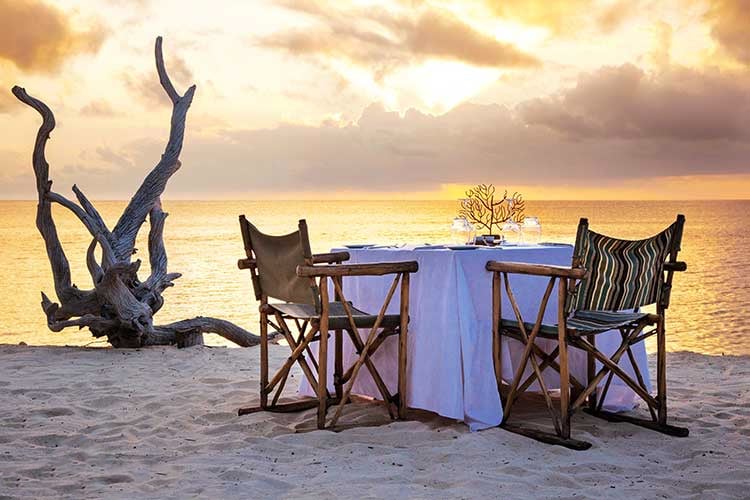 Kayaking
Kayaks are a perfect and non-intrusive way to get up close to turtles and rays around the flats and allow you to enjoy Alphonse from a new perspective. A guided tour by nature experts who will point out seabirds and spot fishermen's delights such as Bonefish, Permit and Triggerfish. Kayaks are readily available and offer you the opportunity to appreciate the untouched exquisiteness of Alphonse Island solely at their own pace. A picnic basket can be organised for you to carry along, enabling you to choose a spot for a secluded meal.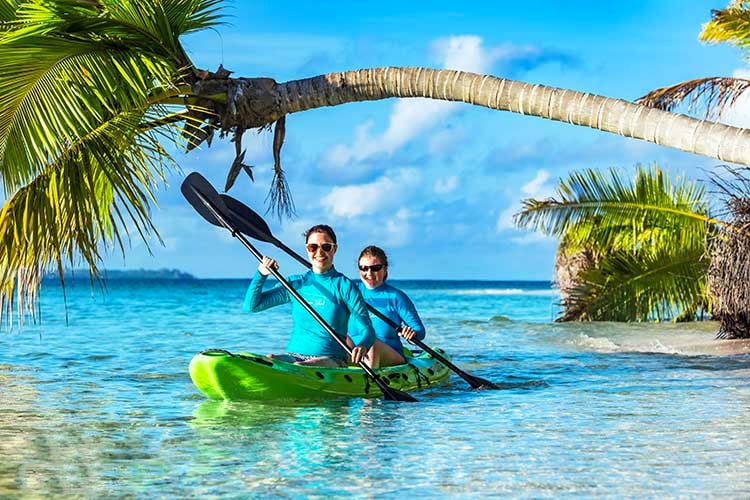 Reef Flats Expedition
Travel the inside reef flats of Alphonse with a knowledgeable and insightful marine biologist. On this expedition, you get to appreciate the untouched view of the white sand and crystal clear waters whilst spotting juvenile turtles, eagle rays, eels and see all types of nature come
together. Partake in an optional volunteer biodiversity survey and gather baseline data about all the species found deep in the seagrass meadows, under rocks and squeezed into crevices in the reef platform.
Scuba Diving
Come face to face with daily encounters of Stingrays, Turtles, Moray Eels, Barracuda, Sharks, Tuna, Grouper, Snapper, Trevally and many more on the 30 dive sites suitable for any class of diver, from beginner to advanced.
Registered PADI Dive Centre offering a variety of courses, including Specialty Scuba Courses.
Obtain or upgrade your diving tickets, a full PADI [Open Water & Advanced] & Rescue Diver.
PADI Discover Scuba Diving [DSD] [one-hour theory, a pool session and a shallow dive to 12m].
PADI Bubble Maker [suitable for children as young as eight years].
PADI Divemaster.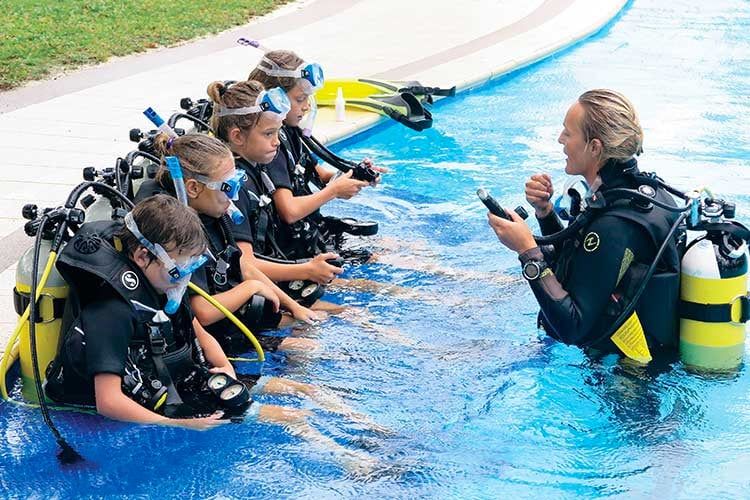 Snorkelling
Non-divers may also experience the beautiful, enchanting marine life by partaking in Guided Alphonse and St Francois or Bijoutier snorkelling trips. Snorkelling equipment is complimentary and is available for all everyone use. The abundant and colourful sea life sights are not to be missed.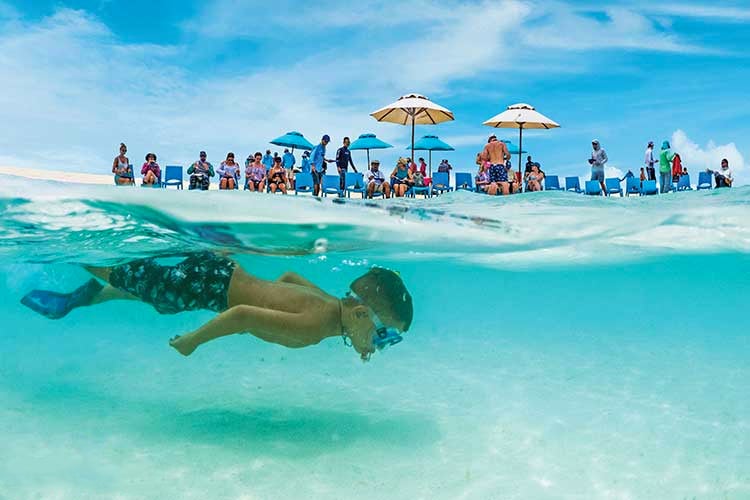 St Francois Nature Hike
A nature walk on the uninhabited island of St Francois will guide guests through the mangroves where birds roost high in the treetops and others wade across the vast white sand flats. Wildlife on this untouched island is amazing. Manta rays, pelagic fish and cetaceans are often viewed on the 40-minute crossing from Alphonse.
Contact us
Combine all of this with a choice of luxury accommodation, either island beach bungalows or island beach suites, with some of the best saltwater flats fishing in the world and you certainly do have the ideal luxury destination that was perfectly designed for the entire family.
If you need further convincing, our fly fishing manager, Peter Collingsworth, has had countless trips to this fantastic fishing ground, if you would like to discuss the trip with him in more detail, you can contact him directly on 01603 407596 or via email at peter@sportquestholidays.com.
Alternatively, you can also visit our Alphonse Island tour page.
Tight lines,
Peter