As mentioned in the previous news, we have struggled with the weather at the beginning of the week, but Thursday should prove to offer its very best side during the morning.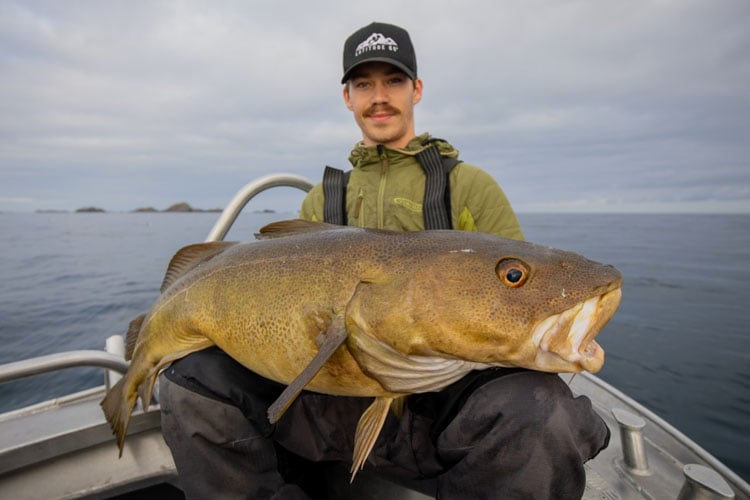 Daniel, who had his friends Hannes and Jakob here for a few days, was finally able to experience the fantastic fishing we offer here in Norway. The clock was set at 05.00 to then roll the boat out of the harbor at 6 o'clock to bunker up with some bait fish. After bait fishing, Finally, Hannes and Jakob could make their first real cast here in Norway and after barely a minute Hannes signals that something has chewed on his 1.5 kilo Coalfish. The circle hook is turned neatly into the corner of the fish's mouth and after a couple of good stings it can be lifted from bottom and appear in the crystal clear water under the edge of the boat, no Halibut for Hannes this time but a proper Cod well over 15 kilos! we start taking some good pictures when jakob signals that he has fish on, and this time there is no talk of it being Halibut!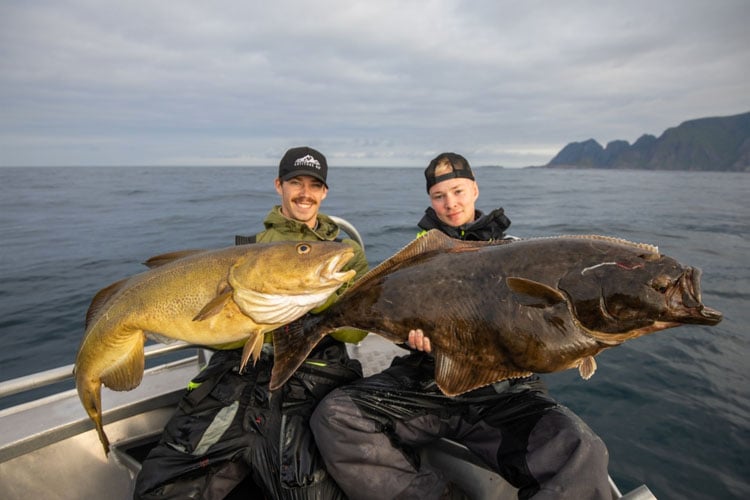 After this, it was time to look for another area when the current turned and it became too difficult to hold the boat, a few drops of new bait fish in the form of Mackerel turned out to be the melody and after barely a minute of fishing in the next drift, Jakob hooks in the next Halibut offers a really good fight and after a while can be measured to a good 105cm. Hannes unfortunately missed a bunch of contacts after that, but after a while he too was able to stand up with a full rod bend and fight a Halibut too. a few good rushes later and a really nice fight later, Daniel was able to immortalize this Halibut in a picture as well. A little further away is boat 2 harrowing and can neatly report a very fine fish of a whopping 172 cm which of course swims on after inspection.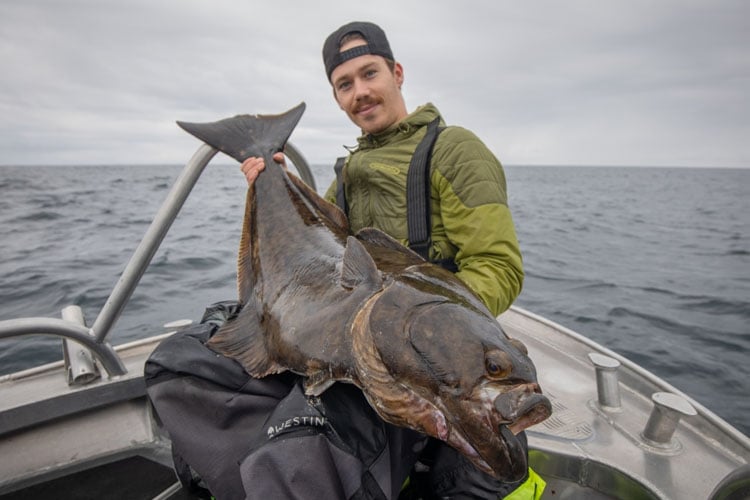 Marcus, who steered the guide boat on Monday, was able to tell in port about a real Halibut race with several landed and a number of really good contacts where unfortunately the fishermen didnt came out victorious, fishing is fishing not entirely without reason. But in any case a really nice day with a Halibut of 119 cm at the top and a bunch of nice food Halibut between 100-110 cm. The guys in boat 2 and three were also really hot and were able to report in the harbor later a bunch of nice Halibut with the two largest at 130 and 155cm talk about stable fishing! Even the British could tell about a magical fishing on the outside for Cod and Pollock with several tops of 15 kilos of each species and a magical Halibut of 140cm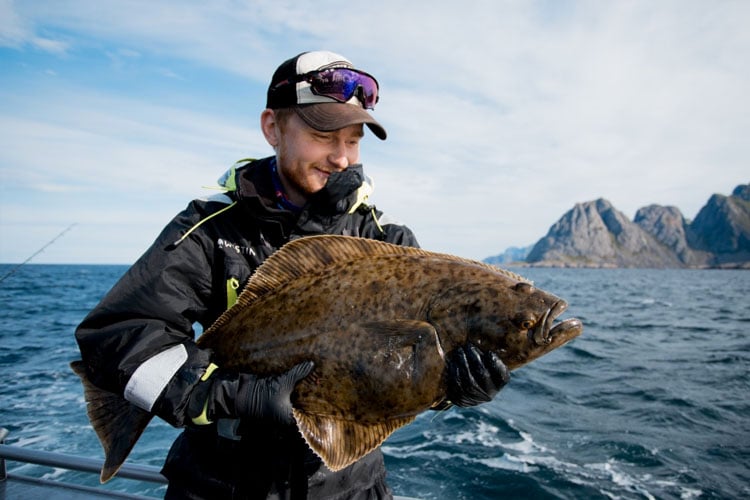 On Tuesday something spectacular happened again out in the stream, The day starts with Marcus calling out on the radio that he has most likely seen Tuna jumping in the middle of the stream. and asks other boats to be observant for more events on the surface. immediately afterwards, Daniel and the Brits in boat 14 can see how the surface completely exploded in the outer part of the current, unfortunately it was a little too far to see if it was Tuna or something else that was up on the surface, but whatever it was, it was really stupid! After the drift, they also smack up a nice Halibut of 130cm, which becomes a new personal best for Steve!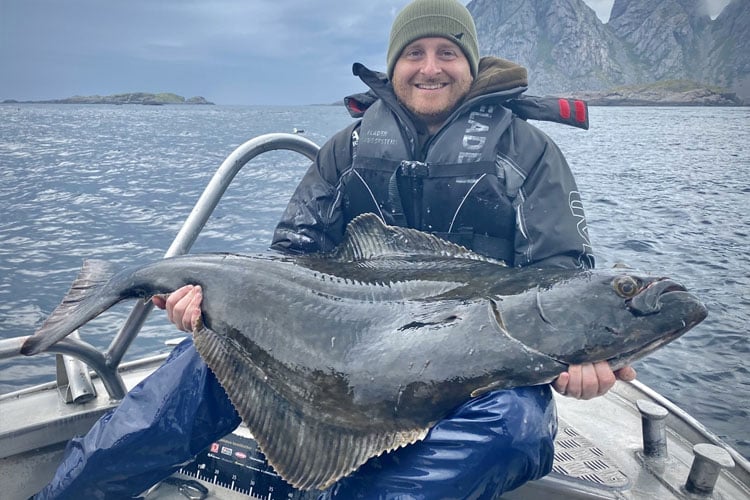 Marcus and the gang continue fishing and all of a sudden they hook something really big which after a few essentially just disappeared, after a bunch of waiting seconds for the fish to come back it suddenly feels as if the line has come off Morten then starts reeling in the slack line and right under the boat he suddenly makes contact but something is not right and the fish starts swimming sideways and whatever it is, it's not small! A few strange seconds later, the fish appears under the boat barely two meters down and everyone in the boat can clearly see that it is a Herring shark sitting on the hook, the shark then turns right under the boat and the line snaps, Marcus and the others in the boat then stand with eyes wide open and looking at each other and no one can really understand what happened. The shark they hooked wasn't small and estimated to be at least over 2, 5 meters long. A quick phone call to the colleague Alex who manages the contact with the Norwegian Institute of Marine Research results in him immediately packing his things for the Shark tagging project and flying up to us. In this they are now fishing for sharks in our classic Halibut areas, talk about crazy cool. More about this in the next news!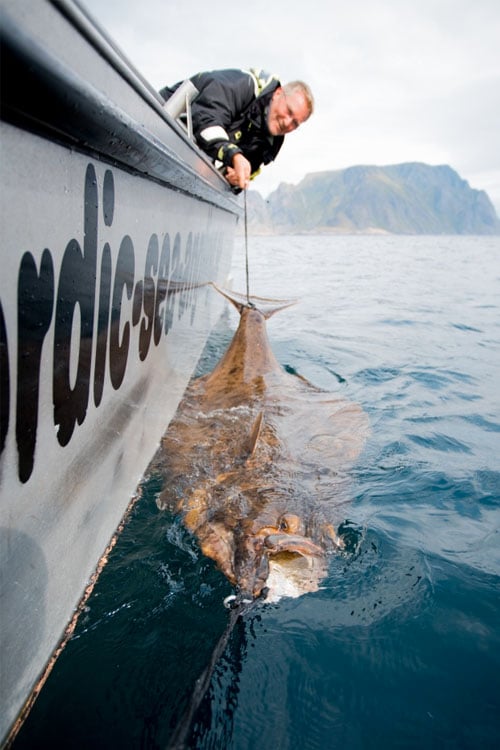 After this sick event, Marcus made a new move and after a while can report the week's new top fish at a magical 182cm to the guest Morten in the guide boat.
Now We await next week's guests and significantly more stable weather, you will hear from us again shortly.
INTO THE TILES// Daniel Freland, Alexander Lindgren and Marcus Pettersson
CONTACT US
If you, like many others, have ever dreamt about fishing the prolific waters of Å on the Lofoten Islands and would like to know more information on how you can join us, you can contact our sea fishing specialist, Paul Stevens, on 01603 407596 or email at paul@sportquestholidays.com.