We ended the previous reporting with Stig's dropped Monster, and Jakob terminator landed monster fish of 221 cm. How did Monday's fishing end?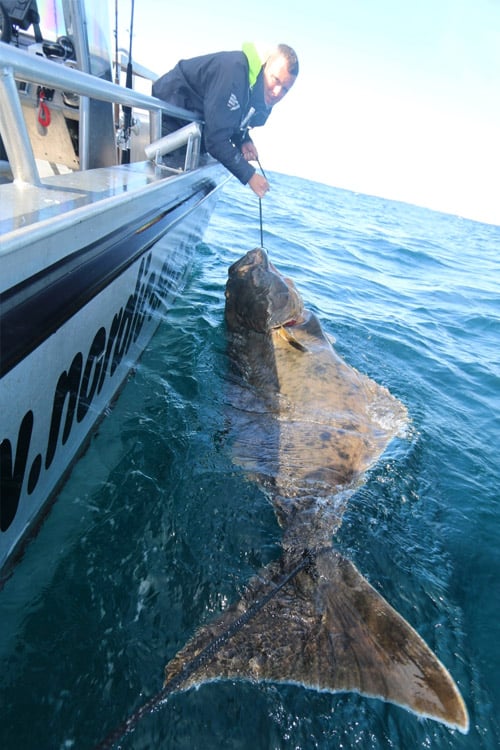 On Monday, Alexander was out with family who are visiting and of course we will try to catch a trip out to sea and fish. A little bumpy sea, we look for places that are more protected from the very worst, and messy parts. About an hour after we left port and found bait fish, we put the first drift for the day. Quite late around lunchtime, after 40 minutes, brother shouts to the stern that something sucked in his bait fish. He is quick to put the circle hook before we have time to say anything and a head shake comes from this fish. We immediately realize that this is a LARGE Halibut. We reeled in the other rods and baits from the water and full focus on this fish. After a few minutes into the fight, the fish is still at the bottom and has not received a centimeter of line. Some head shake later finally releases the fish from the bottom and now it's just methodical to get up piece by piece. Just below the boat about 15 meters down, it sets speed right down again towards 60m. The second time it comes up kinder. Once it comes up to the boat, I put the halibut hook in and we can secure the fish.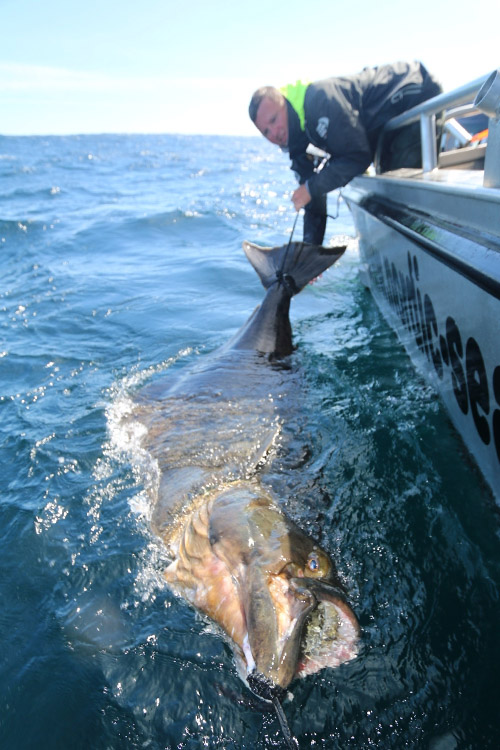 We can directly judge this fish to a good bit over 2m, probably beats the personal best for Christoffer (Alexander's brother) who already has a really big Halibut on his conscience a couple of years ago. This fish measures in at an incredible 232cm and thus becomes a new personal best with 12 cm also a new NSA annual best on Halibut.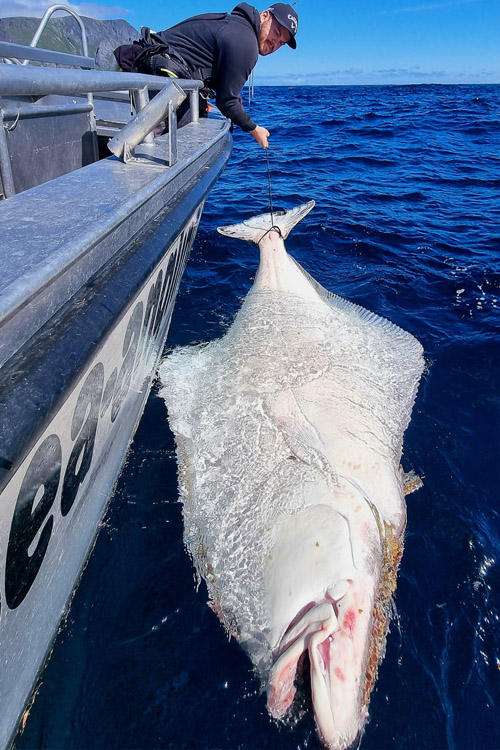 Tuesday morning we had no guide out at sea, but we fixed it with a little cleaning and miscellaneous jobs that needs to be done on land. So an exact report from many boat teams is a bit unclear, but we are sure that there will continue to be fish for the boat teams!
In the afternoon, I get another text from Jakob where he tells me that his friend Michael Nielsen, landed Giant # 14 for the season! But also number 6 for the WEEK !!!! COMPLETELY crazy fishing on Å! Previously, it has landed at best 11 Halibut in a season over 2 meters, but already now we are at 14 and when you land 6 in 1 week is just something completely extra!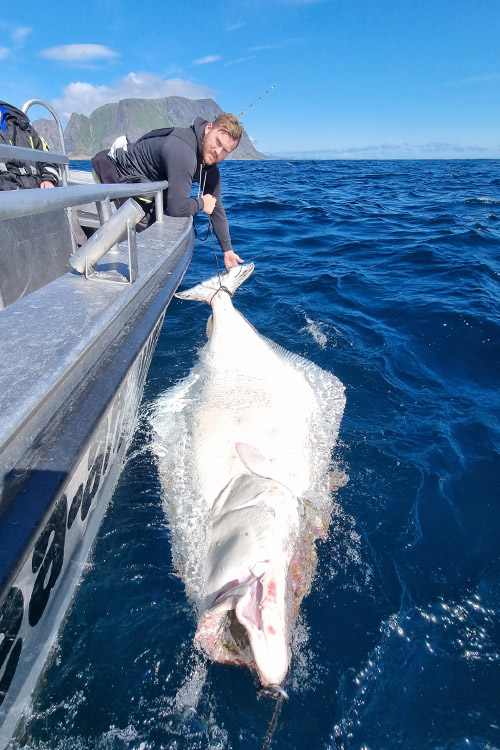 Before the last day we had a little worse weather coming in, which meant that many boats chose to stay in port and take an early check-out, also to enjoy a couple of extra well-deserved beers at the restaurant on Å. We had our 2 Danish boats that went out during a short afternoon session, which lasted a few hours but even then they managed to land some sick catches of Halibut! With top fish for the day of 165 cm!
This now had to round off an absolutely incredible week on Lofoten Å where we are really looking forward to how this season now ends!
Tight lines from Å
Alexander Lindgren, Marcus Pettersson & Oscar Berntsson
CONTACT US
If you, like many others, have ever dreamt about fishing the prolific waters of Å on the Lofoten Islands and would like to know more information on how you can join us, you can contact our sea fishing specialist, Paul Stevens, on 01603 407596 or email at paul@sportquestholidays.com.