This week begins with a monster to start! A new bunch who are supercharged for the coming week, where we even got to go on a long trip to test our chances. But that story comes later in this post.
We start from day 1. We have Sven, Marijn, Carlo and Dennis in the guide boat and have our sights set on different species before their stay with us. But first they want to test the Halibut fishing on the first day.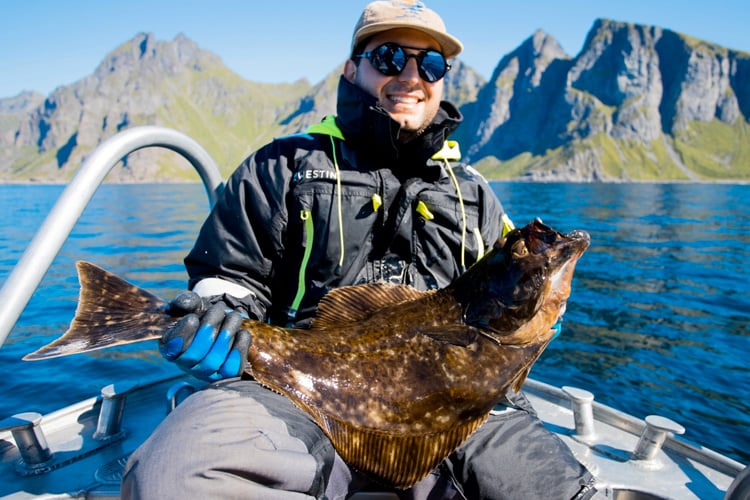 Alexander steers the guide boat this day and chooses to lie a little further away from the current. When Alexander is instructing everyone in the boat how we do the fishing here, one of the guys puts one of his baits down to the bottom. It doesn't even take 5 minutes before something grabs the bait. Some of the old men in the boat hadn't even had time to wet their baits before it got dark.
Alexander realizes quite quickly that this might be a better Halibut on the hook. and tells everyone in the boat to wait to put down their baits. After 15-20 minutes, they have not even been able to shake the fish from the bottom. It refuses to give way! Alexander calls out on the radio that they have something very big on, and we other boats wait expectantly to hear how it goes. It takes a long time. 30-40 minutes into the fight we still haven't heard anything on the radio.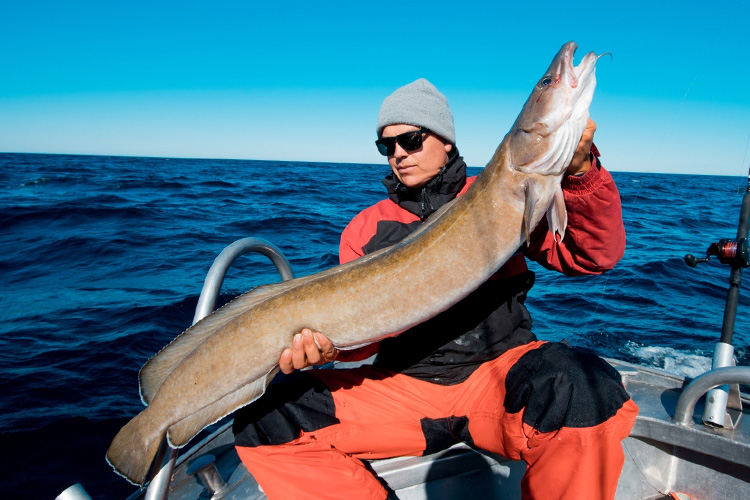 After a very long moment, we could all hear an excited Alexander shout out that they had just landed, and secured a monster! After control measurement, Alexander realizes that this is a new year's best for this season! Absolutely incredible start to this week! Only 5 minutes of fishing and after a magical fight, the fish is measured at 234cm! Which is a new year record for us at NSA, and a new personal best for Carlo!
During the next day, the conditions are perfect for a long trip. Which we haven't been able to do as often as we'd like. As this requires very good conditions to travel that far. 7 boat teams decide to accompany out to the "Living Room". Alexander steers the guide boat while Oscar and Daniel have jumped into two of the other boat teams that are going out.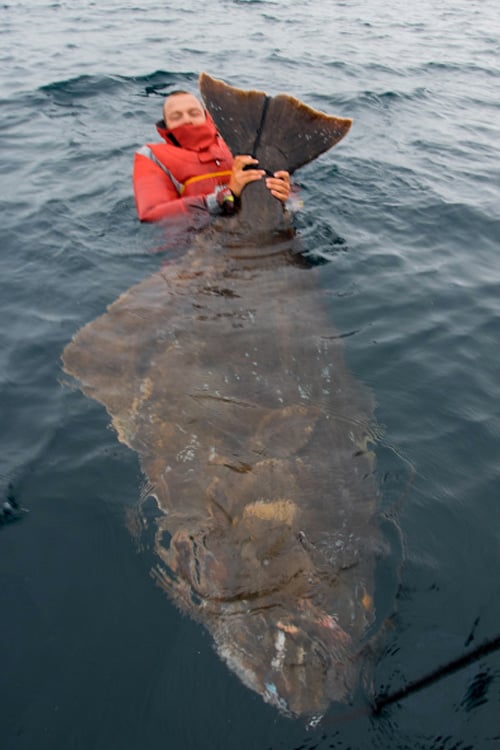 After an hour of boating, Alexander shouts out that they have reached their destination and asks everyone to spread out to get a better spread among the boats. Once again, Alexander has managed to hit the spot right away. When the guys in the guide boat drop their baits, it immediately pops! The fight is on! While they are at it and drilling, it is starting to be reported that more people have had the same luck and the start of this long trip looks promising! A few minutes pass in the guide boat and they understand that this is a better size Halibut. The fish comes up and is measured at 147cm! New personal best again after just a few minutes of fishing!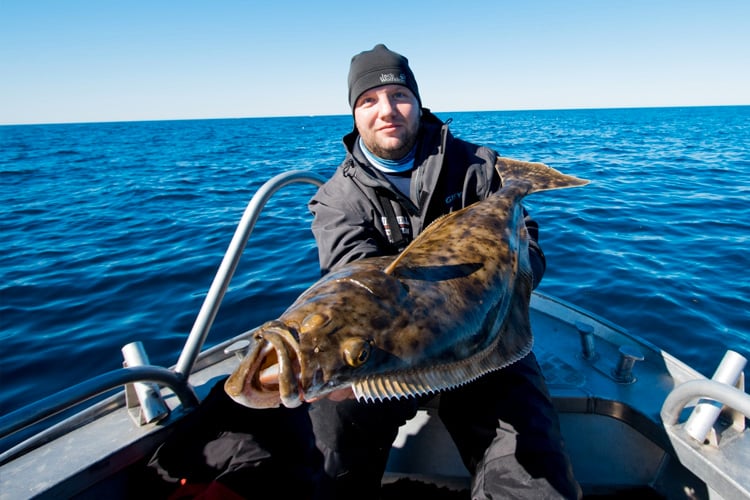 Many nice fish between 80-130cm come up right at the beginning of their stay in the "Living Room" After this chop rush it dies out completely. They have to wait several hours before there started again. But those who were there had to experience a chop rush again. Where it wasn't just Halibut that started chopping. Cod and a Ling managed to come up to view the boat.
After a really nice long trip, most boat teams choose to fish their way home towards the camp, and then take the opportunity to stop at a few peaks to test the Cod fishing. A few dot just right and get really fun quantity fishing and good size Cod.
Later in the evening, there will be a lot of tactics talk with all the boat teams who have had their teeth really bloody for halibut fishing. Boat team 4 really want to go out again in the evening to test incoming turn on the current for best results. Many boats caught on to that idea and set out with them to try their luck. On Sunday, it is Marcus who steers the guide boat and the plan is to run double shifts to also be able to experience the Coalfish fishing at night which is really hot!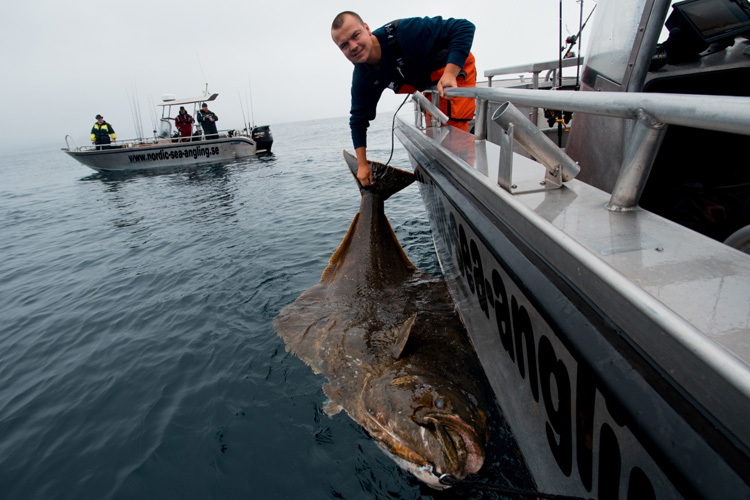 Just before they are about to head out, the guys from boat 4 come forward and tell us that they experienced a completely magical Halibut fishing the night before, with a top of 170cm! Another new personal best at the camp! On Sunday, a well-experienced person also comes here, with his younger son of 12 years. Jakob "Terminater" has come up again to drive another week at our camp.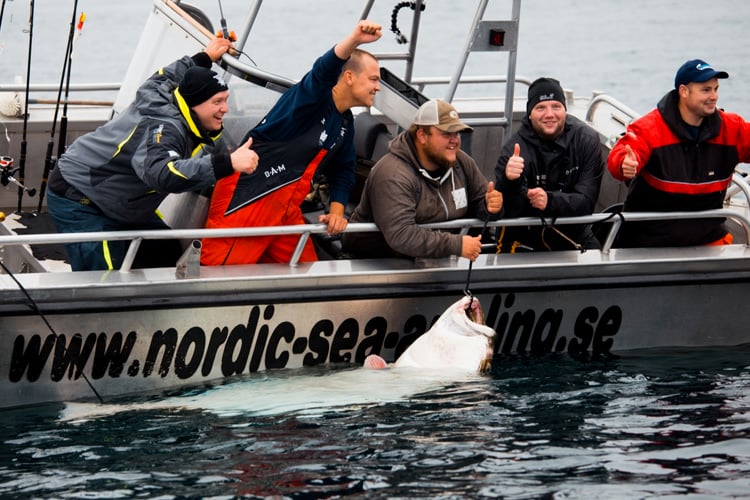 Marcus in Guidebåten steers the boat a bit outside the current and sets the first drift. Just before they are about to lay a new drift, a really big echo comes up from the bottom and asks everyone to keep their baits in the water. The halibut comes up and didn't even hesitate for a second to bite the bait in the bow. Cross stop in the hook and the line just rushes out of the reel. Marcus tells everyone to pick their baits out of the water and realizes that this is a bigger fish. Just when they get their baits in the boat and after a long rush, the fish releases. The hook had not set properly. Just after this, Jakob "Terminator reported that his boy had just landed a 170cm Halibut! Our destination Å has really succeeded in delivering this year!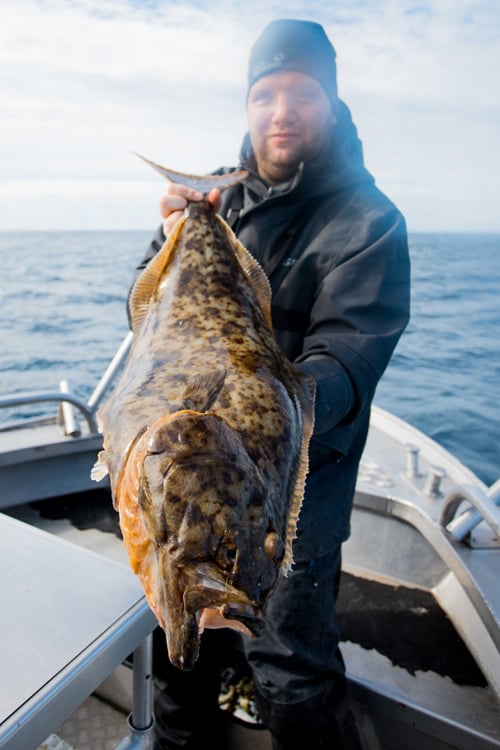 Marcus in the guide boat chooses to try the same drift again without any results, and then fish his way home towards the camp to get a few hours of sleep before the night's fishing. During these short drifts, they manage to catch two fine food Halibut of 80-90cm. Once they have picked up the fishing equipment, boat 14 reports out that they have just landed a better fish of 130cm, and just after this caught an incredibly nice halibut of 150cm!
It's scorching hot here at our destination Å!
The night's fishing will have to wait until the next news.
Until! Tight Lines!
Marcus Pettersson, Alexander Lindgren, Daniel Freland, Oscar Berntson
CONTACT US
If you, like many others, have ever dreamt about fishing the prolific waters of Å on the Lofoten Islands and would like to know more information on how you can join us, you can contact our sea fishing specialist, Paul Stevens, on 01603 407596 or email at paul@sportquestholidays.com.