Another week is now over for us here in southern Lofoten, many great memories have been made and most of it will be on film from Sportquest at a later date! But to sum up the Halibut competition, we probably all agree that it was successful, a lot of fish have been caught and a lot of awesome species that otherwise usually shine with their absence have seen the inside of our boats. And as usual, there have been a bunch of big Halibut with a really gigantic top fish!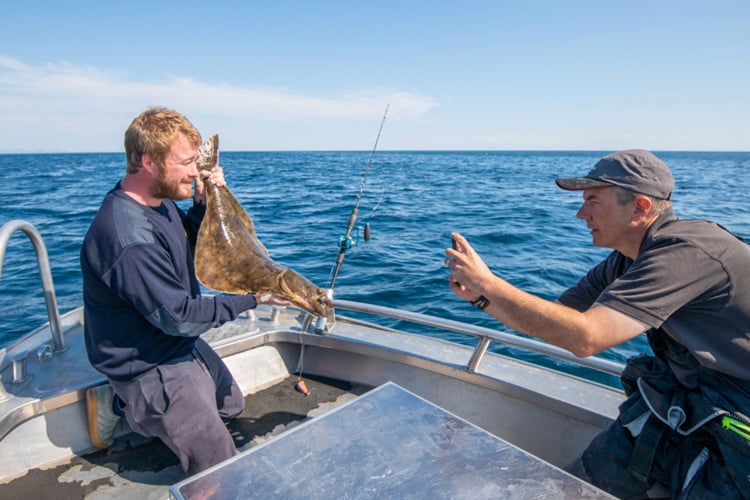 Daniel who had a visit from his father Martin decided to try a day for Halibut and as usual there is a target and it is a big fish! Directing fishing for big Halibut can be a bit tough and there are usually many hours between bites, but the knowledge of what is swimming out there gives you a good feeling in your body even if it doesn't always happen that much. But sometimes it does go faster and after barely 5 minutes of fishing, Daniel hooks a big Halibut! After a few minutes of fighting, Daniel decides that it might be good to have a little help during the landing as it seems really big, Danne's father then has to call Alex over the radio and after 10 minutes Alex was able to jump into the boat and prepare for landing. Once the Halibut came up to the edge of the boat, it was like a shock to everyone in the boat… this one is big, really big. Alex pulls off the landing confidently and cheers in both Dan's and Paul's boat howled across the sea! After measurement, a length of a crazy 237cm!!! After Alex got a bunch of amazing pictures, it was time for Daniel to drop back his new Pb!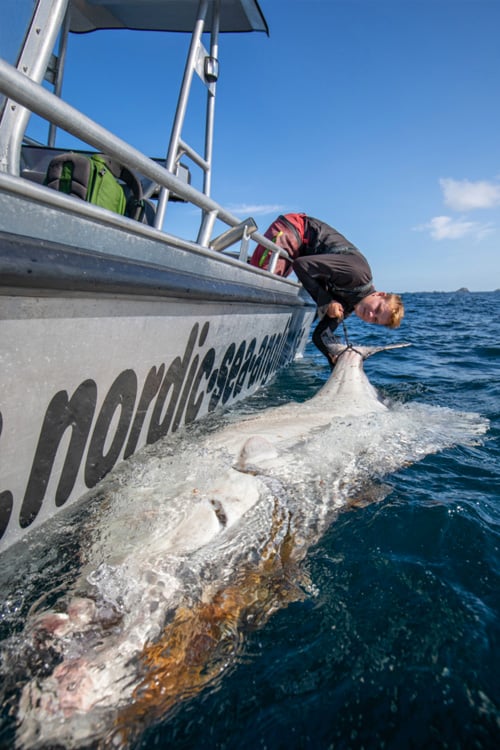 Well, let's just start with the fact that several camp records have been caught, first we catch a Wolffish of 8.7kg that the gang in boat 4 was responsible for, On Å we don't usually catch Wolffish all the time, but there are usually a couple a week as bonus fish, so clearly a fishing area we will continue to work on. But what a fantastically awesome fish and always fun with camp records!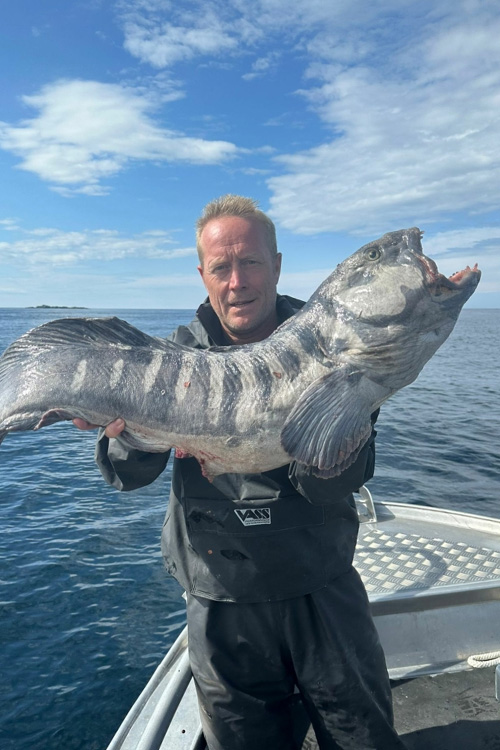 Now to the next extreme species that came up! A really big Monkfish was caught on the second day, and to make the whole incident even sicker, it's the same person who the previous year caught an absolutely huge Monkfish at the Sportquest competition… So now he's got Monkfish on both of his last two trips in Norway. After a very quick move with Paul and the gang, this fish was also caught on film! Crazy fun and cool element to the film production!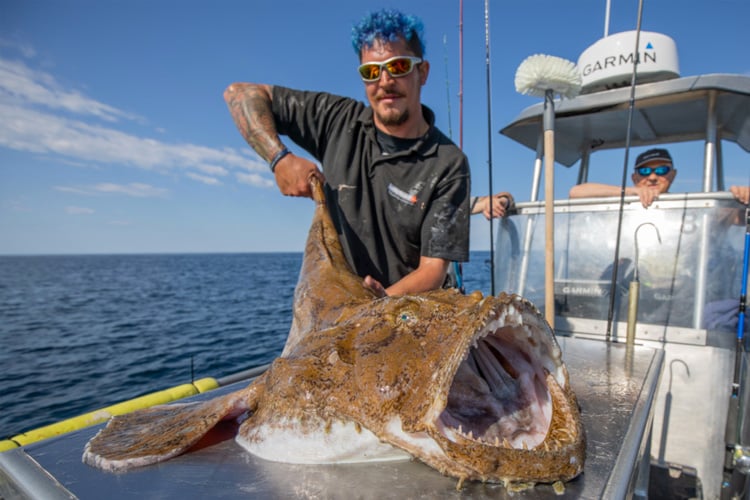 And to make the week even more exciting, we want to show you a new camp record on Å! And as usual it's in the famous Marulksbåt that strange things come up… this time in the form of Turbot, and not just one but two… So there hasn't been a single Turbot here on Å since the camp opened but now it happened so up two of the same person, how sick is that? The weight unfortunately remains unknown, but around 2-3 kg and a fantastically awesome fish!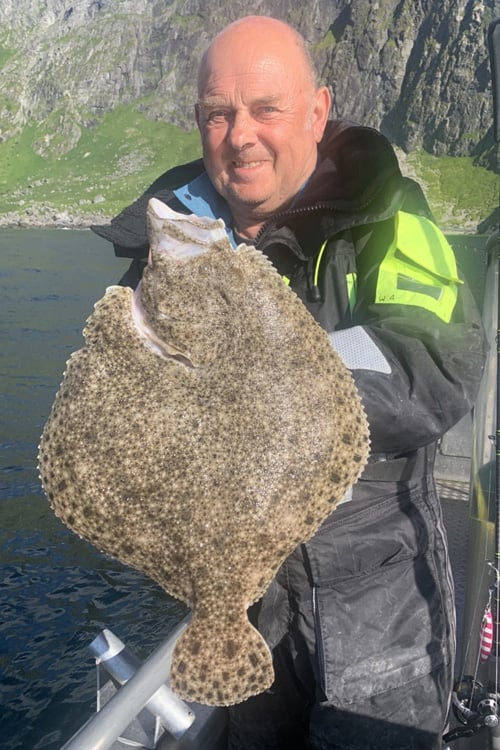 In addition to these extremely sick by catch, there have also been a lot of Halibut between the boats, and Paul, Chris and Mark's boat with Alex caught a whole bunch of nice Halibut with a top of a magical 162 cm for Mark, a new personal best and a well-deserved one. Paul and Chris also landed a bunch of nice Halibut with a 150cm top for Paul. This year there are really a lot of fish in the sizes between 110cm-140cm sickly fun as these fish often offer magical rushes and intense fights.
At the end of the competition week, Paul and Sportquest invited all the guests and guides to a lovely dinner down at the restaurant where Cod tongue and Halibut were offered. At the restaurant there was also a little award ceremony and talks about the various catches during the week. The guides at Å, Daniel, Alex, Marcus and Ludvig would like to thank all the guests and sportquest for a completely crazy fun week with lots of laughs and awesome fish that we will take with us for the rest of our lives!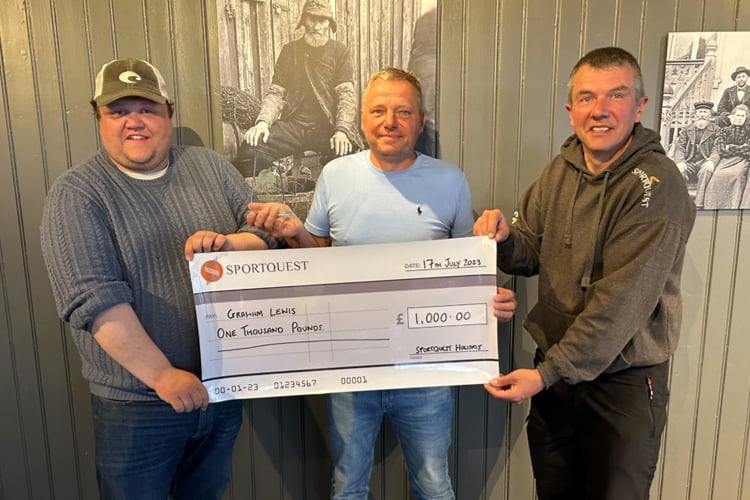 Now we're getting ready for the new week, which has already started with fantastic weather and magical fish! More on that in the next report!
Tight Lines// Daniel, Alex, Marcus and Ludvig
CONTACT US
If you, like many others, have ever dreamt about fishing the prolific waters of Å on the Lofoten Islands in Norway and would like to know more information on how you can join us, you can contact our sea fishing specialist, Paul Stevens, on 01603 407596 or email at paul@sportquestholidays.com.