It's been a long time since you heard anything from us at Å! A whole week has passed, and we are now in the second day of this week. We start by going back a week on Å and bring some highlights, which you can safely say it has been! Last week there were a lot of Å veterans here and visited. A large group of Norwegians with Björnar and Torgeir in the lead. In the guide boat we had Stefan and Robert from Holland. In addition to this, there were a lot of other good guys from Sweden. Friday was marked by Halibut. Daniels who steered a guide boat had very good mass fishing. We in the big guide boat still got to feel a little racker of 80 cm who had to go home for dinner. On Saturday, Daniel steered the large guide boat this time again against the Halibut. A little slower start this day but can hardly end better than with a real dream fish of 154cm. During Saturday night, we have our Swedish team out fishing for Halibut where you can say one boat the team manages to score correctly!
Not just once but twice! A bit fuzzy story from the guys about which fish came first but they manage to land 2 dream fish of which the "little one is 165 cm" and then a real Monster, which is 220 cm long !! and this year's 5th over the magic 2 meter line. Sickly cool fishing! Sunday and the 3rd day of the week and the guide boat went out first. once out, we have a very strong current that makes fishing very difficult to handle by feeling the bottom, so we choose to drive towards a slightly calmer area. Just a few minutes into the new operation, I see on the sonar how a really big fish rises up against the bait fish, after a rather long wait that feels like an eternity, Robert, who is standing at the bow of the boat, says that now something took his bait. after a short sequence he puts the hook.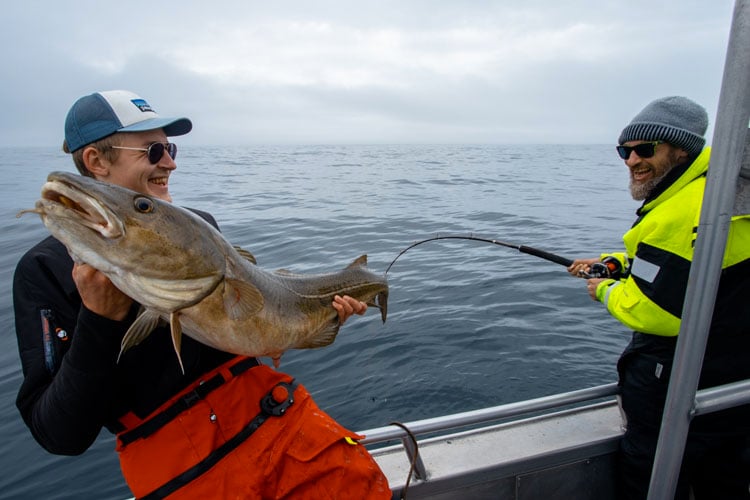 Immediately we see that it is a better fish. The fish makes a slight rush, then it is time to lift it from a depth of 65 m. When the fish is about 20 meters below the boat, it decides that it does not want to be up there and goes straight down the track again. Just start prying again from the depths! This was repeated 6 times before we got to see the fish, and on the first try we managed to put the hook in a safe way. After the measurement, extreme joy screams from Robert when he hears that he has crossed the magical 2 meter limit!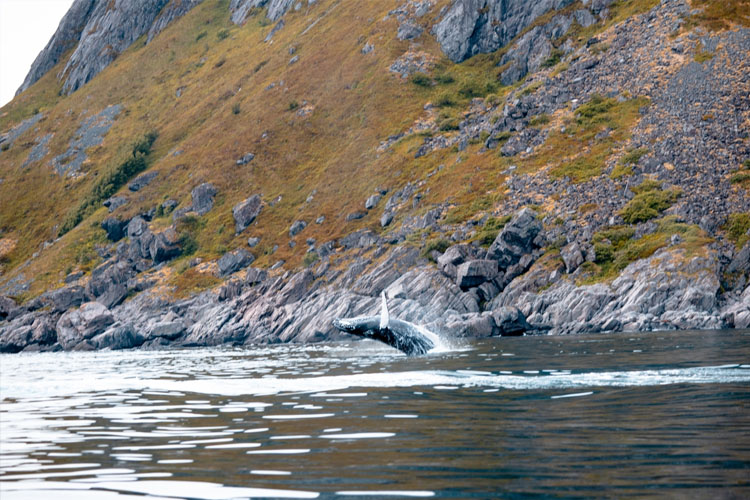 The fishing in the coming days was still good for many boats that managed to find the right spots, on which the Halibut stood. The Cod fishing was very good for those who wanted to fish for Cod. There were a lot of Cod between 5-12 kg with top fish up over 15 kg.
Then it should not be forgotten that our Norwegian guests, who succeeded in something very unusual. On Tuesday, they hooked on a real dream fish but not anyway either but after a long and stubborn fight with a fish like this they could see that it was hooked in the tail reel. The fact that they managed to land and secure this fish is just that completely magical! but the fact that the fish itself also measures in at a full 160 cm only makes the whole thing more incredible! We want to thank you for a great week that was absolutely incredible that we had the honor of landing two more Halibut over this magical limit of 2 meters. Finally, we also got to experience something completely incredible and quite unusual down here on the southern Lofoten. But we got to see 2 humpback whales that also showed us a real show! By jumping most of the time in front of and next to us, this was an experience they will never forget!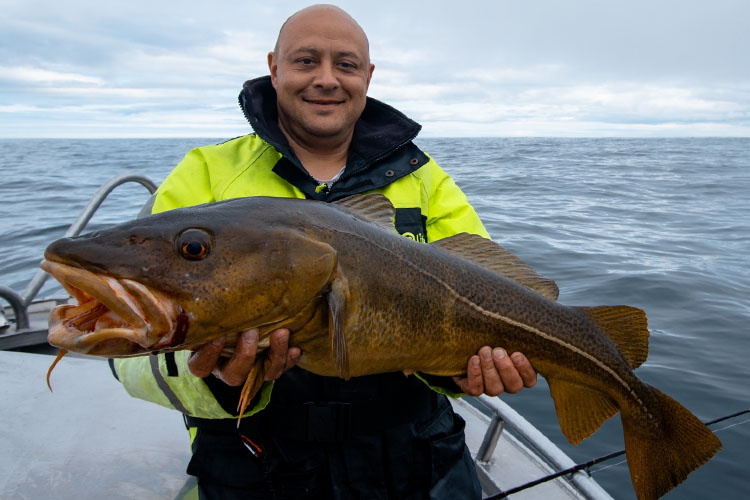 Now for the current week, as I said, we are already in day two and the fishing can not start in a sicker way than what it did during the first day! One of the groups this week is also real Å veterans Björn Levin in the lead succeeded during their first fishing day Landa a completely magical fish that measured a full 190 cm! What happened in addition to this I do not have a super track on, but will come more about this in the next report.
Until then,
Tight lines from Å!
CONTACT US
If you, like many others, have ever dreamt about fishing the prolific waters of Å on the Lofoten Islands and would like to know more information on how you can join us, you can contact our sea fishing specialist, Paul Stevens, on 01603 407596 or email at paul@sportquestholidays.com.