This week has unfortunately been offered some really bad weather where, first of all, on the last day, we managed to get out to the better fishing spots. Then, with an average wind of 15 meters per second, it creates a strong sea and there is nothing else to do but take it easy on land and socialize with the group and other guests over a good dinner at the restaurant, which this year has really high quality food and the service something we are really happy to be able to offer our guests during their stay with us.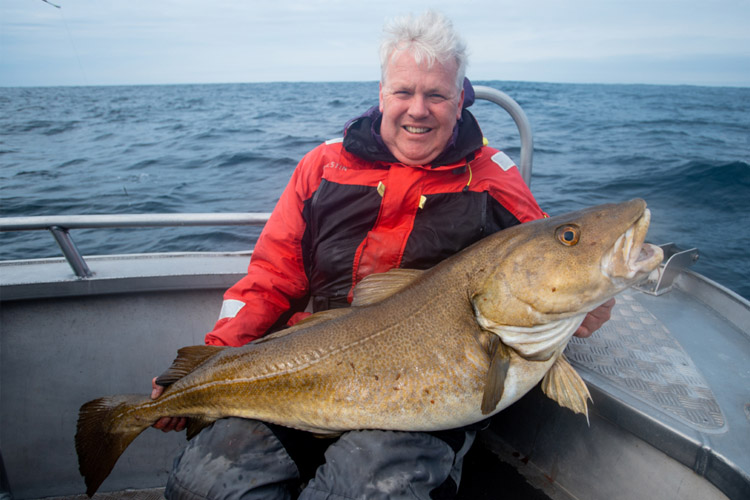 On the penultimate evening, all the boats managed to slip out as the wind had greatly decreased during the day, some boats chose to go for Cod and Pollack in the immediate area, while Daniel, who steered boat 6, accompanied boat 14 towards a really exciting ground area a little further north. Marcus, who steered the guide boat, was able to report after a while about a clearly good fishing considering the conditions, with a lot of food Cod with tops of about 10 kilos and a couple of nice Coalies, the other boats also sometimes managed to hit the right spot and land a bunch of nice food Cod .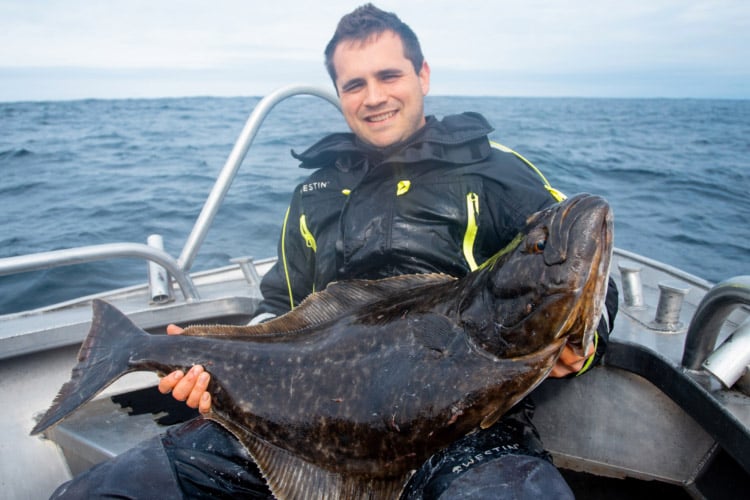 Up on the base area, however, it was tougher than expected and not a single contact during the first two hours appeared. But after a short movement, Daniel was able to hook a Halibut on a spinner, which the guest quickly had to take over the rod with and drill his first Halibut ever, and it wasn't exactly small… A crazy fight between the Halibut takes place and the first landing attempt was at a whopping 2.5 meters deep before it set off towards the small "deep hole" at 8 meters deep again! A really cool experience and after a couple more rushes, an incredibly nice spin-fished Halibut of 155cm could finally be landed. Alot of fun and another Halibut over 150cm+ on spin fishing this year on Å.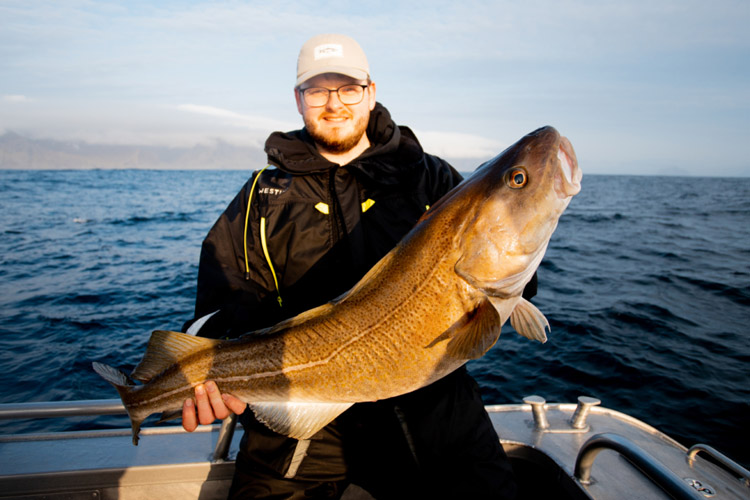 On the last day, all boats did a mixed fishing on the outside for both Cod and Halibut. Kristian who guided a couple of happy Germans in boat 11 had an incredibly nice Halibut fishing session with a total of 12 Halibut landed in a couple of hours, no big top fish but incredibly nice food fish where three of them got to go home and the rest swam back. Marcus, who once again steered the guide boat, was able to report after a while a bunch of nice Cod with 3 in the 20kg class with the largest at a whopping 21kg, then also the guests in boat 14 went over the 20kg mark and I think all the other boats had some Cod over a nice 15 which this time of year is clearly a nice Cod!
Next week gets off to a rough start weather-wise and we will run an evening session with the guests.
Tight Lines//
Daniel Freland, Marcus Pettersson, Kristian Hausken and Ludvig Smedjebrink
CONTACT US
If you, like many others, have ever dreamt about fishing the prolific waters of Å on the Lofoten Islands in Norway and would like to know more information on how you can join us, you can contact our sea fishing specialist, Paul Stevens, on 01603 407596 or email at paul@sportquestholidays.com.