This past week at Å has offered incredible fishing, and not just for Halibut! As I said, the week started with a long trip where many nice fish came up with a Hhalibut of 223cm at the top!
The rest of the days this week have really not disappointed us either, this Friday it was full on with a lot of Halibut for the boats, boat 11 which got the most action with a giant of 223 cm. The day before , they also managed a really nice fish of 165 cm and then it was followed by a really nice fish in boat 8 of 175cm which literally totally slaughtered two Cutbait herring in the 460g model.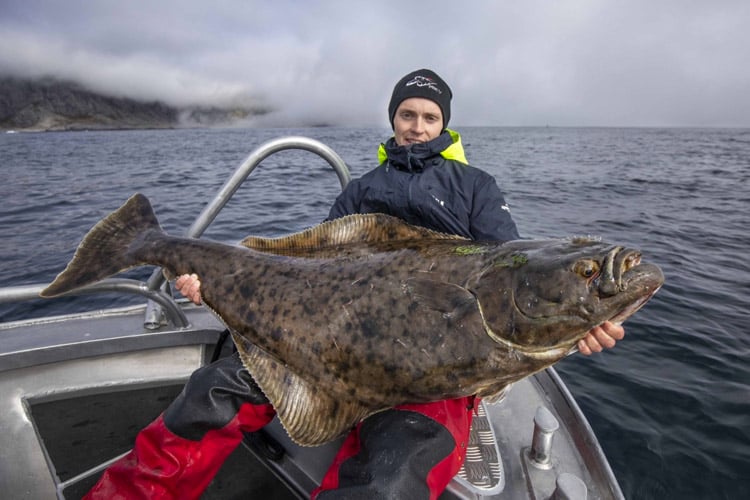 After that, it was rotated on the radio about, among other things, 4 bites of Halibut and reports of some really nice dropped fish. The weather is hazy but completely without wind and you could really feel this big fish feeling in the air!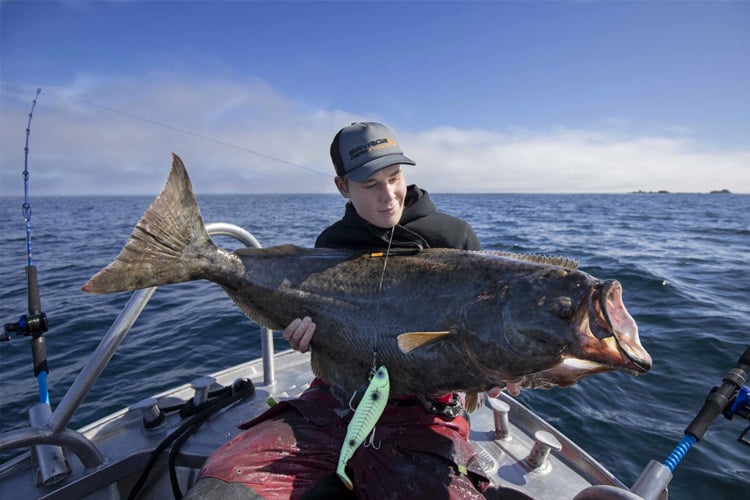 On Saturday, we ran on the same concept and it was not very long before reports of fish fell in over the radio. Our Guide Marcus showed the way with two quick landed, with the largest at 129cm, what a start! A little while later, silence is broken on the radio by Marcus again when he reports a super nice fish of 165cm for our guest Leonard in the guide boat! awesome fish that after a few quick pictures swam home again.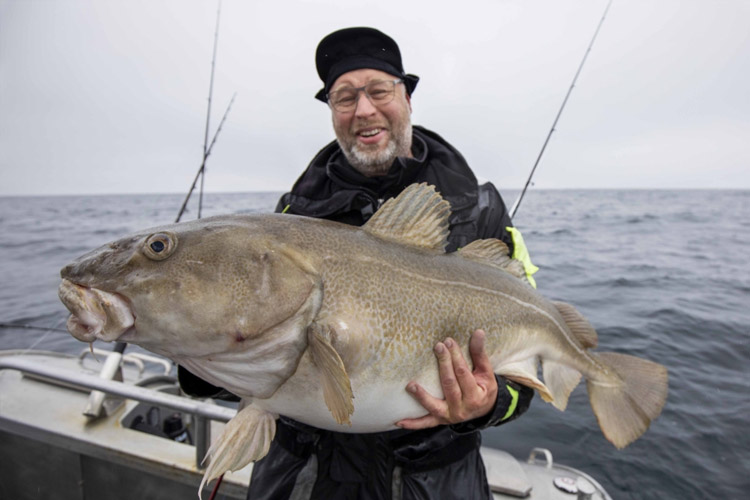 Daniel and Kristian who took a turn at sea had a real clearing fishing at lunchtime where they could land 7 Halibut mostly between 100-120cm with 142cm at the top for Kristian, What really stood out for their fishing was how effective it is with jig fishing and and also for them it was Cutbait herring in the 460gr model that did the job.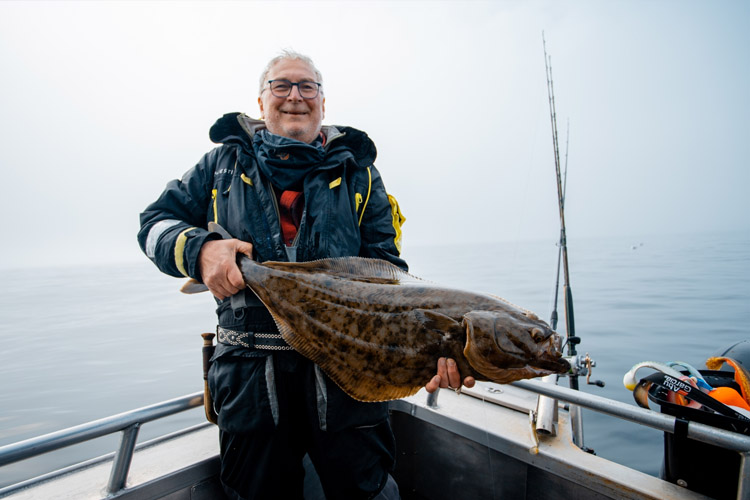 The Cod fishing this week has been both difficult and rewarding for those who really enjoyed and we can sum up a bunch of large Cod over 15 kilos and a real ace for Cod that our guest Daniel caught. The Cod weighed 26kg with a length of 128cm and is a new year's best for us at Å!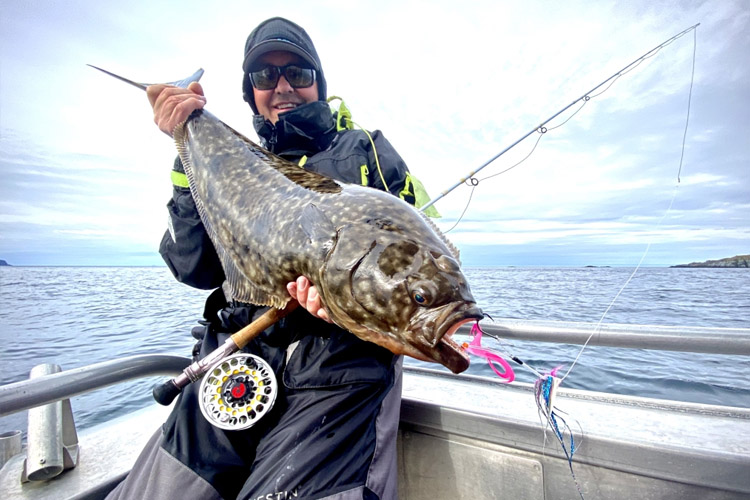 On Monday, everyone was excited and this day will really be remembered for a long time to come. Daniel, who went on a day trip with fly fishing for Halibut, was able to report the first Halibut on the fly for the day after a few hours of wear and tear, followed by another four up to 110 cm that took on normal spin fishing. All over the radio, the silence of a report about a real giant was suddenly broken!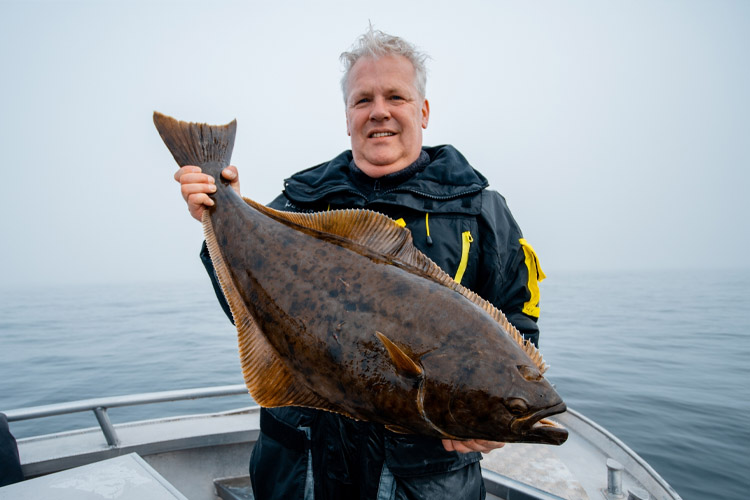 Marcus who drove the guide boat, asked the guests to drop the stuff on the new drift along a sharper edge before it suddenly took a stop in Daniel's rod. Daniel is an experienced Norwegian fisherman and as he cranked the circle hook perfectly in the mouth of the fish and after a few minutes of brutal shaking, he could finally start lifting the fish. A few minutes go by and when they just start to catch a glimpse of the giant fish, it turns and sets off towards the bottom again.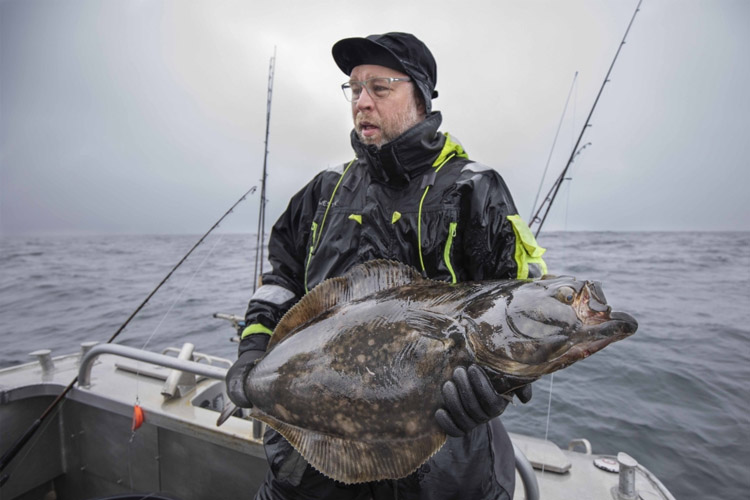 The minutes roll on and the boats around are waiting with excitement for what it is that will break the water surface. The fish approaches the boat edge and Marcus gets ready to land the fish. When Markus first sees the fish, almost his heart stops, the fish is simply huge , the securing of the fish goes gallantly and some photos of the fish at the boat side and a few hugs later, Guidbåten can report number 3 to over two meters at our camp this year and and a completely MAGICAL new personal best for our guest Daniel at an insane 230cm! after a few photos, Daniel had to open up the tail rope and release # 3 on Å this year.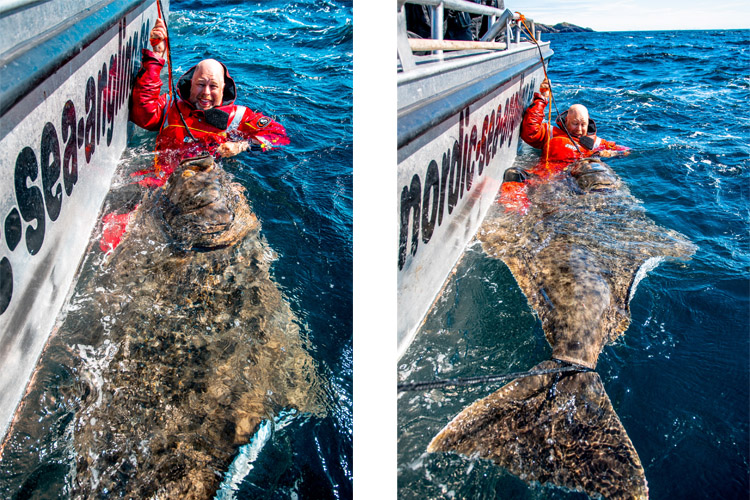 Congratulations Daniel to two real Dreamfish this week!
Now it is stable weather again for the week and we will drive into the tile!
Tight Lines // Daniel Freland, Marcus Petttersson and Alexander Lindgren
CONTACT US
If you, like many others, have ever dreamt about fishing the prolific waters of Å on the Lofoten Islands and would like to know more information on how you can join us, you can contact our sea fishing specialist, Paul Stevens, on 01603 407596 or email at paul@sportquestholidays.com.