This week has offered everything you could wish for in Norway, big Halibut fever and tales of sharks and two-meter Halibut coming true!
Last Thursday, the new guests arrived at the camp with only one goal, large Halibut was on the schedule! All the boat teams immediately set about rigging up all the rods, jigs and tackle, and before you knew it our arronet boats were once again decorating Christmas trees at the dock. The evening showed fine weather and the boats headed out towards the Halibut spots. Several nice fish were landed, none over two meters but still a really nice 150cm Halibut at the top!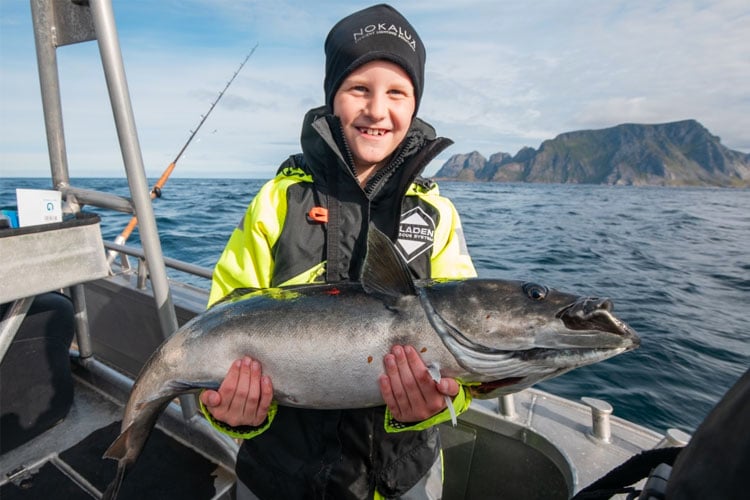 Last Saturday, Daniel, who had returned from Havöysund, drove Christer, Jan and Torbjörn in boat 8 for a bit of mixed fishing for both Halibut and Cod, unfortunately, they were able to establish quite quickly that the Cod was not on the feed then with only a couple of nice ones landed in a couple of hours where most of them sat in the outermost flap of skin on the Cod's lips!
The plan was changed and the course was steered towards the Halibut areas where they met up with the other boats. At the beginning the reports on the radio were as quiet as a dim darkness, but after dark the sun shines and Kenta in boat twelve calls out on the radio that he has landed a real giant of 228cm, everyone cheers and congratulates Kenta over the radio and after a while we get the message that the fish was measured to 225cm and with a really fantastic show swam down to the depths again.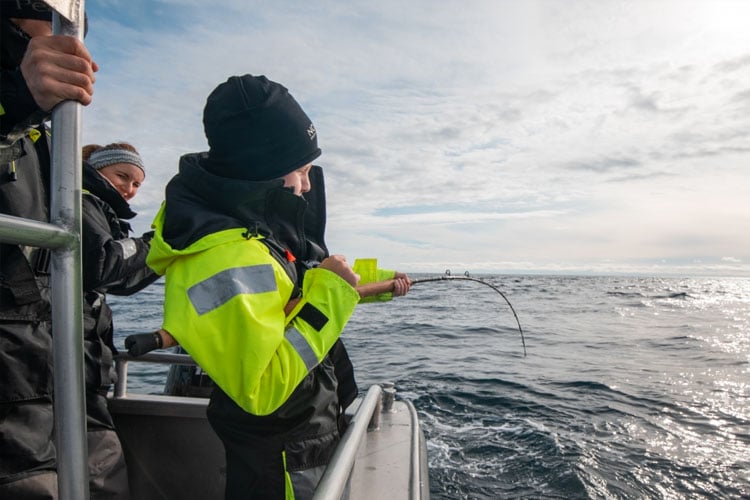 After that the fishing finally started to let up and at regular intervals there were reports of nice Halibut between 90-130 cm. The Finns from the company Ursuit, landed a really nice fish of 167 cm which made everyone once again get the focus required for them really big fish, Uffe reported quite quickly about a nice fish that after a short fight lost its hook hold…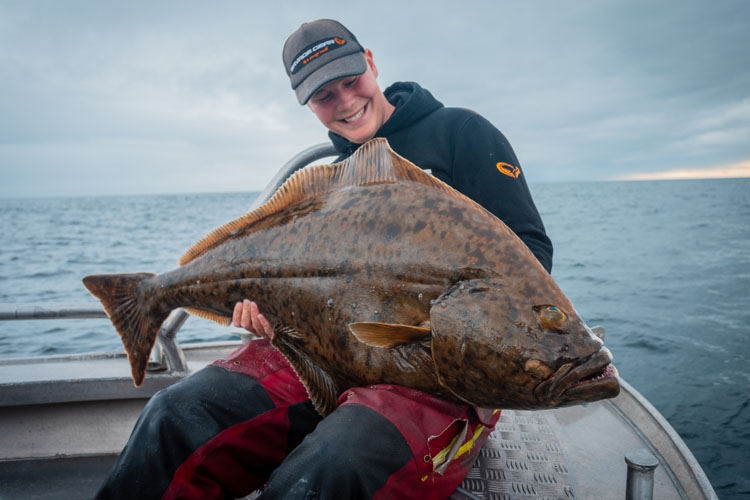 Sunday morning and the day with really nice weather had finally arrived! Daniel, who guided father and son aged 9, could already tell after 2 minutes at sea that Gustav had hooked his first Coalie and that it had been eaten two meters from the boat by an absolutely gigantic Halibut… Everyone was in shock and nobody could really understand what happened… Gustav dropped his sandeel jig again and after a few seconds the next big Coalie is on the hook, this time there was no Halibutunder that wanted to twist the Coalie for Gustav and a really good first pb on Coalfish could be photographed and released back again!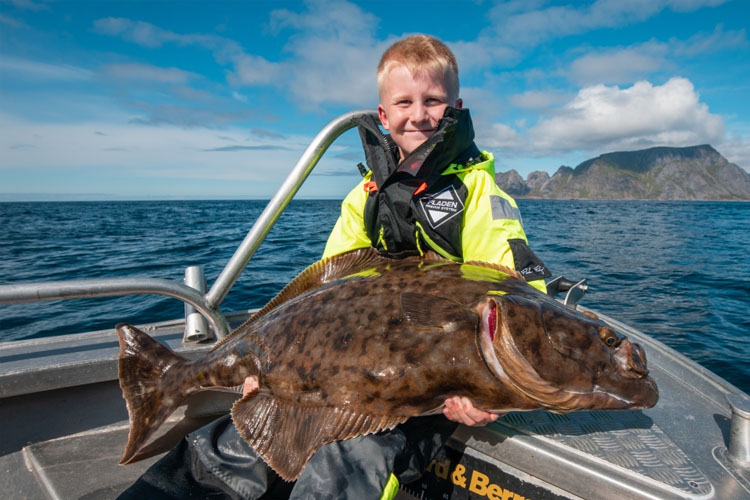 Of course Gustav got a taste for Halibut fishing after the first incident with the big Halibut and on order the rods were re-tackled and Gustav was of course the first down with his bait! A few minutes go by and All of a sudden Daniel sees how one of the trigger rods is biting in the bow but just as he reaches to set the hooks the Halibut spits the baitfish, Daniel tells Morgan and Gustav to be ready as it indeed bites again as it didn't feel the hook . A few seconds later, Morgan stands with a bent rod and Daniel stands next to him and instructs the father in some techniques, both of them were so completely focused on Morgan's rod that Gustav 9 years old is forgotten and all of a sudden you hear a grunt "help me I have one" Daniel changes focus and runs over to Gustav, who is standing with every muscle in his entire body.
Daniel reports on the radio that Father and son are dubbing Halibut and that the father has just landed his, now only Gustav is left and something absolutely fantastic unfolded over the vhf. The whole CWC team and other boats absolutely poured down channel 77 with words of encouragement to Gustav who is standing and fighting with his last strength, fight Gustav, you can do it Gustav, Drive hard Gustav you are fierce! These are just a few phrases that came over the radio… We GUIDES are extremely grateful for this and we want to pay tribute to our guests this week for this! This really made this experience something completely extra for Gustav! Gustav's first Halibut is landed and measured to 110cm, one of the best fishing experiences ever could become a reality for Gustav and his father Morgan!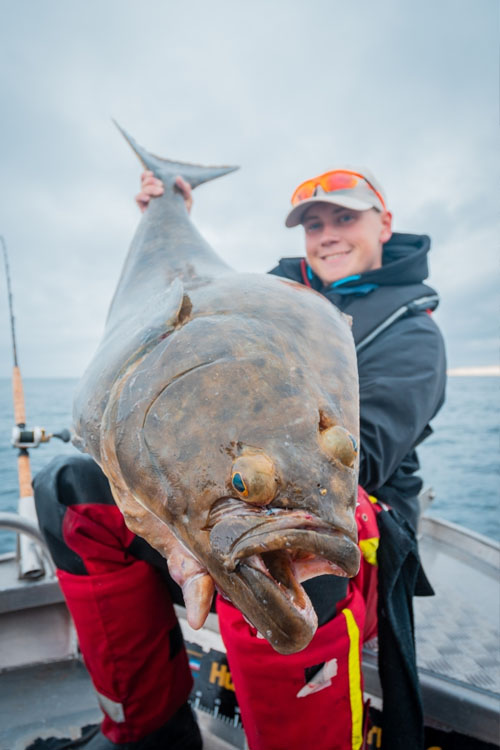 After a little while, it is broadcast live on Facebook where Uffe stands and drills a REALLY BIG Halibut! The shaking of the head on this Halibut is not something to joke about in the first place and everyone is waiting with excitement for the fish to give in and start lifting from the bottom. The minutes pass but unfortunately the unthinkable happens, the line breaks in some strange way and the fish is lost… Uffe, who has a really good fishing history with large Halibut with several over two meters and a top of 242cm from before, can attest that this without no doubt was a giant of over two meters! Sad but fishing is fishing and on these really big individuals the margins are very small!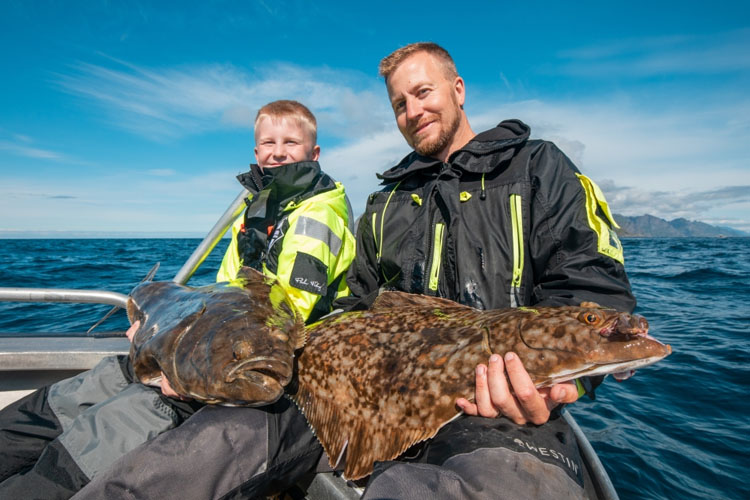 Last Monday night there was finally some real activity in the sea, the reports of one Halibut after another rolled over the radio at regular intervals and our guides who ran a shorter private session managed to land several nice Halibut with 120cm on top. The drum and the gang that drove the night experienced an absolutely incredible Coalie fishing with 17 kilos on top and a whole bunch of fish over 14 kilos! As usual, the Finns reported a nice fish, this time at a magical 185cm, shortly afterwards Schmiterlöw smacks smacks a really good fish of 177cm!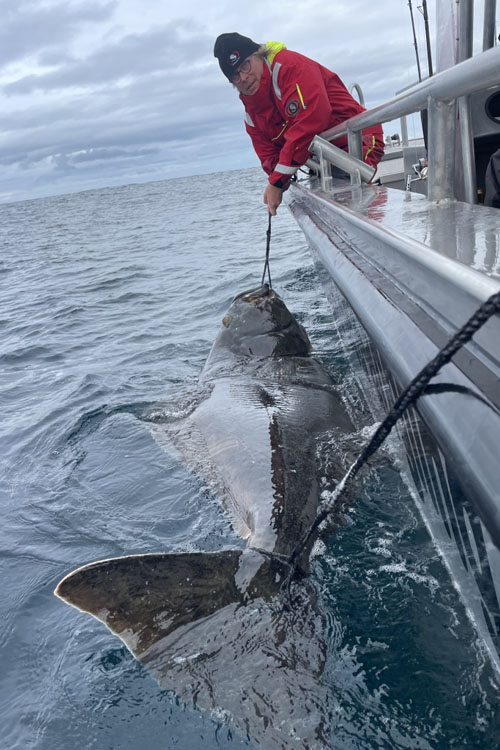 Another absolutely incredible thing that has happened this week is that probably half of the boat teams have had contact with or have seen sharks! It is actually the case that we have a species of shark up here in the north that more or less behaves like its related friends to the south, the white shark lives primarily on fish such as Sturgeon and Mackerel. Every year they are targeted up here around Lofoten and also further north, It should be added that this species is strongly threatened by overfishing and it is illegal to target your fishing for them! However, our Guide Alexander Lindgren has received permission from the Norwegian INSTITUTE OF MARINE RESEARCH to test directed fishing after them, the reason why Alex has received permission to direct fishing for Herring Shark is for research purposes to find out if it actually works.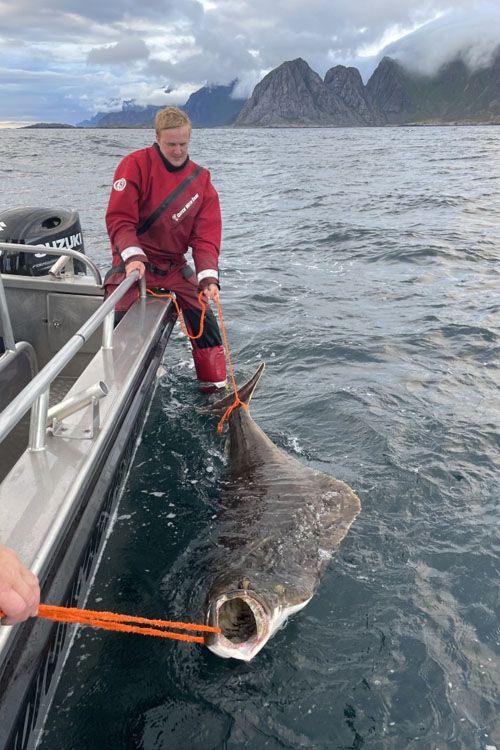 Something that is incredibly cool and hopeful is that Kent, who previously landed a Halibut of 225 cm this week, hooked a herring shark that is tipped to be at least 2.5 meters! They even caught this Shark on film just a few meters from the boat!
Now we round off an absolutely fantastic week and look forward to the creation of new fishing stories about giants being rescued from the depths!
Tight Lines//
Daniel, Alex, Markus and Oskar
CONTACT US
If you, like many others, have ever dreamt about fishing the prolific waters of Å on the Lofoten Islands and would like to know more information on how you can join us, you can contact our sea fishing specialist, Paul Stevens, on 01603 407596 or email at paul@sportquestholidays.com.