This Wednesday, we filled the camp at Å for the first time with all the boats and the feeling of finally getting started is in full force! Thursday offered really rubbish weather where we mostly drifted the local area for Cod and the occasional fatty Haddock. No giant fish on this day but it did not dissapoint with a few cod up to 12 kilos and an excellent Haddock at almost 4 kilos.
Friday and time for a bit of mixed fishing, Alex who drove a group from Norrköping got to experience some incredibly good fishing for Halibut. Once the gang was in place, Alex had barely instructed how to fish for Halibut before they started hitting baits around the boat. The first Halibut, unfortunately, comes off after a short fight. A sad moment but was quickly overshadowed when at the same moment, one hits on the next rod… that fish is landed and was measured to 113cm, a really nice start! Less than a minute later, there was a take in the boat again when all of a sudden the Halibut gods offered a triple hook up where all the fish were landed, 97, 93, 88cm, a lovely trio that made the atmosphere really crazy in the boat.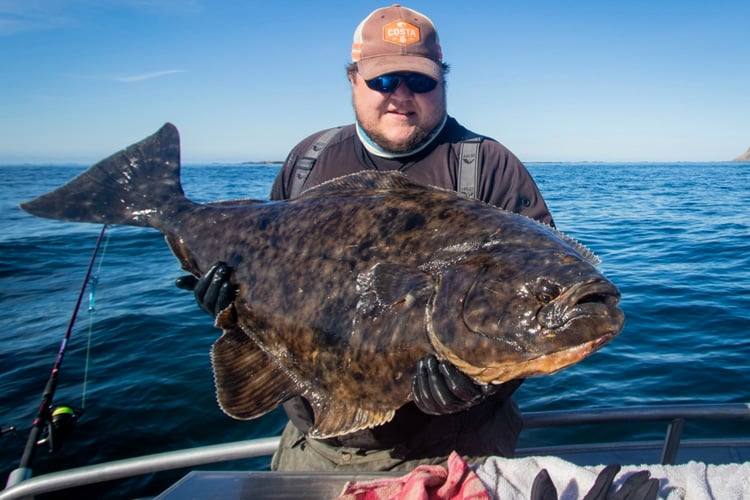 Saturday was a long trip between the storms! All of the boats at the camp set off south at 07:00 in the morning and although the weather was a little tougher than forecasted, we fought through until we could fish against the slopes where the really big Cod usually live. Once in place, it does not take long before the first Cod were reported and several nice bonus Hlounder of around 90cm to 100cm. The minutes go by, and after a short while, unfortunately, several of the boat teams became really seasick and therefore had to stop fishing or go in more weather-protected and search for Halibut. However, there were still 5 boats that continued the war far out among the peaks and we could hear how the English managed a Halibut, and after a while, they could report a nice fish of 130cm, in the same crank, boat 4 reported two Halibut around 90cm.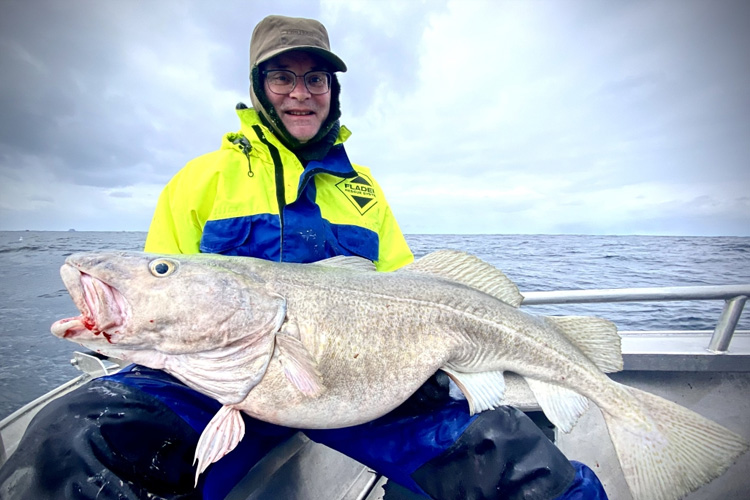 Me, Daniel and our new colleague, Kristian, drove boat 8 with the guests Johan, Kalle and Martin. We had a really nice start to the day where we landed a bunch of nice Cod up to 15 kilos and some big Coalfish of about 12-13 kilos which we carefully released directly at the boat edge. We fought on for a while without any major results, I, therefore, told Kristian that he must plan out a new strategy and method, and after a quick move, Kristian could with a smile, see how the guests started hooking in several nice Cod. After a while of cod fishing, we see how Martin hooks in a really big Cod and after a good fight, we were able to land a smattering Cod of 123cm that weighed down the scales to just under 21 kilos. It feels hot, and we run a new drift over the same area. After a while, when Kristian has to lift a jig out of the water, a flounder comes and takes it. Kristan lifts the flounder right into the boat and everyone bursts out laughing, we measure it to 92cm and keeps it as a food fish. The English are once again drilling a larger fish and can soon report a Cod of about 25 kilos! A really nice fish!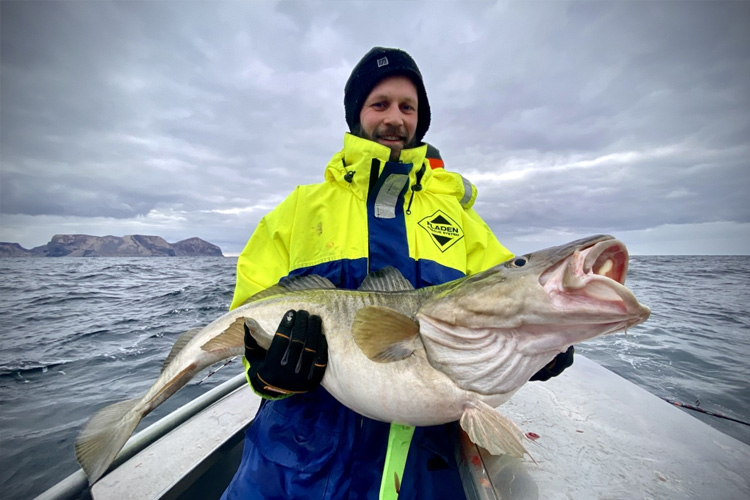 Our guests in boat 8 got a taste of Halibut, so we decided to pick some baitfish and move towards some really shallow Halibut spots. the first drift feels hopeless and held no active fish either on spin gear or for our anglers bait fishing with small Coalfish. We change the drift and on the third cast I hook a Halibut on spin gear that Johan drills like a king in the shallow water; we land it and measure it to 85-90cm, another nice food fish. We continued the drift and see how one rod started to bend; we missed the strike and at the same time, Kalle hooked into a nice fish of around a meter. A few more minutes go by, before I hook a small one on the spin gear, and Martin hooks one on the jig, both of similar size, which was quickly put back.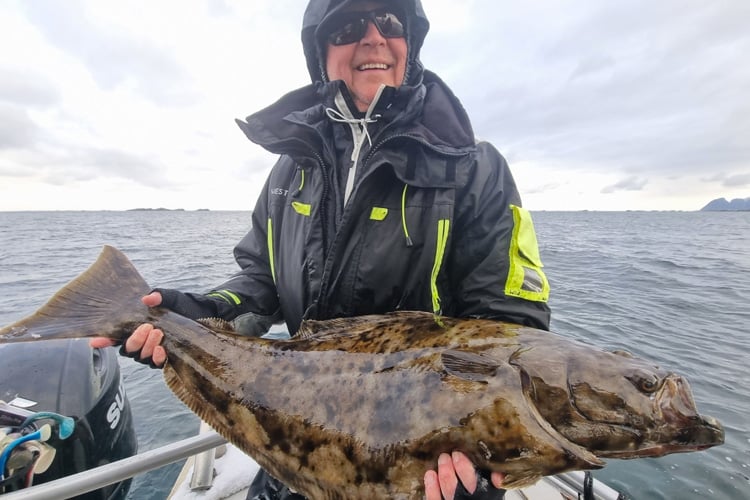 I sit down and control the drift with the help of the engine towards the "deep hole" of 15 meters and I can see how a slightly larger Halibut enters the area and chases our baitfish. The rod closest to me bends hard and I make a counterattack followed by some really rough head shakes, I throw the rod to Kalle who really had to hold on tight in the first rush; unfortunately, the Halibut loosens after a few minutes, boring but fishing is fishing!
Again we put a druft over the same area and I grab the spinning rods to hopefully get more Halibut to the boat. On the third cast, I got a small fish; the throw after I first miss one after a few seconds of fighting and let the jig fall, followed by a few quick jerks, BANG, fish again but loosens…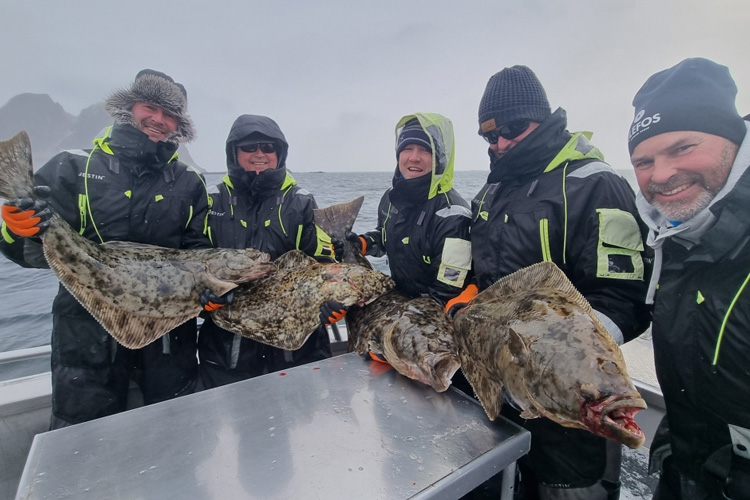 I continued to pull in the jig slowly and a couple of meters from the boat I can see how the jig is being chased by several Halibut where one hits the jig hard. We land it and measure it to barely 80cm, Johan looks down in the water and says that the flounder are now after his jig and everyone looks down into the water and watches while the flounder swim like crazy after the jigs and baitfish at a depth of 13 meters. Johan hooks one, I hook one on spin and Kalle hooks one around the meter mark on his baitfish. Absolutely incredible fishing with 9 landed Halibut and many contacts and lost fish. We decided to fish until we hit double digits before we went home and a cast with a spinning rod solved it gallantly. With ten landed Halibut, we sailed more than happy into port after an absolutely fantastic day at sea.
Now we are unfortunately expecting a little worse weather for a couple of days with wind speeds of almost 30m/s…
Tight Lines //
Daniel, Alexander and Kristian
CONTACT US
If you, like many others, have ever dreamt about fishing the prolific waters of Å on the Lofoten Islands and would like to know more information on how you can join us, you can contact our sea fishing specialist, Paul Stevens, on 01603 407596 or email at paul@sportquestholidays.com.