Now we are already in September, and the last week for last week's guys is over. With a really tough week with a lot of wind and a much colder climate, we still had a really good week.
The week started incredibly well on exchange day, especially for those who came out for a short fishing pass right on arrival before darkness came upon us. Where it all began with top class Coalfish fishing! Surface-chasing seagulls and multitudes of seagulls diving into the water and gossiping about where to fish.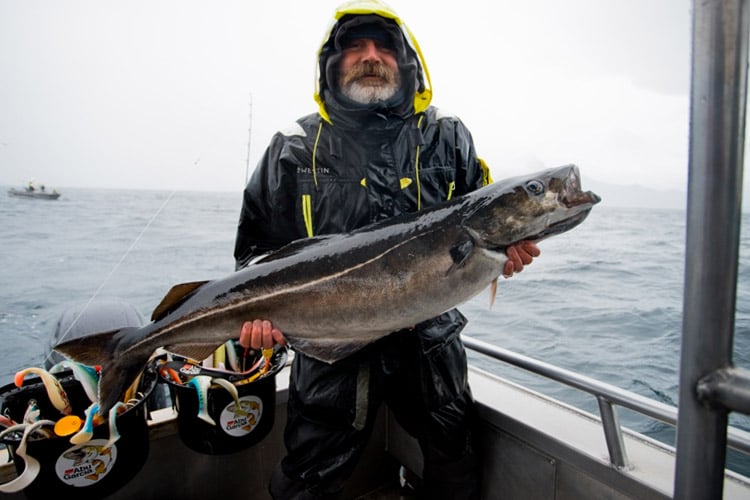 First real all-day fishing, it was quite the opposite. Strong currents, big swells and much more wind make fishing very difficult. Daniel, who steered the Guideboat, really had to look to find both Cod and Halibut. All other boat teams got to experience this as well. When there are these conditions with bad weather, it becomes much more difficult to keep track of the things in the water. Longer hooks are required, if you choose to fish with bait fish, so that the bait does not fly up and down in the waves, and try to keep an eye on the smallest bite.
The wind and swells would increase throughout the day, and the next two days will be unfishable. The sea showed its worst side on Friday and really didn't want to let good fishing go. So we had to drive back to camp and see ourselves defeated. For the next two days the wind had increased incredibly and you could only fish just outside the harbor for Mackerel or Pollock. Which can be incredibly fun with the right equipment. Here on Lofoten, the Mackerel are incredibly large and offer up a fight if you choose to fish with, for example, lighter equipment.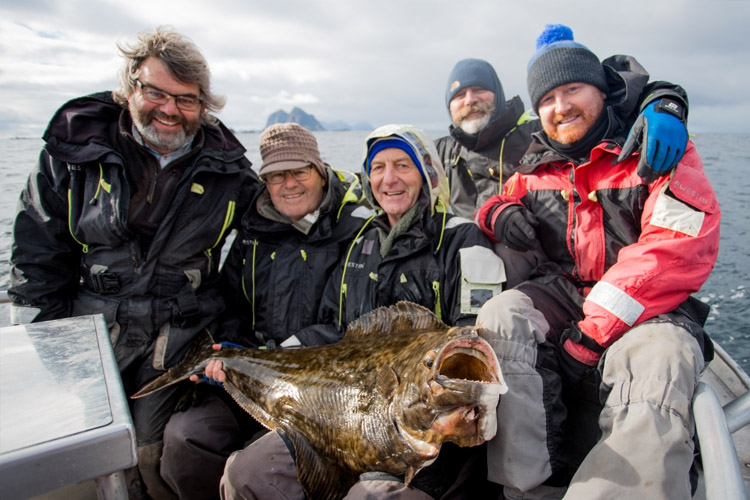 After the storm has passed and we finally get the chance to go out to sea again! Daniel jumps in Robert's boat and heads a little further out to see if they can lure some cod up in the morning. and then rethink halibut fishing. After this storm we had it proved difficult with the Cods, some did better than others. A Cod of 20kg+ was rumored in boat 14 which was steered by some Brits.
Marcus, who drove the guide boat with a good group of Brits, was immediately prevented when they went out to sea, and had to go back to the port. After a longer than expected time in the harbor, they finally come out to sea again.
The guide boat had set its sights on Halibut during the day.
Already after 10 minutes into the first operation, it grabs a baitfish and the rod is bent down towards the water. Good! Good start and a nice Halibut of 115cm comes to the surface.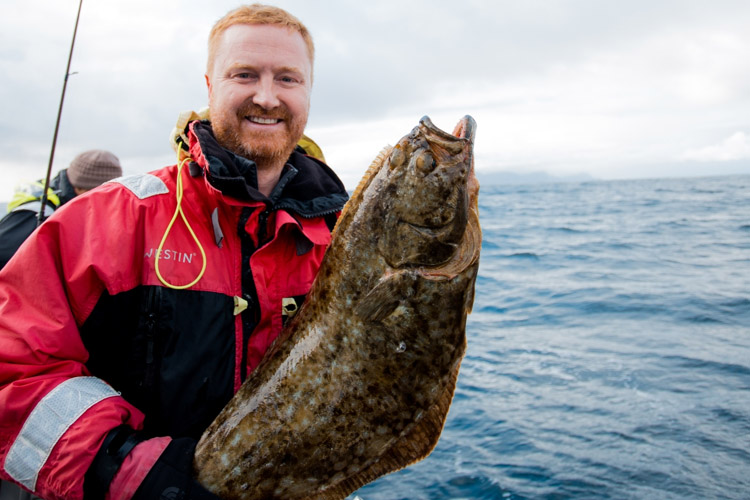 They put a new operation and almost immediately it cuts again. This Halibut did not quite measure up and was measured at 78cm. After these two Halibut it was a long time before something chose to taste what we had to offer down at the bottom.
Not until the afternoon/evening does it start again. When we in the guide boat end up in the so-called trolling coma, it chooses to start again. On a small spot it started to bite, but didn't really want to stick to the hook. After a bit of practice on a few Halibut, the hook finally set and a nice Halibut of 84cm comes up. Then it didn't take long before the next Halibut was also at 90cm.
After this we sped towards the port to get ready for the coming day with significantly better weather conditions.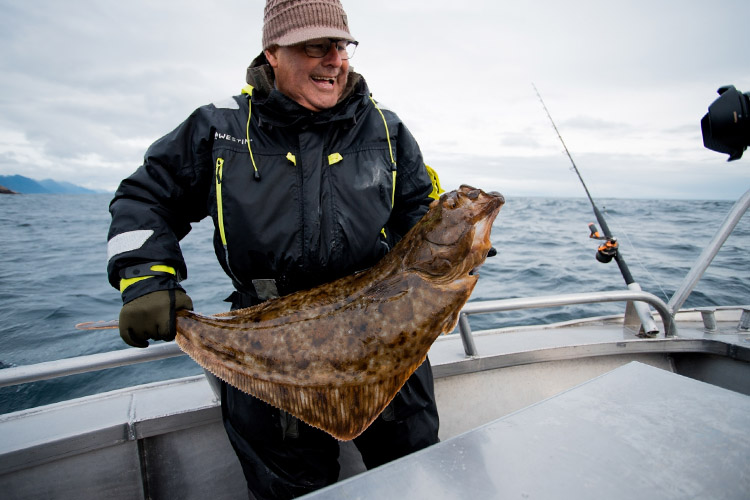 Now there were significantly better conditions for fishing and all boat teams spread out in an orderly manner. Some wanted to experience Pollock fishing and some wanted to hunt cod. Marcus Rattade Guidebåten again today and his sights were also set on Halibut today. But wanted to finish Cod fishing.
The day couldn't have started better with a double hit on the first drive. Each of the one chose to step off after a short fight. A nice Halibut comes up to just over a meter. But it won't be long before we hook another Halibut. This turned out to be a little smaller and had to return to the depths again after a quick re-release.
After this rush we experienced in the morning, it died down for a couple of hours. No sooner had the current subsided a little and was about to turn, a rod stands in the stern and bends all the way down to the water line. After an incredibly fun fight with the old men in the boat, where they stood and cheered on when the incredible fight was underway. Will a significantly larger fish fish up to the surface. It measures in at 160cm!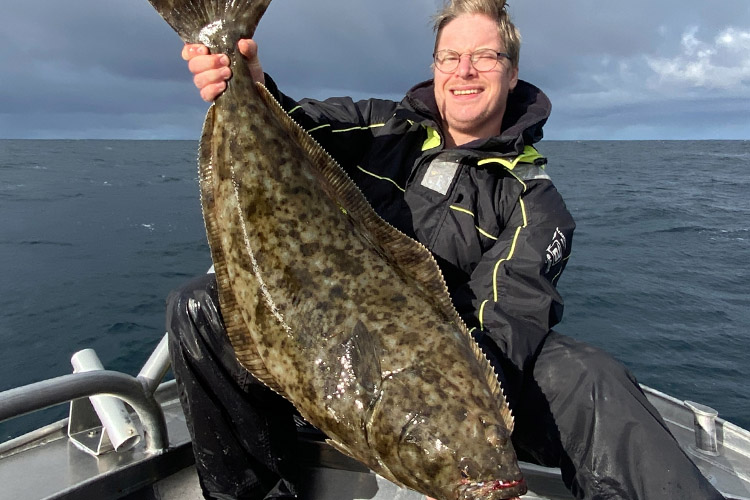 Now the old men in the guide boat have really opened their eyes to Halibut and wanted to continue for a little while longer and invest in Cod fishing later. After half an hour's rest, with much laughter after all they have just experienced, they set off again.
Marcus puts in another drift just before the current changes and goes in for low tide. It takes a long time before Marcus sees something big on the sonar that lifts off the bottom and goes straight up towards a baitfish. It grabs a rod in the stern again and the fight already begins with trying to take the rod out of the rod holder. Then this fish chooses to just stand and stonk down at the bottom and doesn't give us a chance to lift it. After a few minutes of fighting, it starts to give way and we gain meter after meter.
When we can finally see the fish under the boat, we all immediately see that this fish is big in caliber! Once the Halibut hook is about to be set, it becomes furious and chooses to send water on everyone in the boat. After this, the fish is secured and we can measure the Halibut at 186cm! And a new personal best has been set for the second time this day!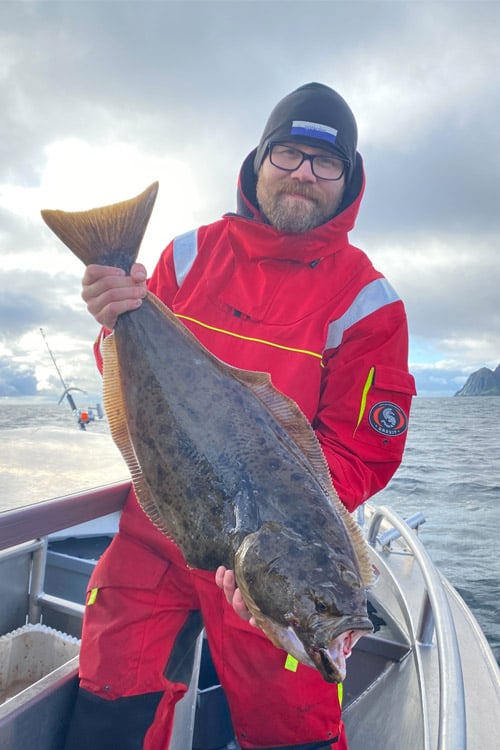 We finish the day by going out to a shallow top on the outside to see if we can lure up any Cod. We choose to drop some Coalfish and Mackerel. It doesn't take long before the first fish is hooked. After this there was a real chop rush with Cod for 40-50 minutes before the other Cod on top figured out what we were doing and stopped nibbling. Satisfied after a fantastic day at sea, we choose to go inland again in the Guideboat to end the last day after a bit of mixed fishing.
The last day is here, and we wake up with a little more wind again. Daniel jumps into boat 6 who wants to go out and try his luck for Halibut. Daniel steers away to the current so that even after the first drift he can shout out on the radio that they have found the right place with a lot of chop and some Halibut in the boat! Marcus, who drives the guide boat, had planned Halibut fishing in the morning and then changed the plan for Plaice.
Daniel continues to report nice eating Halibut in the boat and has really hit the spot. Marcus, who is in the guide boat, is not far behind with the reporting, with a first Halibut of 127cm and a nice food Halibut of 82cm.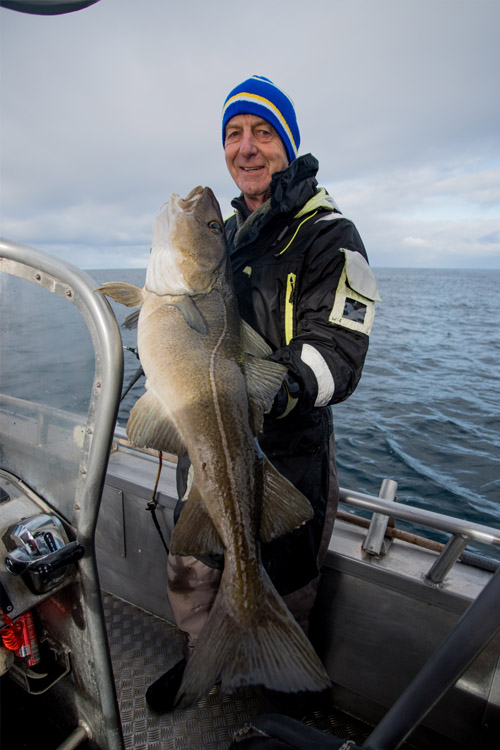 The guide boat gets many poles out, with many cuts but difficult to get them on the hook again. Finally, one more smaller Halibut chooses to fast on the hook. After this, it is tackled in the guide boat for Plaice. However, this turned out to be more difficult than expected. At the intended locations, it has started to blow up considerably, and the drifts did not turn out at all as we had planned. We made a bet before we felt defeated. Everyone who was in the Guideboat was so happy with the week that had been. Even though we were blown in for two days, they wanted to take an early evening and go into the harbor to digest what fishing they experienced these days.
Now we're in September, and we'll see what this week has to offer! There will also be a report that we have been holding for a while… But you won't have to wait long!
Until!
Tight Lines!
//Marcus Pettersson, Alexander Lindgren, Daniel Fredland
CONTACT US
If you, like many others, have ever dreamt about fishing the prolific waters of Å on the Lofoten Islands and would like to know more information on how you can join us, you can contact our sea fishing specialist, Paul Stevens, on 01603 407596 or email at paul@sportquestholidays.com.