A wonderful start to a new week which unfortunately had a quick and miserable break due to wind.
On Thursday, the new guests arrived on Å and the weather was fantastic so everyone, including the guide boat chose to drive out a couple of hours into the night. Around 22:00pm, many boats left the port after information meetings and reviews.
We drive out at about 22:00pm on a completely magical mirror-shiny sea and a magically beautiful evening. We in the guide boat managed to hook the Halibut of the week about 100cm quite accurately at 00:01am, which had to swim back quickly after hooking. Just over an hour later, it was time again to drill a Halibut of a very nice fish of 114 cm in the lovely midnight sun. The fishing during the evening was perfectly okay where many of the boats got to fish properly.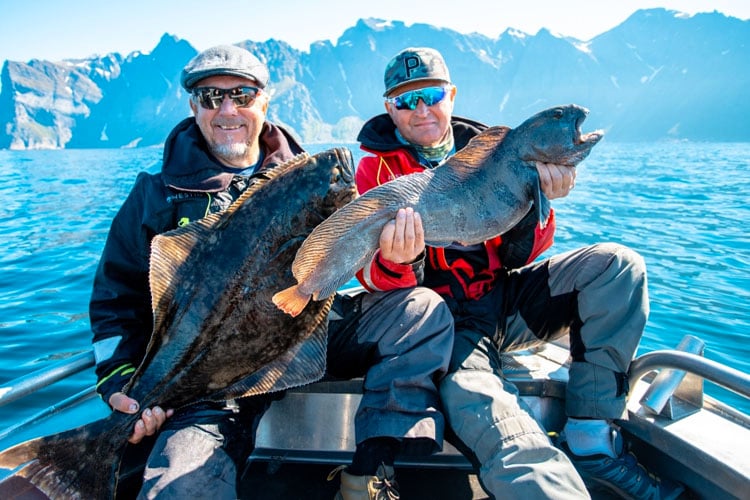 At 09:00am many boats were out and we were guiding the boat not far behind. We start the day by picking up some Coalfish as bait and then on to some Halibut and Cod places. The first area first drift is Halibut is the focus but a great chance of a couple of bonus Cod. After only about 2 minutes, Martin's rod sucks in the stern and the first Halibut for the day is hooked. Claes in the bow intends to go back and watch and film a bit, but before he even has time to go back, his rod is also full power and goes down and double hookup after only minutes of fishing! Then Tobias says in the stern that he thinks Claes Halibut has tangled in him and I just kindly ask him in that case crank in slack line and keep some pressure on his. a few seconds later when both Martin and Claes tease their Halibut, we realize that Tobias goes in the completely different direction and we then have a triple hook up…. completely sick start to the day.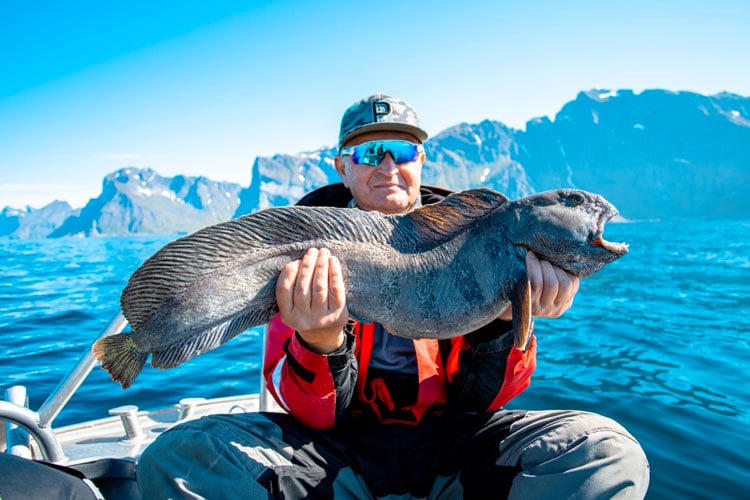 Rasmus in the bow is eagerly waiting for his turn and of course this does not take too long either, unfortunately he has not received the bites for circle hook and misses a few pieces in the hooking times. The fishing died a bit for us in the guide boat after a couple of quick Halibut and a couple of nice Cod up to 12.13 kg. Then instead, it took off for Marcus and Daniel in the boats next door where they landed several nice fish between 80-115 cm. An hour or so later, Daniel shouts over the radio that now they have hooked a better fish and barely 10 minutes go by and Daniel again shouts that now they have landed a fish that is between 170-180 cm after photos and measurements, this magnificent fish gets to swim home again!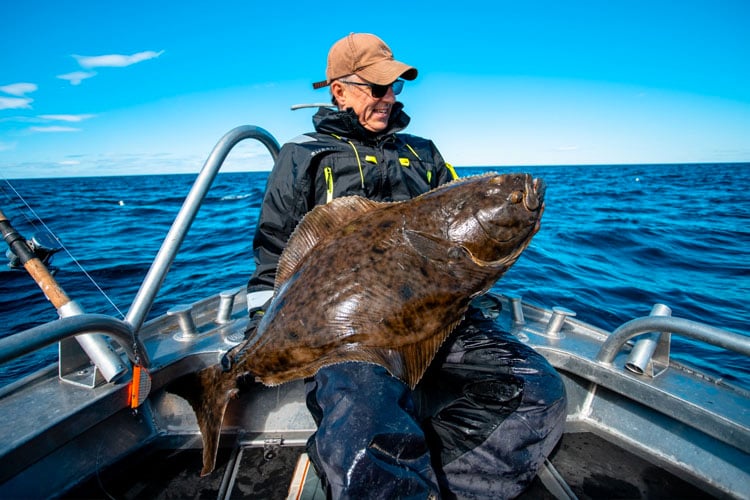 Marcus and Alexander change some plans before the current will turn and make some movement. Marcus immediately chose to go south and I chose to drive west. After only a couple of minutes into our new drift, it cuts in properly for Martin in the stern again and we have a great fight going on, after a bit of moaning and moaning, we have landed a very nice fish of 150cm. We choose pretty soon after to follow down in the area Marcus chose to fish and when we arrive we hear that they landed a really good double bite of Halibut a little smaller, around 80 cm, but at the same time a good fish of 163 cm. A sick start to the week you can safely say! After about 11 hours at sea with a little sleep before, it was time to go home and take care of the fish.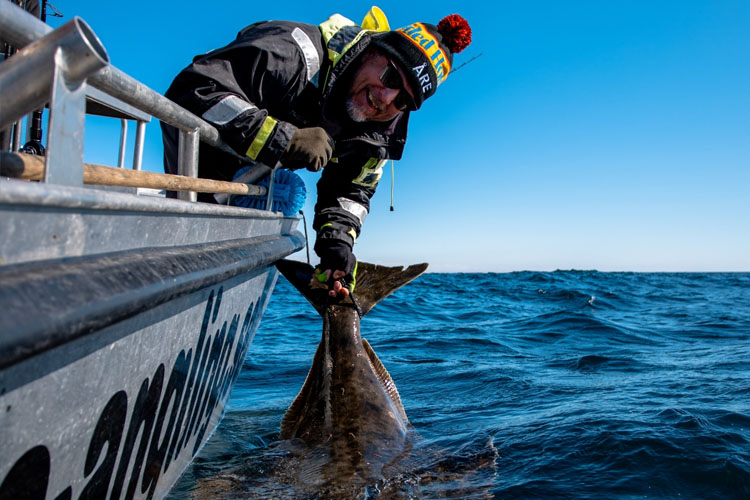 Saturday bad weather came! We left port again at 09:00am and know that the fishing day will be shortened by the conditions completely different to the previous day, We in the guide boat unfortunately went completely wrong this day with a couple of missed fish in the hooking moments but other boats still had a completely okay fishing where Halibut were landed in almost all boats during the hours we could fish.
Saturday night the wind came and it was unfortunately here to stay until Wednesday morning when many boats chose to drive out really early before the last fishing day. The guide boat came out about 07:00am at sea and the fishing started quite okay despite swells of about 3-4 meters with maybe 2.5-3 m average.
We got a couple of nice Cod in the morning and we landed 3 nice Halibut between 80-110 cm. Daniel also drove this day with a group that arrived on Saturday and this was then their first and last session of the week, but in one day they managed to land 10 Halibut in a couple of hours with 127cm at the top !!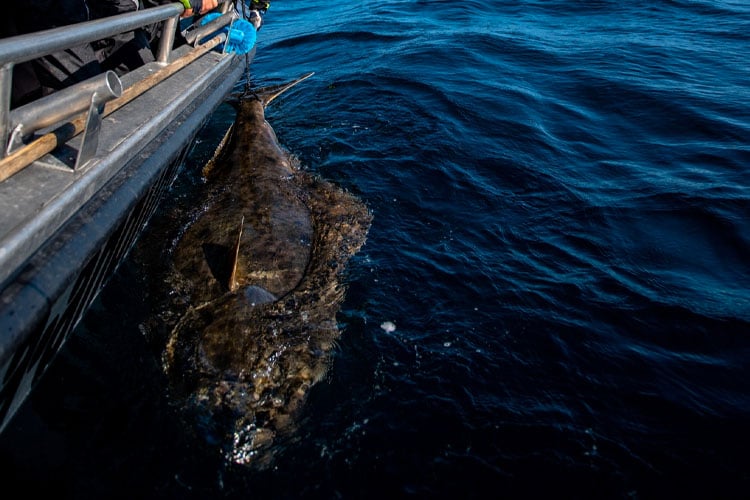 When the current turned and went in the same direction as the waves, we could start sneaking out towards the places we wanted to access. The guide boat wanted to find some Cod but due to weather and waves around the cape this would be a little more difficult. in just a couple of short drives, we filled our boxes with fish between 5-15 kg and later went back to Halibut fishing. The last drive of the day, the last minutes, I see in the corner of Tobias' eye that something was wrong, he cranks and lifts gently in the rod, I look a little strange, is it at the bottom or is it fish… of course it is fish and the others in the boat have to crank up for here was a better fish hooked! After a very fun fight with several nice rushes and a really good head shake from the fish, we can soon secure and measure this fish to a lovely 164cm! after photos, it's time for the fish to swim home again.
Just when we were about to drive home to the harbor, the last boat shouted that they had also landed a large fish of exactly 164cm. So 2 awesome fish to round off a nice week when the weather allows safe fishing!
Now we are recharging for a new week hoping for a little more stable weather!
Tight Lines from Å
CONTACT US
If you, like many others, have ever dreamt about fishing the prolific waters of Å on the Lofoten Islands and would like to know more information on how you can join us, you can contact our sea fishing specialist, Paul Stevens, on 01603 407596 or email at paul@sportquestholidays.com.