Paul and his group travel with us each year over to Norway and always seem to pull it out the bag. I fished alongside these guys a couple of years ago at Havoysund and know how we'll they all fish together. This year everything was left to the very last minute due to Covid, but this didn't stop Paul and his buddies and after some crazy organising from both us and them we managed to get them on their way.
Paul wrote an amazing report from his weeks fishing at Havoysund and even the crappy weather didn't stop them from taking the place apart yet again.
Paul and His Groups Fishing Report August 2020 Havoysund
Hi everyone I really did not think I would be writing a report on fishing in Norway this year, however, I am.

9 of us had planned and booked this trip to Havøysund 18 months ago but as the year progressed we did not think we would be going and we had numerous meetings and watched Douglas who is the guide up at Havøysund do his vlogs on youtube.

The week before we were due to go I had taken half day off at work to organise some fishing gear as we had all arranged are time off work and had put in place a backup plan. This plan entailed making good use of one of our group who is a charter boat skipper. Bit of reef, wreck and shark fishing for the coming week.

Oh no, whilst arranging my tackle my mobile phone rang and I could see it was Sportquest ringing, so I answered the call and recognised Paul of Sportquest voice immediately but I was too quick in saying 'Hi Paul yes this is the call I wasn't looking forward to you confirming we wouldn't be going',' no Paul' he said 'you are going'. Well, I couldn't believe it, to say I was delighted would be an understatement. However there were a lot of and let's say rules we had to abide by to conform to Norwegian regulations regarding quarantining, social distancing etc. I won't bore you all with these as everyone already knows them.

So then my job began ringing around texting letting everyone know we are going, going going going was my text. My phone rang that many times that we all, apart from biffo who was working, decided on a WhatsApp group call so we could all talk. biffo got his text upon finishing work at 5 o'clock, and I laugh as he said ' you better not be winding me up Paul', but I wasn't.
Apologies for rambling on but I'm hoping to paint a picture.

So we had just under a week to arrange everything, transportation, hotel the night before, and of course tackle. There were few changes to the holiday that we had to make but the one big change was there would be no stopover in Oslo on the way over due to quarantine rules. We had to do three flights and a private transfer all in one day, no problem as long as we get there safe and sound, with no danger to ourselves or others.
So with the car parked and a night in the Radisson in the UK ( and a few pints), we were ready for a good days travel ahead.

We made the three flights and a private transfer with no real problems. I got stopped by Norwegian customs and had to prove my group's quarantine for the coming week which I did, and we arrived at about 11 o'clock at the camp. We were greeted by Douglas and told to be ready for 7 o'clock the following morning for briefing and keys to our boats. Myself and biffo had checked the weather before coming out to Norway and could see we might be in for a tough week with strong winds and rain predicted. But we were still optimistic.

Day 1

After our briefing, and a chat with Douglas we were told strong winds would be coming later in the afternoon so we had to get going and fish a mark which would make for a safe ride home. Bait caught and on the mark, we were fishing. The wind was blowing a bit but certainly fishable. A half-hour in and mike was into the first fish, a nice little halibut of 90cm. Then Ian hooked a slightly bigger fish which shot off going up the boat and under my gear. So I put my reel out of gear and ratchet on to let Ian who is 6"4 under me, and then my ratchet started to sing, two fish on. 95cm and 100cm. What a good start. Mike was then into another small fish 95cm and this one came home for tea. The tide started to die and with this, the fish went off the feed. The wind was also picking up so after about 5 hours of fishing we made our way home, with what we thought was quite a good start all things considered. We also had to be in reasonable early as part of our quarantine rules were that we were confined to the cabin and all shopping had to be done for us. The next day was looking doubtful due to strong winds.

Day 2

Even though we thought the winds would hamper the day we all still woke up and lucky we did because the word was getting around the camp that the winds had changed direction and we had a chance at getting out.
so at about 8 o'clock, we headed out but unfortunately, the wind would keep finding us and fishing proved difficult even trying to shelter in the bays behind islands. The wind did start to drop later in the afternoon but we had taken a bit of a battering so home we went on the only day we would blank. Well, halibut blank. We still managed to catch cod around 15Lb and some decent haddock for tea.

Day 3

Today had to be an early start so up at 5 o'clock and after a good hearty English breakfast, we were making our way out at 6 o'clock. Across the channel and into a large bay 40 minutes ride from camp.
Bait was easy to get so we were fishing almost as soon as we got to the bay.
Again with the low-pressure fishing was slow. We had four dead baits out for about two hours on different spots. Ian was working the boat well with the tide. With no runs, I decided it was time to change something so I put on a glow gladius and on my first drop I had two takes but no fish so we did the same drift without changing anything and in the same spot bang got you. The first halibut of the day fell to my lure. Slightly better fish 116cm.
we continued to jump around searching the bay for better fish but nothing, not even any runs. Are other boat had gone just outside the bay and was catching some small to medium cod so we decided to join them and catch some tea. We were having a bit of fun catching cod on lighter gear when mike shouted from the back of the boat that a cod he was winding in suddenly developed a weight problem and decided to head for the sea bed. After a couple of minutes of fighting a lost cause mikes cod which had been almost bitten in half surfaced, it was obviously a big halibut wanted mikes cod. We decided to do that drift again just in case we could hook this butt. We went over the mark and Ian's ratchet was going out with something taking his dead bait, but after one good run, the fish disappeared. Frustrating especially after witnessing the guide boat pulling a 185cm fish. Fair play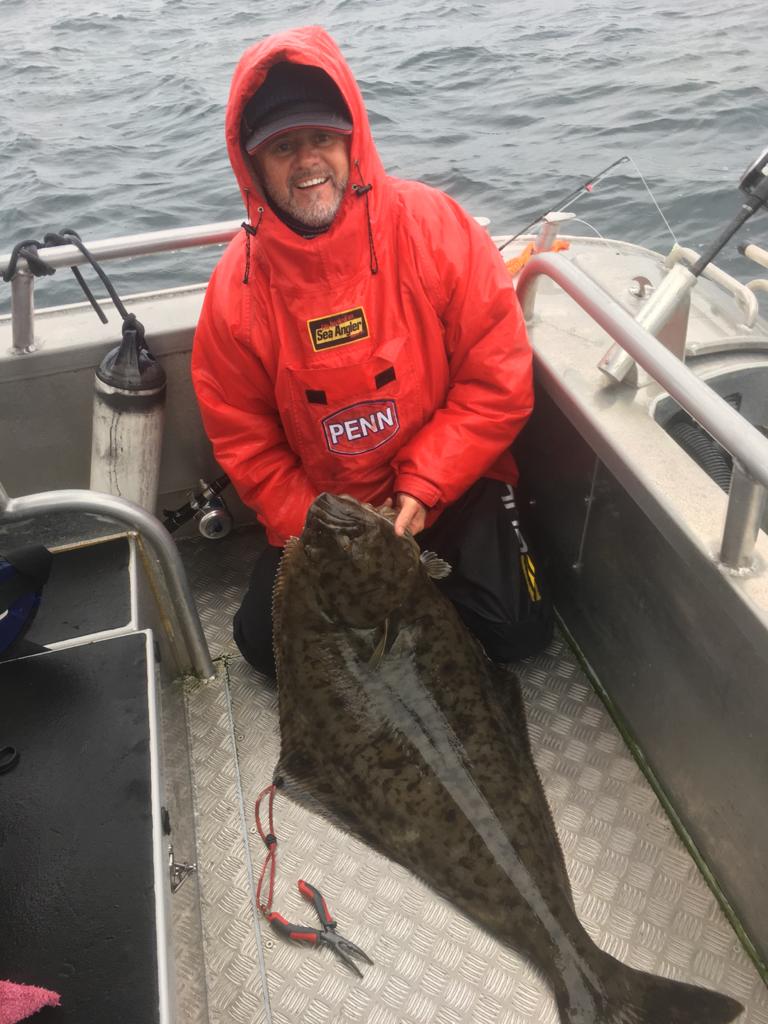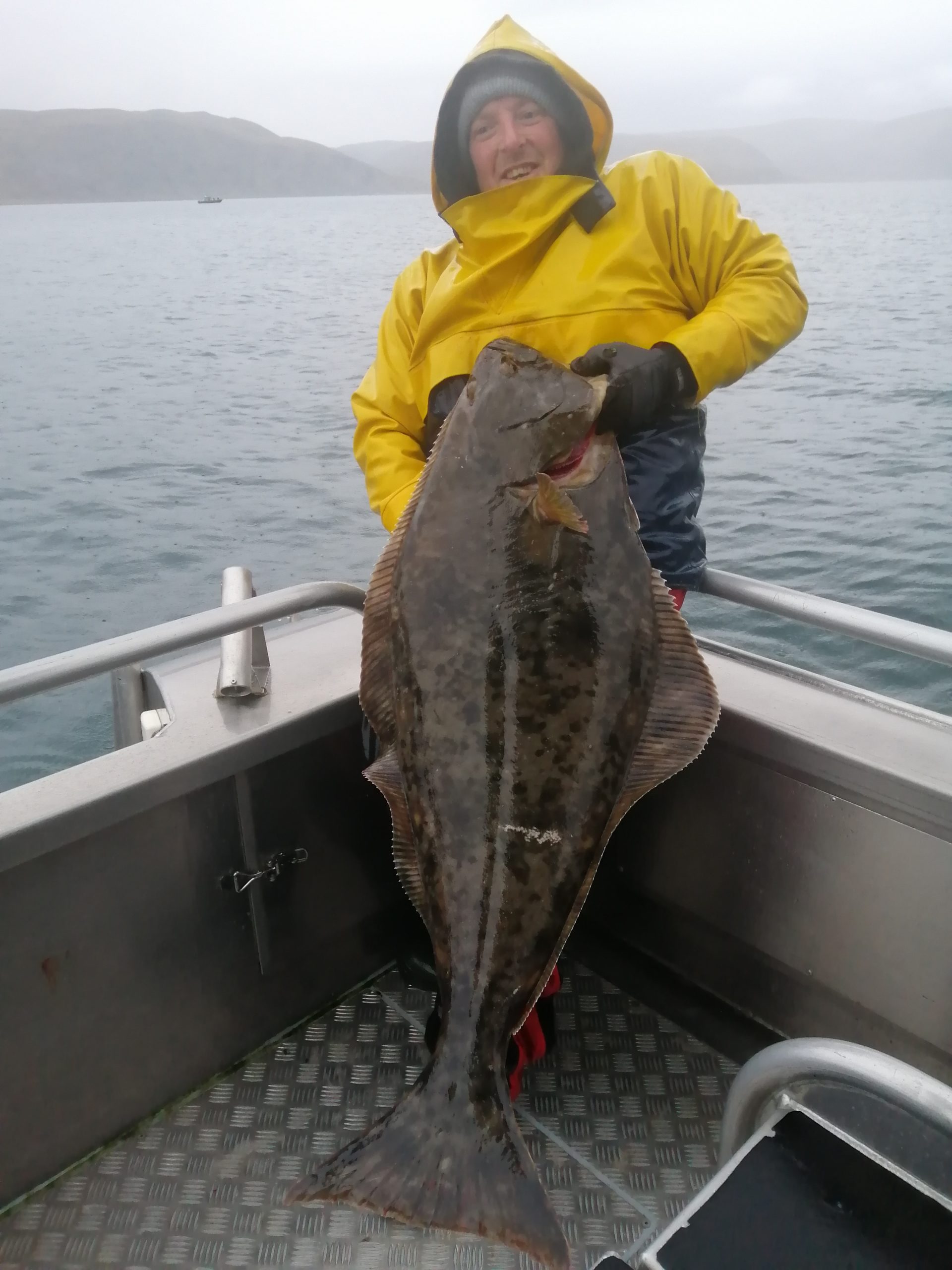 Day 4

Today again the wind had changed direction so we headed out with the guide boat to a bay on the opposite side of Havøysund to where had been fishing the last few days. But when we got to the mark the wind was just too strong to fish so the guide boat called up and told us to head back and fish marks closer to home. As we fished here two years earlier we had are own mark which Phil nicknamed Janner channel because we had caught about 35 butts up to 150cm there. We tried hard to get on our marks but again the wind played its part. We did find a bay to fish where Barry caught his first butt a fish of about 100cm. As the wind dropped we got closer to the channel and fishing got a little better with mike pulling two butts both around 90cm's, and I chipped in with two small butts. Are other boat had a similar kind of day. However, they did see an extremely large halibut chase up a string full of coalies.

Day 5

With the wind dropping off a little, the decision was made to head back to the bay where the 185cm fish was caught became this is a proven halibut mark. Again bait was easy to catch and we were fishing almost straight away. First drift and I was into a nice fish which went 100cm. We jumped around searching out a decent fish which was proving hard to find. Are another boat was doing very well on spinning gear with biffo alone bagging around 9 butts. All the other boats decided to head off and try for some coalies but we stayed in around the bay hoping for a big fish.
We did catch a couple more butts but nothing big.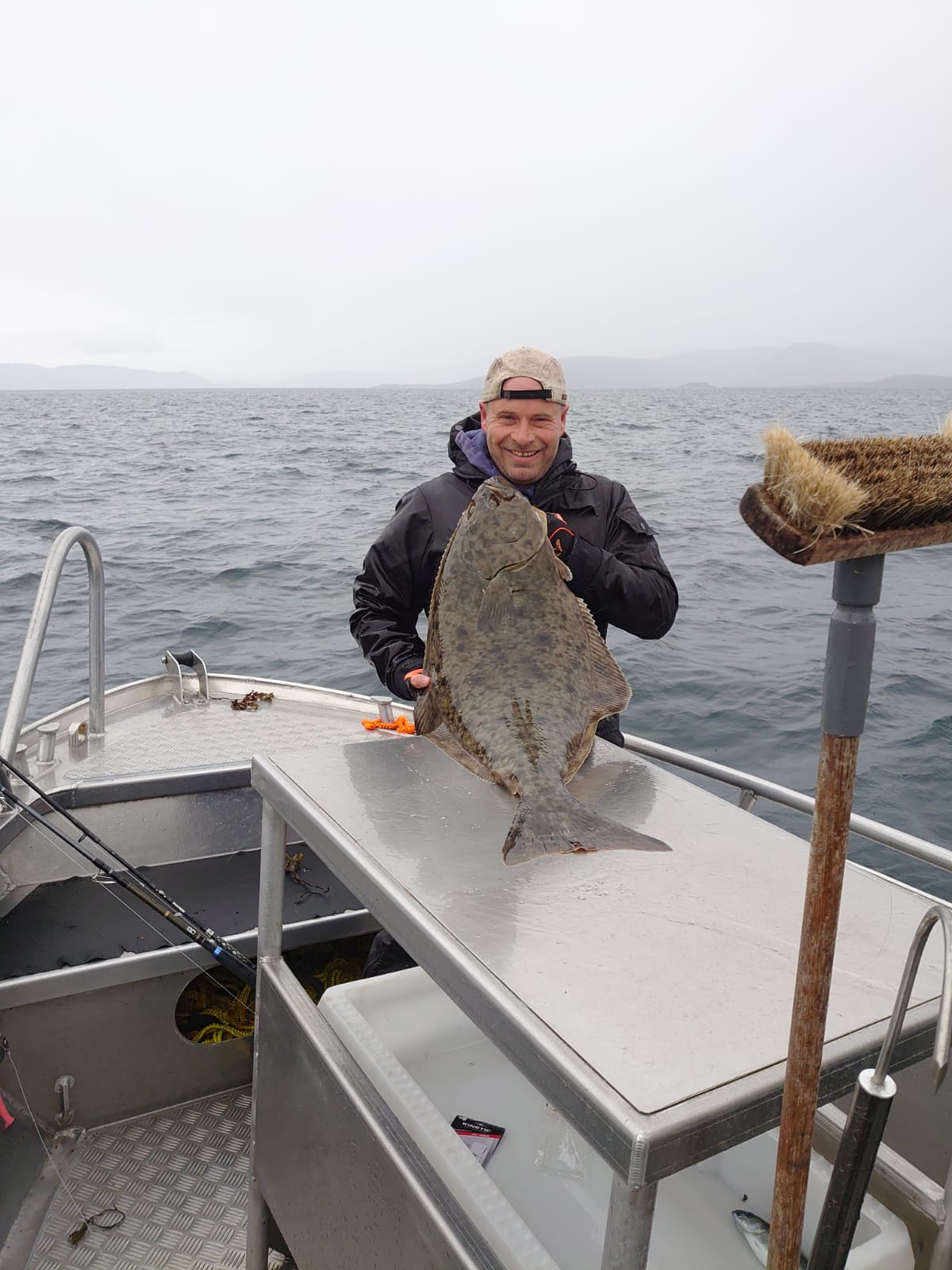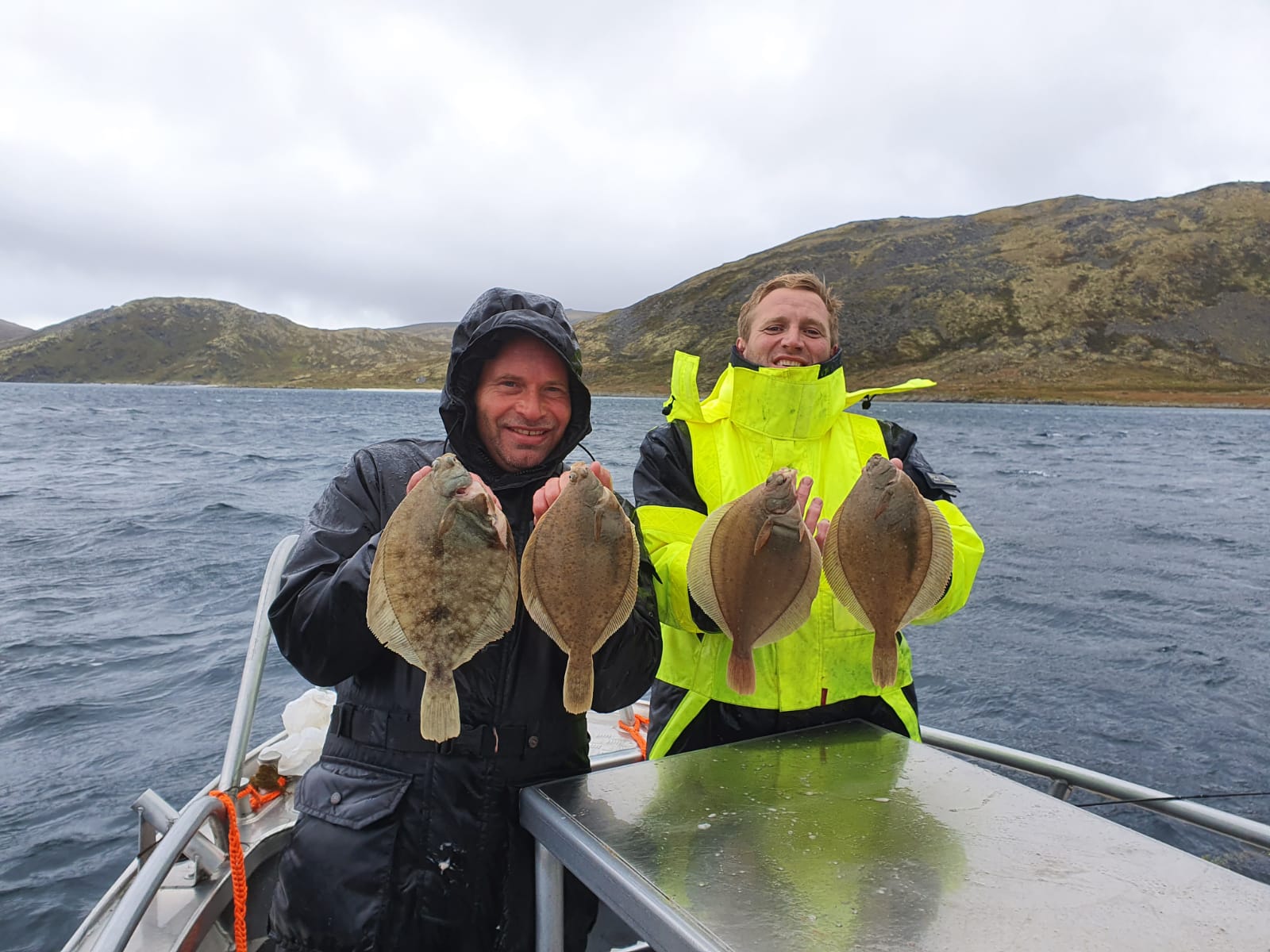 Day 6

Today the wind had actually dropped right down and the forecast was looking better. Two guys on my boat didn't come out today. Ian unfortunately suffering a sore back and Mike wanted to rest up after the last few days wind and rain. We fished a different mark again and with the weather getting better as the day went on things were looking promising.
The first mark produced no fish so we moved down to a channel between two islands. This proved a good decision as Barry caught a butt around 100cm, me chipping in with a small 80cm fish on spinning gear. And then another on spinning gear, an embarrassing 40cm fish. The weather was improving all the time so we decided to stay on this mark to add more fishing time rather than move again and I'm glad we did. I was holding my rod when the line started to slowly pull off. It was so slow I looked at the sounder to see if we were going over some rough ground but we weren't. So I allowed a few more seconds of the line to go and gently pulled against the weight, the line then shot off the reel and I realised I had hooked a reasonable fish. After three or four goods runs and about ten minutes fight, we had safely roped alongside a good fish of 145cm, I had equalled my PB. A Couple good pics and she was returned safely to the sea to fight another day. We caught a few more small fish and around three o'clock decided to call it a day head home and do the usual clean up.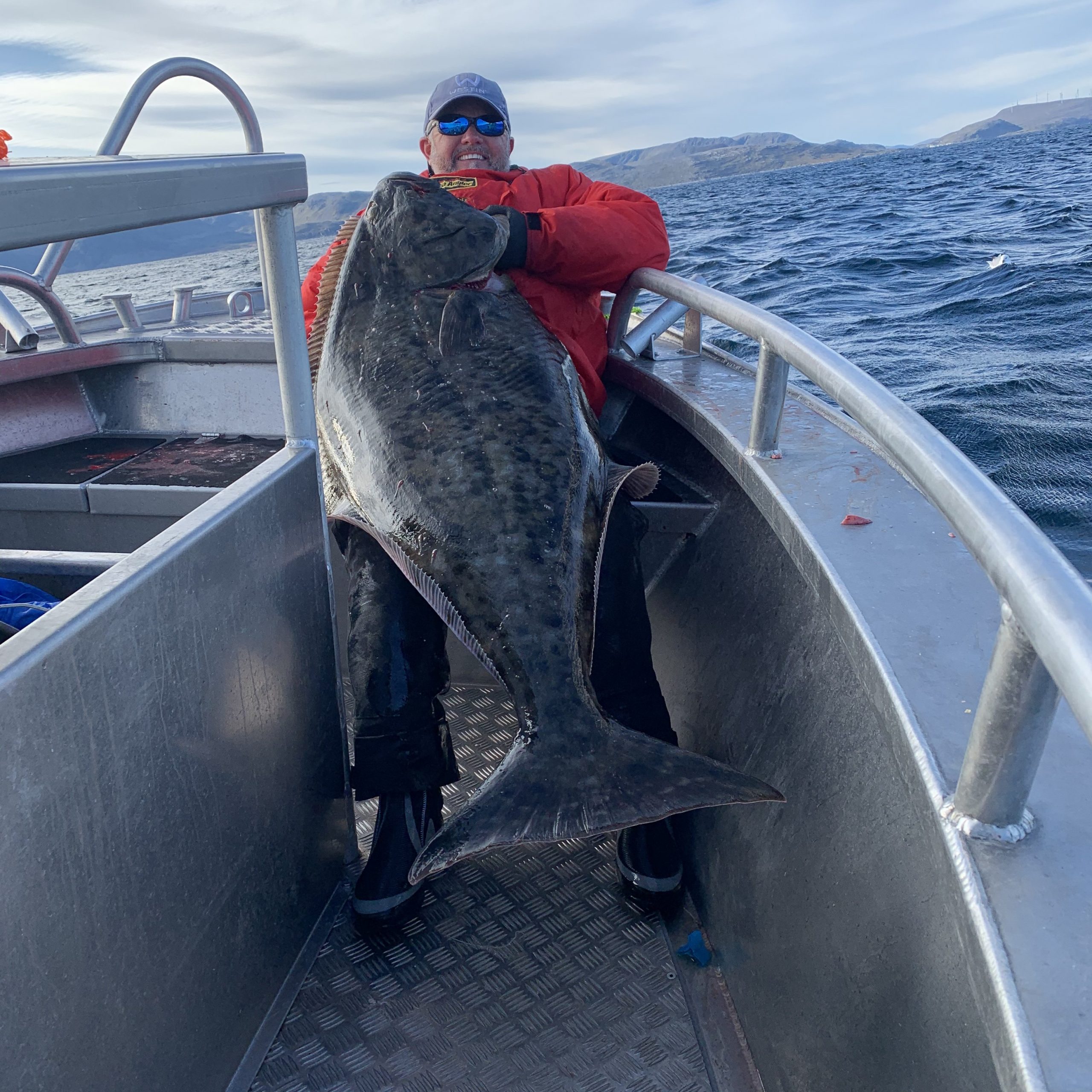 To sum up our week we had between 40/50 halibut up to 145cm which given the weather I think is pretty damn good.

A big thanks to Sportquest who literally moved mountains to get us there, and to Douglas the guide who's help and advise is second to none.
A couple of us are already discussing a return.
Contact us
Awesome report Paul and gang so glad it all worked out for you guys and a pleasure as always. Speak to you all soon!
As you can imagine the bookings for Havoysund are going through the roof so if you keep putting that trip off then you better get something booked up as we are almost FULL for 2021 and some weeks are filling for 2022.
Tight lines,
Paul Stevens