We have received the latest weekly round – up from Havoysund and it is safe to say the fishing is completely on fire there at the minute, lots of great fish are being caught including big Halibut and Cod.
On Sunday, the wind would again be a challenge, it blew 10-12 m/s west and the places outside Havøysund were difficult to reach with the powerful winds that came down. But one has to make the best of it so we collected a couple of boats and drove eastwards to hide out of the wind. Most of the boats waited for fishing for the next day, but several fought together with us in the Guideboat. We start by looking for some Cod without properly finding the big fish with fish so we decided to go closer to land and try our hand at Halibut instead. It was difficult to get good drifts when the hard winds pressed but the drift anchor did the trick at the end.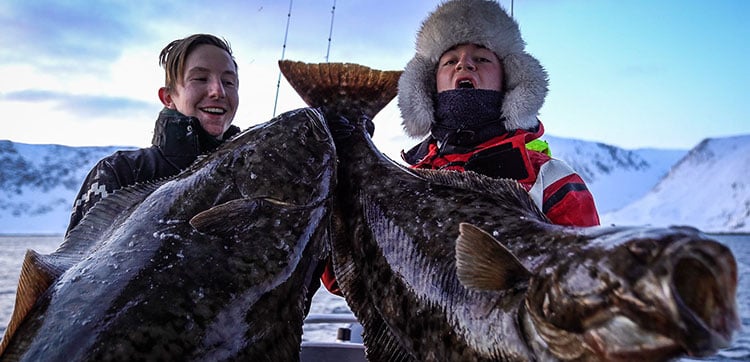 On Monday the wind would start to calm down a little but the sea was still not completely settled several went out on cod fishing and had a successful result, a lot of fine fish up to 10-15 kilos out on the cod grounds. Boat 9 also got a Halibut of 105 cm (33lb est) when they fished for cod. The guide boat also tried Cod with a nice result, Lena succeeded in hooking in a fine food Halibut of 104 cm (31lb est). There was very strong swell out on the Cod sites, and it made it difficult to find them but no-one gives up because Douglas managed to find a good shoal with little coarser Cod later in the evening. More nice cod up to 15 kilos! Further boats also had a fine fishing during the evening, and boat 7 managed to land some smaller Halibut up to 90cm (20lb est) which had to swim back again.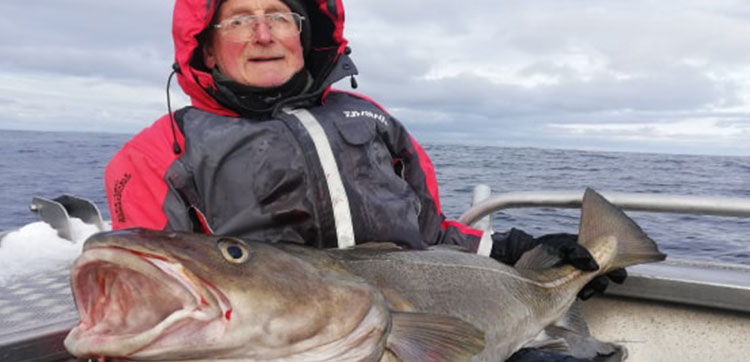 Finally the wind had to drop down completely and we had a graet day ahead of us. On Tuesday we had planned a long trip and no less than 8 boats were hanging on the trip. We got on the way at 9am and we were going to experience an incomparable fishing that few could imagine… We were at the fishing spot around 11 and all boats were pigtails. In the guide boat Stephan was the hottest on the fishing and was the first to drop his jig. I was about to straighten the boat and check the power when I took a look at the sonar and saw a big echo rising from the bottom. Stephan didn't even come down to the bottom before a Halibut jerk on his jig. Unfortunately Stephan did not get caught in the fish but it was a start. It went so fast and no more than 2 minutes later it was hoked fish! Peter's fish was 113 cm (42lb est) and had to swim well back again. Only minutes later, the messages began to fly onto the radio. Boat 7 has Triple Hook up! Boat 5 teases a better Halibut! Double hook up in boat 4!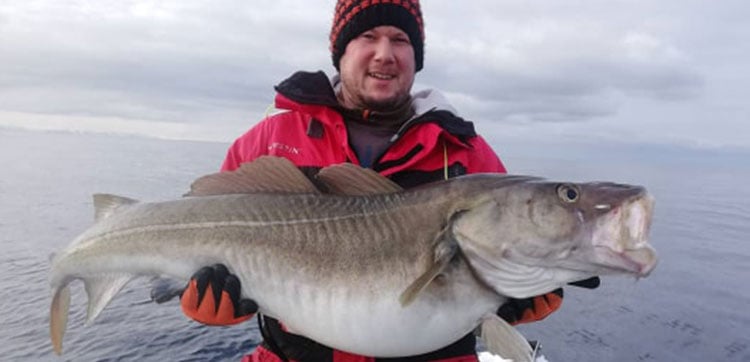 During this something totally unreal would happen in boat 3 Samson had to hook in a real pig It rocked hard, and made several rushes. He barely managed to lift it from the bottom and it all seemed hopeless. This was by far the bigger Calibre and we were anxious for the radio during the fight curious as we were, we got answers from boat 5 173 cm long (164lb est). Amazing!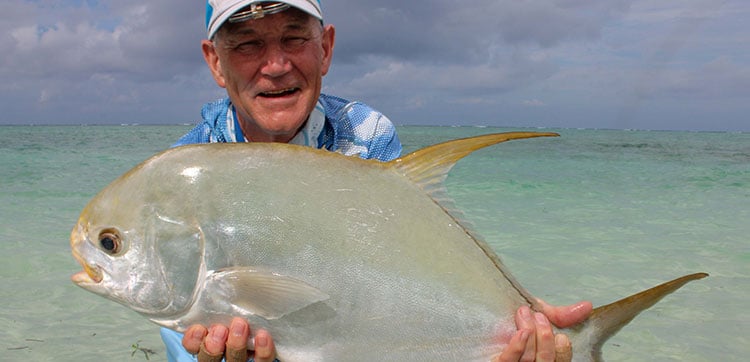 There were constantly messages coming on the radio about fishes that were landed most of the fish were about 110-130 cm, but there were several larger fish in the area. In boat 3, Rickie would get his first halibut! There was also no small fish. Bear and co in boat 3 were absolutely sure that this was a flounder in matsize, and didn't stress with finding the halibut hook. But when they saw flounder come up, they quickly realized that it was better. Not fully prepared, it stuck to the depths again, and Rickie got started again. The second attempt was landed and secured along the boat. 165 cm! Big big congratulations to Rickie, a real dream fish! In boat 4 they had landed 3 pieces around 130cm (65lb est) mark, and one in better size of 152cm (108lb est)!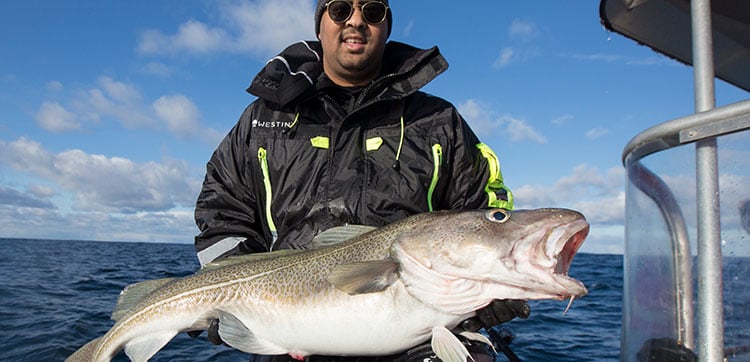 The last day most of the people were quite tired after Halibut fishing and little sleep. They were late for breakfast at most, but in the Guideboat we went out at 9am. It was predicted even finer weather and we decided to fish for a little after hours on the last day. The sea lay mirror-shiny over the horizon and it was even so hot that one had to take off the upper part. The fishery has seemed to get started right now and we have lots of fine food fish up to 3-4 kilos. The really big fish unfortunately didn't show, but they are out there … It was an incredibly nice day and a perfect ending to the week. Most boats on the last day went to fish for Cod and the fish was definitely in place. But Nils in 10 years would pull the biggest Cod of the week which was as long as he himself! An 18 kilo giant cod for Nils, incredibly cool!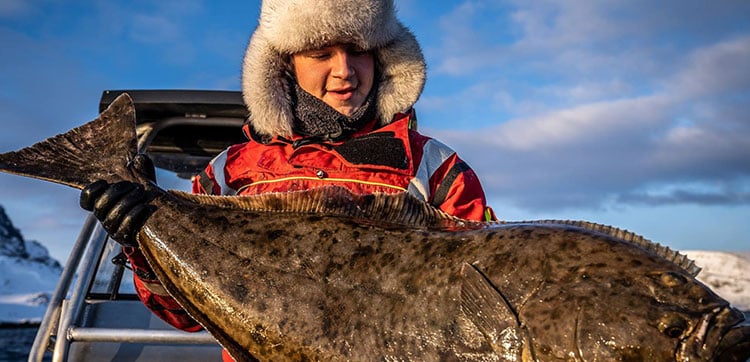 We cross our fingers that the weather is with us again. Then we thank you for an incredibly pleasant week and all the laughs! So we are recharging here in Havøysund, and ready for the next gang to come tonight. We are super-hacked!
Tight lines // Jørgen, Douglas & Andreas
Wow.. What an excellent report guys many thanks for that.
If Havoysund sounds like somewhere that you would like to visit and fish why not contact our sea fishing team on the office on 01603 407596.
Tight lines
Matt