Its fantastic to see that Vesteralen is back up and running after a long break due to the Covid Pandemic, and what a start it was with an absolute monster of a Halibut!
Finally the start of the season!
Finally, our camp at Vesterålen was opened for the season, after a long year with this pandemic. The last few weeks have been spent preparing, and already on Sunday last week we got the first group from Sweden at the camp. Considering the fishing we had last year the little time we were here, Håkon and I were, to put it mildly, eager to start the season up here. Håkon managed the camp for the first few days, and received Lars, Mats and Sebastian from southern Sweden on Sunday morning. Lars and the gang were good at fishing, and Håkon threw himself into the good weather after an information meeting here at the camp.
The first day of fishing had some very nice Coalfish fishing and glorious sun. The Cod was also hungry, and the gang got several nice cod around 10-15 kilos as well. When they were going to test for the redfish, the edge was invaded by small Pollack, and it became difficult to get through all the Coalfish .. A nice day at sea anyway! But on Monday Håkon was to join Lars and them again, and this time they were to go out after the queen in the depths. We discovered several new interesting places last year, and there was no reason not to test any of these hotspots we found. Last year, one of our guests got a fantastic fish of 222 cm in this place. I also experienced a completely insane double bite there last year, with two large fish. Unfortunately, the line narrowed on one, and the other came loose after a brutal rush. But since then, we have realized that this place sometimes houses large fish. And this time it was no exception. Because after only a couple of drives in this place, it rusted out on Mats' worm rod, and a fierce battle was underway. Håkon immediately realized that it was a big fish, and it would not give up at first. It had 6 trips up and down from the boat before Håkon could secure Mats' dream fish of 173 cm! Congratulations Mats! The day continued with halibut fishing, but there were only a few more contacts before they ended the day with a nice Cod fishing session some distance from this place…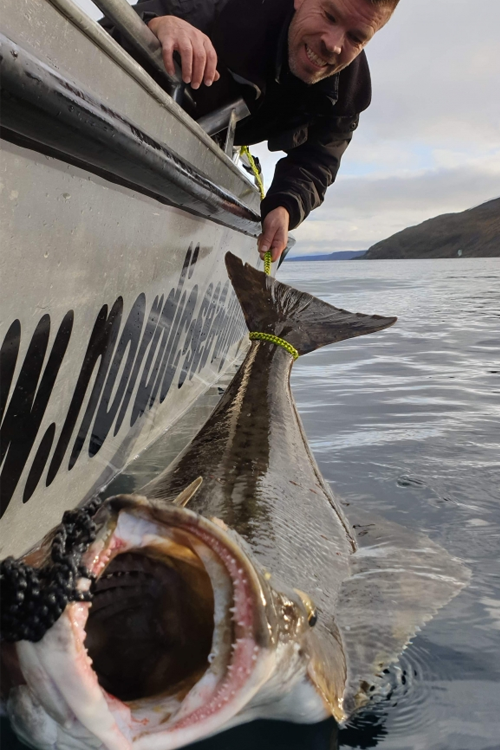 Lars and the gang continued the good fishing in the days to come, and on Wednesday Lars landed a nice Halibut of 106 cm, and the day continued on the same track with both Cod and fine Coalfish right outside. We were relatively lucky with the weather the very first days last week, and on Thursday, it looked like we could actually go on a long trip! Wednesday night we got our German guests at the camp, and they also wanted to join us on a long trip! So Håkon and I each drove our boat with the German guests, and Lars & co hung out. As we come out past the last skerries, we are greeted by a spectacular sight! A huge herd of killer whales! We counted on it, and came to the conclusion that it was at least 20-30 whales? I've never experienced that before. But they were obviously hunting, because there was a lot of Herring and Mackerel in the area. And they set full speed through the shoals. It was difficult to get close, as they swam around at full speed. But still a great start to the day!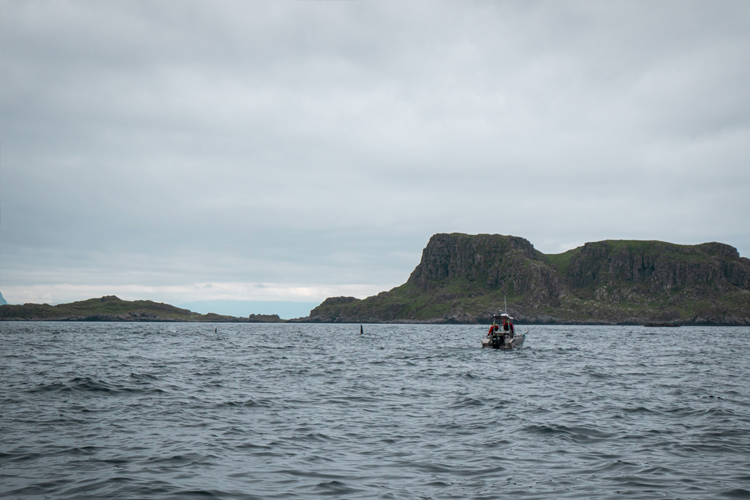 We drove through a little old sea towards our famous long drift, and it turned out to hold lots of fish! We came out on falling tides, and it was noticed that the fish were quite inactive. We got some nice food Cod on the first peak, but it was almost impossible to get through the Coalfish that was there. It was difficult, and we decided to move to the "long edge". It started very tough, and we got some small fish in the first hours. But when the tide turned, the fishing started! It did not take long before everyone in the boat was standing with a pole bend. Now the fish was on! We got some very nice lengths of 10-15 kilos, and we lost some really big ones where they had simply rolled the curb straight off .. The sharp teeth are not to be played with! You have to limit your fishing after a long time, as it is a very stationary fish that takes many years to build up its stock again. We had to give up after an absolutely insane race with big fish! Thomas in boat 1 ended the fishing day with an absolutely fantastic fish of 24 kilos, which became today's top fish! In addition to the large Ling, we caught the occasional oily Cod in the 10-15 kilo class. We drove home after 7 hours of efficient fishing, and said we were happy with it!
The last few days have not been completely with us, and we have been very limited in terms of where we can go out. Fortunately, there was a small hatch yesterday where the Germans got out on the west side, and had a very nice cod session on the last deep edges. The area kept a lot of nice Coalfish up to 10 kilos too! Today is the last fishing day for this week, and unfortunately, it is terribly windy and drizzles. Not something you can do anything about. Tomorrow we get 2 groups from Sweden who will be fishing here for a week, and we are really looking forward to it! The weather forecast does not look entirely promising, but that can always change. It is at least a nice hatch in the evening tomorrow with good weather, so we will see if we might make a trip out before the wind will go a bit on Thursday…
Tight Lines // Jørgen Zwilgmeyer, Håkon Nilsen
Contact us
We do still have the odd week available for the 2022 season at Vesterålen. If you would like to join us at the famous Northern Norway destination call us on 01603 407596 or email us info@sportquestholidays.com.
Tight lines,
Paul