As previously mentioned in our last report from the guides up at Havosyund, we are trying to keep you all posted with what the Nordic Sea Angling Guides are up to at each destination while waiting for anglers to return. This is a horrible situation for all involved and the sooner we can all get fishing the better.
As many of you who travel with Sportquest and have been to any of the Nordic Sea Angling camps in Norway, will know how passionate the guides are for guiding anglers and we really wish them the best of luck and we will all be seeing them soon. They will try and keep sending us reports as and when they can get out fishing. Here is Alexander & André's report from Å on the Lofoten Islands:
Fishing Report
Now we have had 6 weeks here in Norway without any guests. Time is definitely slower than usual in these times and restlessness sets it's even on us! However, during this time we have still had time to do a lot of other things that we do not have time for usually. Alexander & André were on one of the local commercial Fishermen's boat to see how fishing is done other than with a fishing rod. Which was clearly educational to see how they work during a normal day.
As well as this odd situation where we sit in with the Corona virus, we have (lucky in the bad luck) seen really bad weather for much of the skrei season that is now coming to an end.
Of course, we have had a few good days right outside Å. But for long periods of time, we have had a lot of wind, as in a lot of wind. About 4 weeks ago we had the strongest winds on Lofoten that have been measured in the last 20 years that measured a whole 122 knots about 55 m / s.
In the last week, we have seen really promising weather during the season at Å. So last week André and Alexander invited two local friends to try a little fishing out on the west side of Lofoten.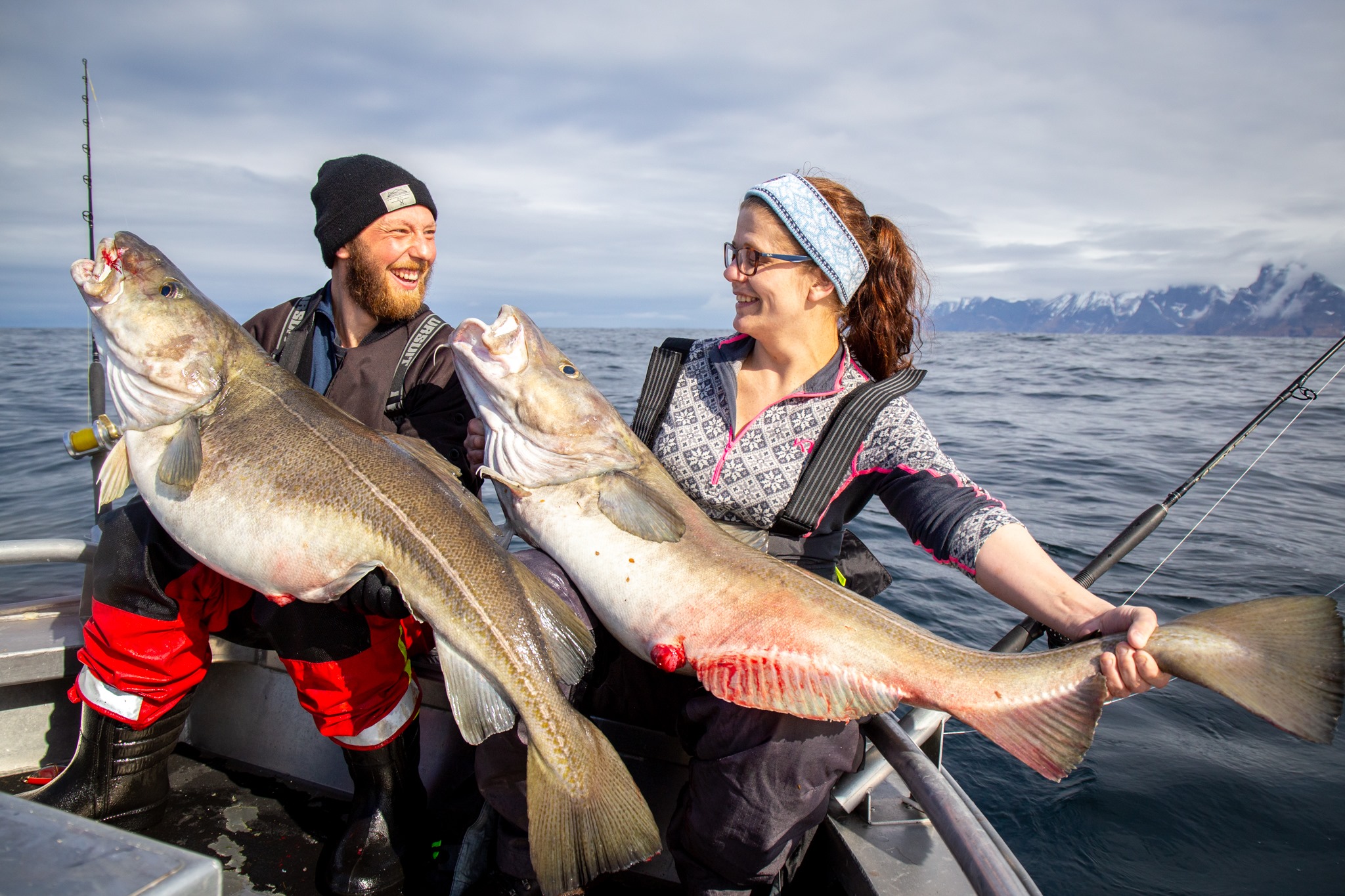 We decided to try fishing for halibut and after just a few minutes into the first drift, we felt that it was the wrong location and instead we go and look for Cod on some of the shallow humps next to deeper water. After some time searching, we found the fish on a little deeper water around 70 meters and what fishing this led to!
In just an hour of fishing, we were able to note that we got a whole 7 fish over 20kg / 44lb With 24 kg / 53lb being the top weight as well as a lot of fish between 7-19kg / 15-40lb.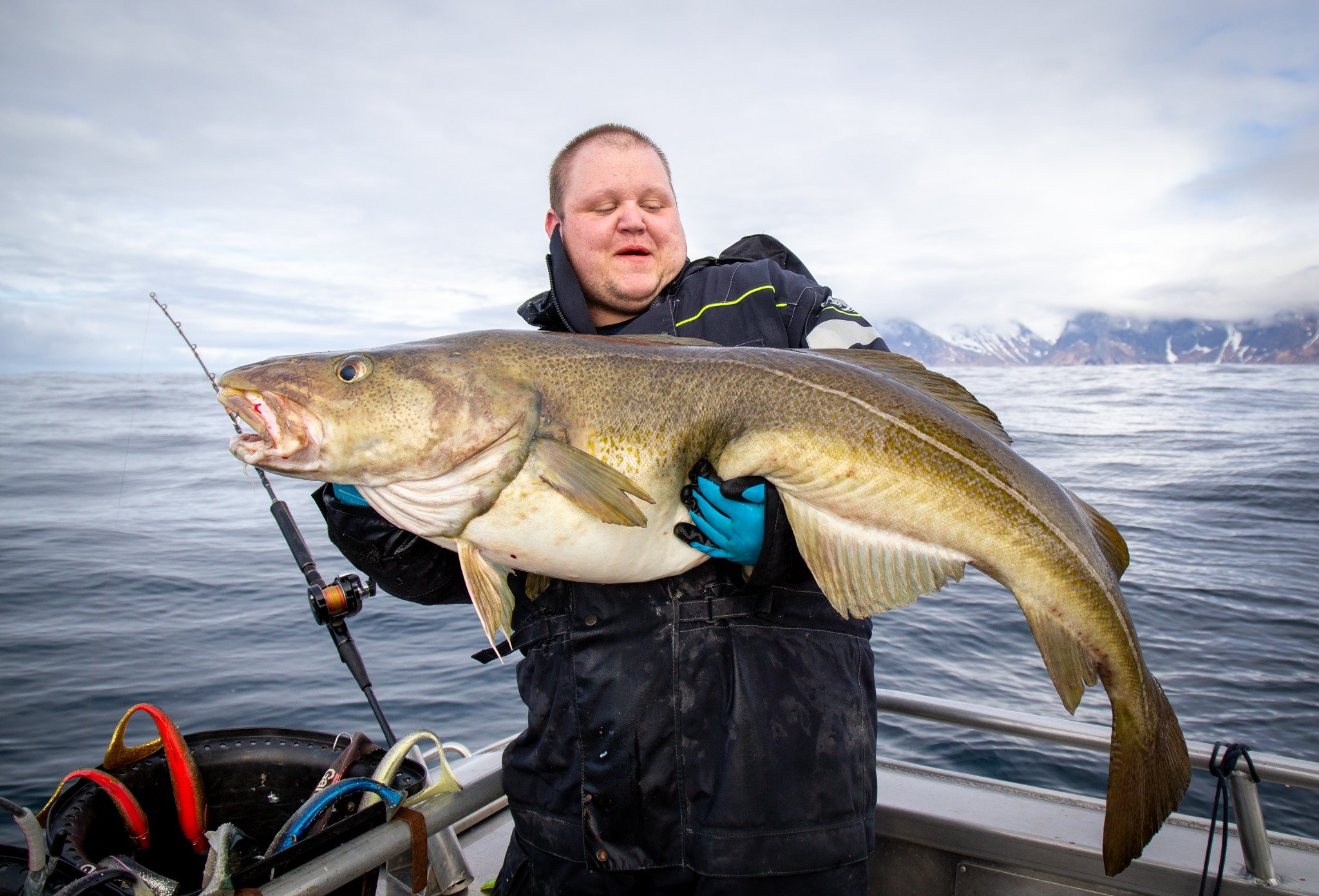 If this amazing Cod fishing wasn't enough during the insane cod fishing, a big pack of orcas comes swimming past the boat that was then around us for about 30 minutes before moving on!
When we then got to port, we checked the weather report for tomorrow and the weather promised less wind than this day so the thing was clear that at 08'00 we go out again!
All refreshed and ready we drive directly towards the same area as the day before. Directly in place, we get crazy fishing! We managed to fish for little less a 3 hours before we were all satisfied and aching. On this day we caught 6 over 20kg / 44lb with 2 tops that stretched to 25kg / 55lb. This day was absolutely ridiculously good and we can honestly say that we didn't get any fish under 10 kg / 23lb! The vast majority were between 13-17 kg which is absolutely crazy good!
After these two fishing passes, we needed to rest a little in our arms so decided to head back to port and take the opportunity to go on a top trip to a mountain called Ryten. Magical view up there!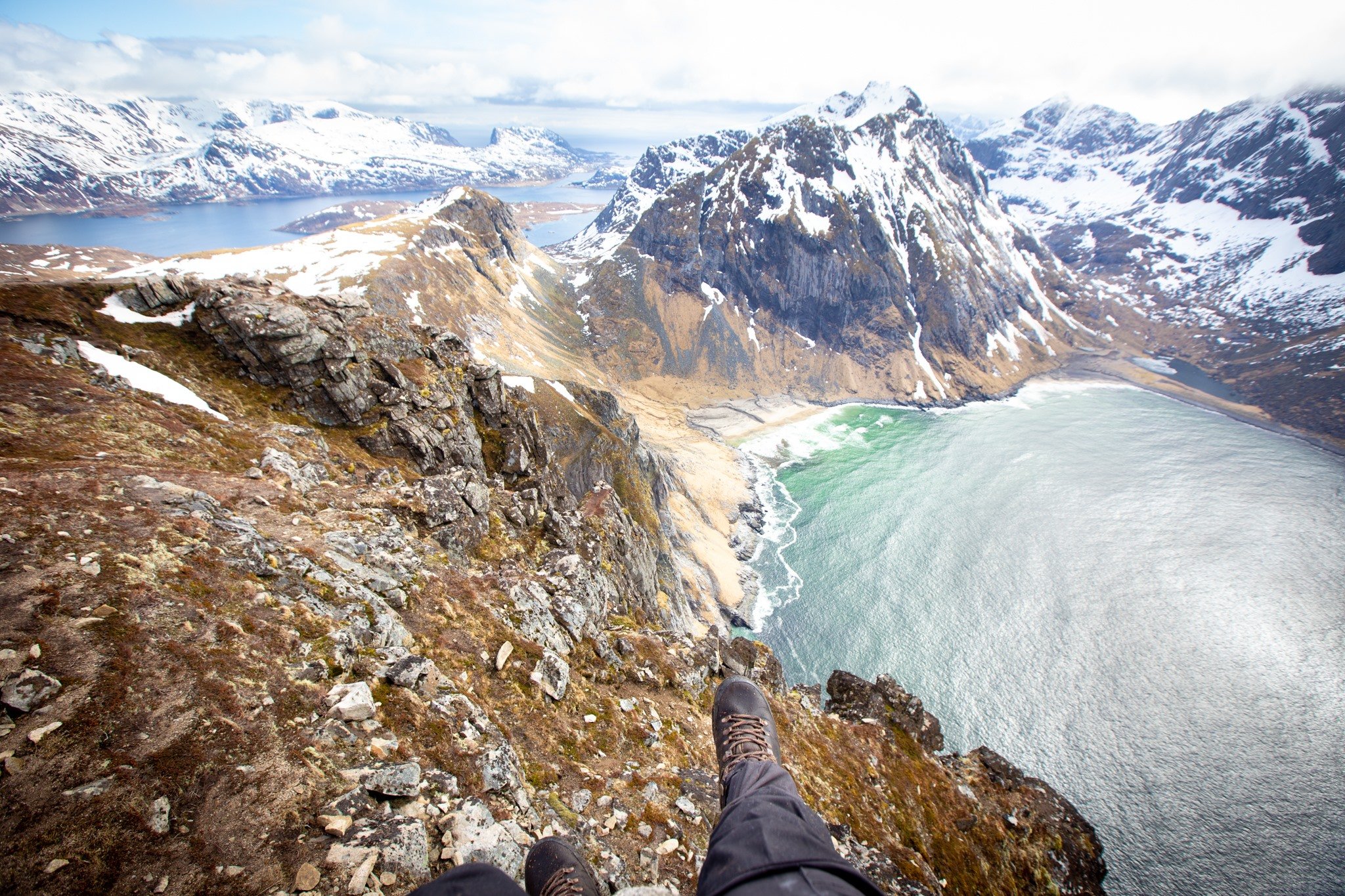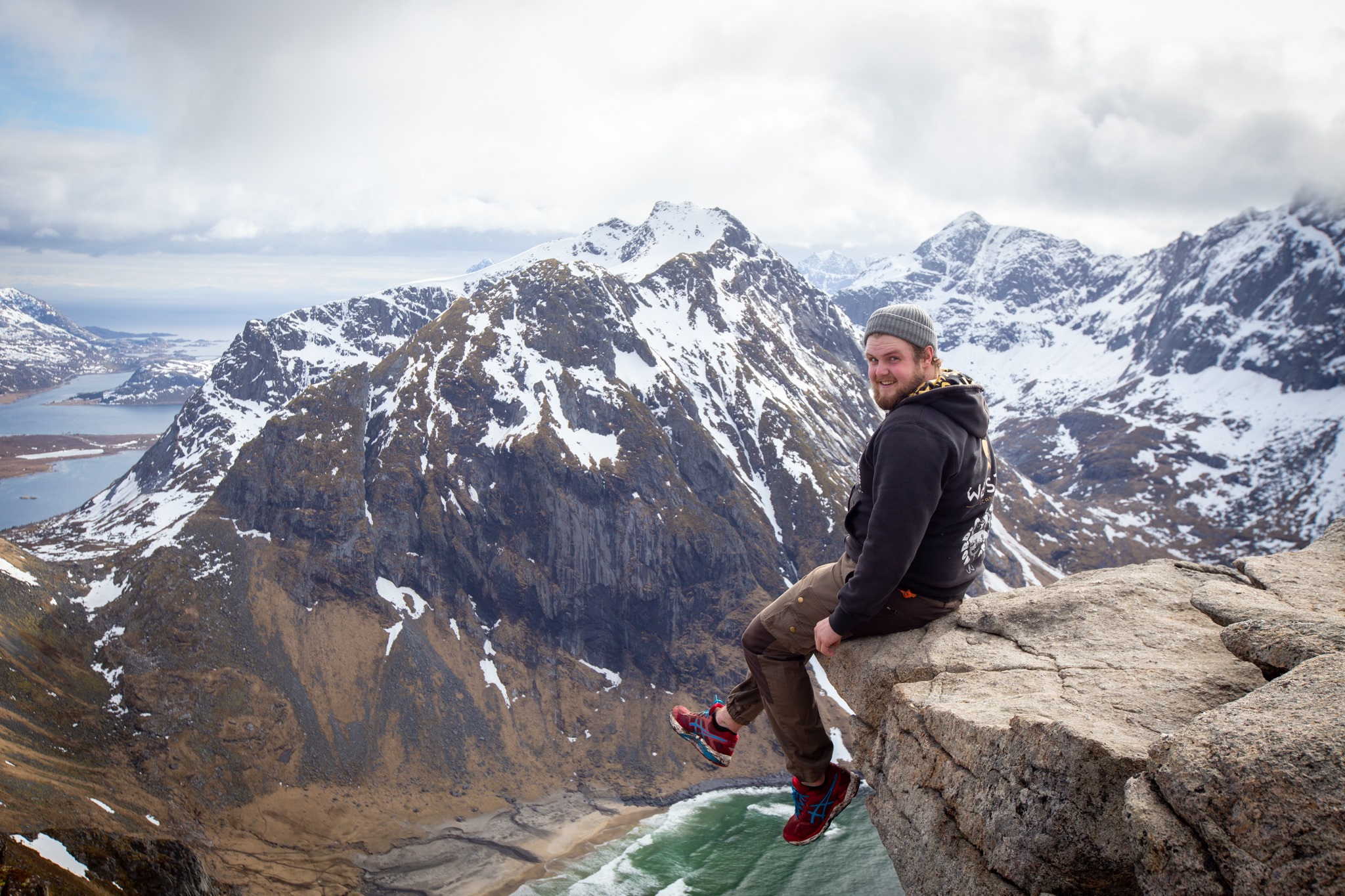 The following day the forecasts promised really nice weather. So we headed out to fish a day after halibut. We late morning start and went off at 10'00 (the wind would start dropping at this time) We don't drive very far before we started fishing. Nor was it long before we got to see Calle in the bow with a fish on. Soon after, we land the first halibut of the year on Å. A pretty boring fight you would say, unfortunately for the first of the year both for Calle and Å especially for a halibut that measured 120 CM!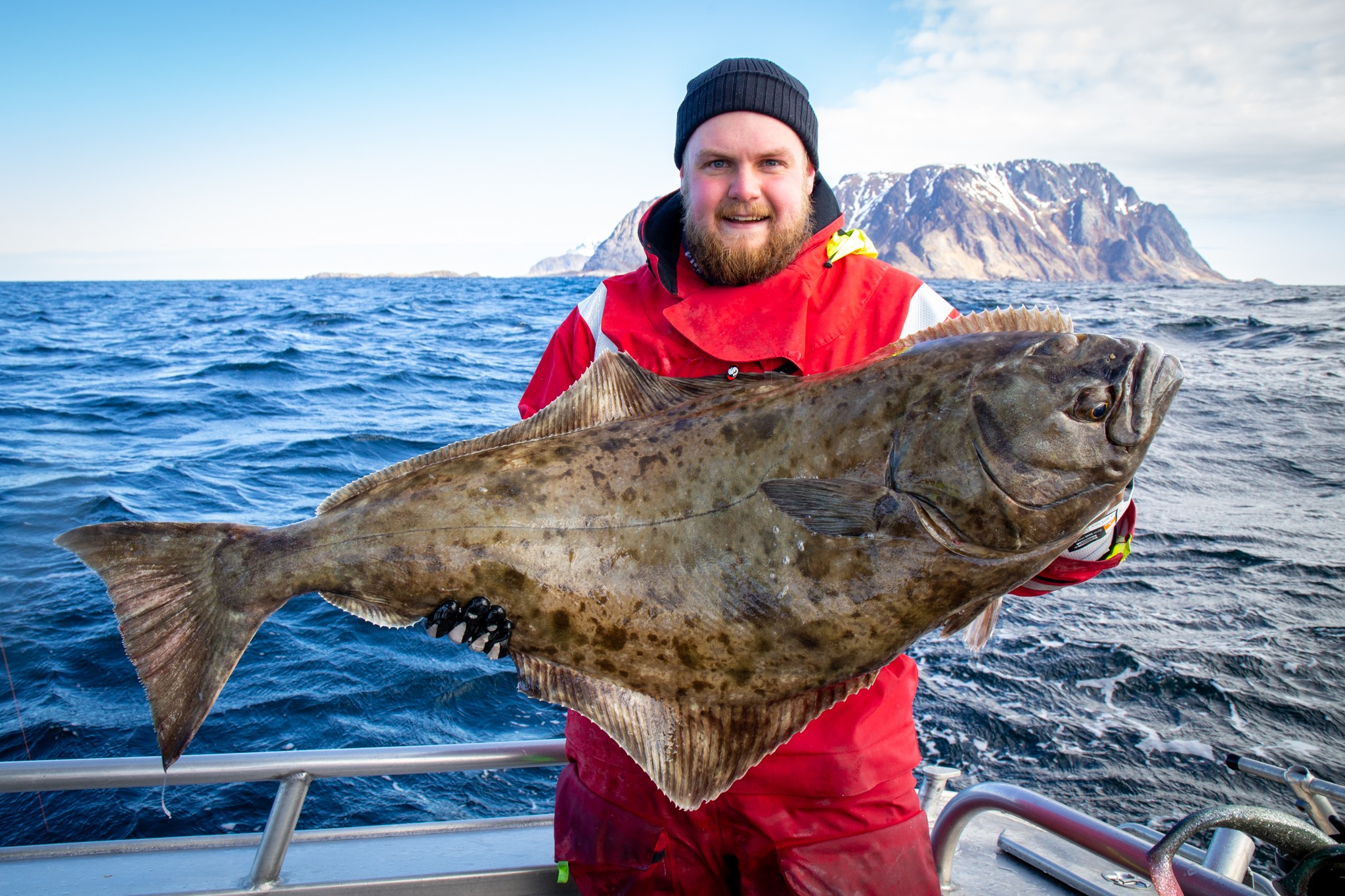 The weather that would calm down definitely did not but completely the opposite and unfortunately, we had to end this day thereafter the awesome start we had!
Now we really hope that all lovely guests will soon be able to come up to us again.
Tight Lines
Alexander & André
Thanks Alexander and André we all really hope to see you soon and thanks for keeping us all informed. And remember that the fish are all still going to be here when this is all over, so for now get your tackle in order and be ready for your next adventure. Tight lines Sportquest Holidays