We are all fully aware of the going on's around the world and it comes as no surprise that places in Norway have had hardly any or no guests what so ever. But for the lucky few that can still travel, they are getting to experience some fantastic fishing especially the Halibut.
Havoysund is now closing its doors for the 2020 season (well what we had of it) and it won't be long before spring comes round, so enjoy the last report from this amazing destination in Norway. Sportquest Holidays and Nordic Sea Angling wish you all good health and see you all next season:

Havoysund Final Fishing Report of 2020 Season
Then we fought our way through a really windy but absolutely fantastic week in Havöysund. On Thursday a larger group of guests finally arrived at the camp so this week I have fished with seven boats at the camp which has been really fun, a group arrived at the camp already on Wednesday night and they, of course, went out to sea on Thursday when I was on land and waited for the remaining guests, this was successful and they managed to pull four nice Halibut around the meter just outside Havöysund. The weather forecast for the week was anything but pleasant and it was promised more or less around 15 m / s every day! Especially in the first three days, most people thought we would have to sit on land, but no! Considering the area around Havöysund with large islands and the direction of the wind, I had a few different places that we could actually fish in spite of the wind. The first day of fishing we timed it right with the current and were able to fish efficiently all morning, we drove up to a nice place in the strait just north of Havöya and as soon as we were in place things started to happen and we managed to pull around 10 Halibut where most were between 90-110 centimetres. At about 13:00 the wind really picked up and it was time to go home, but everyone was really happy with the day and the fishing.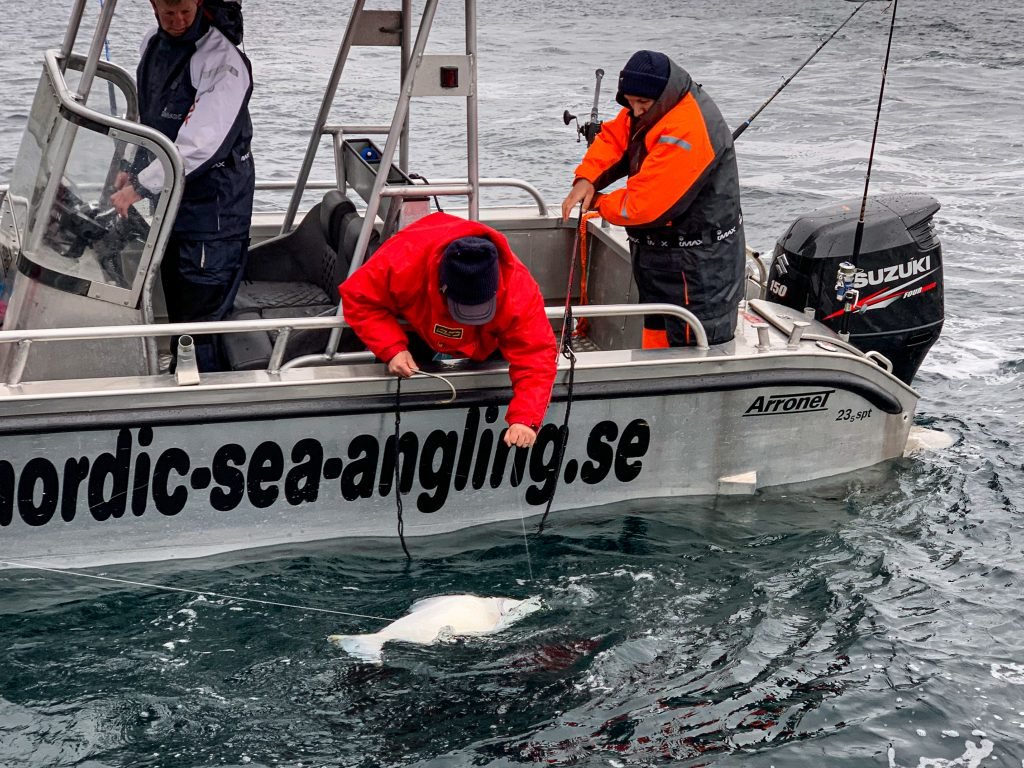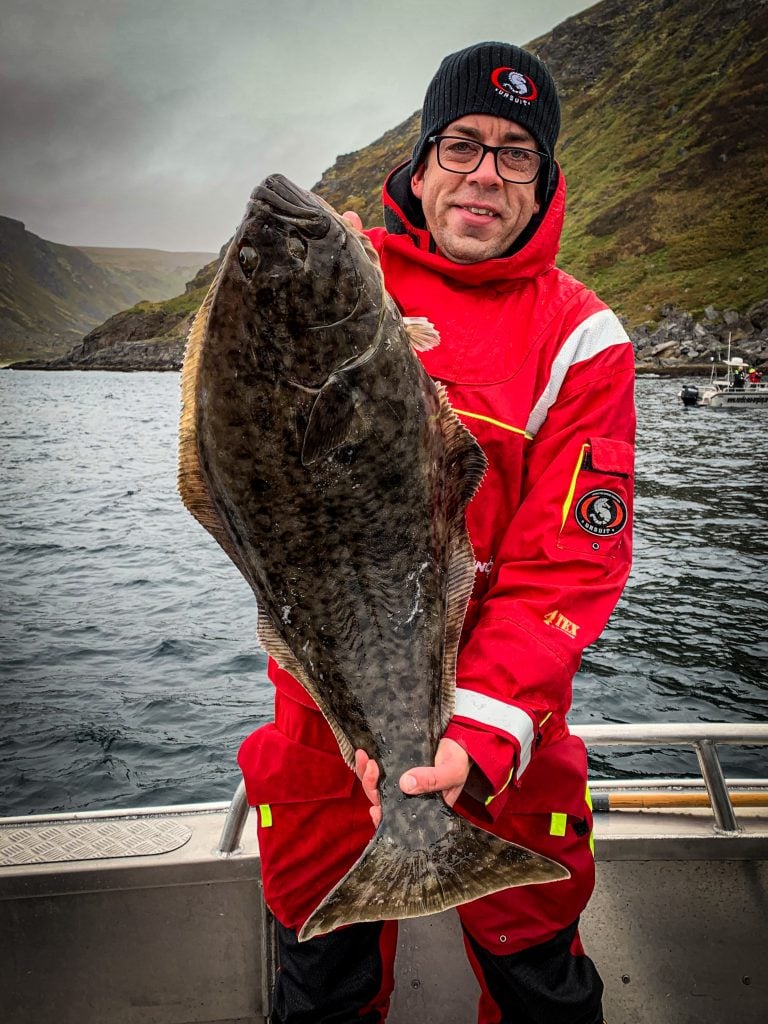 Day two, unfortunately, the weather looked really bad too, direction north/west but with winds that would not go over 15 m / s at least, I have a place on the south/east tip of an island where it usually is calm when the wind is coming from this direction. We went there and could fish pretty well, even here it did not take long before a couple of boats hooked in some Halibut at about the same time. It turned out to be a good bite period exactly the same time as the day before and when I moved the boat for a new drift over an edge, a Halibut came in on the sonar… I showed Eddie the nice echo that followed our bait fish but it did not really look like it wanted to take and after a while, we dropped it from the picture, we were in full swing and shortly after that Tord's rod bent and he struck into the very first Halibut of his life! Tord had to stand tough as this fish was angry and it did not want to come up. It pulled away on a couple of really good runs and was very hard to control in the wind. However, it was only 15 meters deep and Tord done well and tired out the fish. He did a really good job so I could land the first Halibut of his life at fantastically nice 145 centimetres. After a few quick pictures, we got to see the incredibly fat fish swim back and Tord had a bit of a hard time grasping what had actually happened.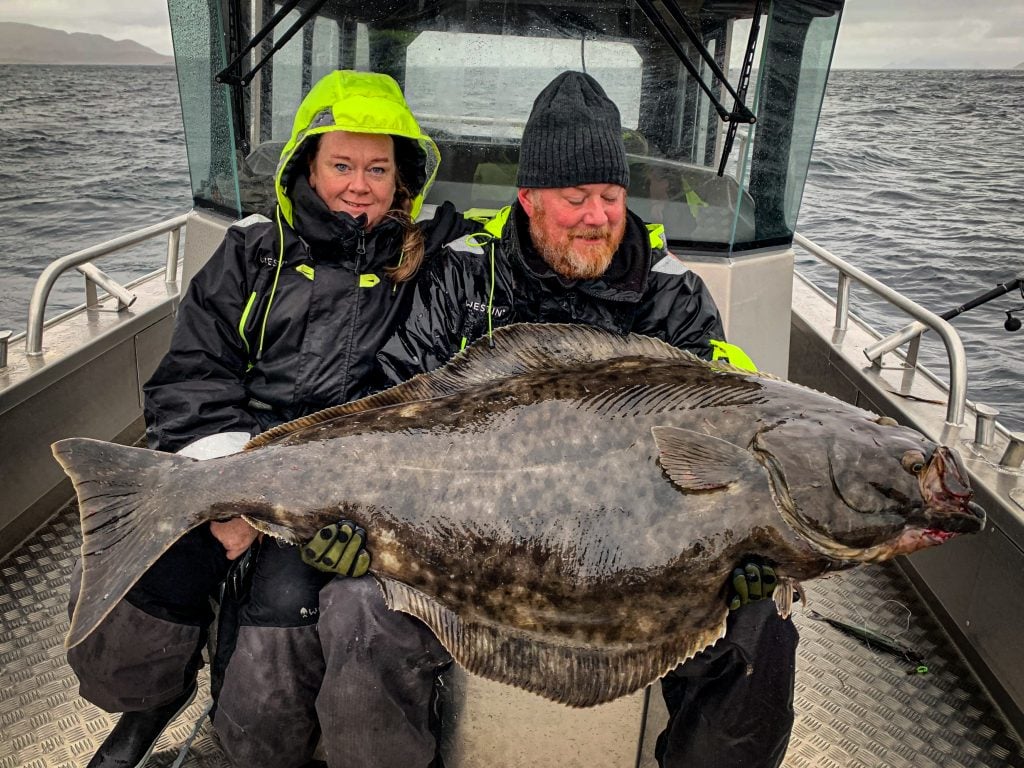 On Saturday it was much better, the winds had finally turned to the south, which opens up many different possibilities. I had a special plan this day and it was that we would motor away to a fantastic place for big Halibut and since it would still be some wind, it was an obvious choice as it is very weather protected in this place. We left the pier at 05:00 and all the boats joined. When we arrived it turned out to be a lot more wind than promised so we initially had to fight the wind, but after a few hours just as the best current started the wind calmed down and we could fish really efficiently. At first, there had been a bunch of Halibut between the boats, but this would change when the current had started in earnest and I put the boat up to drift over one of my favourite edges… As soon as we had started to drift out over the edge I saw a really nice fish rising towards our stuff and I said again to Eddie to check out the nice echo! I felt that it would slam into one of the rods and quickly started all my cameras, more or less as soon as the cameras had started to roll, my rod bent and I hooked a really heavy fish! In the 3 knots strong current, it was not directly me who would win and it was just to hold on and wait for the right time to start pumping. After a while when I got the boat in position in the current waves, I got his head up and was able to pump up the fish which was without a doubt of a good size. It came in pretty nice to the boat and when I would try to land it I got the halibut hook in, but with very stiff frozen fingers I could not pull through the hook and the fish jumped off the hook and pulled back down to the bottom.
The next attempt went much better and we managed to land the nice fish that measured to a nice 185 centimetres. It was really good that we managed to land such an incredibly nice fish considering the conditions for the week, we set up a new operation in the same place and just a couple of minutes into the next operation, another fine fish enters the sonar that decided quickly to devour one of our bait fish… Tord felt that there was a little weight in the tip of the rod and after letting the fish suck a little on the bait, he smacked a counterattack and the next cannon fish sat on the hook. Tord, who had actually the day before taking a really dream fish as his first-ever, now stood again with a really heavy fish on the hook, even this fish was not quite easy to pry up and now Tord got to feel what it was like to drill fish in 3 knots current and big waves. He teased again really nice and came up a really nice fish that we measured to 143 centimetres, that's where I call two really respectable first Halibut. This fish with the incredibly strong condition was also allowed to swim on and after this, not much else really happened that day except for a few fish of smaller size and some cod fishing on the way home.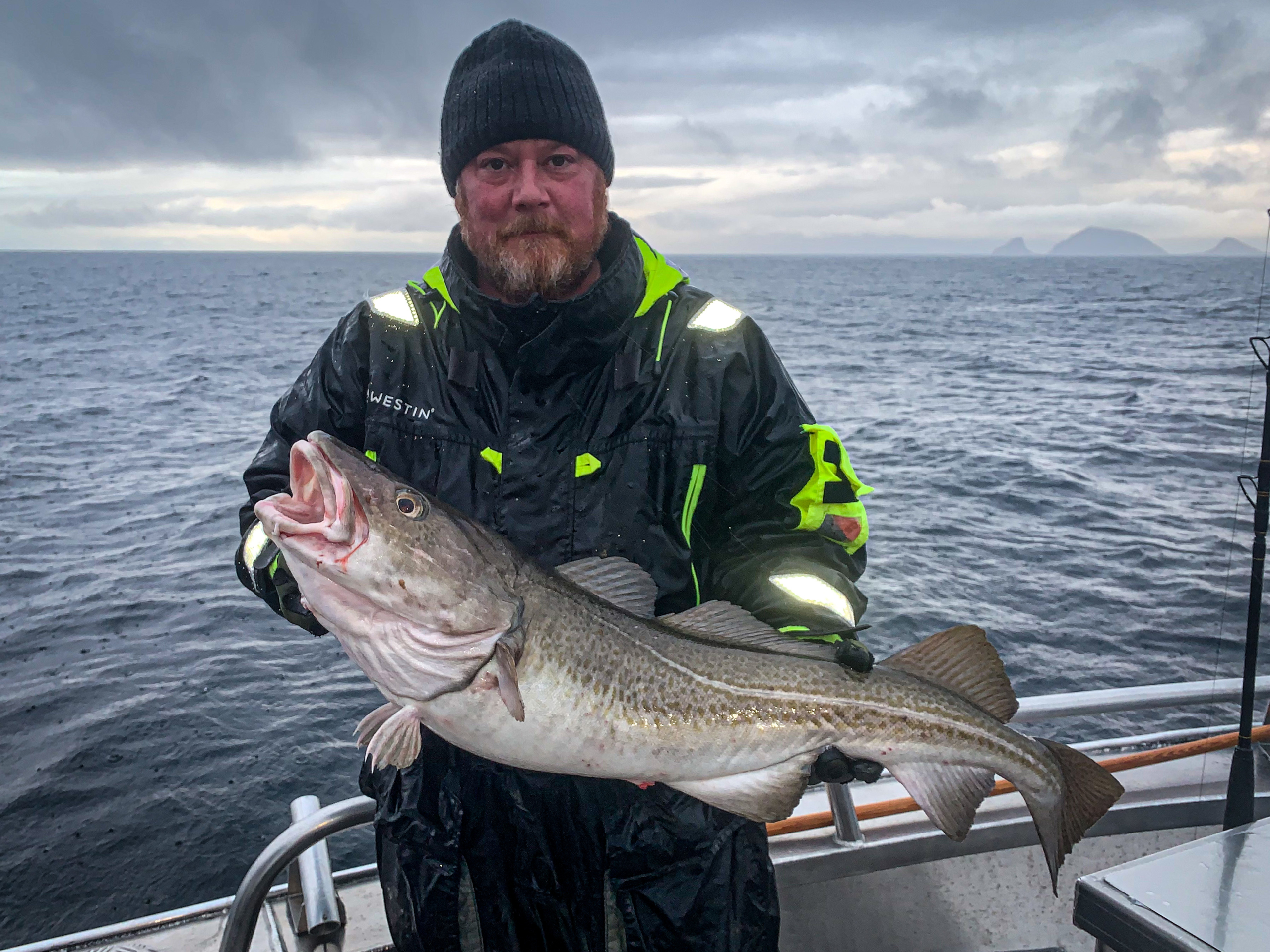 The next day the plan was to go down to a nice place to have a really great amount of Halibut fishing, however, that plan went out of the window because when we started to get closer the wind only increased more and more so that it averaged around 18 m / s… But it did not do much because the wind was mostly down there and we turned back and fished in some other places closer to the camp where the fishing turned out to be really good and it was a successful mass fishing anyway. On the way back there we stopped at a first spit where the wind was not so much and we fished. We barely hit the bottom before one boat right next to us hooked in the first fish of about a meter and when they turn up on the exact same spot and drop down so they hooked in the next! Two of the boats landed 3 fast fish before the wind turned affected this area, so we moved up to the next spit where it was good to fish. The next spit also delivered well and a couple of the boats found a really nice spot where they caught 8 fast Halibut. When the current started, the wind started to drop off more and more so I pulled out on the Solo platform where I had hopes that we would hook in something big. Tord actually managed to pull two more at 92 and 78 centimetres, but we wanted something bigger so it was just to move on and test the next spit. Now we were at the last stop of the day and in the nice stream between two islands we all had a really good feeling that something nice was going to happen, and when we just pushed through the strait and came out on the nicely hilly bottom, a fish rises and sucks in my baitfish which I immediately feel is a better fish when I then hooked it turned out to be a better fish so I Eddie had to take over the situation and fight the fish, he got a really nice heavy fight and this nice fish of 130 centimetres. This was to round up this day and we went home to recharge the batteries for the coming day.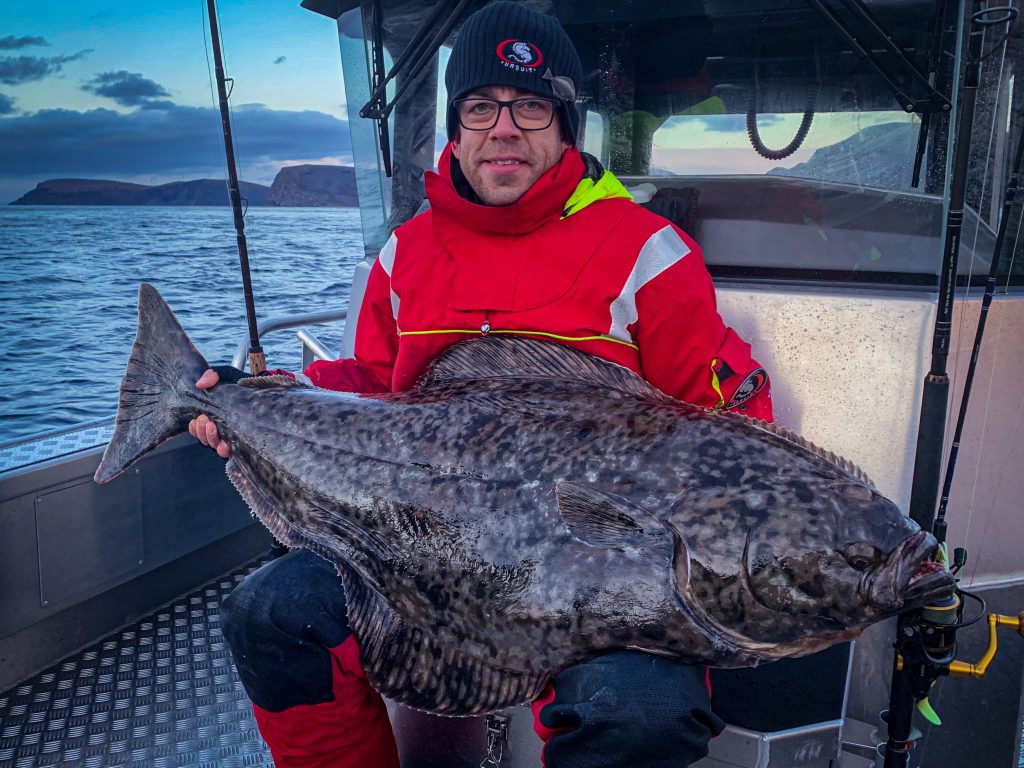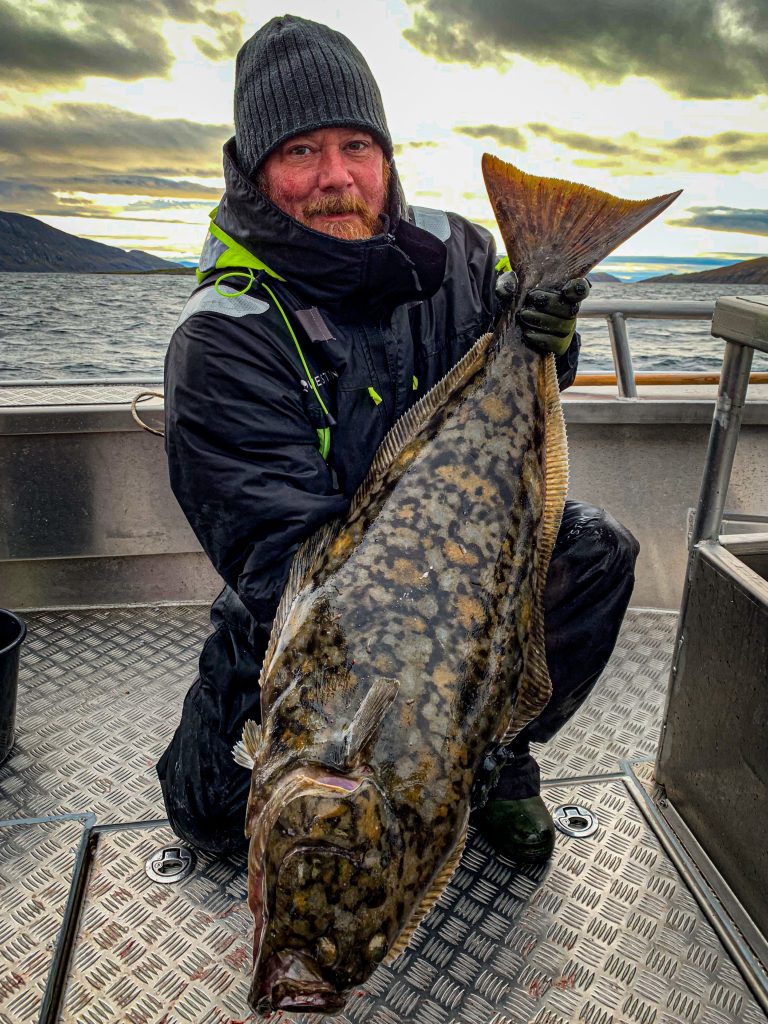 Tuesday seemed to offer pleasant wind conditions, but insanely heavy amounts of rain, most were pumped on returning to the place we got the big fish earlier. We pulled back there and the one boat that drove little different techniques including spin fishing was drifting close to land and found a really cruel spot where there was a lot of fish between 90-120 centimetres and they pulled a good number of fish and that they managed to have a double strike which is really fun and action loaded! It took a while before we managed to hook something but ended up with two nice ones at 114 and 120 centimetres. The guys in boat 8 were the ones who succeeded with the day and when they lay and drifted out over a really steep edge, it thundered in Kenneth's rod and he could after an intense fight in the hard current land his new nice PB at a nice 145 centimetres.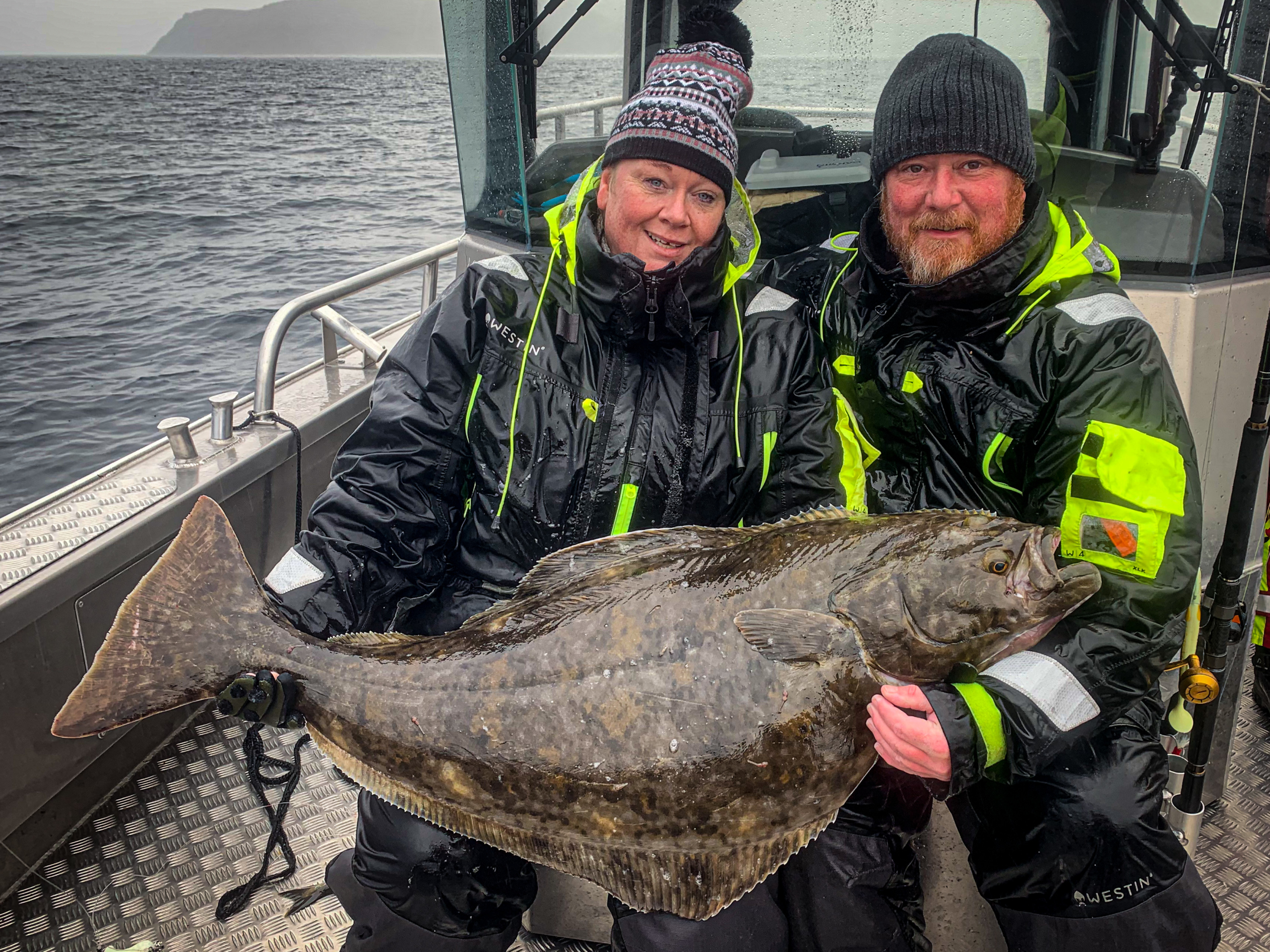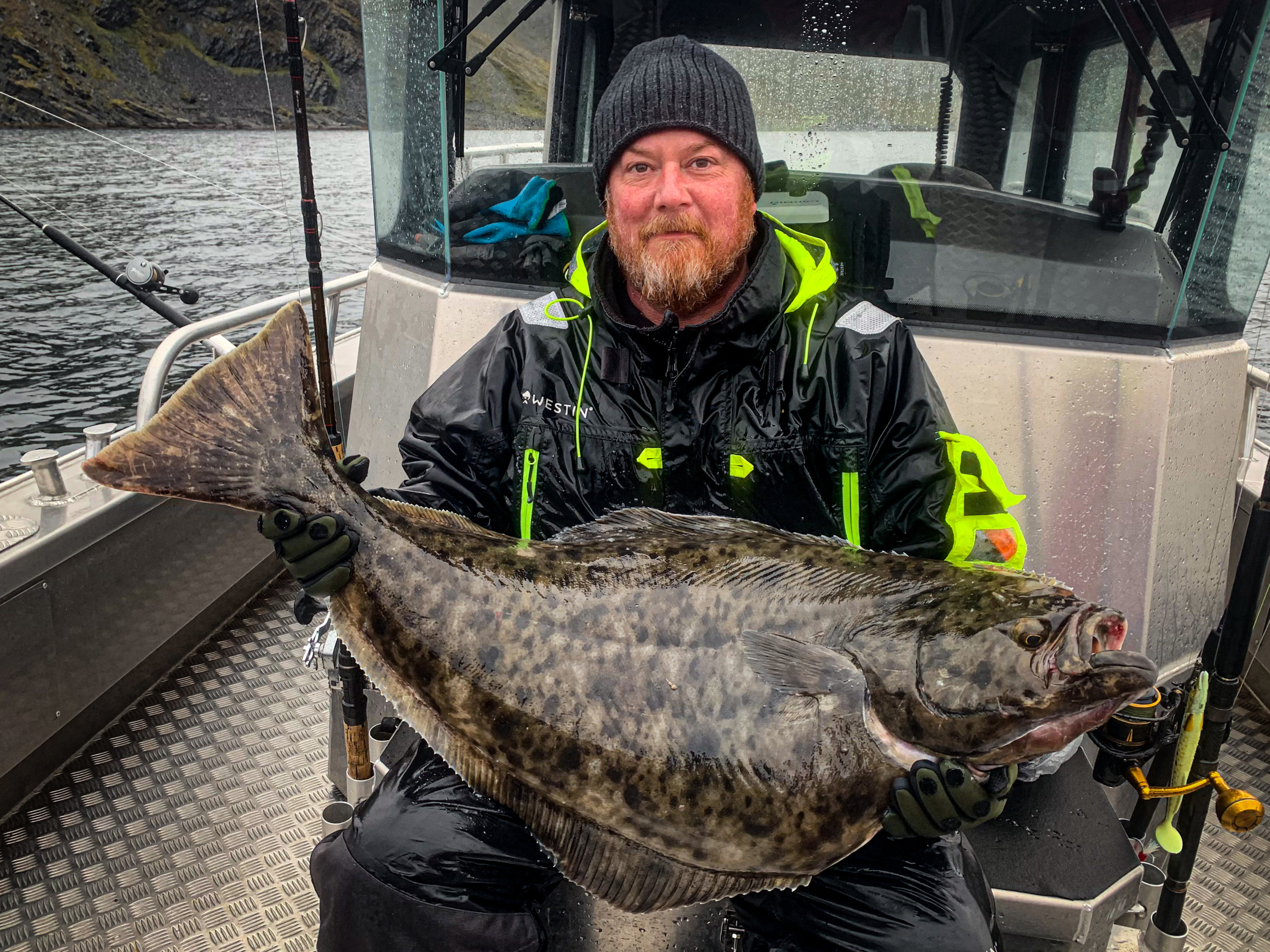 When it was time for the last day of fishing, it was a bit unclear forecasts and difficult to choose a place to fish, but we decided to fish a place fairly close to the camp which this time of year has delivered many really big flounder over the years. Before the current started, we started the morning by fishing in a bay a bit north of the imaginary place, this was Annika happy about when in the first drift it pulled properly in her rod and she hooked in the first Halibut of her life! The day before she had had to take over the rod of a nice fish of 120 centimetres and then had to practice drilling technique so that when she now hooked this fish she had full control of how and what to do and when the fish had messed up a bit after a few rushes, she nicely tied up the fish and we could measure it to a nice 117 centimetres. When the power later started, we pulled down to the imaginary area and started drifting there, it initially came up a couple of smaller flounder of around 90-100 centimetres, but after a few hours, boat 2 hooked in a better fish! unfortunately, it got off quickly and it became quiet between the boats… but really only a few minutes later it burned again for boat 2 and they got a fish that measured a nice 145 centimetres!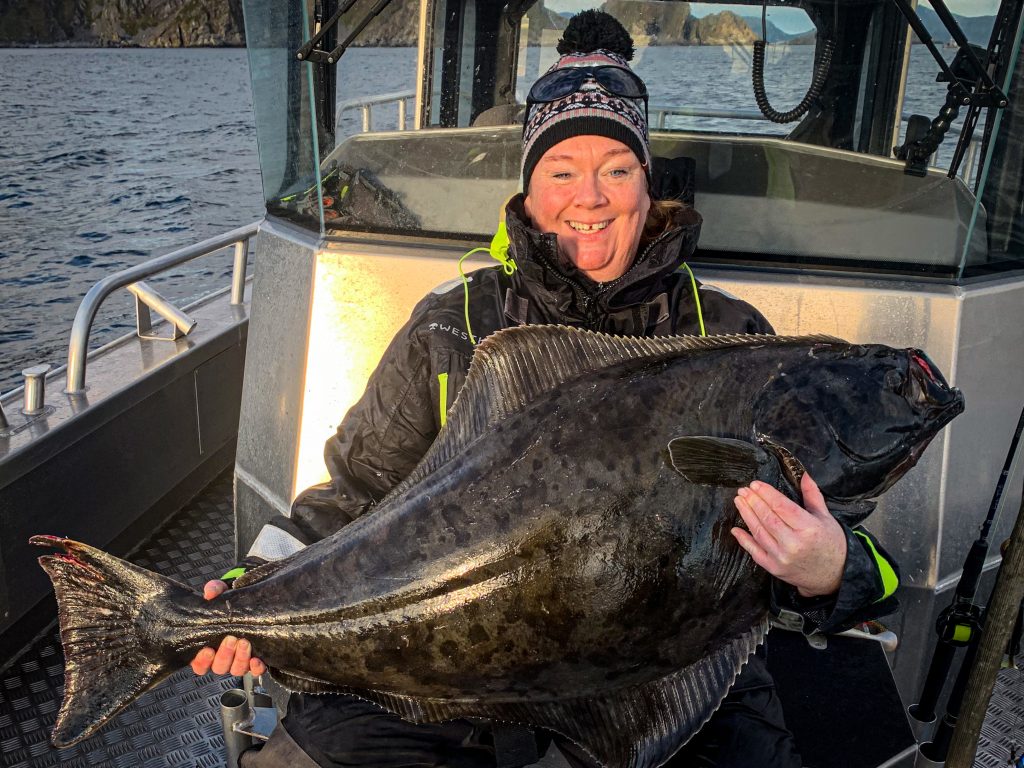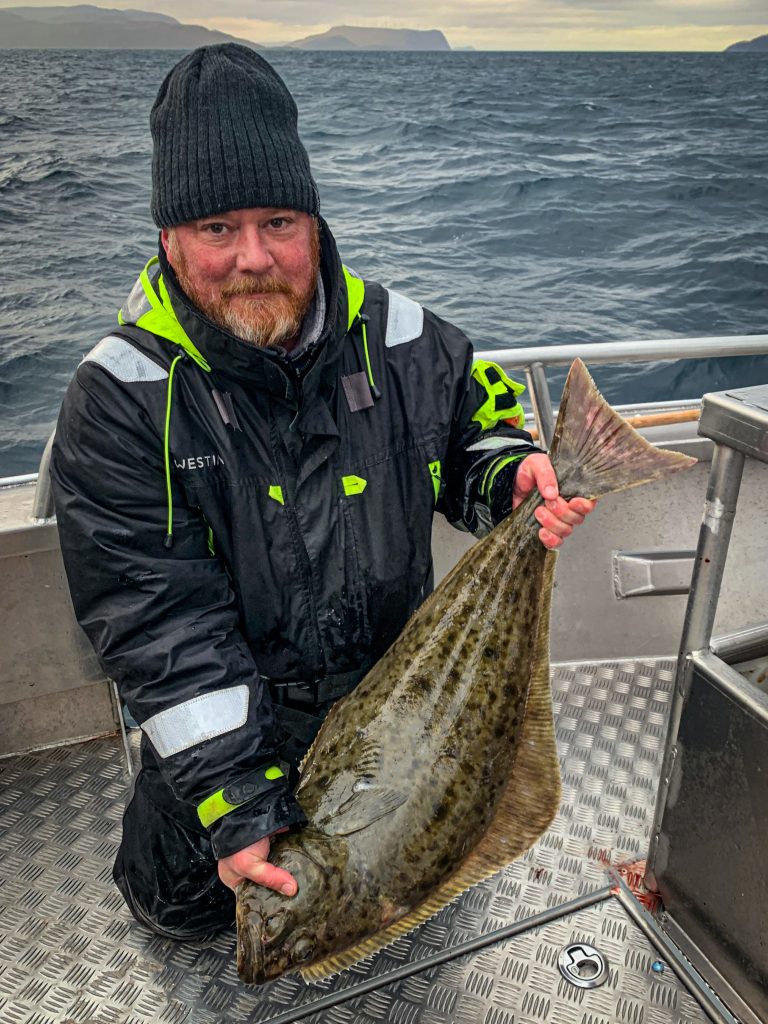 Absolutely fantastic and this was the last fish of the day, in the guide boat we rounded off a really sluggish day for our part with Tord sneaking up a nice food fish of 85 centimetres in the last minutes of the day's last drive.
Sadly, this was the last week for this slightly different season and it's time for me to start packing up the boats. I want to thank all of you fantastic guests that I, despite the circumstances, got to fish with this year and share absolutely fantastic experiences with, and I sincerely hope that next year I will see all of you that I did not get to meet as planned this year!
Tight Lines //
Douglas Dahlberg
Thanks Douglas and more importantly thank you for taking care of the customers we managed to get to you, they all had a brilliant holiday and came back so excited already for their return. We are extremely limited on dates for the 2021 season but we do have a bit so if you fancy fishing Havoysund then you will need to get in touch really quickly. Alternatively, if you would like to book ahead then we are now taking bookings for the 2021 season. Call our office on 01603 407596 or contact us HERE
Tight lines and speak to you all soon