We just got through an absolutely fantastic week here in Havöysund which offered everything you could want when it comes to fishing in northern Norway, changing weather conditions with everything from underpants fishing to whipping winds and torrential rain, Halibut fishing in all its forms as well as magical Cod fishing with big top fish, the finest food fish such as Haddock and other good things. We started the week with the eminent WC competition in Halibut fishing which took place on Friday and Saturday, the 15 best teams from the qualifiers on Friday would then make up in the final on Saturday. We had a whole bunch of boats from our camp this week that entered the competition, the first day unfortunately offered tough weather conditions and the fishing had to be stopped at 1:00 p.m. when it was really windy and there was a risk of a real thunderstorm, however, a number of boats from us managed to get through to the final. The fishing was absolutely demanding and no monster fish were caught, but if you managed to catch a couple of fish over the approved size (82cm), you had a good chance of getting on. In the Guide Boat we had our Englishmen who did not participate in the competition, however there was still Halibut fishing on the schedule and Malcolm who had never before caught a Halibut hook in a good fish. We were going to crank up and lay a new drift and when Malcolm cranked up his Sandy Andy 300g it narrowed halfway up and carried away at good speed, he got to feel the brutal power of the Halibut for the first time and managed to land the fish that measured 138cm!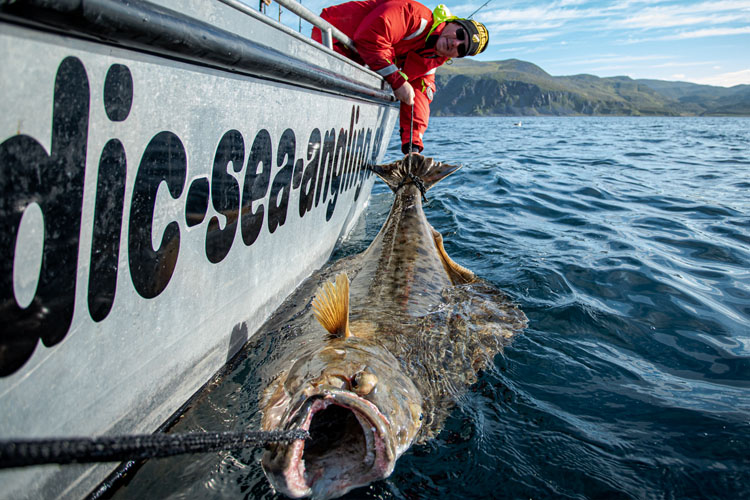 The final day offered really nice weather conditions with no wind and bright sun. This seemed to be our chance for the week to get away on a long trip and most people took the opportunity to reach some fishing spots further afield, the fishing was really hot during the first hours of the day and Malcolm really felt it, as mentioned before he got his life's first Halibut the day before at 138cm… I stopped the boat for the first drift of the day and Malcolm of course continued with his favorite jig from the day before and lowered it immediately, he cranked up two cranks from the bottom and IMMEDIATELY it stopped in the stuff followed by a couple of heavy head shakes, absolutely incredible but 2 seconds into the first drift he already stands with a dream fish on the hook and had to pry hard! The fish came without too much of a messy fight and I was able to land the fish for him on the first try.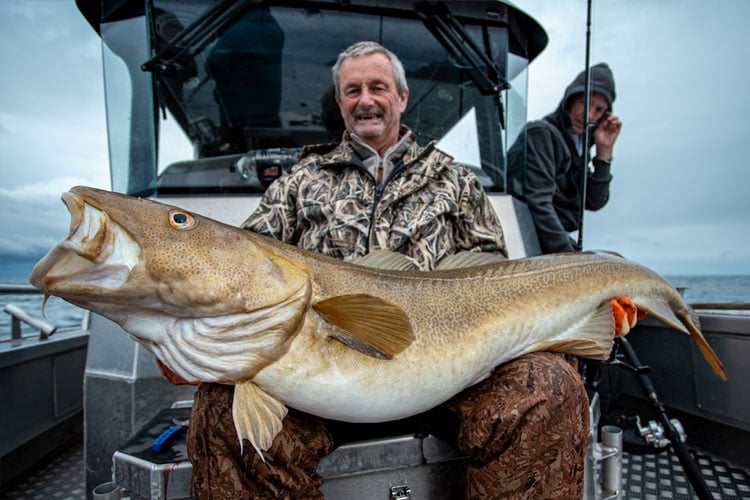 During Sunday it was good for Cod fishing and during the morning the weather would continue to be fine followed by heavy wind after lunch so we went out to the cod banks which had been productive in previous weeks and there were no strange things there. As soon as I stopped the boat, shoals of baits 30 meters high were shown over everything and we were sent down our baits to see if the fat Cod were hungry, it didn't take more than a few seconds before the first nice Cod sat, but a narrow body with a giant skull , but we pushed on and the fish bit like crazy for a couple of hours. We managed to land a whole bunch of fish between 8-15 kilos and after a while it really sucked for Terry who got some really heavy swings in his rod in the 80 meter deep water which he then had to pump up the fish from, the sweat started to flow and finally a creation came up that had really sick proportions and the cod was weighed in at a royal 25 kilos and Terry, who made his fourth trip to Norway, was completely overjoyed for this dream Cod! Soon after, Graeme was up and fishing hard too and managed to fish up another really nice cod that weighed 18 kilos! Soon it blew up strongly and the boys were satisfied so we headed home.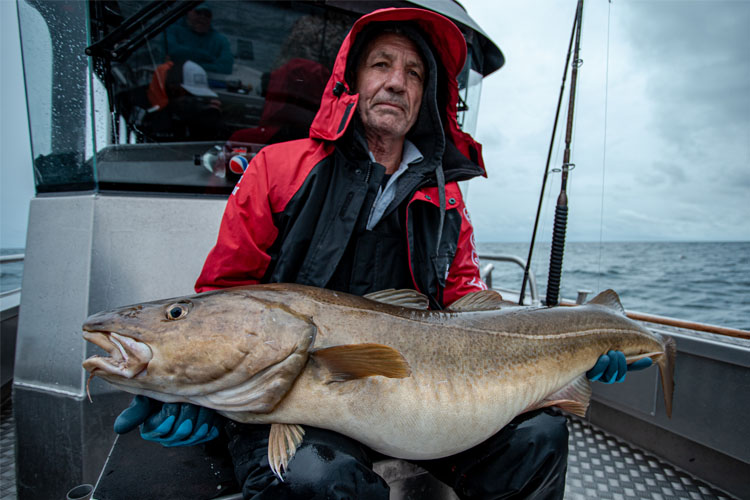 Next day the weather was still tough but if you went out at eight you could get out to the west and then sail home with the waves during the afternoon, some who were tagged in this were the guys in team Joker who went out early to fish on the left side of an island to the west, they went deep into the bays and rubbed all the edges they could find and managed to land two nice Halibut of 130 centimeters and lose a couple, otherwise this was a difficult day where many were only out for a short turn without any results. Michal and the boys went out just outside the camp and managed to find large quantities of smaller Cod, however, when they are busy pulling food fish, something incredibly large steps on one of the rods and Michal immediately understood what it was about, a really fat Halibut!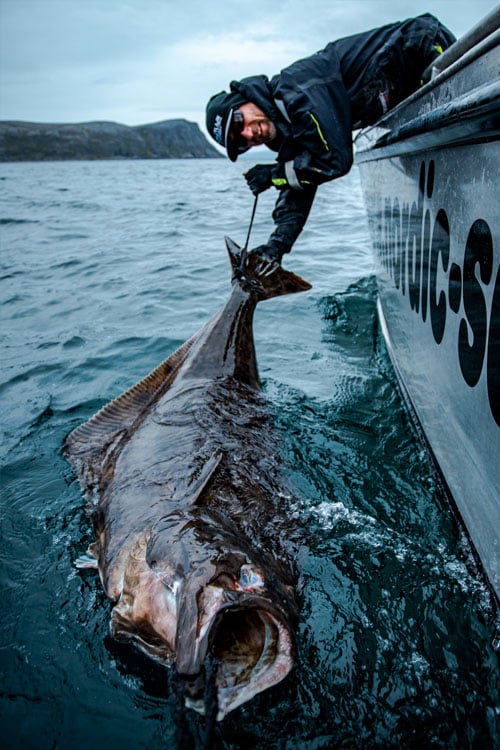 During our last day of fishing, the conditions were finally nice again and it was now time to end the week on a high! I hung out with Andreas and the guys in boat 9 followed by Sune and the gang in boat 3, we went too big and at 05:00 we headed to an area where we had booked a meeting with the big ladies. The area is a real favorite spot and we were all aware that it was a matter of magic or fiasco, but there was only one goal in sight and we were going to hook big fish! After only a couple of drifts, a really fat echo came in on our sonar and I tell the guys that it's a BIG Halibut, it goes right up to Matsson's bait fish and settles so close that it was almost a guarantee that it would take, but did not say the fish and went down to the bottom again and lay down, we started talking about how many times they can follow for a long time and before we even have time to think about anything else Patrik's rod rips away and he sets the fish which immediately turns out to be a heavy piece, we concluded that it was the fish we had just seen, and then we also knew it was fat. In the 3 knot strong current, it took a good while before Patrik got the fish off the bottom, but after that he put good pressure on the fish and managed to lift it all the way to the boat without any turns to the bottom. Instead, I got to offer the eminent robot dance when I landed the fish and the tail walked along the edge of the boat like a madman!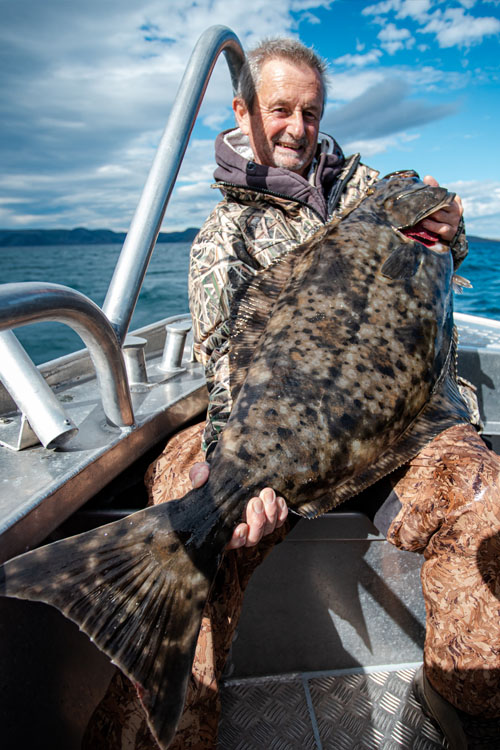 We measured the fish to a nice 176cm and established a new PB for Patrik who, during many trips up here, has well deserved this wonderful fish. Sune and the gang next to him started tagging and wouldn't be any worse they oh went right after in his first fish of the day which was also really nice and measured a full 150 centimeters and Sune who caught it was really happy after several years of waiting to finally get come back up here and pry hard. During the day after, the fishing was more difficult but Daniel in my boat was sharp with the jig and his fun slow pitch rod and managed to pull 3 smaller Halibut with a couple in perfect food size. Towards the next current turn, we found a spit that held fish willing to bite and the boys in boat 3 managed to pull two nice Halibut of 120 and 129 centimeters, which was a fantastic end to the week for them and a good revenge for Björn who had had bad luck with a line break on a good fish during the day…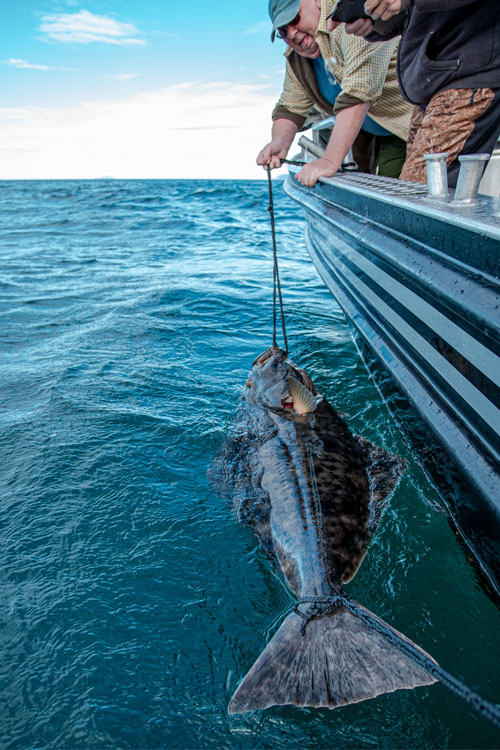 We felt that the week was coming to an end, but after we managed to pull in a Mackerel, Andreas started tagging and got a feeling, I set up the last drift for the week and soon after the Mackerel sucked , but the fish spits, Andreas kept the bait fish down there in the hope that it would catch up and very well it did and Andreas finally got to set the hook in a good fish that offered a completely brutal and messy fight! We landed this one too and measured 148 centimeters and it really put an end to the week in the final minutes.
Tight Lines// Douglas Dahlberg & Andreas Hugsén
CONTACT US
If you, like many others, have ever dreamt about fishing the prolific waters of Havoysund and would like to know more information on how you can join us, you can contact our sea fishing specialist, Paul Stevens, on 01603 407596 or email at paul@sportquestholidays.com.