The past week in Havösyund has offered most of it, and what it has definitely offered in particular is strong winds. The guests got to experience what it's like when it really sucks out at sea and the first 3 days were only spent just outside Havöysund on the west side as the winds were locked from the north east the whole time and never seemed to let up. So with incredibly few places to crowd, it was a spot that actually delivered some nice Halibut catches during those days, when it was not possible to get out into more open sea, so we were close to the coast and fish for Halibut.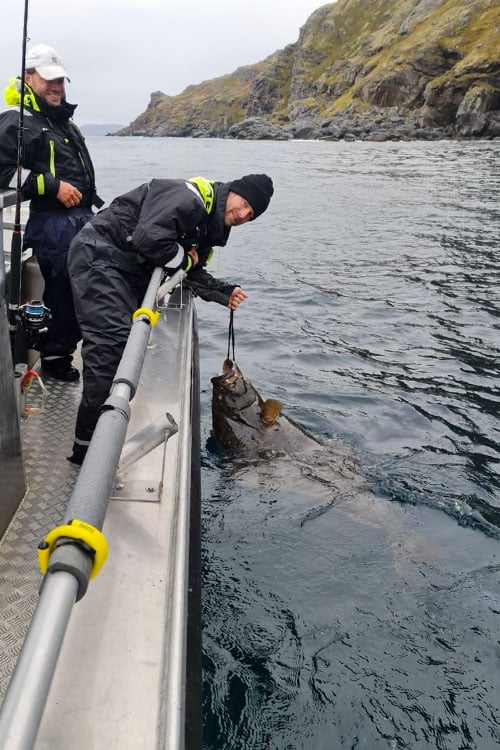 Boat 5 managed to poke up a whole bunch of Halibut up to 130 centimeters which was a really good job, and in the guide boat it was a really rough start when on the first drift of the week they managed to catch a double blow and it was Hans and Domas who each got to pry a nice Halibut and Hans with the biggest one of 105cm who got to take home in the box. There wasn't any further mega action in the bad weather, we were hiding from the wind, but on Monday when we finally got away reasonably, things happened. We were finally able to go out and fish a little better and as the winds were from the north there weren't many sensible options but to continue chasing Halibut. The area we drove holds a lot of big fish at this time and it didn't take long before boat 5 was up and running with a nice fish of 145cm, then when they were in deeper water and sent down a jig with a hook on it to pull some small fish, then it got really close and a long fight on light equipment and a fragile hedge began.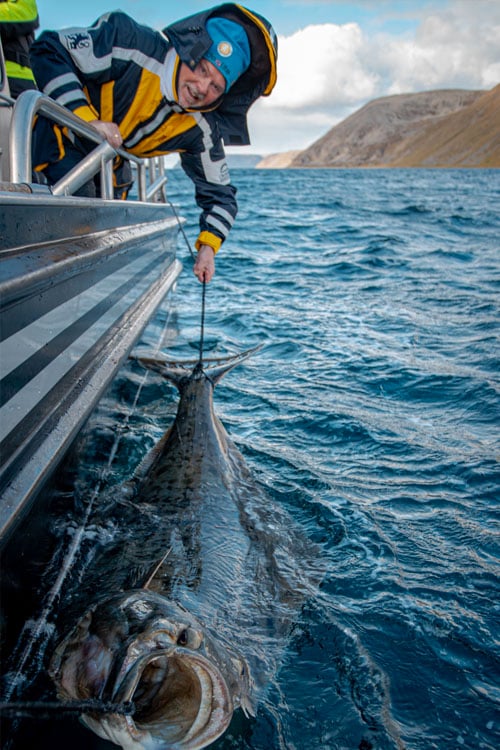 Once they managed to get the fish all the way up, they realized that it was easily over 150 centimeters but they didn't dare to try to land it as there were 5 swinging hooks above the fish, but at the same moment the fish turned suddenly and the hook narrowed. The Dutch in boat 10 succeeded and well this day with their darts and managed to pull 4 Halibut up to 157 centimeters which was really fun. I steered the boys in boat 6 and between the currents I was in shallower water and then we found a spot where we pulled a bunch of smaller Halibut of 80-90cm with more contacts, which was also fun after three rather quiet days.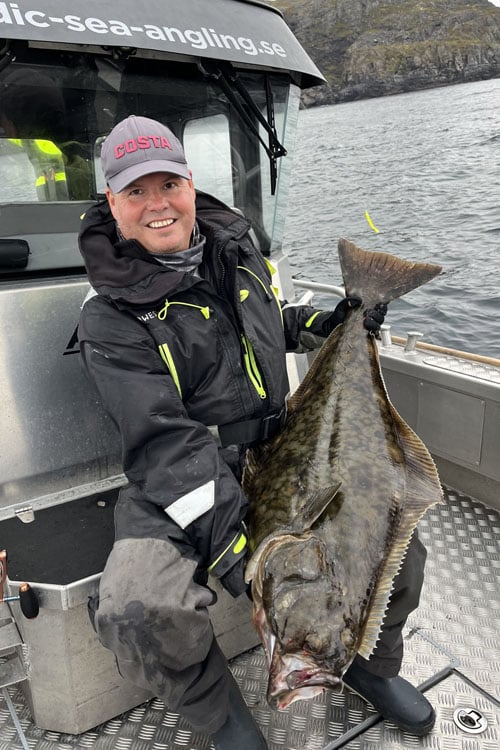 The following day there were some who were off on a big Halibut hunt when it was finally possible to get away. The guys in boat 9 had a great day and after catching a nice Halibut of 145 centimeters during the day, they made a stop halfway home and in a wonderful way they managed to cut another great fish of 154 centimeters. The guide boat was also running and after having a mishap with a really big dropped fish on line break, it was Johan's turn and when he felt his jig just disappear, he put a really good counterstab in a fish they offered a cast abrupt stop, but with a hard brake and full power, he rescued the fish without any major problems and they were able to measure Johan's fine Halibut at 175 centimeters.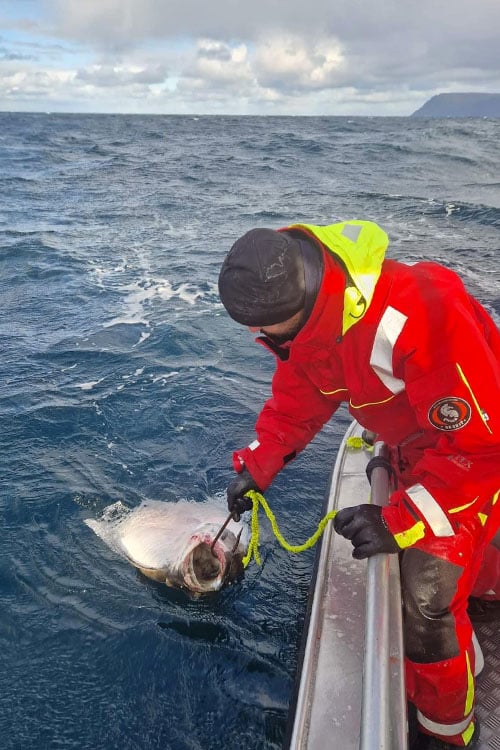 The last day of the week brought tough southerly winds and a really heavy persistent rain, it didn't stop us from fishing and boat 6 pulled the trigger this day and offered a great fish of 155 centimeters which rounded off the week. Despite really tough conditions, some really nice fish were caught and it just shows that autumn fishing is really hot and that if you fight, the reward will come. Now we're really busy for another week with the batteries charged to bang up some really fat ladies!
Tight Lines// Douglas Dahlberg & Andreas Hugsén
CONTACT US
If you, like many others, have ever dreamt about fishing the prolific waters of Havoysund and would like to know more information on how you can join us, you can contact our sea fishing specialist, Paul Stevens, on 01603 407596 or email at paul@sportquestholidays.com.