Well, it's the start of yet another week at Nordic Sea Angling camp called Havoysund and this week Douglas welcomes our second fully hosted week, guided by himself and our very own Ross Johnson.
Douglas has been working really hard to find some great Halibut marks up at Havoysund and by the sounds of the insane fishing that nearly all customers are experiencing, he has found the mother load and they just keep coming. I will hand you over to Douglas's first report from Week 2 of our fully hosted Havoysund trip of 2020:
Havoysund Halibut Kingdom of Northern Norway Fishing Report 18th August
Then we started a new week in Havöysund and oh what a good start the guests got. The first day, it was promised "decent" good weather, so we headed south to an area where the wind would not be so strong, but the weather turned out to be magical when we arrived and the water looked like a mirror! The idea was that we would run a really good amount of Halibut fishing so everyone got warm in their clothes and catch fish as we had extremely tough forecasts for the week with 15 m / s wind almost every day and that no one in the guide boat had ever caught a Halibut before. We fished an area where fishing is usually really cool in shallow water this time of year and it is also not uncommon to come across some really big fish deep in the bays there either!
Initially, it started to explode in the rods right away and the Halibut was completely mad at the small baitfish that we lowered, and our sandeel imitation jigs that we spin fished with were massacred. The first spot was a place where there is usually a fairly low average size of the fish but still sick amounts, so after 2 hours of fishing there we had landed in the guide boat 14 fast fish between 80-110 centimetres and the guests were lyrical about what action it was and that even though the fish were not huge but up to 15 kilos, they fought really well. So I decided that we would go down to a bay that was untouched for so long this year and there are usually really nice fish in shallow water, as soon as we got the stuff down in the new bay we caught back to back 3 fish of smaller size out on the 20-meter edge.
When we have worked our way into the 14-meter curve, I crank my little 150-gram jig and bounce it home along the bottom, when the jig is about 20 meters from the boat, it takes with a huge slam and I instantly know it's a big fish. When you hook into a big fish in shallow water it is hectic and there is a lot that can go wrong very quickly. After standing still and offering some heavy head shakes right under the boat, the fish then decides to rush away on a huge run across the whole bay and we had to drive after the fish at good speed so as not to get too much angle. Of course, I wanted to share the fantastic experience of playing the big fish in the shallow water so Neil took the rod and continued the fight so I could hold the boat and get ready to land the fish.
Neil had to lift the fish and I saw it in the mirror-shiny water several times. Time and time again the fish turned and rushed away from the boat. After a while, Neil tightened the gear and we wore out the fish so I could easily secure the fish and we measured it to a nice 166 centimetres! A real giant fish that was hungry for a tiny little 150 gram Sandy Andy, one of the most fun fights I was in. The fish had to swim back and we continued fishing on the shallow water, deep in the bay at 10 meters we found another collection of fish and after losing a large fish we pulled 3 nice fish of around 115 centimetres.
After a while Michal got in touch with me, he was still on the first mark but they had started fishing a little further out on the edge and found sick amounts of baitfish of between 45-60 meters and below that one boat had pulled 5 Halibut between 130-145cm in a short time. This sounded really sick and since we had worn down the small bay we went back to that area to take part in the nice fishing they had had. I stopped a little further south on the edge from the other boats and found as promised sick lots of Coalfish, after pulling up some nice baitfish in the larger size, we dropped down and it did not take more than 5 minutes before Mark hooked in a Halibut of good size! The fish stood and moaned but he put pressure immediately and pumped up the fish from 50 meters without the fish facing the bottom once. After a rather undramatic but heavy battle, I was able to land and measure a really nice fish and new PB to Mark at a full 141 centimetres.
The first day was very successful and everyone in both the guide boat and Ross boat got their first flounder, this was very good because now we have been terrorized by strong winds that promised yesterday and today, but luckily they promise better conditions the last 2 the days so now we drive again!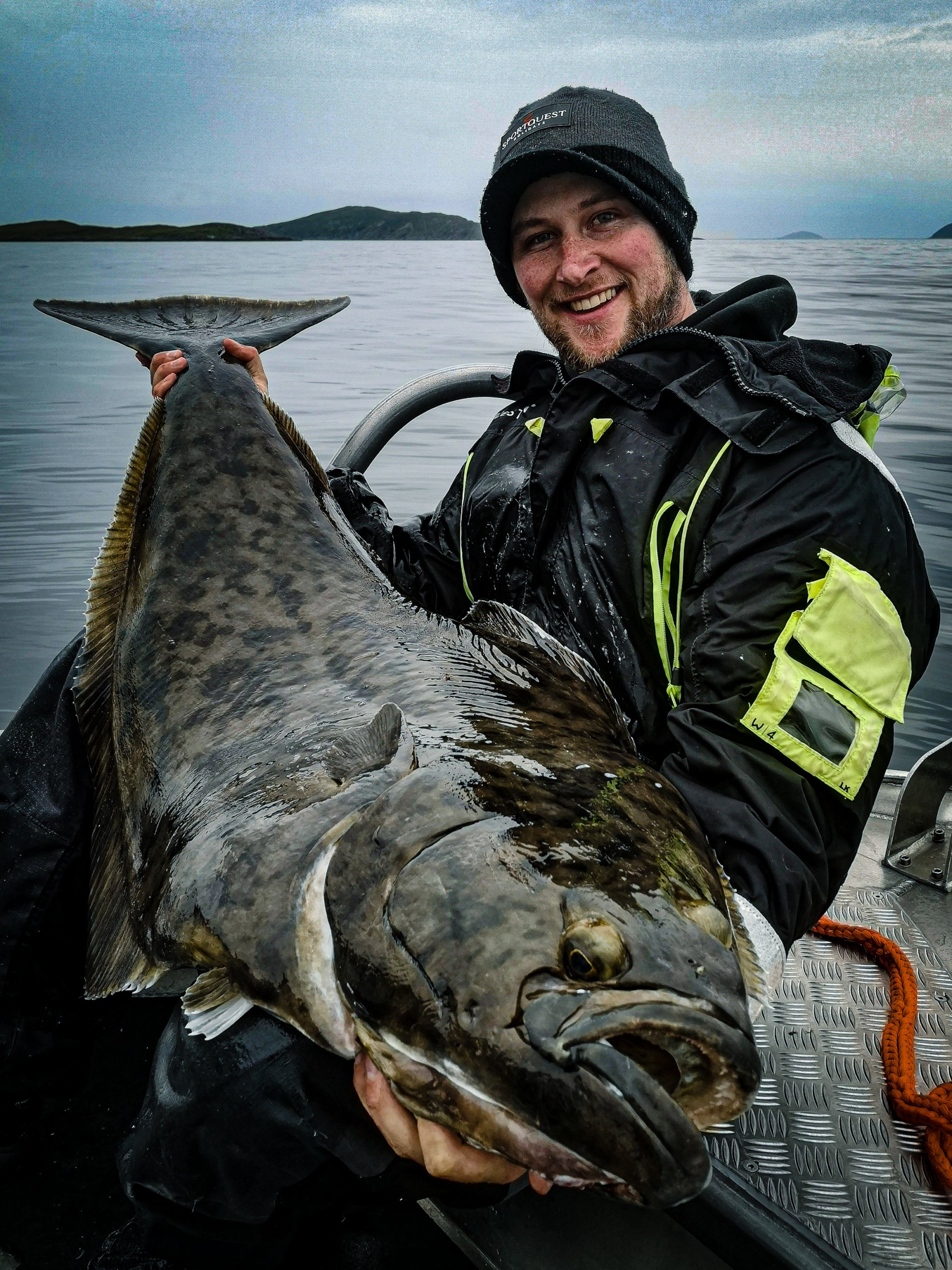 Tight Lines // Douglas Dahlberg
Douglas, I am not at all jealous and really wish I could witness this awesome fishing. It will have to wait until next year for me. If you are sitting here reading these reports thinking to yourself why this couldn't be you, then all we can say is "it can be you" all you have to do is contact us on 01603 407596 either with a group of friends or solo and we will put you in the right place at the right time.
Havoysund is the place to go if you are looking for sheer numbers of Halibut all you have to do is look back over the last few weeks and read the reports.
Tight lines,
Paul