My last trip for 2022 has just ended and what a trip it has been. From the moment we arrived in South Africa, to the moment we waved goodbye, it was just a superb experience and one that I could not recommend highly enough. Here is how it went down.
After a 36-hour journey which saw us transit through Dubai and Johannesburg, we finally arrived in Port Elizabeth, where we were met by our guides and hosts for the week Gerhard and Wallie. From here it was around a 40-minute transfer to Jeffrey's Bay and the Seashells Apartments, our home for the week. Arriving late in the evening, most of us had planned for an early night, but Gerhard's wife Sonya had other ideas, serving us up a lovely home cooked Lasagne, which went down an absolute treat. A plan was then made for the week before we all went to bed.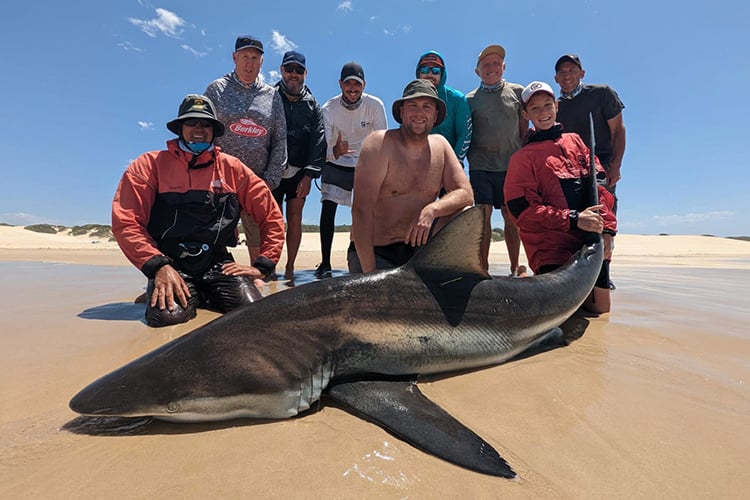 Day 1:
With the wind and swell conditions not in our favour, we started by heading to a beach just down the coast. This was a perfect kick start to our week and only a short walk from the car to our fishing spot.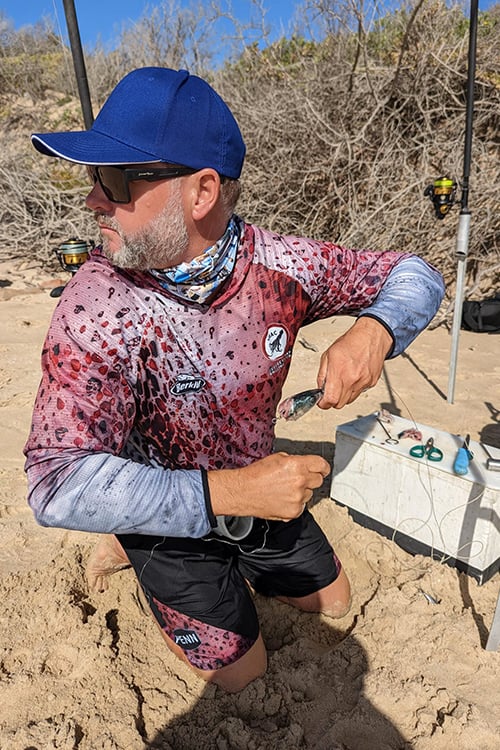 This day more than anything was treated like a welcome day, so whilst on the beach, we learnt all about the rigs we were going to be using, how to bait up those rigs South African style, how to send a slider out effectively and of course we caught a couple of fish in the process.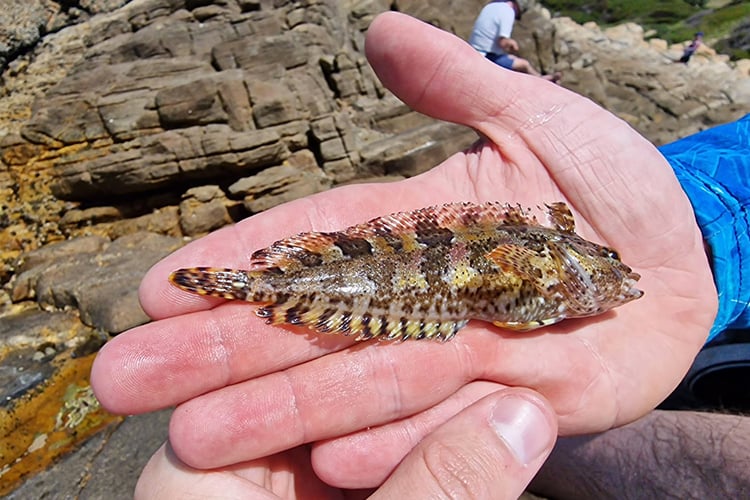 Around midday, the bites stopped, so we moved to a nearby rock mark. Though the bigger fish never showed up for us on this second venue, we did have a lot of fun with LRF tackle, catching a few of the local mini species as well as handfeeding some of the local wildlife in the form of a sea otter to, which was very cool. We rounded off the day perfectly with a local Braai (BBQ).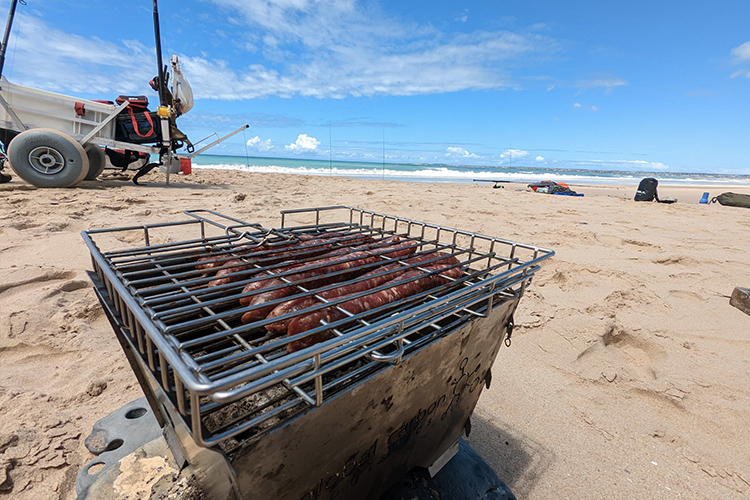 Day 2:
An early start was on the cards to make the most of the good morning conditions, so at 04:30am, we were out of the door and heading for our first venue. This venue was quite different from our day one spot, being a mixed ground area situated between two reefs. Gerhard had said that this was a perfect mark to target Ragged Tooth Sharks or Raggies as they more commonly known. These predatory giants love patrolling the reefs looking for un-suspecting prey fish and the coloured water caused by the day one stir up was perfect feeding conditions for them.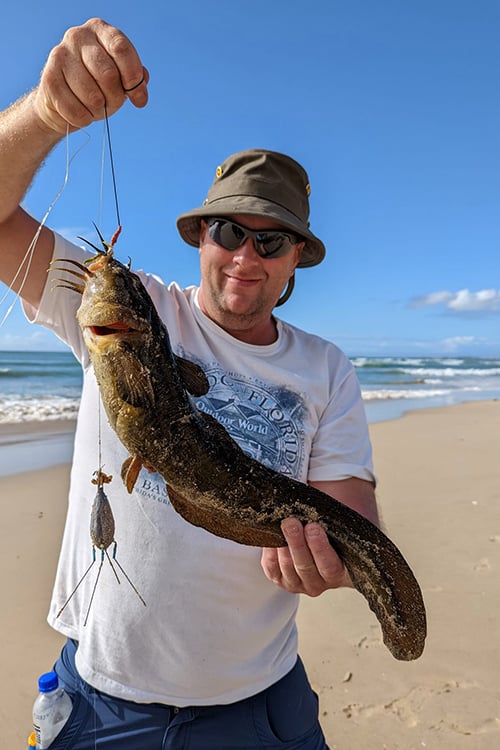 As well as the Raggies, we would also have the option to fish lighter tackle on top of the rough for various reef species such as Black Spot Bream, Musselcrackers and even potentially Kob.
First cast went out shortly after 5am and it was not long before one of the rods was showing signs of action. Small rattles soon turned into a full-on rod bender, but unfortunately the lead had got stuck in the reef and the fish spat the bait after feeling the additional pressure. A second bite soon followed though and our first Raggie was beached by Mark…..a fish of 40-50lb. This action continued for around 3 hours, with at least one bite per cast. By 9am, four of the guys had landed their first Raggies of the trip, with the best fishing being taken by Russell Morgan at 89lb. A few smaller species such as saltwater Catfish and Black Spot Bream were also caught on the reef.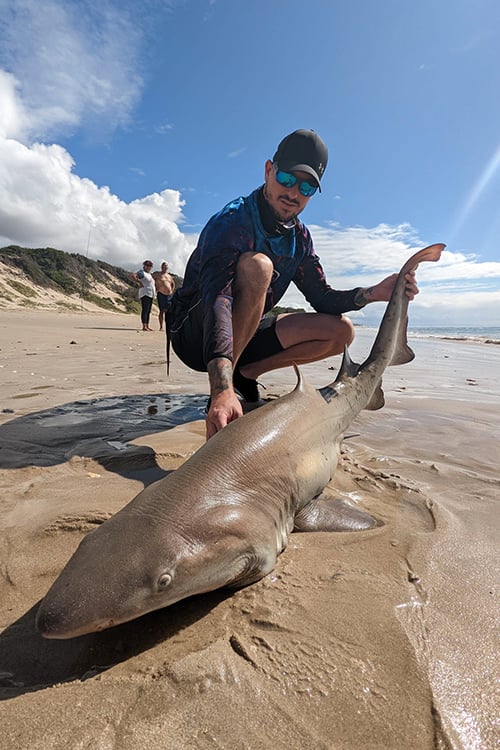 At 10am, we switched venue to see if we could find our first Bronze Whaler of the trip, but aside from one small fish that was lost in the surf late on, it was a quiet afternoon. Mark was the only man that managed to catch a few fish in the end, in the form of a few Sand Sharks and a Spotted Grunter.
Day 3:
We had two options on day three, which were to return to the Raggie mark, or try a different beach further along the coast for Bronzies. Since we had already seen some success on the Raggies the previous day and with two members of our group yet to catch one, we thought it would be best to stick to what was working. It was the correct decision to make too, with the first fish of the morning being an absolute belter of a Raggie of 326lb for Nick Peat, one of the best fish that Gerhard and Wallie had seen from this venue!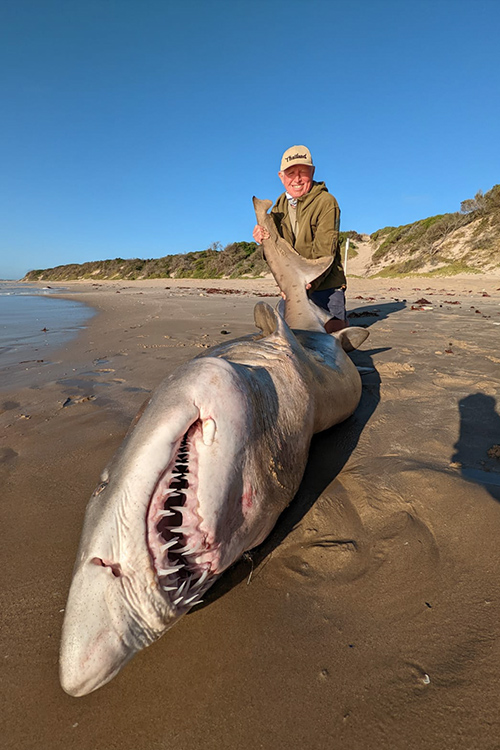 As the morning progressed, some of us set our sights on the reef species to get a bit of action. Mark, Tom, Russell and I in particularly were keen on this method of fishing and successfully managed to land a good variety of fish between us, which included various Bream species, another catfish or two, a bluefish (Shad) and a couple of the hard fighting Musselcrackers. Some of our catch went back out as live or dead baits, which resulted in Russell Weller catching a Raggie around the 50lb mark. This fish ensured all members of the group had ticked that one off their lists.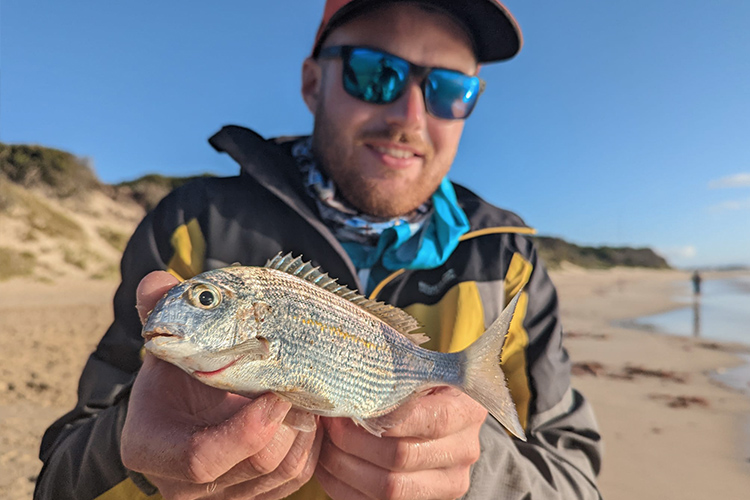 By 09:10, the wind had started picking up, so we were forced to move to another location nearby, a beach from which Gerhard had predicted we would catch a ray or two. Things started perfectly, with a nice Butterfly Ray on the first cast for Mark, but the weather deteriorated fast and became a bit too much to continue. It would be the last fish of day three.
With the fishing done for the day, we had the chance to get a few hours of much needed rest before the evening entertainment would begin. Gerhard had something nice lined up for us, which would include a beer tasting, large platters of food and some pool action. I must say it was a very enjoyable afternoon/evening, with good banter flowing throughout. In the pool tournament, Team Wales dominated play for much of the evening, but when it really mattered, Shane, Russell and I came to the front and showed them how it is done.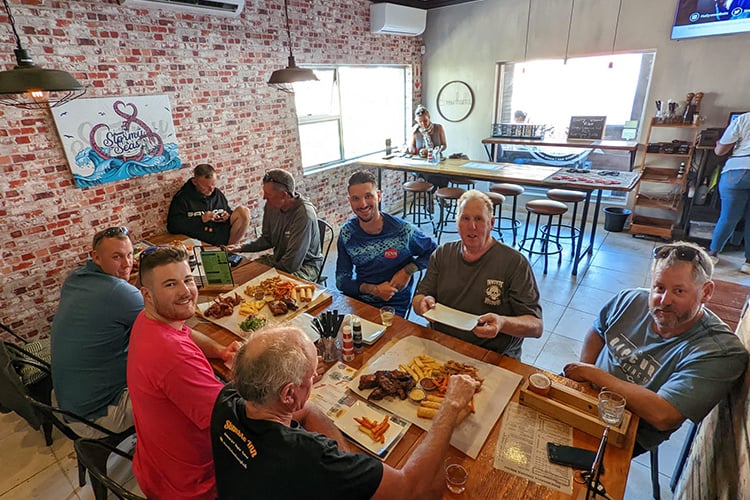 Team England were champions! The South Africans could not handle the heat and certainly require practice before our next visit!
Day 4:
With the wind switching to the West, the conditions had drastically improved for the morning of day four. Finally, we could fish at Gerhard and Wallie's secret location to the East….one which excited the guides as much as it did us and would give us the best shot at some big Bronzies.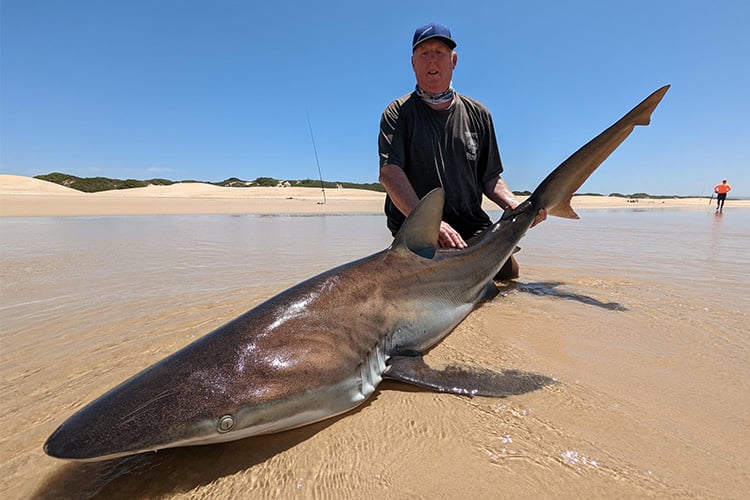 Sticking to the 04:30 starts, we were on the beach and casting the first baits shortly before 06:00am. Once again, action was fast, with the first hook up coming 20 minutes into the session. Little did we know it at this point that it would turn out to be the start of three days of mayhem.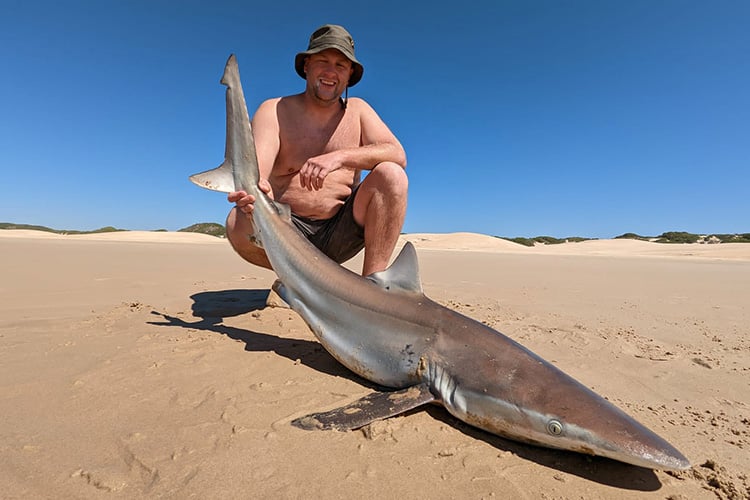 On this particular day, we fished hard until around 15:00, landing six Bronzies, which included three smaller fish of around 40-50lbs, a 130lb fish for Russell M, a 240lb fish for Marc and the best of the day, a 260lber for Shane. Also beached, were three nice Butterfly Rays (Diamond Skate) up to a best of 91lb for Nick, a handful of Guitarfish (Sand Sharks) and a Smoothhound of 45lbs for Russell M.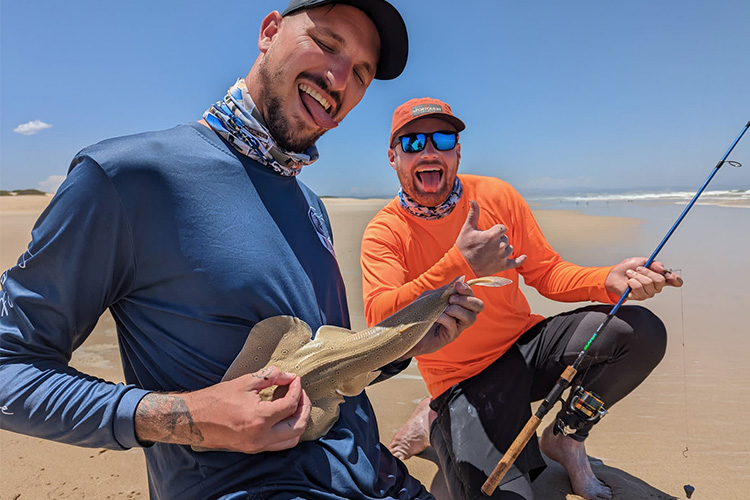 Then, on top of the fish we landed, we also hooked and lost at least four more big Sharks, some of which could well have been Great Whites….scary stuff when you have been wading chest height in murky water!!
Day 5:
Similar to day four, we hit up the beach at around 6am. It was noticeable that there was a lot more colour in the water on this day and Gerhard had said that this would result in a few more Ragged Tooth Sharks being landed. As he had been all week, he was spot on, with the first two hook ups of the day being Raggies. One of these looked a real big, heavy fish, but unfortunately its violent headshakes during the first 5-minutes of the fight had managed to bend out and then break the 10/0 circle hook. The other much smaller fish was landed by Russell W with no trouble whatsoever.
Mid-morning, the Bronzies came back on the feed in numbers. First to hook up this time was Shane, horsing in a solid fish of around 100lb in just over 15 minutes! Then it was chaos, when three massive fish were hooked up at the same time. Russell W, Russell M and Nick being the lucky anglers. Sadly, two of the guys lost their fish after fights lasting well over an hour. Absolutely gutted for them, but one fish remained hooked up. We knew full well it was going to be a huge fish, as Russell was struggling. To save his back giving in, he rightly passed the rod on to Tom a few times to give himself a well-earned break.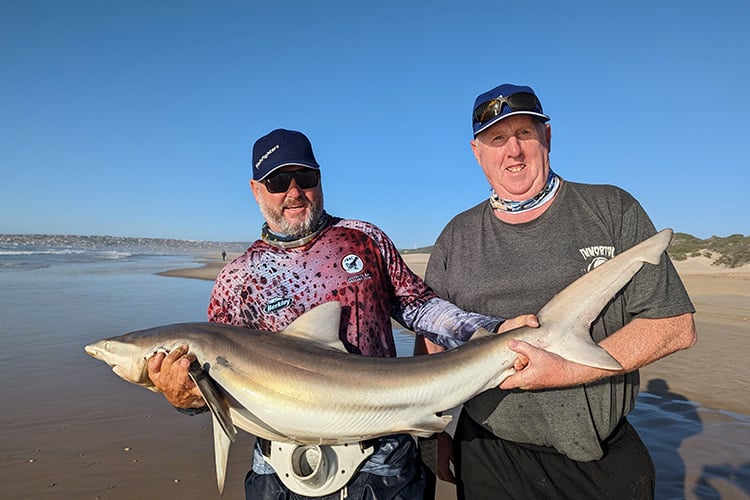 After 2.5hrs, the fish finally graced the beach, a monumental effort by both anglers. It was colossal too, measuring 221cm from tip to base of the tail. This gave the fish an estimated weight of 340lbs….what a belter!
Towards the high tide and as the morning was nearing an end, the weather began to change. Some fierce winds started to funnel down the beach and a big swell started to roll in.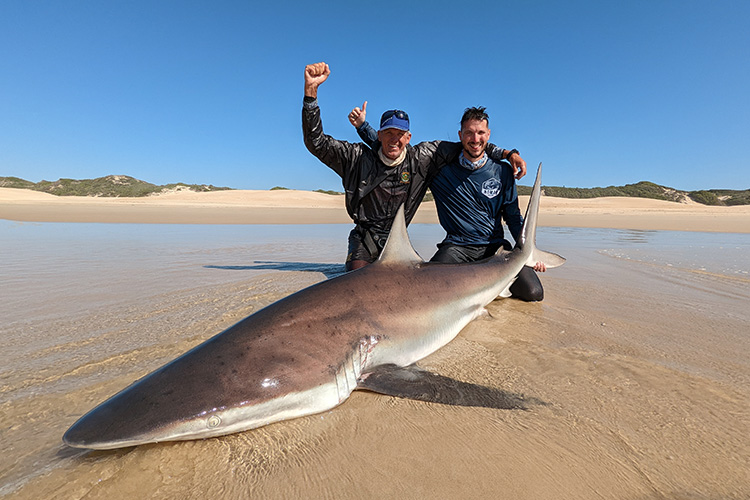 This made fishing much more difficult, but there were a few more fish to be landed before the session was concluded. Namely another Raggie of around 80lbs for Marc, a smoothound of 35lbs for Shane and a Dusky Whaler (Grey Shark) for Russell W. Bigger Bronzies were also hooked and lost by Tom, Nick, and Russell W.
Final Day/Day 6:
Our last day in South Africa was another one to remember…for most at least. We had decided amongst ourselves that the three lads that had not landed a big Bronzie already, would have priority on the rods, should a big one be hooked up again of course. If a smaller fish were to be hooked, we would continue with the original order.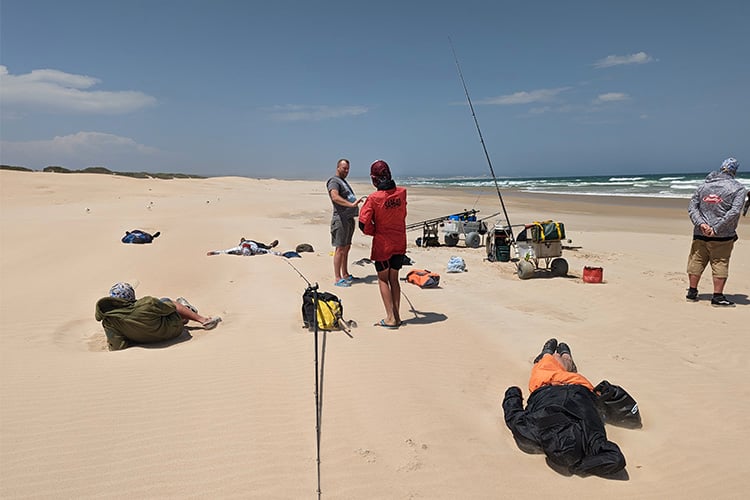 As so often is the case, things did not happen as we thought they would. The first four hook ups of the session were from a species we certainly were not expecting…. Hammerhead Sharks! Whilst not monsters, all being in the 30-50lb size range, they didn't half give the lads a run-around, stripping line off from the instant they were hooked. A brilliant way to start the session!
Then came a bit of a quiet spell, the first we'd had for a long time, but I'm only talking about an hour or so at the very most, because at 9am we were back into sharks. Small ones at first, with Russell W landing a Dusky Whaler, Russell M landing an 80lb Bronzie and Shane landing a 40lb Bronzie. But by 11:00am, the bigger Bronzies were back.
First on was Nick, landing a lovely fish of 135lbs, his biggest bronzie of the trip. Then another triple hook up with Russell W, Tom, and Marc all getting locked into battle. Once again though, two fish managed to escape the hook, with just Marc managing to beach his fish…. another cracker at 280lb (208cm from tip to fork). This was his second big fish of the week and one he certainly deserved, after fishing with his own rod for most of the latter half of the week. Well done if you're reading this buddy!
Early afternoon, a few more smaller fish graced the beach, including Bronzies of 40lb for Russell M and Russell W, and a nice Raggie of around 80/90lbs for Tom. Two more big fish were hooked up and lost as well by the two lads that were yet to land their own beast. Things just were not going their way and I must say, it was through no fault of their own. There was just that many sharks out there at times, that fish that were not hooked were swimming through the lines and busting us up/biting us off way up the leaders.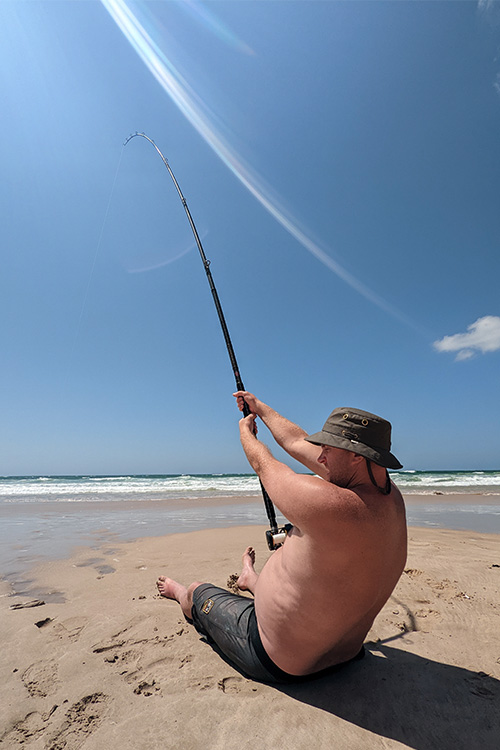 As the session was nearing an end, it was starting to look as though Russell W and Tom were going to miss out on landing their own big Bronzies this trip, but positivity was still high amongst the group. Baits were getting thrown out left, right and centre, with some expert work by Gerhard and Wallie resulting in one final double hook up. It was now or never for the lads and we were nervous just watching on. As both fish screamed off in different directions down the beach, for me it was a back-and-forth jogging session to see how the lads were getting on.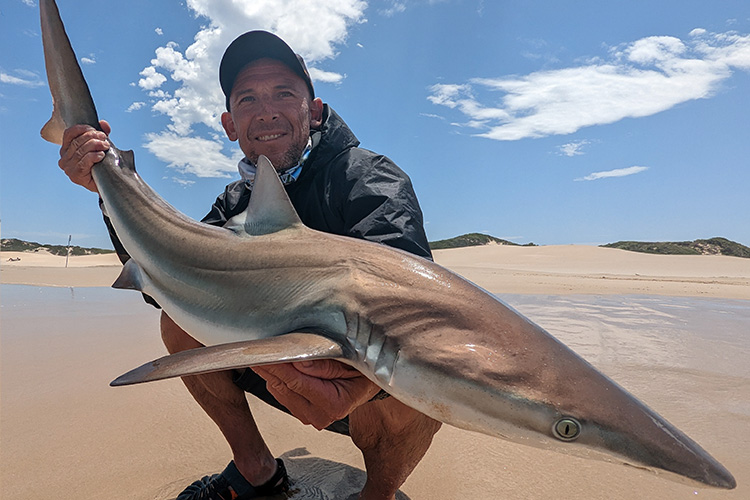 After 1.5hrs, we finally got sight of both fish in the surf. It was looking good, but Tom's fish had other ideas and headed back out to sea, emptying a good 200m of line off his reel in the process. Russell W dug deep and held on tight as his fish cruised closer and closer. Finally, after just shy of two hours his fish was landed, another beauty of 260lb (204cm from tip to fork). He'd worked his asse off for that fish and we were all so chuffed for him.
Tom in the meantime was still pulling like a trojan, and got his fish back into the surf for a second time before disaster struck once more. None of us are entirely sure what happened, but the leader had gone 4m up from the trace. It just wasn't to be for him on this day, but I know he's keen for round two soon.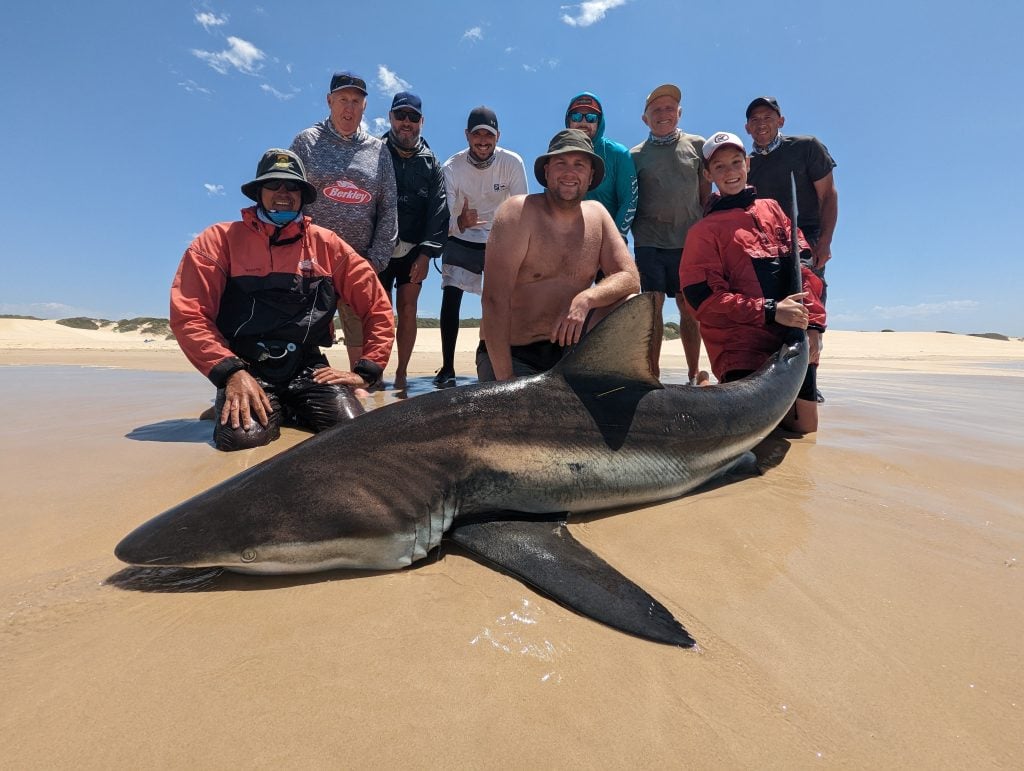 Although it ended on a low for one of us, what a trip it had been. The action we saw from days 4-6 was just incredible. I doubt I'll ever get to see Jeffrey's fish like that again, but I know each time we come here in the future, it'll be a great experience. Some rest time for me now, with no official guiding until March 2023. So, I guess I better end this by saying have a great christmas and new year folks and hope to catch you and plenty of fish in 2023!!
Tight Lines,
Ross Johnson
CONTACT US
If you like the idea of doing battle with a big Bronze Whaler from the shore, then check out our hosted Jeffrey's Bay tour. If you'd also like any further information, you can contact our shore fishing specialist Paul Stevens on 01603 407 596 or email at paul@sportquestholidays.com.