We are constantly pushing the envelope looking at new and exciting destinations that will appeal to anglers worldwide. With that in mind we have been looking for shore fishing destinations that will offer the potential of enormous fish to be caught from the beach. We knew Norway was the go to place for anglers wishing to go beachfishing and with that in mind we knew there was only 1 place to look into and that place was the famous Lofoten islands in Northern Norway. With its imposing mountains and vast fish filled waters we hatched a plan, that plan was to head to a very likely looking area and test the waters to see what we could find. We had the flights booked, the accommodation sorted and the tackle ready now there was only 1 thing for it and that was to fly out and see if we could find the fish.
The day of the start of this piscatorial adventure had arrived, was I excited, well of course these waters are virtually untouched from the shore and heading out there to do what we were about to do was a shore anglers dream. Arriving at Gatwick airport I was soon settled in departures waiting for my first flight which was taking me to Oslo, this short 2 hour flight then had me catch a connecting flight to Bodo which at another 2 hours meant that in no time at all I was soon sitting in Bodo Airport, snow covering the ground outside waiting for my partner in crime Ross Johnson to arrive for our final 20 minute hop on a small prop plane to the airport of Leknes on the Lofoten Islands. I sat staring out of the window at the cold arctic conditions that Bodo was bound in, snow was falling and 2 big de-icers were out beavering away preparing the departing flights to get around airbound. Ross then appeared around the corner and we sat talking all things fishy for the next half an hour before our plane was called out and we boarded this last flight heading off the land of monster fish.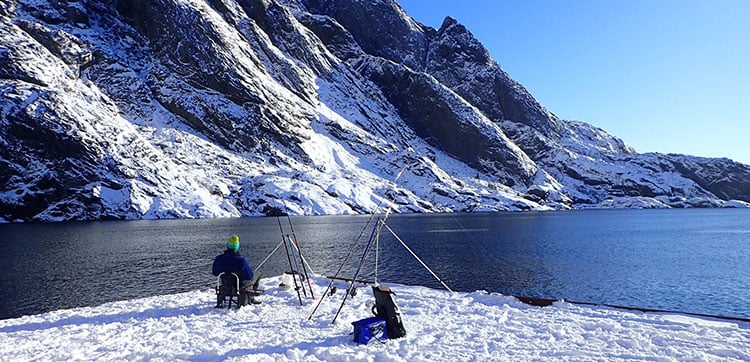 20 minutes later we touched down at Leknes and as we made our way through into the baggage reclaim. We were both happy to see our rod tubes sitting on the belt waiting for us, these were very quickly followed by our luggage. We then made our way outside to be met by one of the workers from the camp who picked us up in the spacious and luxurious minibus which was to be ours for the next 2 weeks.
10 minutes later we were walking through the door of our cabin and what a cabin it was! These cabins have 4 rooms and every angler will have a single room all too themselves, heated flooring, 2 bathrooms and a kitchen with everything you could need. Add to this a balcony that overlooks the fjord (that you can fish from) these cabins have to be some of the best fishing accommodation you can live in when fishing in Norway.
First things first, we both rigged up a rod and whacked out some bluey baits just in case something was lurking, we know from the guide at the camp that big Halibut swim past the cabins and the possibility of hooking a monster from here is very high indeed. Once we had unpacked we were ready for the first session, this was to be a night time hit at a mark 5 minutes from the cabins.
This mark was off a flat rocky ledge into 25 metres of water, we were going in blind as it was pitch black and with just the restricted light from our head torches we soon found ourselves whacking out bluey baits rigged on single hook pullys into the unknown, it didn't take long for Ross to get the first bite, a very tentative pull-down followed by a few knocks which didn't materialise into anything. Then it was my turn, my rod tip violently pulled over followed by a very quick slackening of the line, winding down into the fish I could feel haddock like jags and vibrations coming through the braid, it was fish on and this was a heavy fish which on the way in unfortunately managed to hit a snag and free itself. At least we knew there were fish there and to start getting hook ups at an unfished venue was a big bonus, this carried on for the next couple of hours with a few more good bites but unfortunately the fish just didn't want to be landed. This was a great first night that filled us with confidence, a few tweaks that we felt were now known to be needed would be made to our rigs and with the Northern lights dancing brightly above our heads we made our way back to camp to re charge the batteries and get ready for day 1 proper.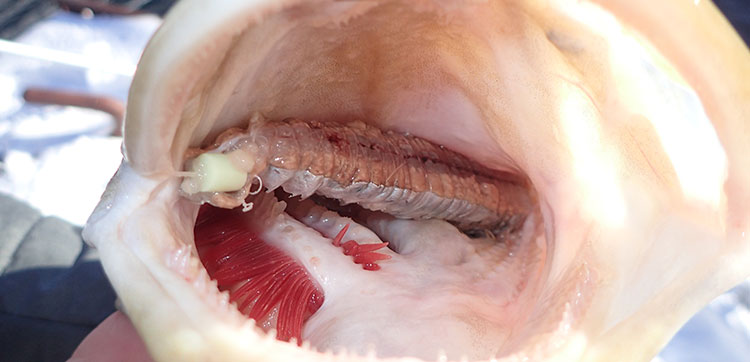 After a porridge breakfast, we were in the minibus heading off to collect our bait for the week, this was to be Bluey, Mackerel and Herring which is all included in the cost of the holiday and is of unlimited usage to the customers. Pulling up at the intended mark for the day we wandered down beside a bridge and settled down on the flat rocks where we would be fishing. Ross was to the right fishing into an area where the channel opened into a large bay and I was to fish towards the legs of the bridge where I felt fish may be residing.
With snow falling and fish biting, we both felt this was a great little mark but time was of the essence to find other marks and with bites drying up we headed around the corner (5 minutes) to another very likely looking mark. This mark had a lovely flat wooden jetty straight into a deep channel that just screamed Halibut, the open ocean was to our left and we both knew this had to be a natural highway for the fish to travel along.
With baits in the water we both sat back chatting about what we had found so far when Ross's rod started showing some very tentative bites which soon turned into some very powerful looking bites. This went on for the next couple of hours with whatever it was being very shy about taking the bait, every time Ross would cast a new bait out to the same area it didn't take long for this fish to find the bait with the fish making the ratchet run for a few clicks before dropping it. I still feel this could have been an incredibly cautious Halibut as I had seen it all before, as soon as they feel any resistance they sit back again just looking at the bait but we will never know though. Sitting back at the apartment that night we both checked the weather and the next day was looking to be a cracker and we then decided on a mark we would hit the next day.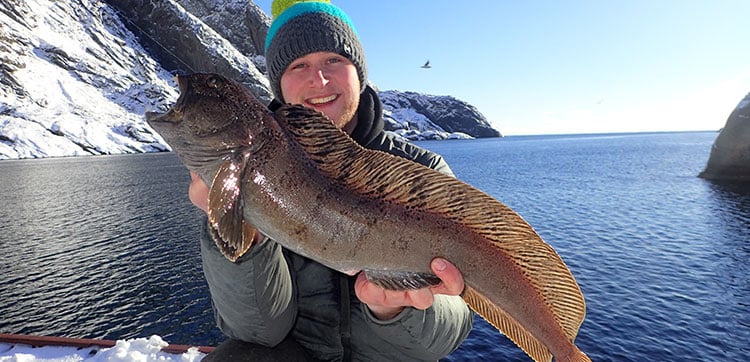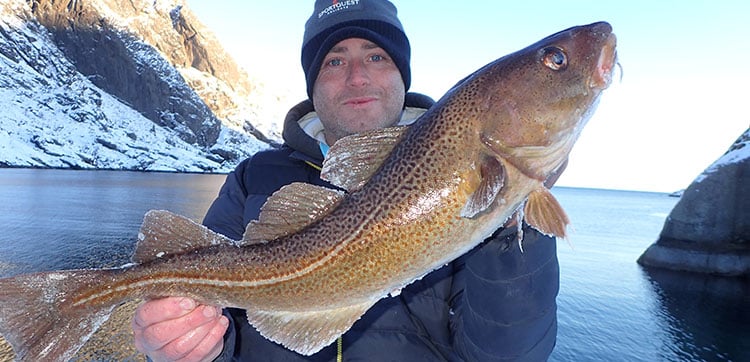 We drove out of the camp on the second day surrounded by flat calm conditions and beautiful sunlight, 20 minutes later we had parked up at the next mark and what a mark it was. A flat wooden jetty to fish off into 30 metres of water with flat rocks surrounding us if we fancied a move. With the aroma of fry ups filling the air (this mark is directly in front of a cracking café) we cast our first lines into the water, we were on 2 rods each both fishing pully rigs with fish baits locked onto 4/0-6/0 hooks. It didn't take long for the action happen, we had plenty of Cod, Wolffish and Lumb to keep us busy all day. I had my first Norwegian Dab of the trip too a cracker of a flatty engulfing my bluey bait which I was very happy to see, the Dabs out here are mutant in size and are amazing eating. We could have stayed here all night as the action was brilliant and had us grinning from ear to ear but this was no holiday, we had to get back to the accommodation and plan for the next days raid.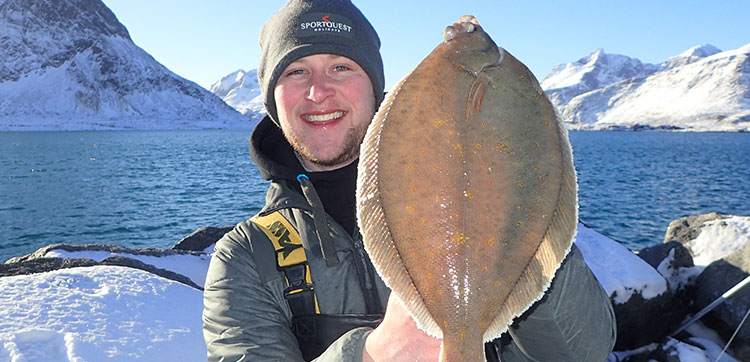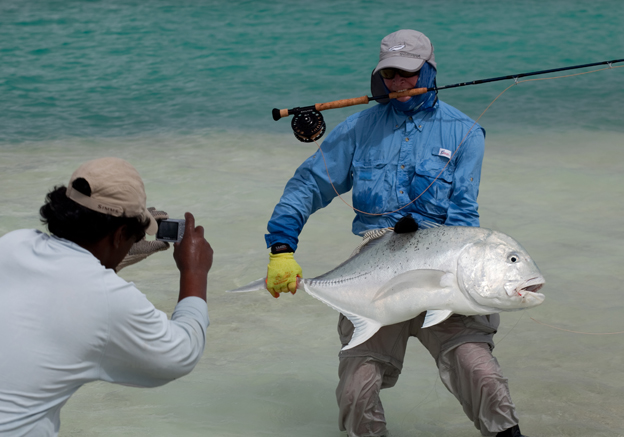 Day 3 began as day 2 did with an amazing sunrise appearing behind the mountains from the balcony, what a view and a perfect way to get the juices flowing for a day on the shores of this magical place. 20 minutes later we were on the long rocky pier we were going to be fishing off, this was a very clean ground venue fishing into depths of 12-15 metres onto a pure sandy bottom, spot on for flats and Halibut.
I started off on 1 rod primarily on a Halibut hunt with Ross fishing 1 for the flatfish and one for the Halibut. The flood tide was slow with not much action but as soon as high tide slack came the monster Dabs turned on the feed with clipped down rigs and flappers accounting for many fish and these fish were all above a pound and a half with some nudging 2lb… I really think this venue could well produce a monster Dab to visiting anglers. With both of us catching Dabs our Halibut rods remined motionless, we were ready to do battle with pully rigs on 200lb snoods and 8/0 hooks loaded with big Bluey baits, that was until mine showed a strong slow pull down. This was followed by a slight slackening of the line, picking up the rod I was waiting for a definite run, I know how finicky the big Butts can be which is very surprising considering their size. This bite then developed for a couple more minutes, something was grabbing the bait and was interested but was not running hard, I then had a very strong pull over followed by rapidly slackening line. Racing to catch up with the fish I finally felt the weight but then it was gone, a few choice words were said and once the bait was back the bite signature confirmed it was indeed a Halibut that had been playing with the bait. Big toothy scrapes were evident down the bluey and the sinking feeling of what could have been set in, no time to dwell though, adapt and overcome was the motto now with more tweaks to the Halibut rigs needed, less resistance was going to be key so free flowing running ledgers were now going to be put in place of pully rigs. On the way back to camp we stopped off at a beautiful sandy surf beach to have a dabble with the lighter gear resulting in some more stonking Dabs to both of us and we left agreeing that this would be an amazing Plaice spot with the real possibility of some Norwegian rays.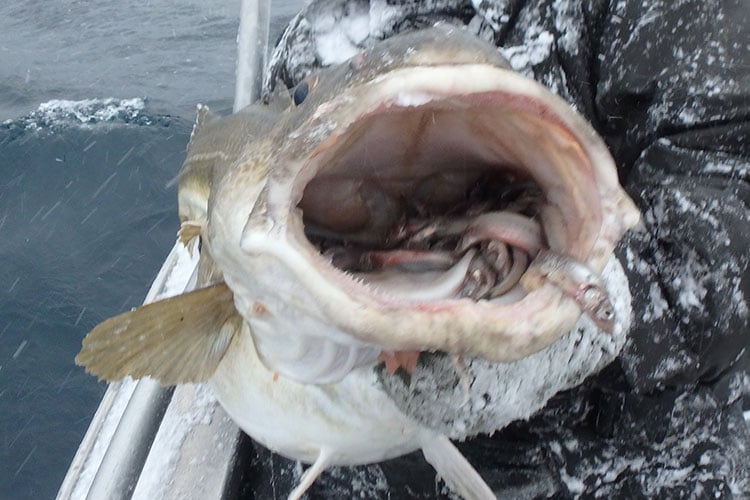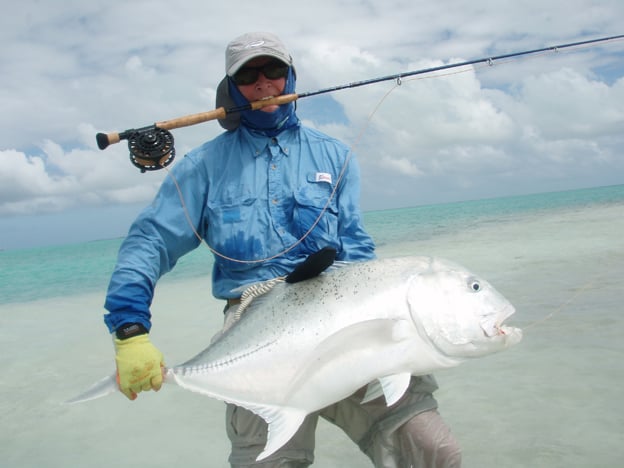 Day 4 arrived and we were in all out Rock fishing mode. We were heading to a mark 45 minutes from the camp which looked both very inviting and very coddy, we made our way from the car park down a hill surrounded by the snow. This was great fun, very cold but it really was an amazing atmosphere setting eyes on this mark that had probably never been fished before with a blizzard blowing around us and it didn't take long for us to be fishing. This mark is 60 metres deep and even though it is a very rocky mark the ground was clean with no gear being lost by either of us. It fished very well on both the flood and ebb with Cod, Wolffish, Coalfish and the first halibut of the trip coming during our time here. Yet again we were using pully rigs but I also tried out up and overs here which also worked very well, best baits of the day were bluey and mackerel both loaded onto 4/0 and 6/0 hooks. We know this mark will prove to be a massive hit with the customers and we both left feeling it has the potential to produce some very big fish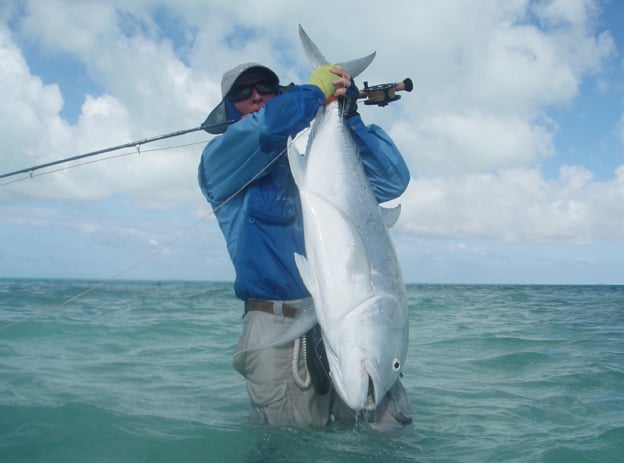 We awoke on day 5 to some very nasty looking weather, the wind had swung and the snow was nearly in white out conditions, we had a mark prepared for this and headed there first but the wind swung again pushing us off and we had to go to plan B. That is the great thing about this destination we have marks for every weather eventuality meaning that whatever happens you will be fishing. Plan B was a breakwater which is 5 minutes from your front door, it is an extremely easy mark to fish but it is not deep with only 6 metres of water in front of you. The ground in front of you here is yet again pure sandy ground, snag free and Halibut, Dab and Plaice territory, we both cast out rods with clip down rigs and flappers on with small size 2 hooks loaded with prawns. I really wanted a Plaice on this trip and I was hoping this could be the mark to do it. With the snow in blizzard conditions and the temperature well over minus 15 though this really was not what I would call Plaice fishing weather. The tide rolled over high, started to ebb and the action began, Ross was first in and as this plump flatfish came up to the breakwater the red spots gave away its identity it was a Plaice and first blood to Ross. Next up it was my turn tough with a very strong bite on the rod tip turning into a fish on and as it came closer I could see a lovely big flat gliding through crystal clear water towards us, was it a Plaice though! Swinging it in it was evident it was nice spotty and I had one of my targets for the trip in the bag. A few fish later we decided to call it a day just as darkness was starting to fall, we had been pushed about by the weather but had came out victorious with some Plaice to our names on a very un Plaice like day. We know this mark on a calm day will be an amazing venue and that customers will have the chance of a proper dustbin lid spotty here.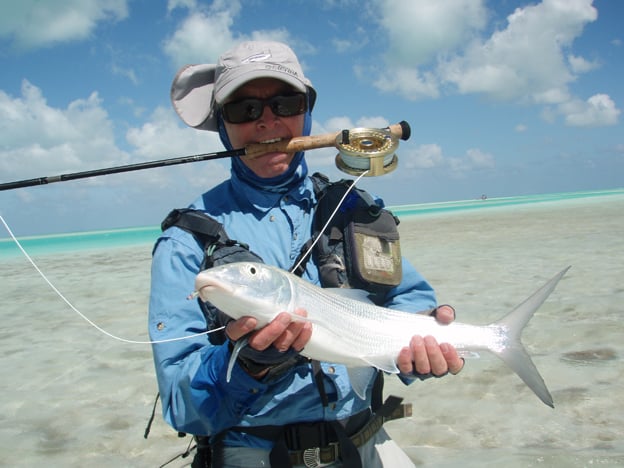 My last day over in Norway had begun and for us this was a trip south to the destination of Å, we had seen a likely looking spot and were hoping it was going to be fishable. We arrived in the car park and walked the 5 minutes to the mark, to our relief this was a cracker of a spot. Loads of room and very comfortable ledges to fish off. Back to the car it was then, grabbing our gear and making our way back to the mark we scooted down the rocks and set up. Casting big bluey baits into the 50 metres of depth we were soon seeing indications of life on our rod tips and our pully rigs loaded with bluey definitely were attracting the fish. Cod and Halibut were both caught here across yet again clean ground, not one set of gear was lost and to be honest as mentioned previously this was the case at nearly all of the marks visited during my week there. The day finished and we made our way back to the camp as light fell in some very snowy weather but 45 minutes later we were walking in the front door of a warm cabin and getting some food down our necks.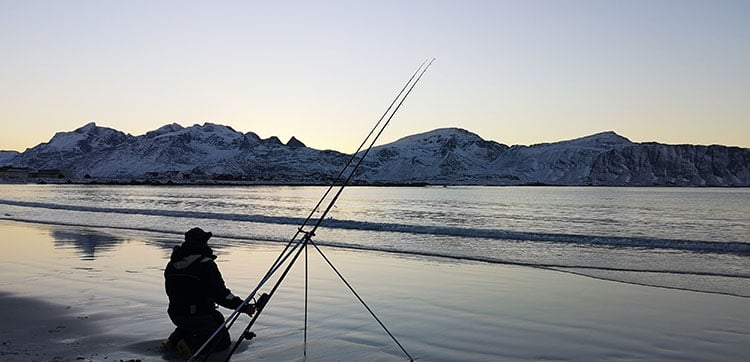 What a week it had been, we had never set eyes on here before and with no previous anglers fishing here before to give us tips it really was a leap of faith but we did it and found the fish, I know this destination is going to be loved by all that fish here and every angler visiting here has a high chance of catching that fish they have always dreamt of. That's me done for week 1 as I left Ross there so look out for his amazing week 2 report where very special fish indeed was captured….