Week 1 Day 1:
After yesterday's recce south of the camp, I decided that our first session had to be there, but as always in fishing, no two tides ever fish the same.
It wasn't hectic, bottom baits pulled out small Codling, Coalies, small Haddock, Dabs to 1lbs 8oz and Plaice.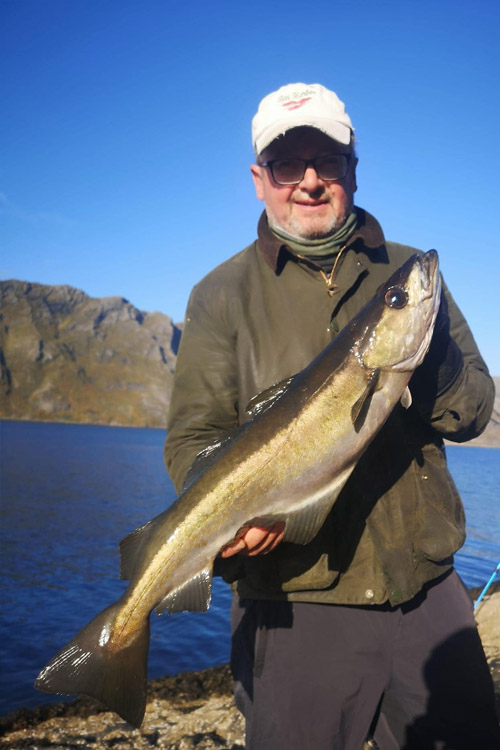 The ledge we were fishing had a healthy population of Pollack though which kept the lighter rods busy with several fish coming out, best going 7lbs 3oz to Dominic. With several serious fish lost, and one of them was very good, no mistaking the crash dive off a Pollack but seeing his spinning rod almost straighten not bend, but alas despite his best efforts to stop it, the hook fell out absolutely gutted would've loved to have seen it.
Tomorrow, we head North looking for some Plaice and Halibut
Week 1 Day 2:
Today we headed north with the group, splitting them up over two marks near to each other, Rays Rock and the Jetty.
First cast Dave managed a lovely Coley around 6lbs, and really had our hopes up…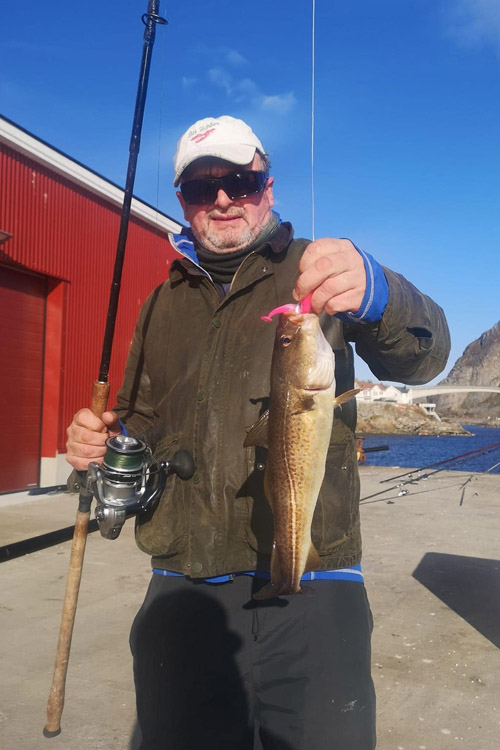 But it went slow for long periods apart from plenty of Coalies and small Cod in close on the lures.
Mark managed to pluck out a lovely Plaice of 3lbs 2oz, and Dave managed a chunky Plaice of 2lbs 8oz. A handful of Dabs were caught into the pound range.
Tomorrow will be looking at chasing that Halibut that eludes us.
Week 1 Day 3:
Today I split the guests up into 2 groups, with one group fishing the Bridge and another fishing the Reine Fjord.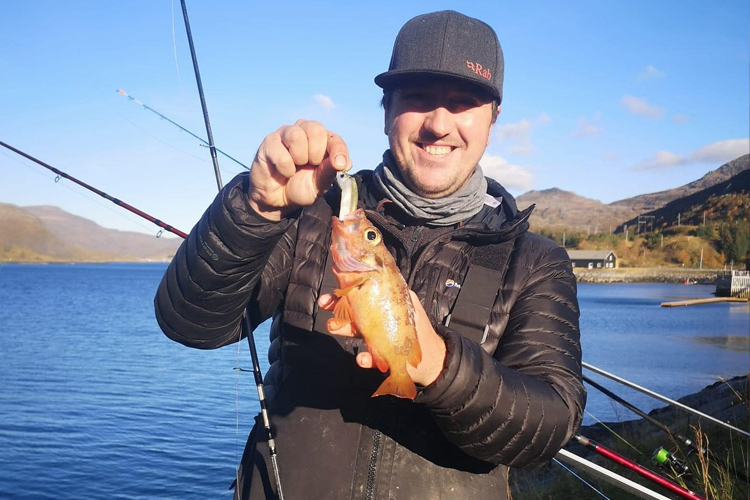 The Reine ford the boys fished really hard, with a swirling wind all day but were rewarded with Haddock, Codling, and Coalies. A few fish to fill the freezer with and fillets to take home.
The Bridge fished ok, boys were fishing bottom baits hitting Codling, Lumb, Redfish, Coalfish, and one small Halibut.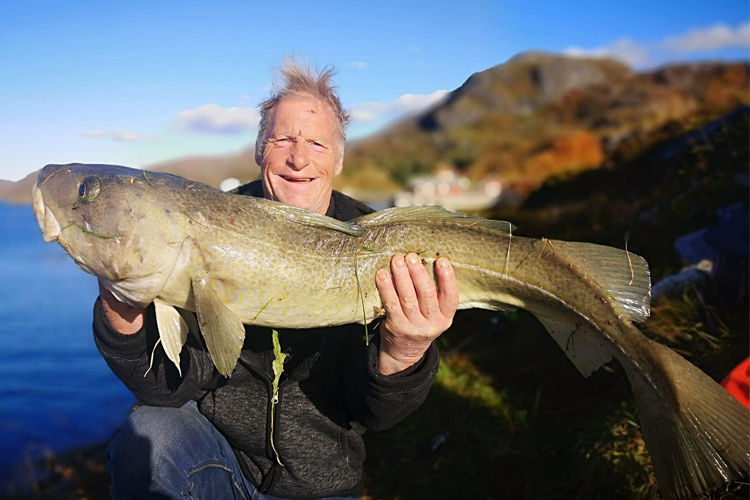 Mark managed the fish of the week by throwing out a big mackerel bait, and within a couple of minutes, the rod arched over. After a tussle, getting caught in the ledge, after constant pressure, the fish surfaced. A Cod of 17lbs 2oz. It's also his birthday today, so he's a very happy man.
Week 1 Day 4:
Today's venue of choice was Mortsund, a venue around 20 minutes from the camp, which shows up a bit of everything.
Today was no different with Whiting, Dabs, small Codling, Plaice up to 3lbs and some better Cod being caught, with the best being a 14lbs 1oz fish by Geoff.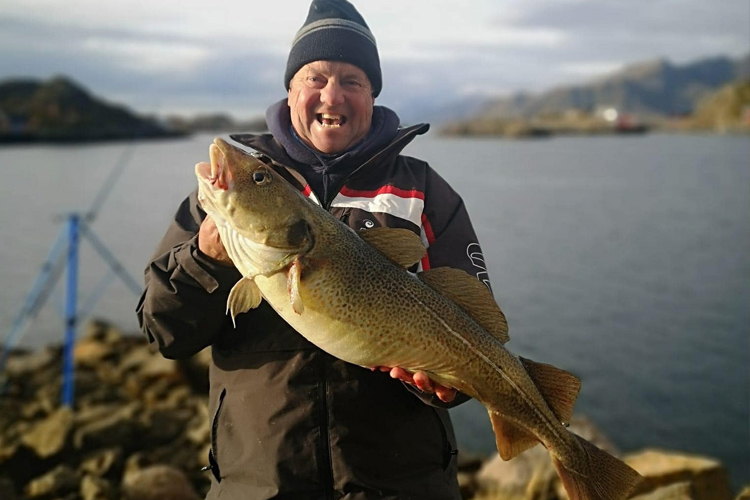 He also lost 2 really good fish in close but really persevered and managed that Cod which is also his pb. Dave also had his Pb Cod today at 11lbs 15oz.
A few happy faces on the way home, and the fishing is definitely picking up.
The Halibut still eludes us at the moment, but with some luck, that'll all change tomorrow.
Week 1 Day 5:
Today the weather was against us, and the fish gods were certainly not looking down on us today. Fished the Bridge again and Napp pier for a couple of lads who wanted an easy venue for the day, considering the weather.
Fishing was very poor, with lots of small Coalies, Codling, Whiting and Dabs. Nothing of any real size.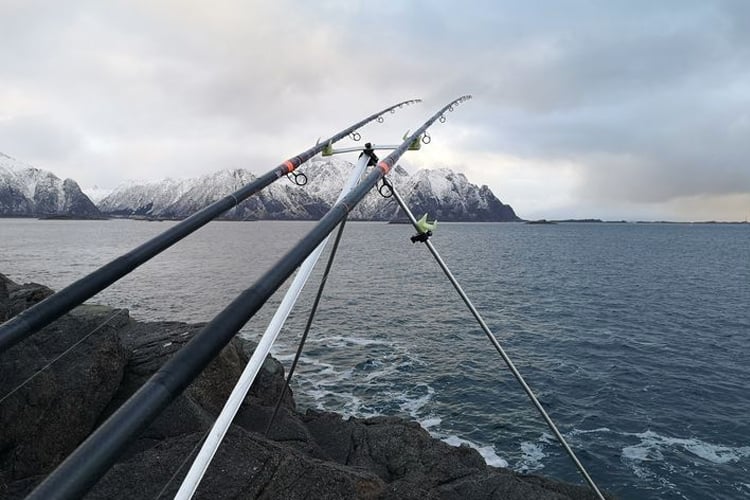 Come back in a little earlier than usual, regroup, and go back tomorrow for one last throw of the dice with the group. Fingers crossed
Even Norway has its bad days; let's hope that tomorrow can bring some last-minute surprises!
Week 1 Day 6:
Today was the last day with my guests, and as always, with the last day, I let them choose a mark they particularly liked and wanted to go back to.
Mortsund was the overall choice, especially from the previous session where they had a good few Cod out, but 2 lads wanted another go on the ledge south of the camp to target the Pollack.
Mortsund fished well with Coalies to 9lbs, Cod to 5lbs and numerous obliging Dabs.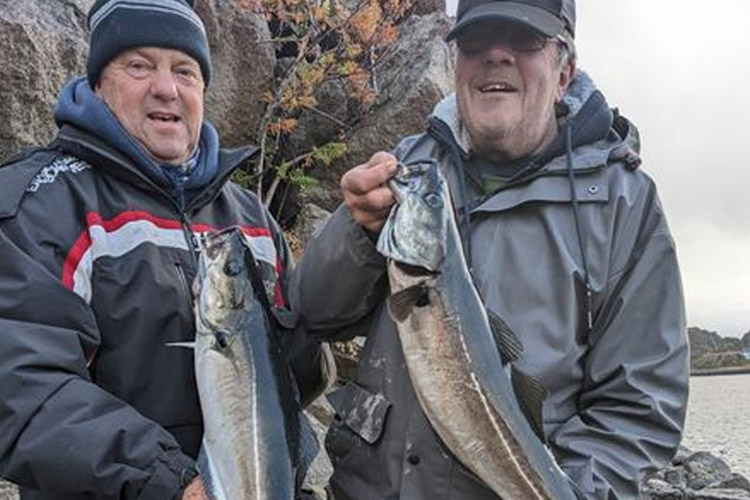 However, one of the lads did manage to hook into a Halibut, and after 3 good runs, it got away, but they are the ones we always remember as anglers.
The ledge south of the camp threw up a lot of Coalies and one Pollack near 8lbs.
A massive thank you to the guys this week. They've fished hard and been an absolute pleasure, with smiles and lots of PBs broken. All in all, a good week was had by all.
Tomorrow I will drop them to the airport and welcome my next set of guests.
Can't wait to see what the next week will bring.
CONTACT US
If you would like to know more information about the amazing shore fishing on offer, read our full tour page for the Guided Shore Fishing In Norway. Alternatively, you can contact our sea fishing expert Paul Stevens on 01603 407596 or email at paul@sportquestholidays.com.