Nordic Sea Angling, during this Covid problem, has decided to open up to single guided days for people to just turn up and book due to the destinations not being completely full. So instead of having the boats and guides and cabins sitting around empty they have been offering the chance for people to experience trips guided without staying for the full week.
This has proved really popular for local people and other tourists. This report just sent to us from Johan at Nordic Sea angling who is currently guiding out of Nappstraumen looks like these guests really got to experience what the fishing is like in Norway. I will hand you over to Johan for his Report:
One & A Half Days Guided Fishing Nappstraumen 6th August
The guests Jimmi and Kate drove up to Lofoten from Oslo to experience fantastic Lofoten. They then took the opportunity to book 1 and a half days of fishing at our camp in Nappstraumen. The first day the weather was tough but our guide Johan Mikkelsen looked for a weather-protected area where they managed to catch both cod over 10kg and Ling up to 15kg! They also got to experience when the big Coalfish hunted all the way to the surface right at the boat edge, they could do "figure of eight" at the boat edge and see how they came up and slammed the jigs! A sick awesome experience! Then there was a little sea eagle safari on the way home where we saw up to 5 large sea eagles chasing mackerel boiling in the surface. All this up close!
Day two the weather was all the better but had only half a day planned. Our guide Johan steered the boat towards the outside Lofoten. As yesterday had delivered both Coalfish and cod over 10 kg, today's goal was to catch a halibut! This day, Johan's friend Anne also accompanied on the trip who had never before tested this type of fishing. Everyone was charged to a thousand and the weather was fantastic. The day began with a Halibut drift where unfortunately nothing happened. Then they looked further out on one of the cod peaks .. Around these peaks, there were also slightly larger flats adjacent to these peaks and not far into the first drift, Jimmi is standing with a rod bend and a screaming reel! A hard fight and a whole of shouting at what comes up from the depths! Johan gets ready with the "halibut hook" and secures it next to the boat. Everyone shouts cheers and Jimmi's smile goes from ear to ear and does not fade for a second! This was his big dream and that it was measured to a full 130cm, you can not help but take off your hat and congratulate you on a fantastic first halibut! Of course, it had to swim back again after some quick pictures! Already now the fishing trip was above expectations, can it even get better ?!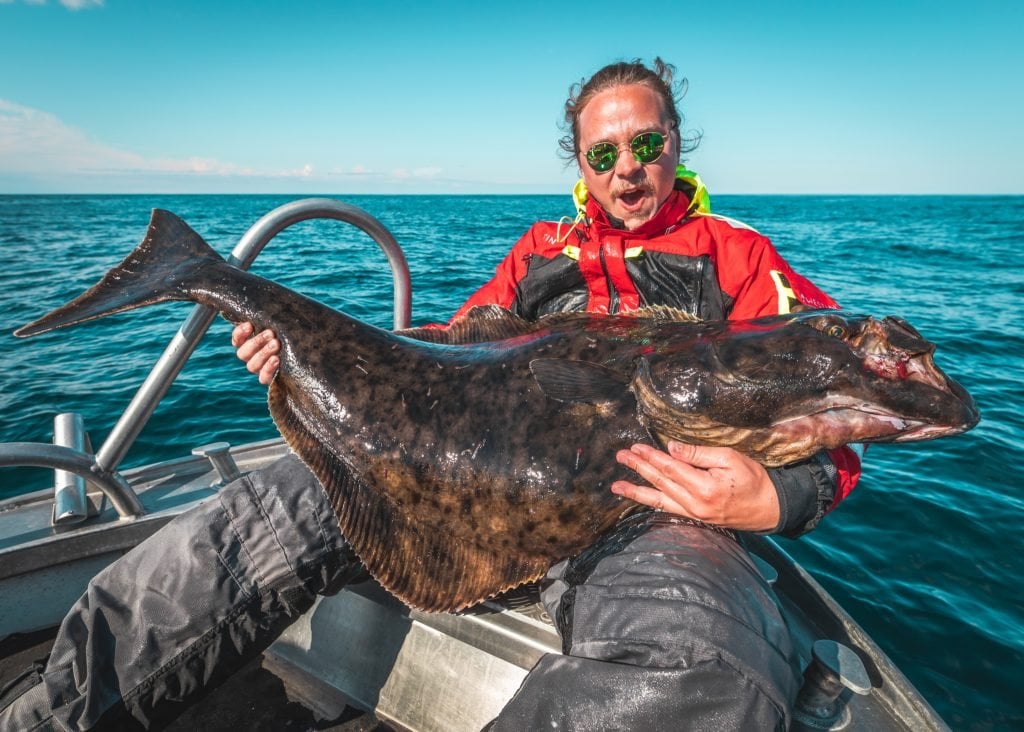 But then both Kate and Anne strike with an unexpected double cut of Ling! They were caught at a depth of only 60 meters and weighed between 7 and 11 kg! It was a double record for both and the success was a fact! What a fantastic day and we could the whole gang slide home with big smiles and fishing memories we will never forget!
Tight lines,
Johan
Thanks Johan for the great report and a huge well-done guys for all your new personal bests. This is what Norway is like for so many anglers, smashing PB's every day. If you would like to discuss any of our Norway holidays call us anytime on 01603 407596
Tight lines,
Paul