As many know, SAS's pilots have gone on strike. This resulted in one of our German groups who had borrowed the guide boat this week having their plane canceled. Fortunately, our other German group with Martin, Roland and co managed to get here with their own car, even though their flight was also canceled. They arrived at the camp early Thursday morning. Something we were insanely happy about.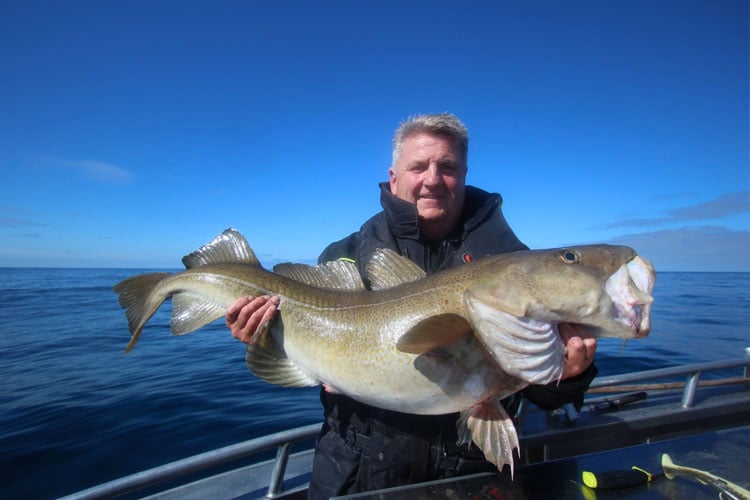 The first fishing day, which was Thursday, the weather was not good enough to fish offshore. It blew 7-9 ms and swells from the West at almost 2 meters. But that did not stop our Swedish customers from fishing closer to the camp. The captains in boats 5 and 6 with Patrick Hellgren and Henrik Olavsson set course for some peaks just outside the Lagoon. The day before we had the guides together with the Swedish group talked well about the lagoon for the good Halibut fishing early in the season. When they reach the tops on Thursday, they will see something incredible. The entire inside of the Lagoon is boiling with Mackerel. They quickly realize that it is just a matter of getting Mackerel for baitfish to set course for the Lagoon to start fishing for Halibut. They rig up the Halibut rigs to put on a Mackerel of around 1kg. It did not take long before the first Halibut sucked in Mackerel to make the rod bend to the reel to start howling. It was a beautiful Halibut measuring 128cm. Shortly after, another 125cm was on! For a start to their fishing week here at Vesterålen. During a couple of hours of fishing on sinking tides, they had then landed 2 beautiful Halibut and double-digit numbers of Cod weighing between 3-6 kilos.
Friday offered the same weather as Thursday did. I (Alexander) and Kristian Hausken went out towards the peaks outside the lagoon which have delivered well with fine Pollock, Cod and Coalfish before. With us in the Guide boat we had with us a Swedish couple (Frida and Peter) Accompanied by the German group. The day seemed to be very good when Peter caught a nice Cod of 12 kilos. But it would turn out that fishing that day would get harder and harder. A Pollock weighing around 2 kilos was also caught. The German group caught 12-15 Coalfish and Cod of the smaller weight class. We saw a lot of signs of inactive fish that were "pulling" towards the bottom. Poor tides with little current were probably the main reason for slower fishing that day. The Swedish group tried to get closer to Gaukvær. It should turn out to be the same slow and difficult fishing there as well.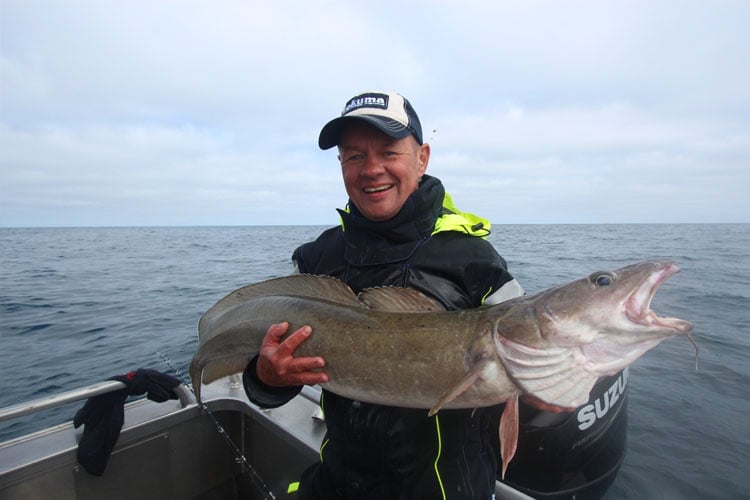 Saturday should prove to give better results for the German group. They were determined to fish for Redfish that day. They received tips about a steep edge that goes down to 210 meters. On this edge we have caught a lot of Redfish in the past at around 160 meters. This group also succeeds well! They rounded off a couple of hours later with about 20 Redfish in the boat. They also caught 5 Cod on the way home closer to the camp.
Sunday to it is booked for long trip. After a long wait to find out what Vesterålen really has to offer, this was going to be an absolutely insanely great day. At 8 o'clock we drove 3 boats out towards our long trip out into the open sea. I (Alexander) and Kristian guided the German group in boats 1 and 2. With me in the boat I also had our intern Bo.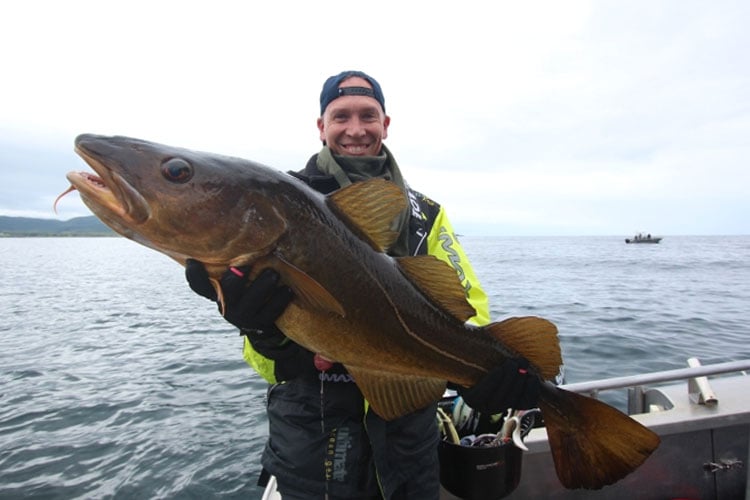 The actual drive out was just absolutely amazing in itself. There was some remnant sea from yesterday, but the waves were long and about 1.4 meters high. After a 1 hour and 45 minute drive. It does not take long from the bait fish being released until the first large Cod is hooked. It weighs 14 kilos. For a start! we continue fishing in the place we often visit first out on the long trip. It is a peak of 38 meters that often holds a LOT of small Coalfish, we saw small Coalfish on the echo sounder but no chasing fish below, to it resulted in us choosing to change places after 40 minutes of fishing at 38 meters due to the top. In the meantime, Kristian has driven with his guests out to the long edge to be able to tell that the long was really on the cut, so then we also set course for the small famous long edge. Even before we arrived at the long edge, Kristian's customers had caught several nice Cod weighing around 10 kilos and some Lings in the 12 kilo class. I lay down in the middle of the edge of about 80 meters and it did not take too long before we had the day's first triple hook up! Customers smiled and laughed as sweat ran. What an experience! Everyone has their long at the end of the line. The first three lengths we got in the boat weighed between 12-15 kilos.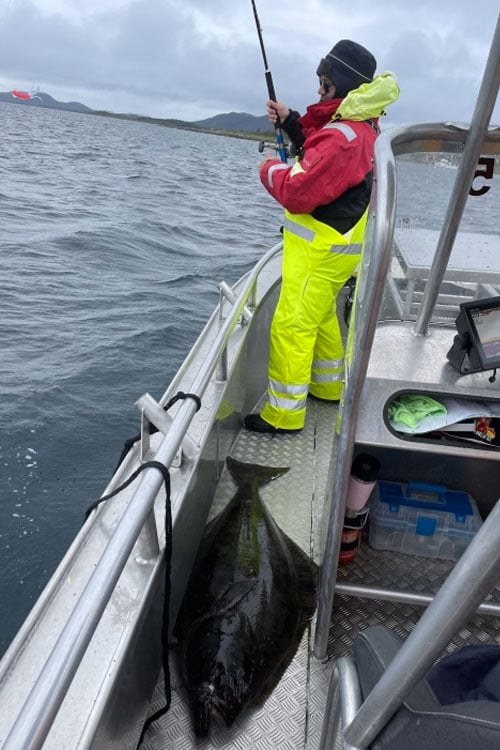 The customers were ecstatic. This was exactly what they had dreamed of. We put another drift in the edge and then it slams on something that was very much heavier, on the bait fish to the customer Christian! A proper bite to the fish takes the line. After a good fight, a really long one comes up! The fish measured to a full 170cm and it weighed 27 kilos! We ended up with around 20 lengths in my and Kristian's boat and 5 pieces in the boat for the Swedes. Customers really needed a breather after the good fishing. I decided on our next goal, a peak of 53 meters west of the long edge, which has delivered very well with LARGE Cod now the last long trips. Kristian stayed to continue the Ling fishing we continued the course. We get a couple of nice Cod there at around 10 kilos before Kristian says that the customers in his boat were happy with the day to go home. They answered the same thing in my boat. The German group was brilliantly happy with the day and we headed back home in glorious sunshine to beautiful weather.
We look forward to the continuation of this week!
Tight lines // Alexander Brøther and Kristian Hausken
CONTACT US
If you, like many others, have ever dreamt about fishing the prolific waters of Vesterålen and would like to know more information on how you can join us, you can contact our sea fishing specialist, Paul Stevens, on 01603 407596 or email at paul@sportquestholidays.com.