So a week in Vesterålen has come to an end. At the time of writing, the last boats are out fighting to see if they can catch anything big in the last hours of this fishing week. The fact that we have had mostly good weather all week has been a great joy for all of us, but the fishing has been tough. The Halibut seem to have started quite well recently, and it has become the country for a lot of nice fishing recently. Apart from today and on Sunday, it has really been almost windless. For me and Alexander, it has been a slightly slower week, since we haven't had the guide boat rented out. Fortunately, we both had our own guiding this week, and we even got a chance to ourselves on Saturday!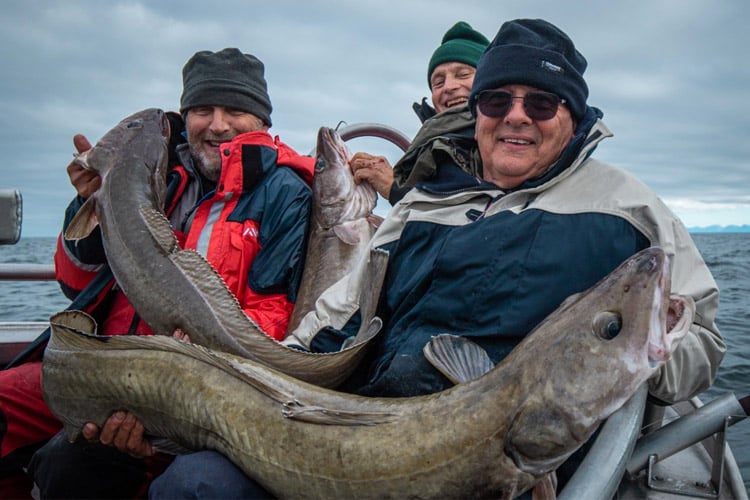 The week started with stormy weather. Although the guests arrived late on Wednesday evening, there were no problems for them. We had promised a long trip, and there was an earlier departure after a long day of travel. All 3 boats set out for the long course, with Alexander in the lead with the Brits in boat 6. The conditions were impeccable, and this had to be good. Well in place, they started with bait fishing, followed by a stop at Langekanten. Longene was as usual in the thrust, and all the boats stood fairly quickly with good pole bends. The whole country fished over 15-20 kilos, and gave up quite quickly on the long edge after this session. The Cod was lucky. In recent weeks, the Cod fishing out there has been absolutely magical. But this day they proved to be difficult to deal with. The fish are there, but they certainly weren't easy for me to catch. Gothenburgers in boat 1 Good luck with the Cod this day as they manage to get down under the Coalies with their baits! It didn't get any worse than that they had one fish in the 22-23 kilo range after tricking the arrows. As well as some other fish that were around 10-15 kilos. For other boats it was difficult to fool the Cod, and they decided to fish for the Halibut instead.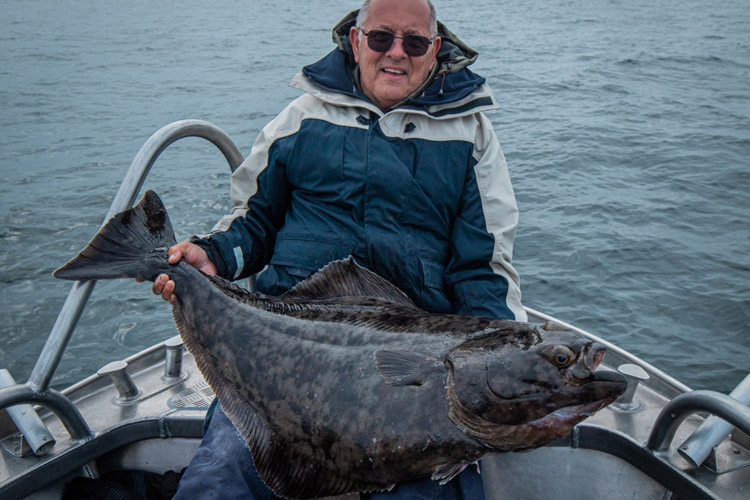 The Stockholmers in boat 2 could immediately report if something happened. After only a few minutes of betting, it would click. And just as bad as it was, the equipment failed and the fight was over after about 15 minutes… The fish had held the bottom for a full 15 minutes and rusted away on several occasions. Another old man in the boat gets one big fish. This fight was also in the same class. Only one big fish.. And once again this fish would win this fight… It set the mood a bit, that two big dream fish won the fight… A little distance away, Alex is together with the Brits. Halibut can be mentally demanding, but if you put the time into it, you will eventually succeed. And David hooked a nice Halibut of 115 cm in the last minutes of the long trip, and just as happily rounded off the day with a nice fish!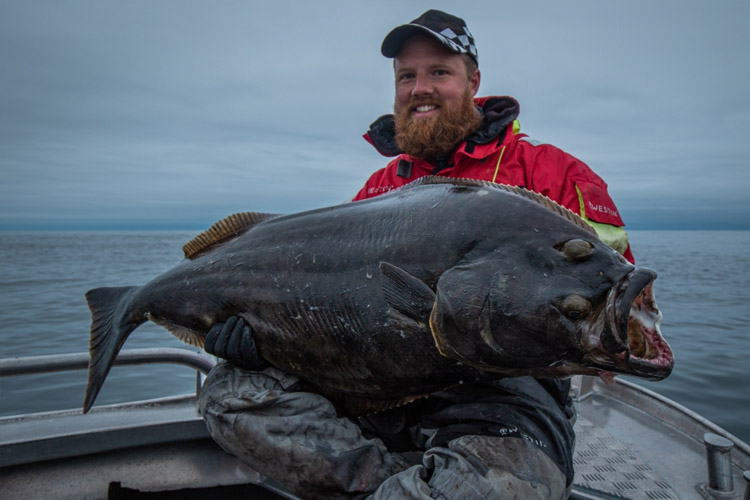 On Friday, the weather was supposed to be perfect again. But after yesterday's long day, several of the boats chose to have a later exit from the camp. We could have made a long trip, but that requires energy, so it was fishing on the west side this day for Cod. I jumped into boat 1 together with the Gothenburgers, and we would spend the day fishing after Pollock. We headed west in the 9 move, and started fishing at a currented headland. Here the current setting is good, and the bottom is varied. We started with pr drifts without special contacts, but after 30 minutes of fishing, we were going to take one last drift over a channel, when Glenn's rod would bang. I just saw the buoy, and was unsure at first. But when I saw how quickly the line flew out of the reel, there was no doubt. The fish put up a good fight, and after a few minutes we were able to land the first Halibut of the day at 122 cm! An absolutely fantastic start!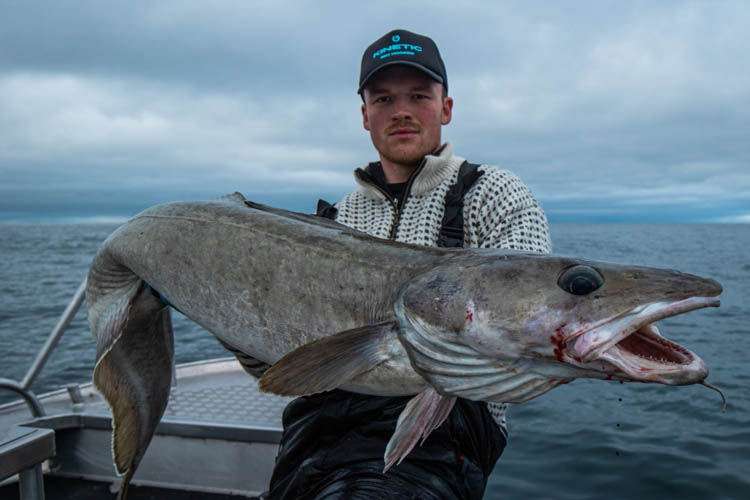 We gave the area a few more drifts, to no avail and moved on. The next stop was a deep sand chute of around 55 metres. There was little electricity, so here we were able to push ourselves forward with the engine. And a few minutes into the first drift, Magnus was able to hook a nice little Halibut of 80 cm! Same here – we gave it a few more drives, without it giving anything more. We moved. At the next spot, very little happened at the start, but in the last drift at this spot, my rod is cutting when I try to pull up some Mackerel that were hanging around the boat. Unfortunately, I miss this one… And just minutes later, Patrik's got it! Patrik counters, and it looks heavy. Unfortunately, the fish comes loose after just a few seconds, but there was no doubt about what it was. Well, the fishing continued in this spot. The wind had increased somewhat, and we operated perfectly along a longer sand channel between 35 and 50 meters. This drive was long, but we kept our spirits up. And as we approach the kelp plateau at the end of the chute, Glenn's shakes again! At first Glenn thought he had caught kelp, because nothing really happened. But when I glimpse something flat below the boat, it erupts again. After the trip, Glenn regains line, and I can secure a nice Halibut of 98 cm!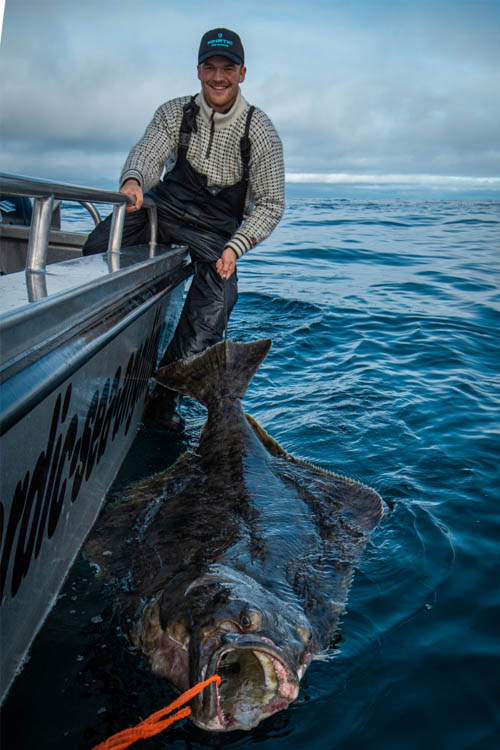 On Saturday, it would be AGAIN, absolutely great weather. We therefore planned another long trip out towards V-berget. Me and Alex took our own boat, and would target the big Halibut that many have been in contact with lately. Both the British and the Gothenburgers were keen on this too, so we fished together pretty much all day. The day started with the Stockholmers in boat 2 hooking a big fish during the bait fishing, which unfortunately falls off after only a few seconds. And it immediately felt hot. We moved to a giant sand flat at a depth of around 80-90 meters a little further out soon after. We took boats 1 and 6 over there with us, and already in the first drift Alex and I saw a giant fish that lifted itself up from the bottom. Unfortunately, he didn't want to take it, but it gave us a clue that there should be fish here. So we therefore added a new drift and scanned the bottom a bit. When we found out how we drifted, and what the area looked like, we towed down. I was catching up with a bigger sei, while Alex was already on his way down. I manage to let out 50 meters of line before Alex takes a crank up from the bottom, turns around to take some water, until the reel howls fully! Alex immediately tightens the brake, and hangs over the groin while the line flies off the reel! After only a few seconds in the second drift, Alex had hooked a BIG fish! We almost didn't believe it was true, and the fish held the bottom for several minutes before Alex finally managed to lift it up 10 meters. Followed by some real head carvings and a crazy outburst. Here it was just to hold in, and Alex's bones shook like aspen leaves in an autumn storm. The fish refused to go up from the bottom again, but after a bit of fighting, the tenacious dragon fight could begin. It was a few seige minutes up towards the boat, and the excitement was great as we didn't quite know how big this fish really was. Although the adrenaline rushed through both of us, we could finally see something big coming towards the boat, and the focus sharpened. Alex almost didn't dare to look down, and I grabbed the paw and secured Alex a completely crazy dream fish of a full 192 cm! I think you could hear the cheers all the way to the mainland when we finally secured this fish. The fish is secured in a gentle way, and after some quick pictures, we were able to put this queen back in her rightful element!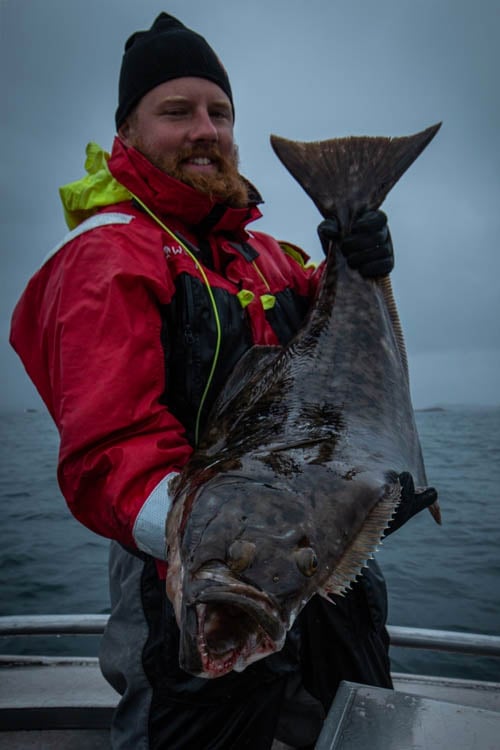 In euphoria we continued fishing. But for us it was not so important how the day went on, and we took it all in stride. Some distance further north, boat 2 is testing a new area, and is having good success with both Cod and Halibut! In a few quick minutes they land two Halibut around 100-110 cm, and some nice Cod around 10 kilos! After this little race, they set a new drift and hook just as easily a single Halibut! When the fish comes up to the boat, the hook escapes, and the fish swims down again… But they estimated the fish to be around 130-140 cm. For all boats, it was quite clear on this day, with the exception of a few stray lines. Even so, we each took a slip on the edge of the longe with a little lighter equipment to have a little fun at the end of the day, and each got a longe of around 15 kilos that we took up for our own use.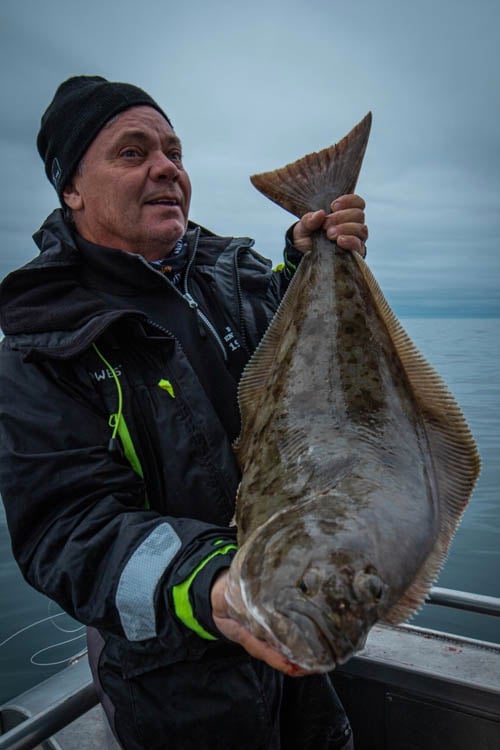 In the coming days, neither I nor Alex have been at sea, and can't report on much. But our guests have caught fish! Several big wins around 10-12 kilos have been taken, some nice Cod in the same class and some smaller Halibut under size. But when we met Patrik from boat 1 yesterday, we could see that his head hung a little extra far down after a windless and sunny day. Patrik had lost a huge fish on the west side. And without further ado.. The fish had held the bottom for several minutes, and when Patrik finally started to win back the line, it just loosened, and the sinker settled on the bottom… The guests are out again today, and the weather is perfectly fine. It's windy quite a bit, but luckily from a fairly clever trick, so it's still possible to get out a bit… Boat 1 just came ashore, and could report on a successful day with several Halibut in the boat today! 83, 88 and 93 cm, and Patrik finally got a little revenge after losing a solid fish the day before.
In any case, we want to thank you for a very pleasant week, and hope to see you again! Tomorrow there's a new gang on the way, and the weather forecast looks a little tougher.. But YR has failed before, so we're crossing our fingers for another good week in Vesterålen!
Tight Lines // Jørgen Zwilgmeyer & Alexander Brøther
CONTACT US
If you, like many others, have ever dreamt about fishing the prolific waters of Vesterålen and would like to know more information on how you can join us, you can contact our sea fishing specialist, Paul Stevens, on 01603 407596 or email at paul@sportquestholidays.com.