It has been a while since the last report came from us here in Vesterålen. But since then, a lot has happened! We have started exploring new places and have found some real hot spots for spring fishing. We have mostly been limited by the weather in the last week, and have had to take advantage of the small windows of good weather to go on longer trips. But the fishing has still held up well…
On the very first day, the weather forecast looked dire, and we were afraid that we would be restricted to the local area for the whole week. But we had a hatch on the first day where we could get on a long trip, and we took it. The fishing took place in one of the tidal currents, and all the boats fished on. The shallow fishing for Halibut is holding up well, and all boats are doing well. Although no "giants" , it was fantastic to see the guests hooking nice fish around 110-130 cm! The area held lots of fish, but not all were on the hook, but we still managed to lure out many nice fish in the respective boat teams!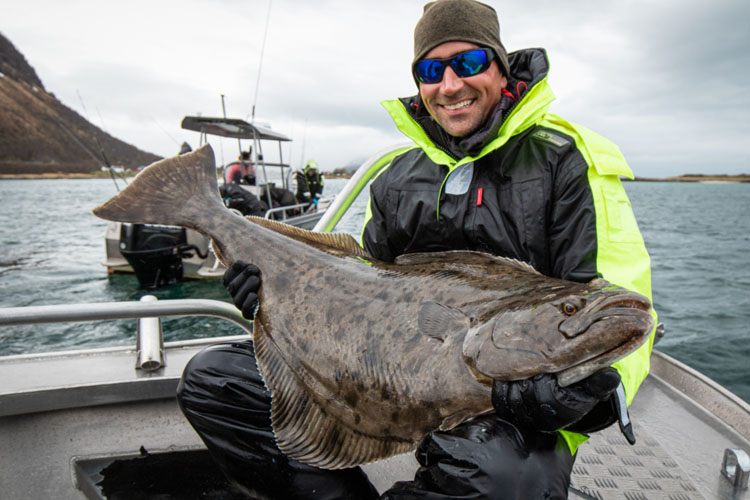 In the coming days the weather was tougher and we were restricted. Mixed fishing was the turn of most people, and it has been very successful. In the guide boat, Alex found a larger shoal of Cod, which is very grateful when it's windy in the fjord. The Americans in boat 1 came across quite intense shallow-water fishing for Cod at a sandbank in the fjord, and caught good quantities of fish up to around 10 kilos. The fishing was mixed, and Jörgen in boat 6 even tricked a nice Halibut of 101 cm in the nearby area in the wind.
At the weekend, as I said, the weather was tough, but the southerly winds allowed us to enjoy the Lofoten wall. Alexander took boats 1 and 2 to a completely new area for us, just outside our new camp at Stokmarknes. It is worth noting that it is some distance from our base now, but these places will be significantly closer next season. Today's goal was Halibut fishing, and it really didn't take long before the Americans in boat 1 hooked the first fish of the day. And it wasn't a bad fish either! A whopping 140 cm for the guests from the states, and only after the operation, they add another fish of 112 cm! The Englishmen in boat 2 also came into contact with a similar fish in the same place, and landed a nice fish of 109 cm!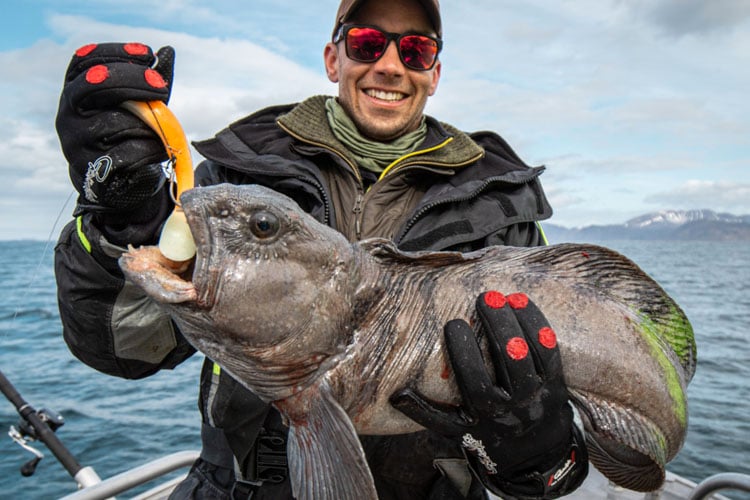 With this fresh in mind, boats 1 and 2 were eager to go back down here on Monday. Alex drove the Guide boat, and took boat 6 with him in the rising midnight sun on a long trip back into the night. It turned out to deliver, even though many fish were lost, but it finally worked out for Erdinc, who had pulled out on the first day and lost 2 good fish. Because Alex was able to secure Erdinc's first Halibut of a whopping 140 cm! At the same time as this is happening, Jörgen in boat 6 hooks a great fish of 129 cm at a depth of 8 metres! Boats 1 and 2 had a great saw too, and we sent both boat teams to test out a great sand cove even further down. It didn't take long before the English landed Halibut of 110, 113 and 122 cm! In a brand new spot, not far from our new base next year! They could also tell that as soon as you got over the steep edge, there were loads of nice Cod too!
This was too exciting not to give it a try. So on the last day I took all the boat teams south past Stokmarknes, and was going to test this new place. It really can't have taken more than 3 minutes before we hook the first Halibut of the day at a depth of 8 metres. We land a nice fish of 112 cm, and continue our drift towards deeper water. And the English were right; the Cod was on the edge! Out at a depth of 15-20 meters we had a real Cod race with nice fish up to 7-8 kilos for the most part. Not the biggest, but very cool on lighter spin gear and small baits. The Americans lay in a little shallower, and seconds later caught a nice Halibut of 98 cm! We changed our drift in 6 metres, and we started spin fishing. Even in here we caught nice Cod, and then eventually another Halibut of 92 cm! When we came out on the 10 meter curve we even clipped a nice Coalie! It really is an exciting place now in the spring with the amount of Tobis that can be found in there. It seems like all predators are in there hunting.
On the way home we stopped at a peak just a few minutes from the camp and again had a fierce Coalie-race with fish up to 1.05 metres. During the race we also get a fantastic Cod of around 12 kilos! It was a wonderful end to the week for everyone, with some crazy mix fishing! And there are MANY more places to test out down there that look incredibly interesting.
Now it is charging up for yet another fishing week here in Vesterålen. The weather looks like it will give us some heat at the start of the week, but it should calm down over the weekend. So we're crossing our fingers that this is true, and that the good fishing continues for us! The fishing is really hot now!
Tight Lines // Jørgen & Alexander
CONTACT US
If you, like many others, have ever dreamt about fishing the prolific waters of Vesterålen and would like to know more information on how you can join us, you can contact our sea fishing specialist, Paul Stevens, on 01603 407596 or email at paul@sportquestholidays.com.