Nordic Sea Angling has been in Vesterålen, Northern Norway since 2004 and has had tens of thousands of guests since then. But never before has this species been caught on one of our campers (As we know about). A species that is normally found in larger concentrations further south and usually hunts in deep water during the day but can be shallower during the night. A fish that is fantastically good to eat and that many have heard of but which we have never caught before up here in northern Norway. Can you guess?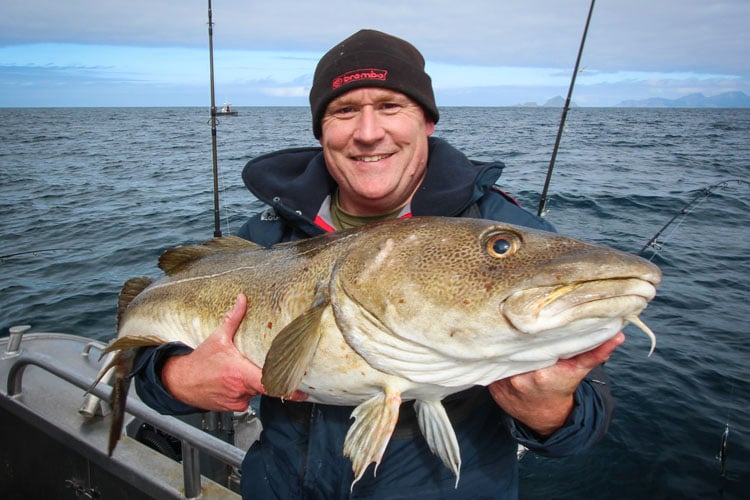 This week we have several guests from England, the Netherlands, Germany and Sweden. The first day there was some wind from the north but the waves had not had time to build up significantly so the guides Håkon and Alexander started the week but to drive to Strandgrund. A large area that keeps a lot of fish from both Cod, Coalfish, Haddock and the occasional Halibut. Many Cod and Coalfish between 7-9 kg were landed here during the day and a lot of Haddock up to 5-6 kg. Håkon, who steered the guide boat, also guided a nice Halibut of 108 cm to his guest Julian. After a few hours of fishing, Alexander's guests wanted to try something new so they decided to try to target fishing for Haddock. Someone who is not quite easy to target as they move quite a lot. However, Alexander knows an area that usually delivers some Haddock during Cod fishing. They decide to leave the beach and go a couple of distances. Once in place, he soldered a lot of fish and not far behind, his British guests stood with a rod bend and quite rightly, it was Haddock that the guests had wanted. They also landed a couple of nice Cod around the 6-8 kilo class here and after a few hours of fishing they could sum up almost 20 Haddock and a bunch of really happy Brits who start planning tonight's Fish N 'Chips – Which is best cooked with Haddock!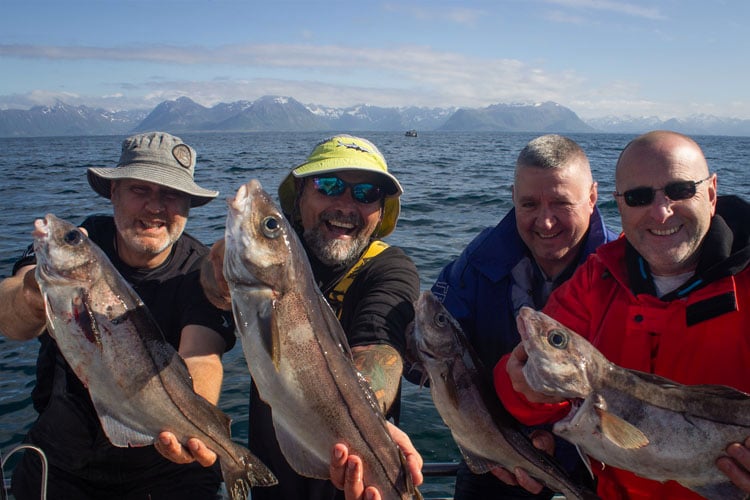 On Friday, the plan was to go out on the famous long trip to the V-mountain. All guests were charged to a thousand, but once it passes Litløya, they are met by a lot of rain, which the forecast did not promise. They decide instead to change the plans as safety always comes first. They choose to stay on the west side and went up to the fishing place Buffén as we call it where they had a really good fishing last week. Even this day it turns out to deliver fine Cod and Coalfish in the 10 kilo class. Tour leader Ross from Sportquest managed to take today's big win of 12.5 kg. A lot of nice fish was caught in this place. But the guides could not really let go that they could not get out to the V-mountain. So with a new updated weather report, they decide to stop fishing a little earlier to go home, fillet the fish, eat and some powernap before the guests were seen down on the pier again at 21:00 in the evening with a new attempt to get out to the V-mountain. On the way out, they are met by a calm sea and they could now continue all the way out to the V-mountain.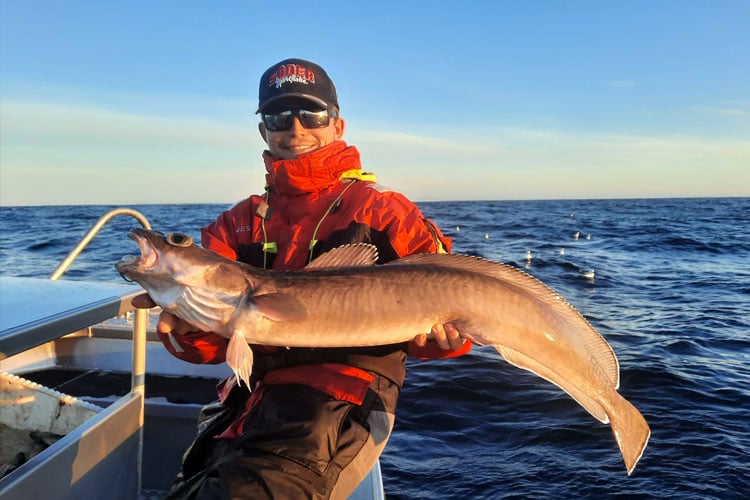 Once in place, a Cod of 15 kg was landed fairly immediately. Everyone had hopes that this will be a real thunderous evening. Unfortunately, only a couple more Cod were caught in the 10 kg class and some Coalfish otherwise it was quite dead. The fish was not chopped at all. Only two smaller Ling were also caught and when the clock starts approaching 03: 00-04: 00, they decide to leave the area again and go back on a mirror-shiny sea with the midnight sun shining in their faces. Unfortunately not quite the fishing they had hoped for but that is sometimes the case. Even in the best places, fishing can be sluggish. Regardless, it was a nice night that guests will soon forget.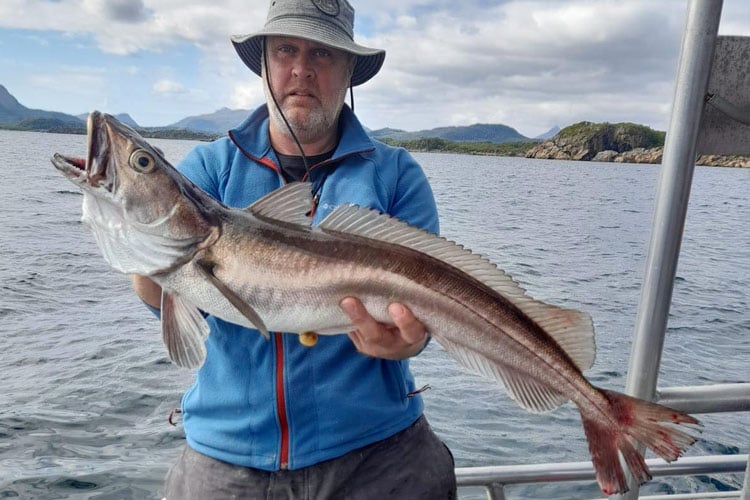 What happened to the NSA record? Well, now you will hear. The next morning, the guides met the Dutch group that had chosen to fish for kingfish on Saturday. They fished just outside Jörnfjorden in deep water. They managed to get a couple of Redfish but what stood out the most was a Hake of 4.5 kg! A fish that has never before been caught on one of our camps. (What we know about). Normally, the Hake is found further south in deep water. But apparently it is also up here. A cool catch that fits into the NSA record list. We at Nordic Sea Angling want to take the opportunity to congratulate a really unusual species!
Vesterålen shows once again what species richness there is here and what cool species can be caught here. It is no wonder that several previous records come from this destination. Anything can really happen here!
On Saturday, there was not much fishing due to bad weather and even today, Sunday, big waves roll in that limit the fishing to the local area. As long as you have the jig in the water, however, anything can happen.
A warm welcome to the realm of species fishing – Vesterålen!
CONTACT US
If you, like many others, have ever dreamt about fishing the prolific waters of Vesterålen and would like to know more information on how you can join us, you can contact our sea fishing specialist, Paul Stevens, on 01603 407596 or email at paul@sportquestholidays.com.