Vesterålen shows once again what a fantastic destination it is with both a new NSA record for Ling and a new year's best for Halibut that broke the magical 2-meter limit with 210 cm. But before we go back to the news, we must briefly tell you more about Vesterålen. It is our latest addition among our campers in northern Norway, but after a couple of seasons and many hours at sea, we are really starting to learn the area, which has been clearly shown in the last two years when one Halibut after another is reported. Not only that, Vesterålen has the chance of catching a 20 kg + Ling is really high and then only at a depth of 60 – 80m, which is normally extremely shallow. In addition to this, we have found really nice big Cod marks, and Halibut marks just a few minutes boat ride from the camp. Yes, there really is everything here, it is also here that most Monkfish are landed year after year. If you have not visited our destination Vesterålen yet, we can start recommending this versatile destination with great depths just outside where you never know what you can get on the hook.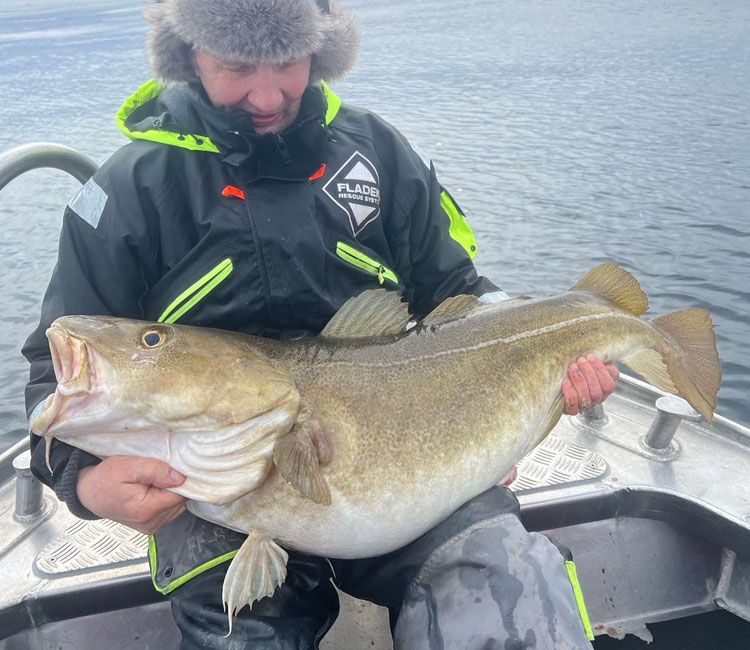 Time to go back to the news for this week's fishing, which once again made history with us at Nordic Sea Angling. The week begins with a long trip in search of Halibut. An area that is incredibly hot with really big Halibut potential. Sometimes we can also experience completely sick mass fishing here in really shallow water. But Halibut fishing can also be really sluggish at times and that was also the case today. But the boats struggled and spread out to maximize fishing, several boats had contacts and climbs but it was really difficult to set the hook. Finally we landed a nice fish of 148 cm that was landed and one of 138 cm. A couple of really nice fish but which was otherwise a really difficult day even though some smaller Halibut were landed as well.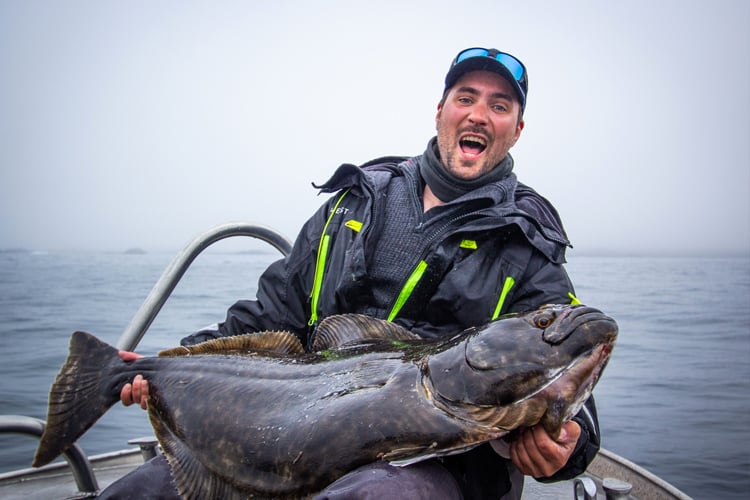 But shame on those who give up, we know they are there. It's all about the right time, place and bait so anything can happen – This was also exactly what happened to our guest Anton from the Netherlands when he fished on a previously known good fishing ground when he hooked on the Halibut of dreams. A fish that broke the magical 2-meter limit with its stable 210 cm !!! Which is also the best of the year here in Vesterålen. We at Nordic Sea Angling take off our hats for this fantastic dream fish. Getting over that 2-meter limit is many Halibut fishermen's biggest dream, but few actually catch one. The chance is always there and it shows once again what big fish potential there is here in Vesterålen.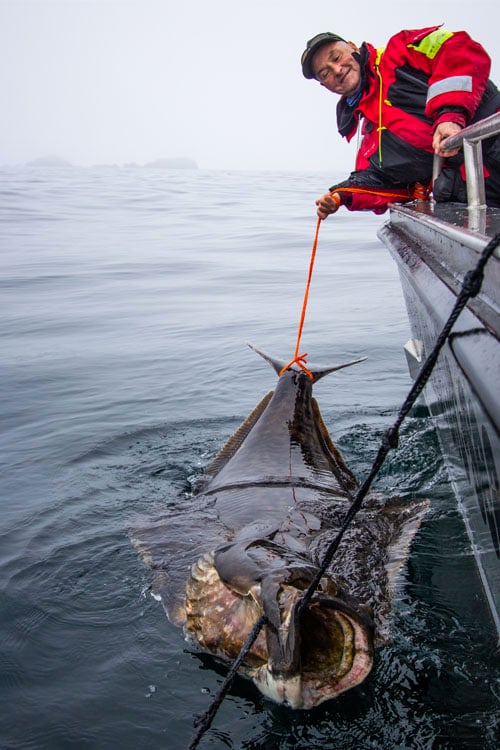 The weather then became really nice and another long trip was planned to one of our hotspots for big Cod, Coalfish and Ling. (The occasional giant Halibut has also been caught in this place). However, the fishing was much slower than what we normally have out here. The occasional fine Cod was landed, but it was not the amount of fish we usually have, but a top fish of 18 kg and a group of around 10 kg, the class was still landed during the day. A couple of big wins of around 10 kg were also caught this day, but no real mass fishing here either. On the other hand, they got to experience a completely sick fishing session for Ling. The guide Håkon says that he found a relatively small area where he got to experience a real Ling bonanza with, among other things, a triple hook up and a brutal Ling that our guest John caught at 36 kg and 157 cm, which is also a NEW NSA RECORD! A dream fish and we can only congratulate John on a fantastic catch. Congratulations from us at Nordic Sea Angling!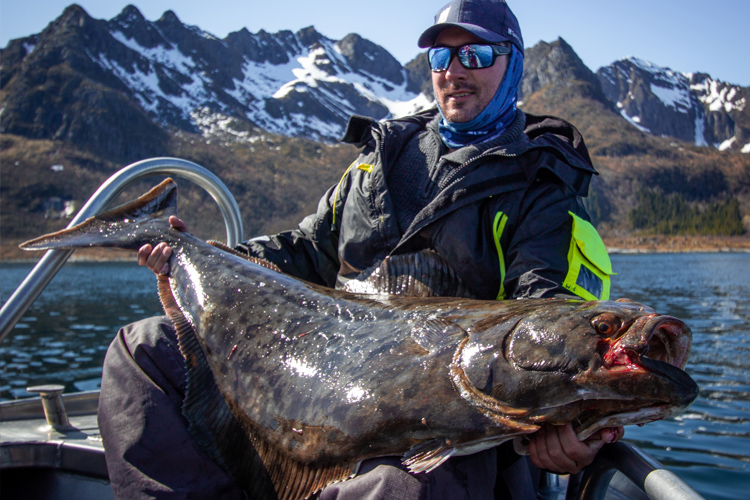 As the fishing for ling was so incredibly good, they had to stop fishing fairly quickly as the Ling can be difficult to release. So after a couple of nice ones, they decide to thank each other and slide home to our camp in Vesterålen.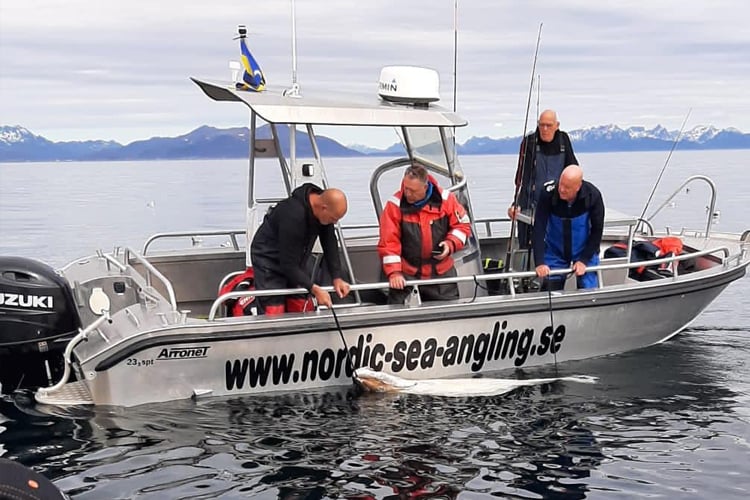 The guide Håkon also tells about an absolutely incredible event that happened the next day when after only 5 minutes of fishing in a previously known Halibut place where John hooks on something BIG that he unfortunately loses. But barely a second later, it explodes for Jimmy and also Christer. So now they are both stood with bent rods and heavy swing. But pretty quickly Håkon understands that it is the same fish and not long after, Jimmy's line goes off. But Christer struggles and finally a giant comes to the surface. Håkon puts the Halibut hook and the fish is secured! It's big and not only that, there's also Jimmy's circle hook in the mouth of the flounder. Ie. It chopped on 3 baits but got stuck on two of them.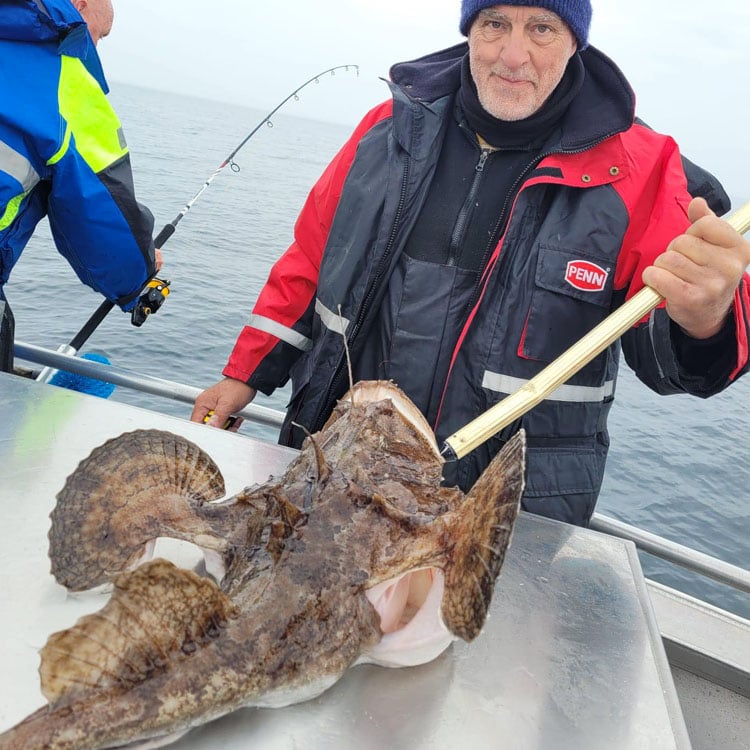 It is what we call a voracious Halibut that does not hesitate. It was measured to a full 180 cm and after a few quick pictures they could see her swimming back to the depths again. Congratulations to Christer and the whole boat team, a fishing story we will soon forget. Worth mentioning is that they also made contact with 3-4 more fish in a better caliber this day which unfortunately were not hooked but they managed to lure another nice one of 125 cm so you can still say that it was a fantastic day this day as well.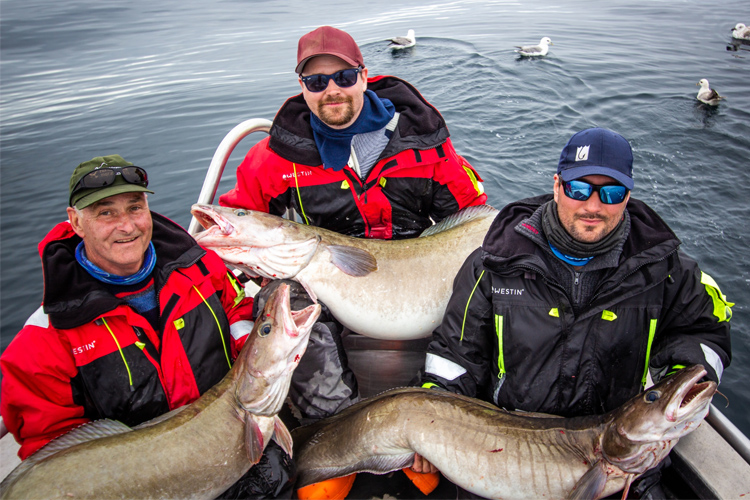 Our guides Håkon Nilsen and Alexander Bröther report and are ready for new days at sea.
You are warmly welcome to our destination Vesterålen where anything can happen.
CONTACT US
If you, like many others, have ever dreamt about fishing the prolific waters of Vesterålen and would like to know more information on how you can join us, you can contact our sea fishing specialist, Paul Stevens, on 01603 407596 or email at paul@sportquestholidays.com.