This week has been marked by varied weather, high waves and fewer bars out at sea. But this has not stopped our groups here at Vesterålen.
The Mackerel continue to boil on the surface and the sea eagle continues to keep an eye on us from its nest, a stone's throw from the camp. This week we have also had a few flecks of Atlantic Sea Salmon swimming and jumping right outside the jetty edge!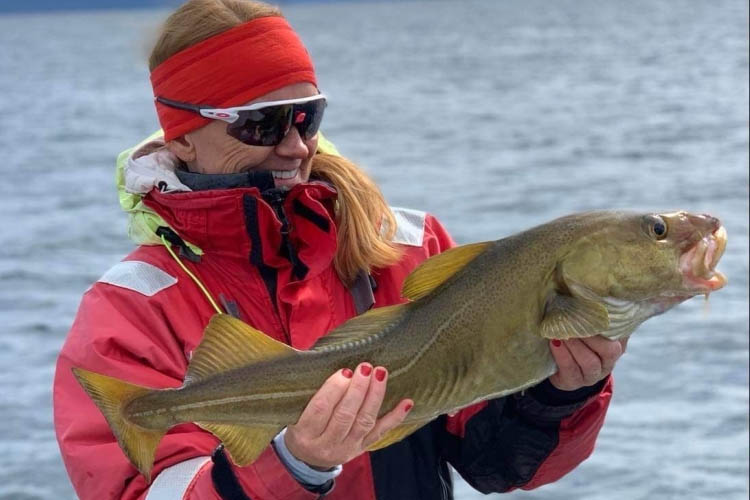 The first days of this week, our group with Arvids and his wife spent a lot of time in the Eidsfjord, due to high swells and gales. They could report good fishing. They have received everything from great food Cod of 5-6 kilos to Mackerel and Haddock. They also got a Pollock of around 3 kilos in the boat.
Yesterday I took my family out to the lake to show this fantastic place and what raw nature Vesterålen has to offer. We headed out past Litløya. We were followed by a large sea eagle on the road. When we got through the passage between Litløya and Gaukvær, it didn't take long before we decided to turn around and drive back due to the swells that were still out there. We chose instead to drive on the lee side where it was almost windless with no waves. Something that the big mountains take care of. It didn't take long before we got in some food Cod of around 4 kilos. The Haddock and Pollock were also very willing to bite, the fish were not of the greatest caliber but still incredibly fun when biting. They took about 70 meters on a sand eel. Something amazing that also happened was that a really huge Orca showed itself only 10 meters away from our boat, something you never get tired of seeing. On the way home we visited some shallow toppers not too far from the camp. It didn't take many casts before I (Alexander) got a really nice Pollock in the 6 kilo class.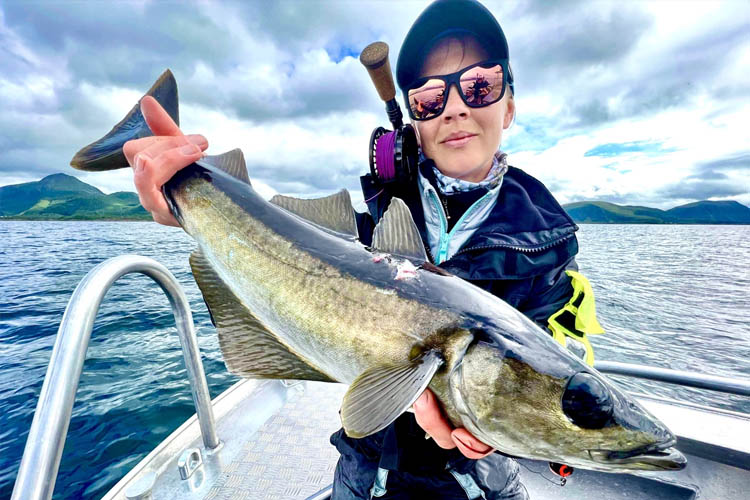 The group consisting of Emma and Atle arrived a little later this week. The first day of fishing, which was Sunday, they drove out in search of Halibut, out by the area around the "buffen". A place that has delivered a lot of big fish in the past. They say that the weather was a bit rough but still fishable. They had several good contacts on their first fishing day, but unfortunately no one knows the country. They also report that they found large quantities of Coalfish hunting in shallower waters. Several fine Coalfish were taken this day. Emma took the biggest at 8 kilos. The day was short-lived due to illness. But they realized that this place they wanted to invest more in later in the week!
This evening we saw loads of Salmon right outside our camp. Atle quickly realized that he had to start rigging up rods and start casting from the edge of the wharf right outside their cabin. After a couple of casts it just says stop and Atle quickly realizes what had taken the hook at the end of the line. After a good "fight", he gets to see what has taken the swallow. It was a shiny female Salmon in the 8 kilo class. The Salmon was very badly hooked. Unfortunately, what should not happen happens when the fish is landed. The hook comes loose from the mouth, and the Salmon swims out into the deeper water again. Such fishing, but what a fun experience to have!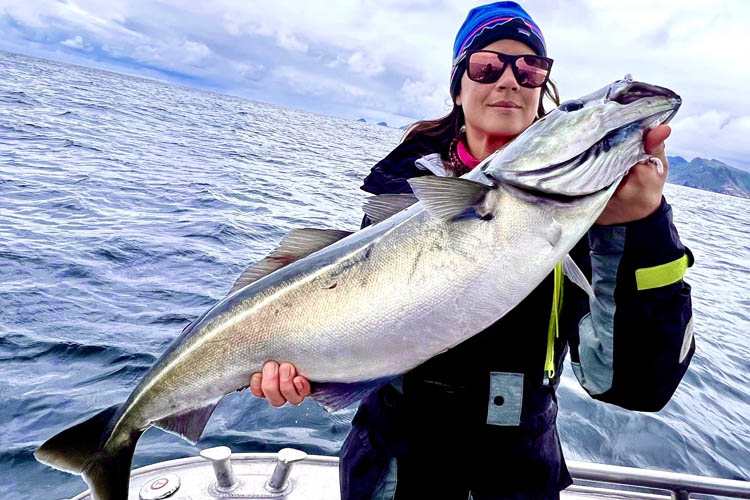 On Monday, Atle and Emma took a short trip out to the area around the lagoon, because it was a slightly more weathered day. There they had a really cool fishing with Cod of around 6 kilos and large Coalfish of around 9 kilos. Emma also caught a nice Pollock on a fly rod of about 3 kilos. They could also say that they had several nice contacts with what I think were some nice Halibut. The group with Arvids and his wife could also tell about much of the same this day since they fished in many of the same areas.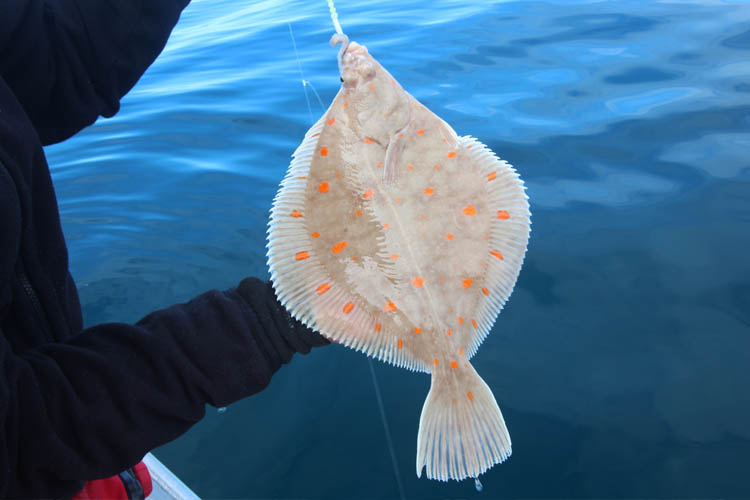 Tuesday, Nice weather-sun and calm wind. Early this day, I (Alexander) Kristian left and lived out towards the west side. We agreed that we would give a really big Halibut (chick) a try. We start the day by getting up Coalfish of around 2.5 kilos to use for baitfish, so we set course for some places we haven't tested that much before but in which we had great faith. We fished really well over the flowing channels in this area, unfortunately there were no big Halibut that day. But this area should be used more time in the future! When the current and tide went out, we moved to fish a little area a little further north. It didn't take long before our skilled angler and guide Kristian caught one of the most beautiful Plaice we have seen. It was of the smaller size, but for some beautiful colors and dots on this Plaice! We continued with Plaice fishing for about an hour before we set course for the "buffen". I (Alexander) hooked a really nice large Coalfish of around 12 kilos.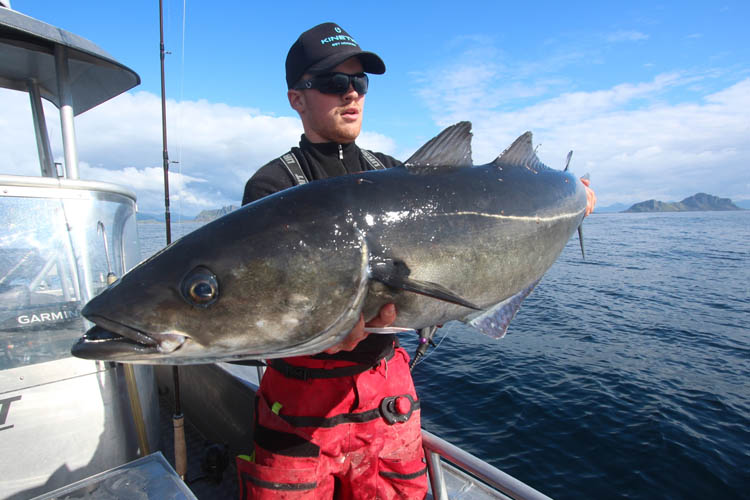 Everyone in the boat each got a big Coalfish and Kristian got a really nice Coalfish on light gear, which is always just as cool! Several Cod also came up in the 6 kilo class. I (Alexander) hooked a really nice large Coalfish of around 12 kilos.
A little later that day, Emma and Atle also went out to the "buffen" area. We met them out there, and they were able to tell us that they have had several contacts where the Whiting has followed a good distance up. Atle also told me that he had put his Rod in the rod holder with a 400 gram jig on the other end, while he was re-rigging his rig, it hit something that looked like a really nice Halibut. Emma sees this quickly and tries to get the rod loose from the rod holder, which is not always easy, but this also fixed Emma, ​​and she was able to start driving the coarser Halibut. They ride the Halibut for a while before it escapes the roof not too many meters below the boat. Very sorry. But as positive and skilled as you are, it was just a matter of adding a new drive. It didn't take long before they got a very lively and nice Halibut of around 85cm which took the jig for Emma. After giving up a good fight, it was home for dinner. Eventually they had to get hold of more bait fish. Drove to a shallow top just nearby. Atle started fishing for baitfish and Emma started fishing with a sand eel of 150 grams. It resulted in Emma getting a very nice and very strong Cod of 5.5 kilos! Something that is always as fun on lighter equipment!
What a beautiful day here on beautiful Vesterålen!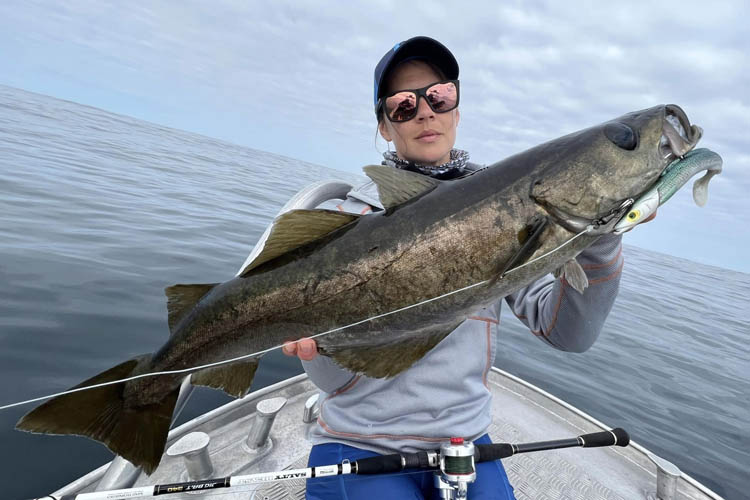 It actually reported an increasing and slightly nastier wind than earlier this week. But when our groups open the veranda door this morning and look out towards the Jørnfjord, it's mirror-bright outside, not a single ripple. Emma and Atle set course once again towards the "buffet". When they came out, the sea was a bit more noisy, but it was crazy good drifting! They started the day by drifting for Coalfish with a slightly smaller jig and almost immediately hit a shoal. It hit all the rocks and they got a proper training for the arms! They landed many fine Coalfish, the largest was around 12 kilos. The wind died down completely and soon after they lost a really big Coalfish which took bait fish that had bitten on a hook completely on the surface! After a short session with the Coalfish, the Halibut was once again lucky! It didn't take many minutes before there was action on the quail front too! Noe had taken the bait fish that was attached to the Halibut for Emma. Emma cranked in the jig quickly to see what had taken the bait. But then a Halibut of around 100 cm followed up all the way to their boat. Unfortunately, it slipped after a short period.
We here at Vesterålen thank you for a fantastic uke and we look forward to welcoming our new customers!
Tight lines///
Alexander Brøther, Kristian Hausken and Bo Gustavsson
CONTACT US
If you, like many others, have ever dreamt about fishing the prolific waters of Vesterålen and would like to know more information on how you can join us, you can contact our sea fishing specialist, Paul Stevens, on 01603 407596 or email at paul@sportquestholidays.com.