Another week is over here in Vesterålen. The temperature has dropped quite sharply in recent weeks, and the leaves on the trees have turned orange. The gravel road leading to the camp is covered with orange leaves, and you can feel that the cold autumn air has fully absorbed Northern Norway.
As the local fishermen have often said, Halibut begin to enter shallow water when the first leaves fall from the trees. The past week has been demanding both in terms of fishing and weather. It has been blowing quite strongly from the North East for most of the time, and that has made the fishing itself difficult. But fortunately, the Northeast is not so dangerous here on the South and West sides. There will actually be quite a lot of wind, although the waves turned from the north and created tough conditions regardless of the north-easterly winds. But we have fought every single minute…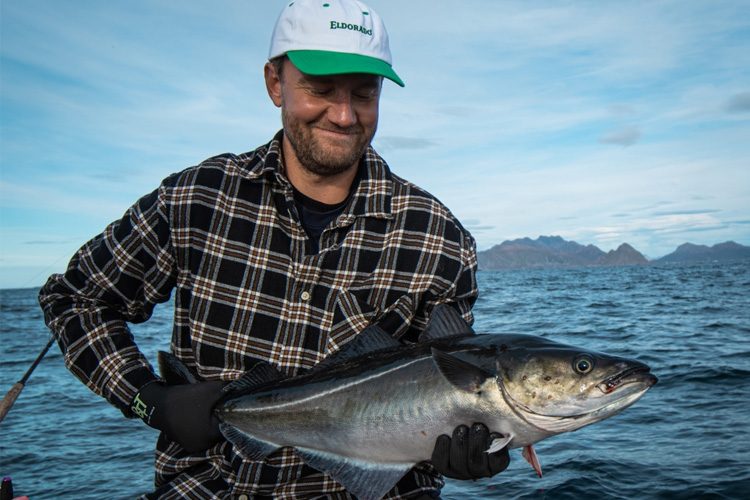 In the Guide boat this week we have had a visit from Max, Einar and Kris from Stockholm. This was their very first fishing trip to Northern Norway, and they probably didn't quite know what to expect. In boat 6 we had a visit from Hadi & co from Vestkysten in Sweden who have been to Northern Norway several times and fished a lot before. Although the conditions were tough these days, we got fishing all day. In the Guide boat, the first days were used to aim for Cod, and the Grunntoppene on the West side delivered fine Cod in the fine size of 3-7 kilos. Hadi and the gang bet on Halibut duty, and quite quickly got in touch with one of the big ladies who lives outside the camp. After 35 minutes of nail-biting fighting, it unfortunately came loose, but Hadi could confirm that this was a monster that would not get up. The fish had raced away 100 meters before it had stopped, and they chased the fish several times. But as I said, this fish won this time.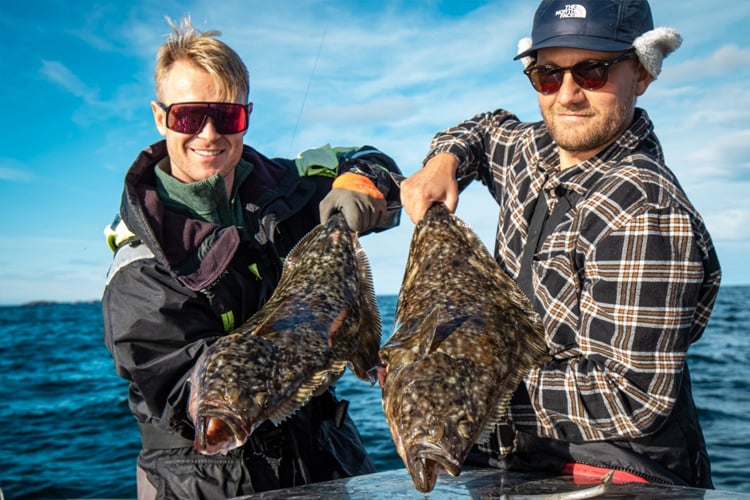 In the coming days, the gang in Guide boat was very keen to give these flat giants a chance. Alex steered the Guideboat on Friday, and went to an area that has produced good fish lately. And it didn't take long before Kris was able to hook and land the first Halibut of the day immediately under measure. In any case, the barrier was broken, and the gang "tagged" again, and after a few hours it would bang again. After a bit of back and forth, Alex was able to secure two nice Halibut which unfortunately did not measure up to be able to keep. But today's goal was a fact, and there were 3 happy guys in the boat. A little further away was boat 6 and had a nice Cod fishing with some elements of larger Cod up to 10 kilos. During both Saturday and Sunday it was tough weather. We fought our way out west both days, but the fish really didn't want to bite. In the Guide boat we spent the hours targeting Halibut, and we had several nice contacts these days, but it was straight poles. The gang in the Guideboat already left on Monday morning, since they had had a pleasant and nice weekend trip here in Vesterålen. So thank you very much for some nice days here, with lots of laughter and nice Halibut evenings.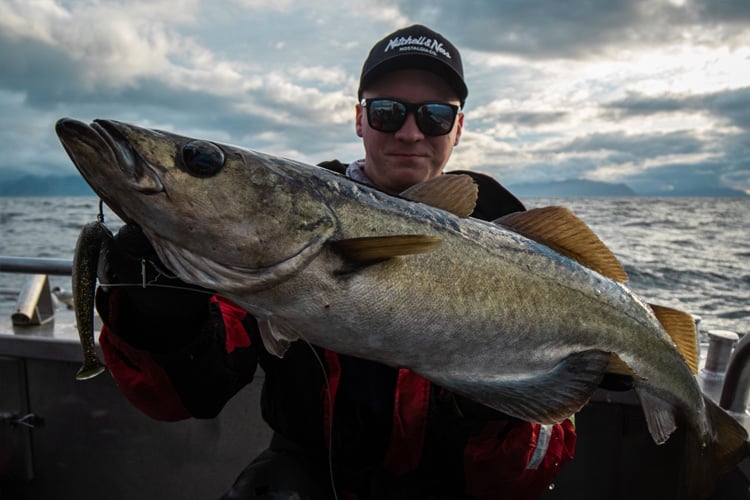 On Monday, there were only boat 6 left at the Camp, and unfortunately the weather didn't allow anything other than lying right outside the harbor that day, So Hadi and the gang took a quick trip out into the fjord to get a feel for it, but quickly realized that it was a bit of a tough relationship. Fortunately, the weather gods would be with us again on Tuesday, and Yr promised 2-3 second meters, and sun actually! So we plan in for a longer trip… Me and Alex took the Guide boat, and took boat 6 with us for a longer trip south to one of the beautiful tidal streams we have here.
Halfway on the way, we stop to pick some baitfish that we could serve to the Halibut there. But on the first peak the baitfish were scattered around sporadically, and below you could see some larger echoes swimming around. And when I dropped the hook the first time, and hooked a small Cod, it took about 1 second before the Cod was taken, and up comes a fully clothed Cod up in the boat. I slip down again, and now it was suddenly something bigger that had chosen to bite. It loosens, and stabs again. And so it continues until I could see something that I was crocheting back and forth and just one per meter under the boat, a nice 7 kilo Cod chops!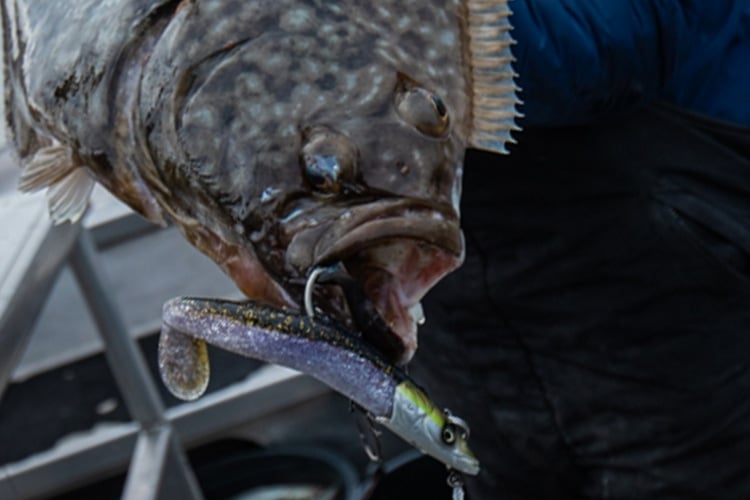 It was really cool to see the Cod actively hunting, and suddenly everyone in both boats was standing with fishing rods and nice Cod at the end! The Cod was almost a "trouble" when we tried to catch the Coalies. We caught some nice Coalfish and Cod in just a few minutes. Hadi and the others chose to stay for a while until the Cod fishing was so good, and they were successful with the fishing and caught several nice Cod up to 12 kilos.
We put our first drift on a sand plateau of around 18 meters, and lowered our baitsne. The spinning rods were rigged, and we started casting. I keep a close eye on the sonar, and see something rising after only a few minutes of fishing. Nothing happens on any of the rocks, but it is clear that something is chasing around under the boat. A few intensive seconds of nittitting on the sonar later, it suddenly ticks quickly. I take out the rod and feel it. Nothing. I'll check the baitfish if it had been touched at all, and then it thumps. The brake is set down, and the fish begins to drag the tackle down with its tenacity. Now I think it's time to crank in the circle hook, and for a second it's lead heavy, followed by a strong headshake, then it's slaughtered. After a few words that don't fit here, then I crank up the baitfish and see that the circle hook has folded itself into the bait, making hooking impossible. Well well, at least there was action here, and continued to fish. It happened quite a bit, until Alex pulls out his jig at a depth of 13 meters and hooks a fish! At first we thought it was just a small Cod, until the fish decided to turn around and go in the complete opposite direction. Then we realized what was going on, and after some funny outings we were able to secure a nice fish of 92 cm! Now we got the faith again, and the fishing on.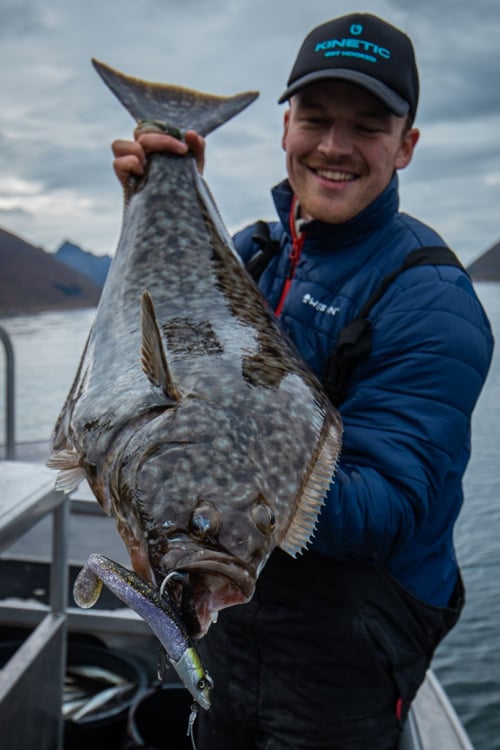 We had several fish that came up and looked, but they were simply not on the hook. We sought out more current in the hope that it would trigger the Halibut to strike – and it did! On a 15 meter shallow sand flat, a larger fish comes up on the echo sounder and thumps on my bait. But no line ticks out. We follow the sonar and see that the fish is keeping in line with the bait. Suddenly the rod bends, and I think it's time to crank in the circle hook. But once again to my own frustration, nothing happens when I swerve to. The fish had spit out the bait, and swam further… And this was repeated all day. We had many fish that were up and nibbling on the bait, but they didn't go "all in" for it. At one point we drove very close to shore to see if we could see any Halibut. And in the first drift at a depth of 8 meters it didn't take long before a 120-130 cm fish came up and took half the bait. And then we could see with our own eyes that the Halibut were not completely cut that day. Because this one also spit out the baitfish before you even had time to react. We continued fishing, and more fine markings came up, but the story remained the same. A very nice and quiet day that ended up being quite frustrating. But that's your fishing, because this could have been a completely crazy day if all these fish had been completely on point. Something you can be sure of is that we will try this area as soon as the weather permits. Because my favorite time has finally arrived. When the Halibut reach the bottom, you can see them…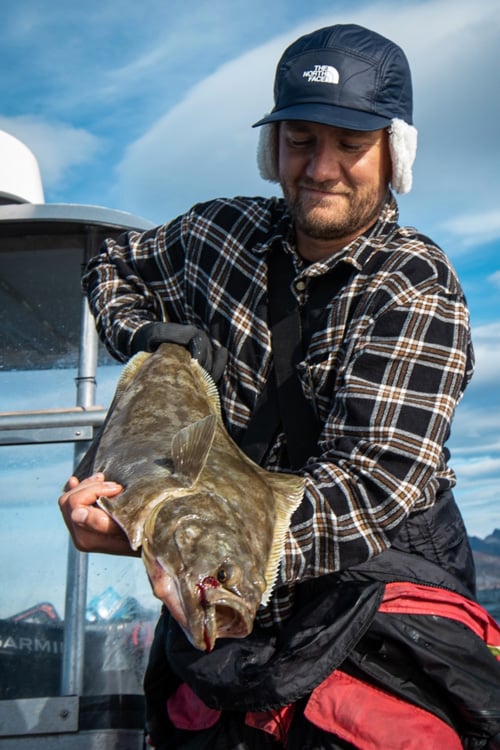 Despite the fact that it was a frustrating day where we probably should have had more nice fish in the country, it was an incredible experience to see the Halibut hunting on the shallows, and to have so many contacts after a few successful days ahead. Autumn is here, and I think it's only going to get better now. Unfortunately, the weather does not look promising for the first few days of this new week, but this weekend the wind should drop quite strongly. So we're crossing our fingers that the weather will be good, so we can get out…
Tight Lines // Jørgen & Alexander
CONTACT US
If you, like many others, have ever dreamt about fishing the prolific waters of Vesterålen and would like to know more information on how you can join us, you can contact our sea fishing specialist, Paul Stevens, on 01603 407596 or email at paul@sportquestholidays.com.