Another week has passed and we can sum up a week with varying conditions both in terms of weather and fishing. Initially, it was really bad weather but then came the high summer with 20 degrees of heat and light winds.
Sunday was the first day when the guests went out for some real fishing. Alexander steered the course towards Strandgrund and the adjacent peaks in the hunt for good mass fishing for both Cod, Coalfish, Pollock, and haddock. Once in place, some Cod was caught but not really the big ones. With a top fish of around 4-6 kg and both fine Pollock and Haddock in this place. But when the fishing had not really started on Strandgrund, he decided to move to another base where he usually finds a lot of fish.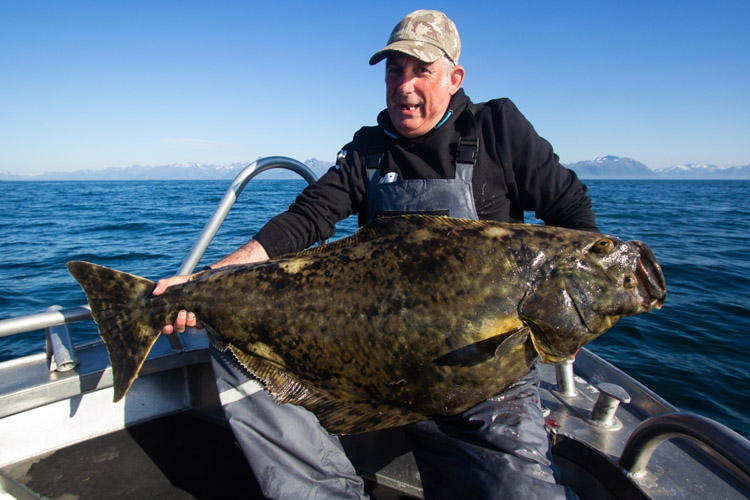 As soon as he gets there, the sonar is filled with bait fish. They get some big wins then the shoal suddenly disappears. A group of porpoises begins to circulate around the boat and soon after, his guest shouts that he has hooked something big. He stands with his spinning rod and a reel that sprays the line straight out of the boat. Alexander shouts to everyone to crank them up. The fish sets full speed towards deep water. Alexander drives after at full speed and the guest cranks feverishly to get some line back on the almost empty spool. It will be a few intense minutes before the fish decides to "park" at a depth of 130 meters. After 15 minutes of various attempts to lift the fish, unfortunately the line breaks off.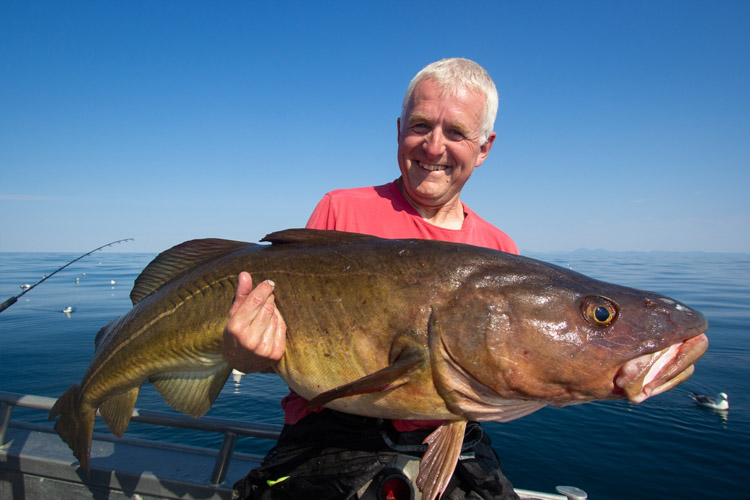 That it was LARGE was out of the question, almost impossible to lift from the bottom, despite after a long time with many attempts, they did not manage to land the fish. A big disappointment is spread in the boat, it was really a fish they had wanted to see, that dream Halibut that of course chops on the "wrong" rod. The guest who would just take a few throws with his lighter spinning rod after the big win and then that monster slams on. We dare not say how big it was but that it was BIG! Alexander goes back to the same foundation and as a plaster on the wounds, it does not take long before they are hooked in a new Halibut. A short but intense fight later, they have managed to land a nice fish of 120 cm. Shortly afterwards, the British also announce that they have landed a 133 cm one in the boat next to it.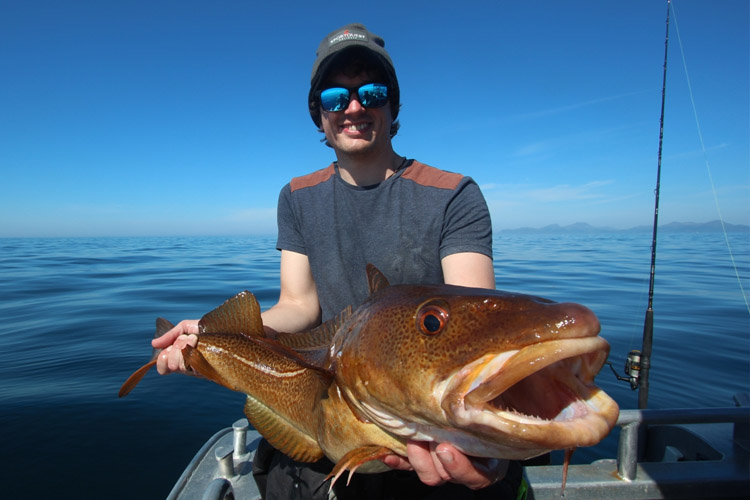 Monday morning the alarm rings at 05:00 and after a strong coffee the gang gets ready for today's long trip out to the V-mountain. The atmosphere is always special before these long trips. A mythical fishing spot where EVERYTHING can happen! It goes out in a common convoy, the guests turn their backs on the guide Alexander who shows the way out to this fantastic fishing spot.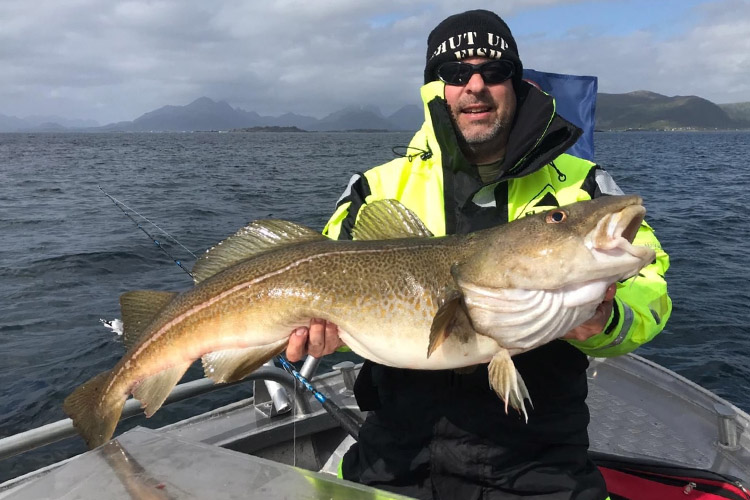 Once out, it does not take long before the British report a large Cod of about 20 kg! A couple of Cod come up to around 10 kg before continuing out to test the longline fishing. A pair is caught around 5-7 kg. Then it slams on something stronger in the guide boat, after the first initial rush, Alexander understands that it is a Halibut. After hard pressure, they manage to land a nice Halibut which was also measured to 120 cm! Then the fishing died down, so Alexander scanned the chart to find something new. He then gets eyes on the 52 m base peak that we previously got nice Cod at. It turned out to be a cruel decision because within an hour they had landed 6 cod over 15 kg where the 3 largest were at 17, 18 and 25 kg!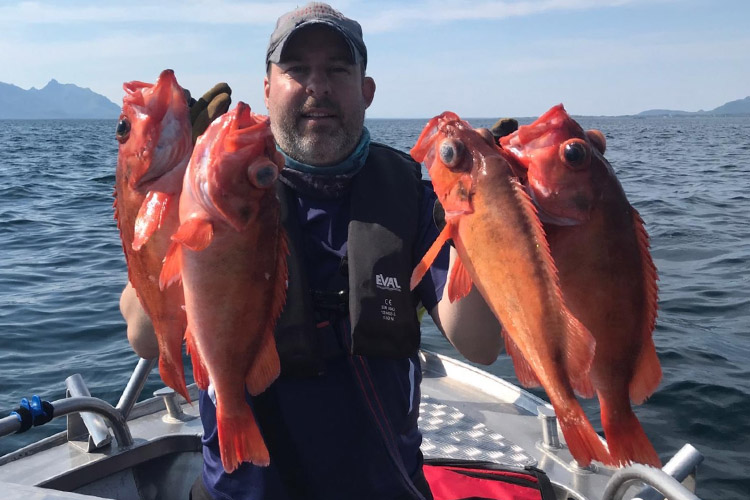 Our German guests also report a lot of Redfish and chubby when they have tested the deep-sea fishing just outside the camp. Also a lot of big wins. A nice fishing to say the least you should try, if nothing else for the fish's fine culinary experience.
On the last day, Jim from the British boat also managed to land a nice Halibut of 130 cm on the west side not far from our place "Buffén" taken at a depth of 50 meters. Worth mentioning is that all the Halibut were caught on jig this week. This taken on a Crazy Daizy 400 gr from Westin fishing.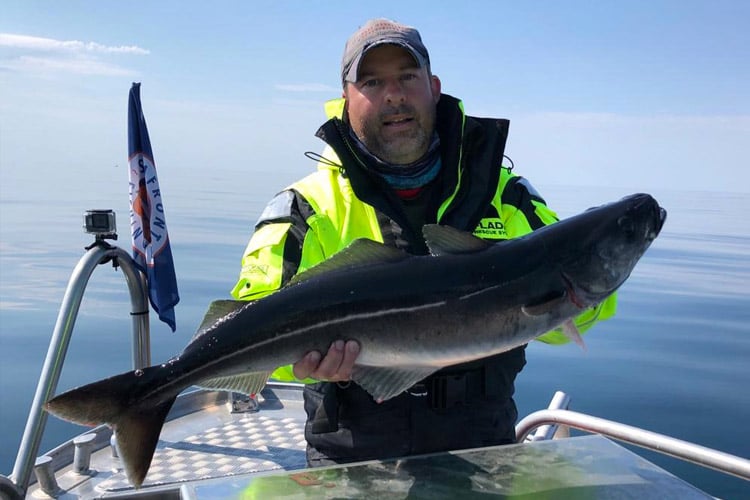 Now we are charging for a new week in Vesterålen and wish all new guests a warm welcome!
CONTACT US
If you, like many others, have ever dreamt about fishing the prolific waters of Vesterålen and would like to know more information on how you can join us, you can contact our sea fishing specialist, Paul Stevens, on 01603 407596 or email at paul@sportquestholidays.com.