The heat continues, and the fishing just keeps on delivering. The Cod fishing has been really good this week with a good average size, the Great Halibut have also not hesitated to devour what our guests have chosen to serve them. There have also been several fine Halibut this week with a top of 181cm and a single larger one that was lost during landing. The killer whales have been very present this week too! They have shown great interest in our boats and we have had them right up by the edge of the boat.
On Monday and Tuesday, our Dutch guests spent most of their time fishing for Cod and Halibut. They regularly reported large Cod up to the 16 kilos class and several bonus Halibut with a top of 117cm during the Cod fishing. Our Dutch guests had also succeeded in hooking, fighting to catch a monster Halibut, which on film appeared to be just under 2m! But when they tried to land the Halibut, they did not succeed in getting the hook through. Something that resulted in the fish going bananas at the edge of the boat. The fish got loose from the hook, and swam down to the depths again…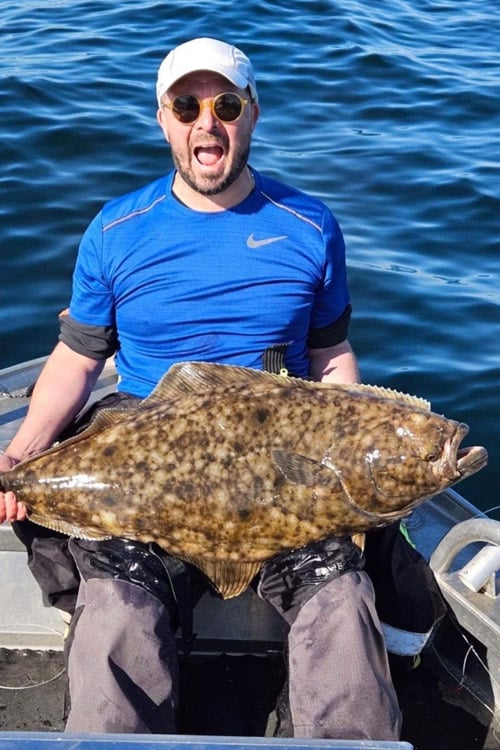 I took our British guests with me for the Halibut fishing. Jim in the other boat with his guests, also followed soon after. We are fishing an area where some really nice Halibut have been caught before. There will be a couple of drifts without too much action. Suddenly, the reel starts rushing for Pete. I turn around and there is a rod with a good bend too. Pete turns on the brake and starts cranking the fish. When he starts applying pressure, it just stops. I realized right away that this fish was really big! The fish refuses to move and it just slides along the bottom followed by some really nice head shakes that Pete will never forget. The fight got pretty brutal as every time Pete started to get the near surface it just rustled all the way back down. This was repeated seven times before I could finally secure the fish. The fish was measured at 181cm and will also be Pete's first and biggest Halibut!
Like Peter, we also landed a fish of 84 cm which becomes a nice bonus fish. Jim who fished nearby could also report a nice Halibut of around 100cm just after. We had several good contacts this day and some bigger ones who didn't want to come with us all the way up.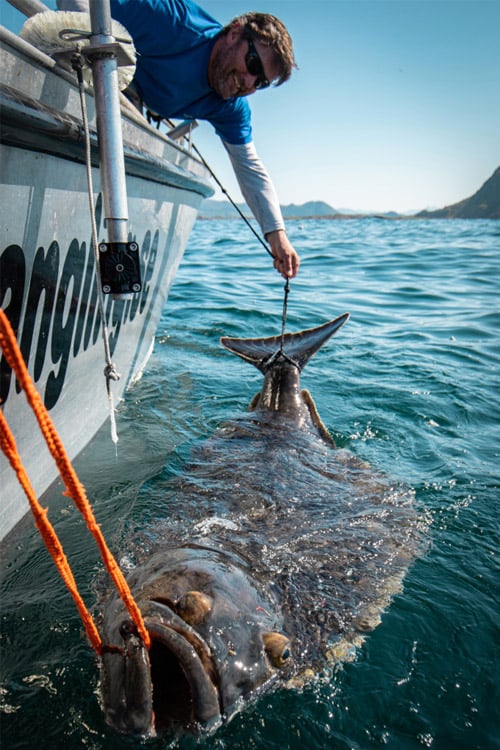 After a little while, a guest in my boat wanted to try and catch a really big Cod too! I moved to a place where we have had some really nice Cod before. Only one and a half nautical miles away. The guests drop the jigs and it takes just under 2 minutes before Carl catches a really nice Cod of 15 kilos!
After a real adrenaline-filled day, the course headed home. Around 15 minutes away from the camp, we meet a large herd of hunting killer whales. They played and circled around our boats before finally heading for deeper waters again. But what an experience and what an end to the week!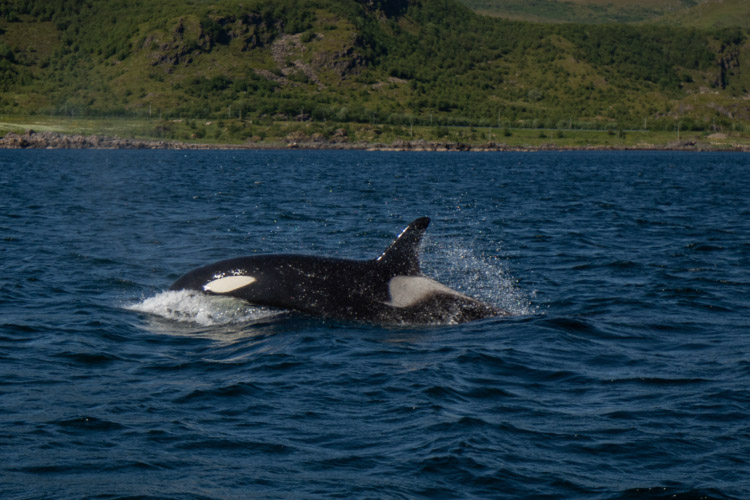 We have already welcomed our new guests and you are ready for one more fantastic week! We also want to thank our guests from last week for many unforgettable experiences.
Tight lines//
Alexander and Jørgen
CONTACT US
If you, like many others, have ever dreamt about fishing the prolific waters of Vesterålen and would like to know more information on how you can join us, you can contact our sea fishing specialist, Paul Stevens, on 01603 407596 or email at paul@sportquestholidays.com.