Overview
Category: Fishing Holidays, Sea Fishing


If you are serious about your sea fishing in Northern Norway you will of heard of Andöya which is located in right up in Northern Norway, this destination is surrounded by deep water marks which are perfect for picking up some different species like Redfish, Ling and Halibut. Risoysundet  is a camp that is renowned for its great fishing and anglers in the past have even headed offshore from here and targeted the monstrous Greenland sharks that swim in these waters. Tackle is available for hire here which is of the highest quality and at this camp there are also 2 guides at all times who are happy to help with any questions you may have to ensure your fishing goes the best it possibly can.
Location
This destination of Risöysundet is located on the south-east part of Andöya, in a strait called Risöysundet, the cabins are well protected from the wind and offer great possibilities for a big variety of both fishing areas and species to target. In Andfjorden, which is located to the east through the narrow strait of Risöyhamn there are numerous spots to target Redfish, Ling and other species that are normally caught in deep water. The structure in this area is very interesting with many peaks, plateaus and steep edges, the depth goes all the way down to 500 m.. Closer to the shore there are also many very interesting fishing areas for Cod (we have caught Cod to 53lb here during the summer) Coalfish and Halibut, which we tried with good result during our test fishing. During our first season, many large Halibuts have been caught in the areas, from 150-160 cm all the way up to 226 cm, which is a true trophy fish. To the west of the camp is a mark called Gavlfjorden , here you will find many sandy banks, plateaus and channels which are ideal for catching Halibut, further out towards the open sea are many reefs, islands and peaks with close access to the deep edge outside where we had great fishing for Cod and Coalfish during our first try here.
Fishing
Risoysundet is located in northern Norway and is an amazing venue due to the depths of water and the different species it holds. During our first season Risoysundet has been the best area for big Coalfish (up to 38lb) and big Cod (above 45lb) and also several big Halibut over 150 cm, further out, around 15 NM from the last island you will find "Eggakanten" with great depths and all the possibilities for exciting fishing at the depths. The depth lines rushes from 300-800 metres here. During our first try we caught 8 Redfish with 6 over 12lb and the biggest of 22lb, we also caught great numbers of ling up to 42lb. To sum it up, there are many areas to fish and you can often choose an area protected from the wind since we have the possibility to go both to the East and to the West and the variety of species are great. We caught more than 10 different kinds of species during our first 3 test days with great average size on both Cod and Coalfish. These fish can all be caught using tried and tested methods like jigging with shads and using baited traces whilst drifting. On-site we have 4 of the very popular 23.5ft Aluminium Arronet boats which have been crafted with safety in mind. These boats have been built to take on many different sea conditions and are one of the best boats you will find in the whole of Norway. They are powered by Suzuki 150HP Four stroke engines which are highly fuel efficient engines and will get you from A to B very quickly. Of course, these boats are also equipped with all of the very best electronic equipment to ensure your days fishing are the best they can be. Also, whilst enjoying your weeks holiday, you will have access to a fully stocked tackle shop selling everything you will need from top leading brands as Westin, Kenetics and Savage. There is a freezer and filleting room for when you wish to bring fish home and is also a great social area to brag to the other anglers about your catches. As with many of our other destinations, we will also supply a free to use car so you can go to the supermarket when you want to, this will be located at the front of the cabins and must be returned to the same area once used.
Guides
At the camp of Risoysundet you will have 2 guides on site at all times, these guides take it on turns to take customers out onto the water fishing with 1 staying on land at all times to help with anything that the customers may need. These guides have been working these waters for a long time and will have great knowledge of the fishing that is to be done here. if you have a specific species that you wish to target then let these guides know and they will advise the best they can to advise you on where to go and methods to use to catch it.
For more information about this tour, contact our experienced team who will be happy to answer any queries you have. Alternatively, can request a free brochure.'
Accommodation
This cabin also known as the "House" which is our big accommodation suitable for up to 9 persons.
Here we have 7 bedrooms with single or double beds, 2 bathrooms, shower and a full equipped kitchen. (Stove, oven, dishwasher, sink, microwave oven). There is also a big living room with enough space to eat together and also comfortable armchairs for relaxing. On the outside of the house is a big terrace with outside furniture. The "House" is located around 100 metres from the harbour. This is suitable for bigger groups with two boats. We will not split groups in this accommodation.
Board: Self Catering
Rooms: Single Rooms
Internet: Free WIFI
Power: 230 Volts
Equipment Hire: On-site tackle shop
Shop: On-site tackle shop
Cards Accepted: Debit / Credit
Freezer Room: Walk in freezer
Filleting Area: Dedicated filleting area
Species Information
Halibut
Season: April to October
Peak: June
Weight: ackle is available for hire here
Average Weight: 60lb

Cod
Season: March to October
Peak: March
Weight: 5lb to 100lb
Average Weight: 30lb

Coalfish
Season: May to October
Peak: July
Weight: 5lb to 50lb
Average Weight: 18lb

Ling
Season: March to October
Peak: June
Weight: 10lb to 60lb
Average Weight: 15lb

Redfish
Season: March to October
Peak: May
Weight: 2lb to 22lb
Average Weight: 5lb

Plaice
Season: March to October
Peak: September
Weight: 1lb to 8lb
Average Weight: 2lb

Wolfish
Season: March to October
Peak: All Year
Weight: 5lb to 15lb
Average Weight: 6lb

Pollack
Season: March to October
Peak: July
Weight: 3lb to 10lb
Average Weight: 4lb

Suggested Itinerary
Although the fishing has set weeks, we have daily flights departing from the UK, therefore should you wish to either extend your stay with additional days at the beginning or end in Norway, the itinerary below can be tailored to suit.
DAY 1: 
Depart UK (alternative routes available)
Arrive Oslo
Depart Oslo
Arrive Evenes
Once your group have collected all the bags, make your way out of the terminal building and across to the bus stops where the Fly Bus will be waiting to transfer you to Sortland. (Fly Bus transfer approx. 2hrs) Once in the village of Sortland you will then be met by the fishing guides who will be waiting to transfer you the rest of the way to Risöysundet cabins. (Transfer approx. 50minutes)
Once you have arrived at the cabins you will be shown to your cabin and then a brief talk about the camp and the boats. You are then free to relax and unpack or if you feel like it, take the boat out and explore.
Overnight Accommodation: Risöysundet Cabin S/C
DAYS 2 TO 4: Fishing Days.
We have full time guides on hand for you each day of your holiday, which will assist in any way you wish.
On your first days fishing, subject to availability, one of our guides will come aboard your boat free of charge and show you some hotspots. This service is free and a great way to get to know the area you are fishing if its your first time.
Overnight Accommodation: Risöysundet Cabin S/C
DAYS 5 TO 7: Fishing Days.
As you have your own boat, you can fish as much as you wish and at certain times of the year it remains daylight 24hrs a day.
The area around Risöysundet is full of fish holding areas and it will not take you long to find these areas. The guides at the camp will help you locate species of your choice and on some days you are more than welcome to follow the guide when he is fishing from other peoples boats.
Overnight Accommodation: Risöysundet Cabin S/C
DAY 8: 
In the morning you will be transferred back again via private bus to Sortland in time to catch the Fly Bus back to Evenes airport.
Depart Evenes
Arrive Oslo
Depart Oslo
Arrive UK
Dates & Prices
Remember that Sportquest Holidays' services are completely FREE! When you book a trip with Sportquest Holidays, you never pay more than when you book directly with the lodge and flights independently. Plus what's more if you book with Sportquest Holidays your holiday is protect by our ATOL and the Travel Package Regulations Act. To see more details CLICK HERE.
Dates & prices are best viewed in landscape.
You can scroll the table left and right to view prices and availability.
Start Date
End Date
Days
Nights
Fishing
Angler
Non-Angler
Availability
18/07/2019
25/07/2019
8
7
6

£

1,393
On Request

Book Now

25/07/2019
01/08/2019
8
7
6

£

1,393
On Request

Book Now

01/08/2019
08/08/2019
8
7
6

£

1,393
On Request

Book Now

08/08/2019
15/08/2019
8
7
6

£

1,393
On Request

Book Now

15/08/2019
22/08/2019
8
7
6

£

1,393
On Request

Book Now

22/08/2019
29/08/2019
8
7
6

£

1,393
On Request

Book Now

29/08/2019
05/09/2019
8
7
6

£

1,393
On Request

Book Now

05/09/2019
12/09/2019
8
7
6

£

1,393
On Request

Book Now

12/09/2019
19/09/2019
8
7
6

£

1,393
On Request

Book Now

19/09/2019
26/09/2019
8
7
6

£

1,393
On Request

Book Now

30/04/2020
07/05/2020
8
7
6

£

1,489
On Request

Book Now

07/05/2020
14/05/2020
8
7
6

£

1,559
On Request

Book Now

14/05/2020
21/05/2020
8
7
6

£

1,489
On Request

Book Now

21/05/2020
28/05/2020
8
7
6

£

1,609
On Request

Book Now

28/05/2020
04/06/2020
8
7
6

£

1,559
On Request

Book Now

04/06/2020
11/06/2020
8
7
6

£

1,489
On Request

Book Now

11/06/2020
18/06/2020
8
7
6

£

1,589
On Request
Sold Out
18/06/2020
25/06/2020
8
7
6

£

1,589
On Request

Book Now

25/06/2020
02/07/2020
8
7
6

£

1,589
On Request

Book Now

02/07/2020
09/07/2020
8
7
6

£

1,589
On Request

Book Now

09/07/2020
16/07/2020
8
7
6

£

1,489
On Request

Book Now

16/07/2020
23/07/2020
8
7
6

£

1,489
On Request

Book Now

23/07/2020
30/07/2020
8
7
6

£

1,489
On Request

Book Now

30/07/2020
06/08/2020
8
7
6

£

1,489
On Request

Book Now

06/08/2020
13/08/2020
8
7
6

£

1,489
On Request

Book Now

13/08/2020
20/08/2020
8
7
6

£

1,489
On Request

Book Now

20/08/2020
27/08/2020
8
7
6

£

1,489
On Request

Book Now

27/08/2020
03/09/2020
8
7
6

£

1,489
On Request

Book Now

03/09/2020
10/09/2020
8
7
6

£

1,489
On Request

Book Now

10/09/2020
17/09/2020
8
7
6

£

1,489
On Request

Book Now

17/09/2020
24/09/2020
8
7
6

£

1,489
On Request

Book Now

24/09/2020
01/10/2020
8
7
6

£

1,489
On Request

Book Now
Price Match Promise
We are so confident that our packaged prices are the best available and offer great value for money.
If, however, you find an identical holiday available with any other fully bonded Tour Operator at a lower price, we will match that price.
Price Notes
Prices are based on Eight adults sharing transfers, fishing and accommodation (unless otherwise stated) and are correct at the time of going to press. Subject to time of year or date and currency fluctuations, these prices may fluctuate slightly due to flight price increases or fuel surcharge.
ATOL
Holidays or flights booked with Sportquest Holidays Limited are protected by the Civil Aviation Authority by our ATOL bond (Number 6371). ATOL protects you from losing your money or being stranded abroad. It does this by carrying out financial checks on the firms it licenses and requiring a guarantee, called a bond.
Price Supplements
Still need some inspiration
Why not enjoy browsing our destinations in the comfort of your own home.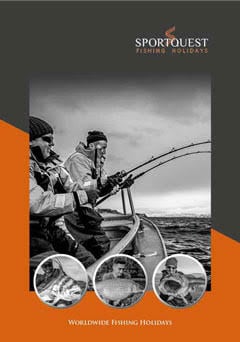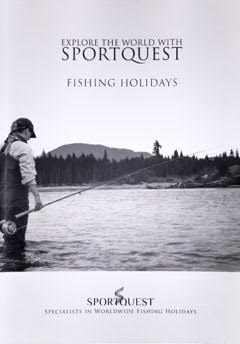 Request a free brochure
What's Included & Excluded
Included
All international flights
Flybus ticket (already pre-paid)
Transfers to and from Risöysundet to Evenes
All accommodation as per itinerary
6 days fishing via self drive boat
Fishing Boat with Sonar, chart plotter (GPS), VHF & radar
Freezer storage for your fish
Access to professional guide for guidance
Bed linen, towels and final cabin cleaning
Excluded
Fuel for boat
Fishing tackle
Personal holiday insurance
All meals
Final boat cleaning
Options
Additional luggage can be added, please enquire about up to date prices
Fishing equipment (rod, reel, line) £50 pr week
Survival suits £40 pr week
Tour Notes
Visa
A machine-readable passport with at least 6 months before expiry. No visa for UK citizens required.
Medical Requirements
No vaccinations currently required.
Please Note
All details of visa and medical requirements are correct at time of press however please check these requirements for changes.
Departure tax
There is no additional airport departure tax when leaving Norway.
Flight Route & Flight Time
UK – Oslo (approx 2 hrs) Oslo to Evenes (approx 1hr 30 mins)
Baggage Allowance
Your actual allowance is based on both which airline you are flying with and also what class of seat you are travelling in. Normally in economy it is 1 checked bag, Premium Economy / Business 2 checked bags, First 3 checked bags. In addition to your checked bags you are also allowed 1 cabin bag and either 1-laptop bag or ladies handbag. The actual size and weight limit for bags is dependent on the airline. We therefore recommend that once your flights are booked you check on the airlines website for the up to date allowances.
If your itinerary includes private light aircraft or helicopter flights, we will advise you on your baggage and weight allowance.
Transfer Time
Evenes to Sortland (Approx. 2hrs)
Sortland to Risöysundet Cabin (Approx. 50Minutes)
Questions & Answers
Where is the destination?
Risoysundet is located in northern Norway, This destination of Risöysundet is located on the south-east part of Andöya, in a strait called Risöysundet, the cabins are well protected from the wind and offer great possibilities for a big variety of both fishing areas and species to target.
Where will I fish?
When fishing at Risoysundet you will have a wide variety of marks where you can target the fish you wish to catch, there are marks of varying depths from 50m to 800m it just depends on what your targets actually are for the day.
How long does it take to reach the fishing grounds?
The open ocean either way out of the harbour is around 40 minutes boat road, this is where you will find the first drop-offs where huge shoals of Cod are located. Some of the best Halibut grounds are around 30 minutes to a 1-hour boat drive away. However, there are always very large Halibut caught 5 minutes from the cabins. The further away spots tend to be known holding areas for Halibut big and small and are always worth a long journey.
What fish will I catch?
The main species to target at Risoysundet will be the Halibut and Cod, it is one of the best places for large Halibut as the pressure on these fish is very low so the stocks of Halibut just keep getting better and bigger. There are also the normal species to target. Due to the deepwater that surrounds Risoysundet you have the chance to target the species that live at those depths and very large Redfish are caught here each year.
How many fish will I catch?
This depends on the species you wish to target. For example, if you visited Risoysundet wanting to purely concentrate on the Halibut then you should expect to catch between 15–20 Halibut for the week. This may sound low but when you consider that some of these fish can be in excess of 200lb then it is more appealing. The Cod fishing is very good and once the shoals are located you should expect action all day and the same with the Coalfish. However, the Coalfish shoals at Risoysundet are not full of big ones but the average size to expect will be around 10lb.
How will I fish?
The main style of fishing will be from self-drive boats using a combination of pirks, rubber shads and bait. The exact method will depend on the species you are trying to target.
Do the guides speak English?
All our guides speak perfect English along with many other languages.
Who is best suited to this destination?
The great advantage of Risoysundet is that there are always 2 full-time guides on hand to help the most or less experienced anglers. They will even jump on your boat for a day guiding you and showing you all the hot spots. They are always on hand to help out with any questions about fishing marks and are always keen to help out as much as they can to ensure you have a great experience.
What skill level is required?
There is no skill level required for the fishing as the guides will help you with everything. A little knowledge of boat handling would be an advantage but not necessary.
How physically demanding is this trip?
The boats are located a minute walk away from the cabins down a fairly steep bridge on to the dock. The rest of the holiday is certainly not physically demanding.
When is the best time to go?
The start of the season March/April sees a huge influx of the Skrei Cod, these are around for about 6 weeks then move back to the Barents Sea. Once the temperature starts to rise in April/May the Coalfish start to move in and along with these will come the Halibut. The Halibut will then stay around until late October. The best 2 months for the Halibut are August and September.
How will I get there?
There are several airports in the UK which we can book your flights from. The main airport is London Gatwick but we can use Manchester and Edinburgh. We then fly you to Oslo where you will have there is a small flight from Oslo to Evenes. Once you have arrived at Evenes there will be coach waiting to take you the final part of your journey. This coach ride will take around 2.5 hours through some very scenic scenery.
What is the accommodation like?
Risoysundet fishing camp is fully kitted out for anglers. The cabins themselves are spacious with fully equipped kitchens with all the mod cons. Also, downstairs there is a living area with sofas and a table with chairs for eating around. Each cabin has a wall mounted wide screen TV. Downstairs is the main bathroom with a walk-in shower, sink and toilet. Most of the cabins have underfloor heating in the bathrooms.
What is the food like?
This is entirely down to you as Risoysundet is self catering. I would suggest taking some meat, pasta, rice and sauces with you. Eggs , milk bread etc can be bought from the local store fresher than if you take it with you.
Does the lodge provide fishing tackle?
You can hire top of the range fishing equipment at the time of booking your holiday. They supply Westin boat fishing rods and a variety of top-end multipliers. There are also a small number of lighter rods for Plaice fishing. Onsite there is a fully stocked tackle shop that supplies everything you will need for your entire weeks fishing. The prices on the tackle are very similar to UK prices and normally have everything in stock
Is internet and phone signal available?
There is WiFi available all around the cabins free of charge plus the telephone signal is very good whilst out fishing and you will often be able to pick up some type of internet connection whilst out at sea.
Are there other activities available?
This holiday is mainly aimed at the amazing fishing on offer and as this destination is so remote there are not that many other activities to be done apart from walks and the amazing wildlife.
How much does it cost?
We the complete package including all flights and transfers. To view all available weeks and prices click the 'Dates & Prices' tab above.
Alternatively, if you wish to arrange all your own travel we can book just the lodge and fishing for you. If you wish to book or have any questions please feel free to call our offices on 01603 407596.
Tour Reviews
Sportquest Holidays is proud to be different, and one way we stand out from the crowd is our tried and trusted information we provide our customers. This information is not just provided on our own personal experiences but also REAL CUSTOMER reviews.
We are the only fishing & shooting tour operator to operate our own review system whereby customers can review both the packaged holiday and also how we performed on each destination.
How This Destination Performed
How We Performed On This Destination
How Our Customer Feedback Works
See how our customer feedback works and our latest customer reveiws.
Read More
Write a Review
Have you ever visited this destination? Why not write a review and let everyone know how you rated their services?
Write a Review